This season's fashion must-have is "looking educated." Ogoniok magazine correspondent Dmitry Gubin suggests that even a superficial nod toward education is probably better than none.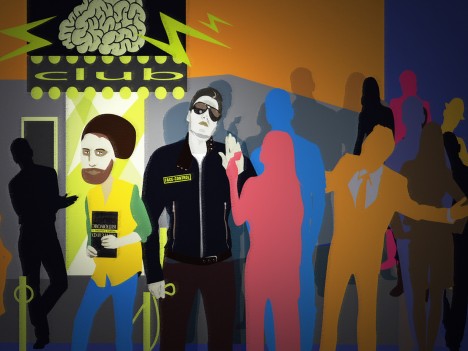 Click to enlarge the image. Drawing by Alena Repkina.
It always starts in September. The questions that college-aged teenagers ask – especially those who have arrived in Moscow from Russia's regions – seem near-perfect barometers of the latest fashion trends. Perhaps, eight years ago, they were asking about autumn sales at the start of the season. A few years later, they would have been asking about which nightclubs were the most hip, or how to get into a television casting. These things used to be in vogue. Practical questions – such as finding a place to live – had disappeared into the background.
But this year, a 20-year-old kid named Ilya threw out two radically different questions. The first: "Which public lectures in Moscow are worth going to, now that the open-air lecture-theatre at Gorky Park was closed?" The second: "What do you think of my new eyeglass frames? I mean, like, well, they're kind of chunky, maybe a little nerdy – but that's the fashion, right, if you're hipster?"
The easiest of the questions regarded his glasses – they were cool. Although, as Ilya's new glasses had plain glass lenses with no prescription whatsoever, they led to other questions. Why did he need to wear them at all? Ilya answered right away: "Well, glasses... they make you look kind of brainy, right?"
The question concerning the lectures was also about being "brainy." The deal here is that Gorky Park is not just a park – it is a trend-space. Need to know what clothes are in vogue, how to look trendy, what subjects to talk about, and what games to play? Head to Gorky Park. There, it soon becomes obvious that the outdoor game of the moment is pétanque. A picnic on the lawn is much cooler than dinner in a restaurant. A bike is cooler than a car, and helping others pro bono is cool too.
And there is another cool idea in the park – learning. The "Garage" project has moved there; it is not so much an art-gallery, as it is a space for trend-setting, art-loving, fashion-forward braniacs. During the day, Gorky Park screens open-air movies, while, in the evenings, it hosts a lecture program. Tickets go like hot cakes – for the films, and for the lectures. Directly adjacent to the park is the Strelka Institute, with its non-stop program of open lectures and workshops. There is also the Digital October technological center, where John Barlow, the author of a much talked-of "Cybernomics" might be found speaking.
No one can say that there have not been public lectures before. The Soviet Union had them, even when the Soviet state was on its last legs. It is one thing to go to a lecture called "The Painting Academies of 15th-Century Italy: Ferrara, Bologna, and Venice," where you sit next to three jolly old ladies. But it is a completely different deal to attend a lecture on Bunin by the writer and poet Dmitry Bykov. It is a given that the audience will be full of bright young guys and girls with pink sneakers, green jeans and iPads.
The public lectures of Soviet times have been reborn and given a new image. The speaker's name is more crucial than the institute with which he is affiliated. Lectures have become interactive and lecturers themselves choose the lecture topics. The new world of lectures works like the new world of publishing: you are dead if you work on the idea that the writer writes and the publisher publishes.
The lecture fad has its own reasons for gaining momentum – both political, and economic.
Some claim, for example, that the consumerist era has run its course, and that people want intellectual stimulation instead. This happened first among the wealthier classes, but no one noticed it. One historian in St. Petersburg admits to earning good money giving private lectures. They pay his airfare to Moscow and drive him out to a villa in the suburbs. There, he gives lectures all day on the topics of Czar Peter III and Catherine the Great, to an audience of a few select millionaires and their families. Lunch follows, along with a Bentley to the airport and a six-figure payment.
Lectures are also popular, in large part, because of the library crisis. The era of e-readers and digitized texts would have made libraries outmoded, if not for the chance to meet writers and attend master classes and lectures. Now, libraries are working on new footholds, like the library club. The Mayakovsky Library in St. Petersburg, for example, has started one such club. From Moscow's enormous "Moskva" bookstore to the beloved "Borges" bookshop of St. Petersburg intellectuals, many bookstores are following suit.
There is an explanation for the learning trend on the technological level, as well. Russian businesses initially set out cloning Western technology in sales systems. Now, they have gone one step further, by selling intellect. The concept is clear and certain to spread.
So, it seems like our friend Ilya has figured it all out perfectly.
Dmitry Gubin is a Russian journalist and television host. He writes as a columnist for GQ and Ogoniok magazines, as well as contributing to "Kommersant" newspaper. Gubin runs the "New Russian Media" project for the Independent Radio Foundation.
First published in Russian in the Ogoniok magazine.

All rights reserved by Rossiyskaya Gazeta.