Commemorating the Cuban Missile Crisis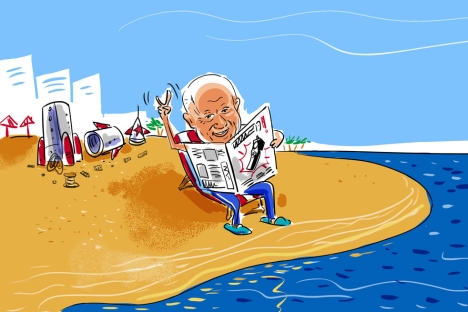 Eugene Ivanov writes a personal reflection on how he learned about the Cuban Missile Crisis as a child and how his son studied it in an American high school.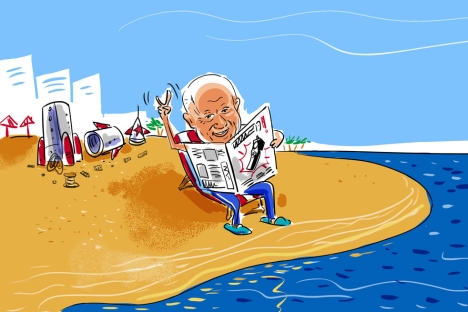 Click to enlarge the image. Drawing by Alexei Yorsh
I was eight when the Cuban Missile Crisis happened. Believe it or not, I remember it well. For a kid of my age, I was remarkably interested in politics, and reading newspapers and listening to the radio was an intrinsic part of my daily routine.
Of course, the full picture of what really happened in these 13 fateful days in October 1962 occurred to me much later, when I was an adult; besides, you could hardly expect getting a full picture from the Soviet propaganda of the time. But I do remember spirited reports praising brave Cubans and their charismatic leader Fidel Castro for standing up to the world's worst "imperialist," the United States of America. The reports were usually interspersed by energetic assurances that the Soviet Army was capable of defeating anyone who would dare to interrupt our peaceful movement towards Communism.
And then, I remember late-night kitchen conversations between my parents when I was supposed to be already asleep in my room. Speaking in a low voice so as not to wake me up, my mom was talked anxiously to my dad, asking him to explain what was going on. He, a quiet and thoughtful man, responded trying to sound calm and positive, not perhaps trusting his own words, as I now realize.
Finally, when the crisis was over, I vividly recall a cartoon on the first page of the daily newspaper Pravda. The cartoon depicted the Soviet premier, Nikita Khrushchev, as a captain of a ship with the steering wheel in hand. There was a compass in the middle of the wheel, with the compass' needle pointing to the word "Peace." I felt proud that I lived in a country that had preserved world peace.
The next time the Cuban Crisis had a personal touch upon my life was just a few years ago, when my family and I were already living in the U.S. For a high-school class in world history, my son decided to write about the Cuban Crisis. Happy about his choice of the topic, I volunteered to review a draft of the paper. Suddenly, my childhood memories of reading the Pravda newspaper were back.
In a straightforward manner that would bring tears of joy to the eyes of any seasoned Cold War warrior, my son told there narrative of a young, clever and perceptive American president who single-handedly outsmarted an old, moronic and clueless Russian leader. The conclusion of the paper was simple: there was a crisis; the Americans won, the Soviets lost.
I chose not to criticize my offspring's opus. However, unable to restraint myself completely, I asked him a question: "Well, if the United States was allowed to have military bases next to the Soviet Union in Turkey, then why was the Soviet Union not allowed to have military bases in Cuba?" My son didn't know the answer to this question: they hadn't discussed this aspect of the conflict in his world history class.
An notable anniversary of every well-known crisis event provides all of us with the useful opportunity to re-consider its proper place in the grand scheme of human history. I leave it to the pundits to decide how many serious world crises were averted by the so-called Moscow-Washington hotline, a direct communications line established between the Kremlin and the White House in the wake of the Cuban Missile Crisis. And I expect global security experts to weigh in on whether the concept of Mutually Assured Destruction (MAD) that proved its first worth during the Crisis, is still as valid today as it was in 1962.
But for me personally, the lessons of the Cuban Crisis could be summed up in three simple words: know thy enemy. When reading eyewitnesses' accounts of the events of October 1962, I was struck by the level of ignorance both sides demonstrated with regards to the plans, intentions and mindsets of their respective opponents. Hopefully, things have improved since then: the famous hotline is likely to be regularly updated with the most sophisticated communication gadgets; modern spying technologies provide a clear picture of the military capabilities of the other side – and often of its plans as well; a small army of shrewd risk managers would come up with a plausible contingency for just about every risky scenario on a moment's notice.
What else? Just a tiny bit: the leaders of both countries must listen to each other at least as attentively as they would listen to their home-grown hawks. With this happening too, the Cuban Missile Crisis will forever remain the only crisis of such a magnitude that we will commemorate, if not exactly celebrate, in the future.
Eugene Ivanov is a Massachusetts-based political commentator who blogs at The Ivanov Report.
All rights reserved by Rossiyskaya Gazeta.