Russia and Iraq announce landmark arms deal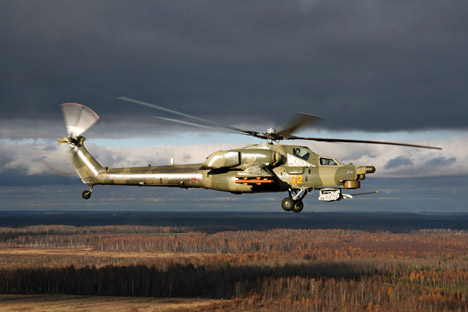 Russia and Irag will maintain military-technical cooperation in the near future. The contracts "provide for the supply of around 50 Pantsir systems and 30 advanced Mi-28NE attack helicopters," experts say. Source: RIA Novosti / Sergey Soldatkin
Iraq has agreed to buy more than $4.2 billion in Russian arms, in the largest military and technical cooperation deal between Russia and Iraq in the modern era.
Russia and Iraq have signed contracts to supply Baghdad with more than $4.2 billion worth of Russian arms. The deal was announced on Oct. 9, following a meeting in Moscow between Russian Prime Minister Dmitry Medvedev and his Iraqi counterpart Nouri al-Maliki.
"Iraq needs Russia's support in building up its military and defense areas, in order to protect the country from terrorism," Nouri al-Maliki said. He adding that Baghdad was not interested in what the U.S. would have to say about the purchases of Russian weapons, because Iraq "doesn't want to be someone's monopoly domain."
Ruslan Pukhov, director of the Center for Analysis of Strategy and Technologies (CAST), was quoted by RIA Novosti as saying that "the contracts, above all, provide for the supply of around 50 Pantsir systems and 30 advanced Mi-28NE attack helicopters."
The signing of one of the largest arms deals with Iraq – where American troops are still stationed – in Russia's modern history was explained by Pukhov with three factors.
"First of all, it's clear that America's influence over Iraq has been overblown. The Shiite government is starting to conduct policy that is more independent from Washington, one that looks more toward Iran," he said.
Pukhov also attributed Russia's success in winning the contracts with Iraq to the personal efforts of the former Military-Technical Cooperation Service director, Mikhail Dmitriev. During his time in the post, Dmitriev repeatedly insisted that Russia should not give up and "must continue working with Iraq."
Moreover, Pukhov stated, the Kremlin has provided huge support to Russia's arms exporters over the past 10–13 years: "In such a sensitive area as military and technical cooperation, political support for arms manufacturers from the country's top leadership is very important, and they continue to receive it to this day."
The issue of needing to activate military and technical cooperation between Russia and Iraq was raised after Chairman of the U.S. Senate Foreign Relations Committee John Kerry announced that American weapon supplies to Iraq had to stop. This notice allegedly followed Baghdad's refusal to intercept an Iranian plane carrying military cargo to Syria, Kommersant reported.
According to Rossiyskaya Gazeta, Dmitry Medvedev admitted at the meeting with Iraq's prime minister that Moscow valued the friendship with the Iraqi people. "Despite the dramatic developments of recent years, we maintain contacts on the highest levels, and I am confident that this will help promote friendship, cooperation, and mutual understanding between Russia and Iraq," Medvedev said.
Likewise, Iraqi leader al-Maliki let it be known that he viewed his visit to the Russian capital as an opportunity to set new terms for cooperation. "Baghdad is currently pursuing an active policy of strengthening relations with friendly countries and developing ties in various areas," the Iraqi prime minister said. "This is also apparent in the composition of my delegation: it includes representatives from the ministries of foreign affairs, defense, trade and oil. All of those fields are open for developing cooperation with Russia."
The intergovernmental commission on trade, economic, scientific, and technical cooperation is in charge of steady development of these relations. Its sixth meeting will be held in Baghdad before the end of this year.
Nevertheless, summit meetings are still perceived as having more value: thus, Medvedev has been invited on a personal visit to Iraq. "That visit will provide a very strong impetus for the development of bilateral relations," al-Maliki said.
Priority areas for Iraqi-Russian cooperation remain in the oil, gas and electric power sectors. Baghdad is interested in developing oil and gas deposits, upgrading existing power plants and building new ones. The two countries have a long track record of cooperation in these areas. LUKoil, Gazpromneft and Bashneft are present in Iraq, in addition to Zarubezhneft, Gidromashservice, Inter RAO and a number of other Russian companies.
The two prime ministers also touched upon the situation in the Middle East, which, to quote al-Maliki, is going through difficult times. "We have discussed this with you over the phone, and today we will continue this conversation," he said to Medvedev. "Iraq and Russia must cooperate in this area as well – the area of regional relations – in order to try and find peaceful solutions to the existing crisis."
The article is based on the reports from Kommersant Daily, Rossiykaya Gazeta and RIA Novosti.
All rights reserved by Rossiyskaya Gazeta.