British chain Hamley's may expand in Russia's market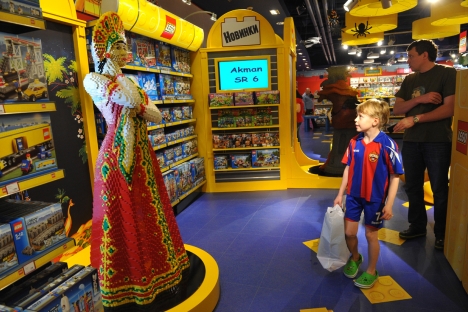 Detsky Mir's flagship store in Moscow will pick a new anchor tenant for the historic space before the end of the year. Among the main contenders are the Detsky Mir toy store chain and Britain's original and most famous toy shop, Hamley's. Source: Pho
Britain's most famous toy shop, Hamley's, may become the leaseholder for Russia's Detsky Mir toy store.
The company Gals-Development is selecting an anchor tenant for Detsky Mir's newly-renovated main store in Moscow's Lubyanka. Besides Detsky Mir, which is controlled by AFK Sistema, the other company hoping to open a toy store at this location is Ideas4retail, which is currently trying to expand the British chain Hamley's into the Russian market.
Detsky Mir's flagship store in Moscow will pick a new anchor tenant for the historic space before the end of the year. Among the main contenders are the Detsky Mir toy store chain and Britain's original and most famous toy shop, Hamley's. Ideas4retail, a company controlled by businessmen Evgeny Butman and Alexander Mamut, is currently developing the Hamley's franchise for the Russian market, a source close to the preparations for the deal informed Kommersant.
According to this source, both potential tenants have now submitted offers. "Detsky Mir is presenting more advantageous conditions, but there is now talk of Hamley's increasing their offer," the source said. Communications advisor to the president of Gals-Development, Irina Burdelnaya, has confirmed that both retailers are interested in becoming anchor tenants.
A source at Detsky Mir says that the company's flagship store has always been very successful and boasts a turnover that is ten percent higher than their other stores. Ideas4retail shareholder Evgeny Butman confirmed that negotiations had taken place, but would not comment on the details.
Detsky Mir's store on Lubyanka, right in the heart of Moscow, was opened in June 1957. In 1992, it was privatized, and then, in 2005, the store's historic building gained its status as a site of regional cultural heritage. In 2008, the store was closed for refurbishment, which has been ongoing since 2009. Gals-Development, which is controlled by VTB, has been a key investor in this project. The new store is scheduled to open at the end of 2014, and investments in the refurbishment project are estimated at around 8 billion rubles (around $260 million).
According to Burdelnaya, the newly refurbished Lubyanka store will gain an area of more than 753,000 square feet, with plans for a new entertainment center and children's retail space. The tenants will be allotted a total area of nearly 377,000 square feet. As well as the main shop floor (which alone takes up almost 75,000 square feet), the new store will house an educational entertainment center of around 21,500 square feet, a cinema zone of up to 32,000 square feet; the remainder of the premises will be a children's toy store full of the latest and most popular brands. According to a study conducted by Gals-Development, the site will need consumer traffic of at least 20 million annual visitors to make a return on the investment.
Alexei Mogila, director of retail property at Penny Lane Realty, thinks the iconic status of the historic toy store will allow the owners of this building to keep prices high, irrespective of economic factors. He estimates the annual rent could be between $1,000 – 1,200 per square foot. This means the anchor tenant would end up paying between $7 – 8.4 million in rent each year.
Today, Detsky Mir Group controls the Detsky Mir chain and the elite center Detskaya Galeria Yakimanka, with a total of 162 points of sale in the form of supermarkets and superstores across 82 cities in Russia and Kazakhstan. The Group's shareholders are AFK Sistema (75 percent minus one share) and Sberbank (25 percent plus one share). At the end of 2011, Detsky Mir Group's earnings came up to more than 23 billion rubles ($783 million), with net profits of 217 million rubles ($7 million).
The company Ideas4retail owns 32 stores located all over the country, which include franchises of the Spanish toy retailer Imaginarium, the British clothes retailer Mamas & Papas and the English toy shop Hamley's, as well as its own trademark Cook House chain selling kitchen paraphernalia. The shareholders of Ideas4retail are Evgeny Butman (60 percent) and Alexander Mamut (40 percent). The company was founded at the end of 2011, with initial investments of $20-25 million.
First published in Russian in Kommersant Daily.
All rights reserved by Rossiyskaya Gazeta.