Muscovites to shop in British style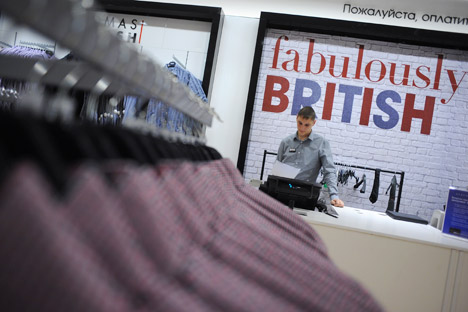 Russia will become the 27th country to host a Debenhams store, one of the UK leading stores selling apparel, cosmetics, and household goods. Source: ITAR-TASS
The British department store chain Debenhams finally opens its first shop in Russia.
On Sep. 1, the British department store chain Debenhams opens the doors to its first store in Russia, at the Mega Belaya Dacha shopping mall in Moscow.
Debenhams's first store in the Russian Federation will have a retail space of about 35.5 thousand square feet. International Sales Director Francis McAuley confirms that at least eight more Debenhams stores are planned to launch in Russia.
"With 70 million visitors annually, the Mega Belaya Dacha shopping mall is an excellent location for our debut on the Russian market," McAuley said.
Representatives of Debruss, Debenhams's Russian partner, have not disclosed investment numbers, but said they plan to break even in two years,'by 2014 — when the second Debenhams department store opens in Moscow." Experts presume that investments required to open the new store total around $4 million.
According to Debenhams's partners, their store stands apart from rival department stores and retail chains in its high-quality service and huge selection of merchandise.
Debenhams also emphasizes the novelty of its store's style. The marketing idea is to give consumers a strong sense of England — formal yet refined. The market is currently dominated by either German minimalism or Italian "luxury". To stress the store's British roots, a classic red London telephone booth has been installed near the entrance, in advance of the grand opening.
This is the second attempt by the British department store chain to enter the Russian market. The developer RID Group, along with World Class Fitness co-owner Maksim Ignatyevin, opened a Debenhams department store in Moscow in 2006, only to close the project in 2008 after suffering losses.
"You won't see assistants in our store folding clothes instead of helping a customer, or customers left alone trying to reach for an item. In this case, the crucial difference between Debenhams and other chains like Zara is that Debenhams is a full-fledged department store with a tremendous array of products in a single retail space; this is a concept that was established at the end of the 18th century and has survived to this day," a Debruss representative said of the chain's competitive advantages.
Experts believe that, this time around, Debenhams's foray into Russia is likely to succeed. "Russians were very price-sensitive back in 2006, and Debenhams was never the cheapest store around ($50-63 for a scarf: Expert Online citing a release on the Russian store opening). Now that the market is growing and developing, the chain's new arrival may be well-timed. If a war is also waged on counterfeit goods, the store's sales will grow pretty well,' said Aleksandr Kuznetsov, a financial analyst at the RIA Moda news agency.
With its headquarters in London, Debenhams ranks second in the UK in sales of apparel, cosmetics, and household goods. The chain is comprised of about 170 stores in the UK, Ireland, and Denmark, as well as around 70 franchise stores in 25 countries. Russia will become the 27th country to host a Debenhams store.
Firts published in Russian in the Expert magazine.
All rights reserved by Rossiyskaya Gazeta.