Energy sector boosts Russia's consumer market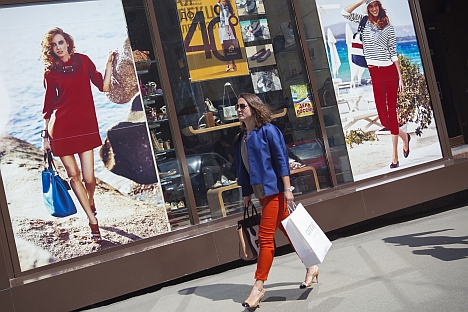 Shoppers in Moscow were ranked 41st globally in terms of purchasing power based on a survey by UBS. Source: Corbis / FotoSA
Russia's oil-fueled consumer splurge has led it to become Europe's largest consumer market in everything from cars to diapers.
Contrary to popular misconceptions, Russia is much more of a consumer story for investors than an oil and gas play - as the services and consumer goods sectors are now outstripping energy as the main drivers of growth.
That's the message coming from Russia's top financial analysts, who see the consolidation of energy assets by the state being offset by greater investment opportunities elsewhere.
Chris Weafer, chief strategist at Sberbank Investment Research, says the changing roles are clear: "The Russia story now is like the tortoise and the hare - a static energy sector, but very fast-growing consumer and service industries."
Steady growth in disposable income and investment capital, together with more government support and the advantages of WTO membership, will provide greater non-energy growth, Weafer says.
Russia became the biggest market in continental Europe for milk and children's toys in 2011, worth a collective $22.7 billion in sales. Next year it's on course to become the biggest market in Europe for clothes, footwear, accessories and advertising worth a collective of $76.8 billion in sales.
Russia's consumer market has reached critical mass and, thanks to steadily rising incomes, is poised to become the biggest consumer market for a wide range of products sometime between now and 2018 when it will simply become the biggest consumer market full stop.
"Rising wealth levels over the last decade have turned Russia into a middle-class country for arguably the first time in its history," says Citigroup's chief Russian strategist, Kingsmill Bond.
Russian incomes have risen an astonishing 16-fold over the last decade, from an average monthly income of about $50 under Boris Yeltsin to just under $800 under President Vladimir Putin. This figure puts the country into the middle income bracket, according to the last U.N. Development Agency report. If George W. Bush had delivered the same sort of increase during his eight years as president then U.S. average per capita income would have increased from $35,082 in 2000 to $561,312 by the start of this year.
"In 2004 the government made the principle decision to hike taxes on energy and slash them on everything else. Today Russians enjoy some of the lowest income and corporate taxes in Europe," says Clemens Grafe, managing director of new market economics for Goldman Sachs in Moscow. Focusing on the price of oil is a red herring, Grafe says.
The state is using its oil and gas windfall to subsidize the real economy, which has fueled a decade-long shopping spree.
Already the 11th largest consumer market in the world, according to Euromonitor International and in the top two or three for most sectors in Europe, Russia continues to climb the rankings. GDP will expand by about 3.5 to 4 percent this year, according to the World Bank.
The flood of petrodollars primed the pump and ironically the state's big presence in the economy provides a very effective "trickle down" mechanism.
Russia's per capita income is the fastest growing of any major emerging market in the world over the last few years. It reached about $21,350 last year (on a purchasing power parity basis) according to the World Bank, well ahead of Brazil ($11,720), China ($8,440) and India ($3,650).
With very little debt, the lion's share of Russians' income is disposable. And since the advent of consumer credit in 2001 shoppers can multiply the power of their income many times over by borrowing. Consumer loans have been running high this year and are up 43 percent, a level the Central Bank says may even overheat the economy.
All rights reserved by Rossiyskaya Gazeta.