Homegrown software tackles global problems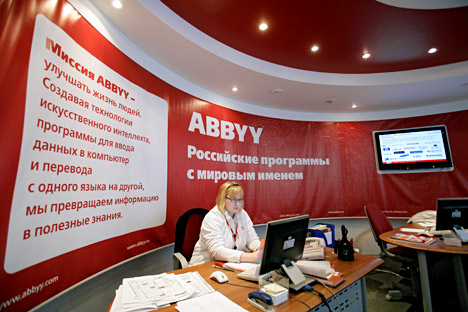 The office of the ABBYY company which provides optical character recognition, document capture and language software for PC and mobile devises. Source: Kommersant
While Russia's annual software exports currently total a meager $4 billion, a number of global giants - including Apple - increasingly rely on them for their cutting-edge innovation.
For Russians like Georgy Pachikov who grew up in Soviet times, fixing broken-down machines was often a test of ingenuity and improvization - not to mention sheer determination. Back in 1989, when the whole country was literally grinding to a halt, he had a broken washing machine. As competent repairmen were then thin on the ground, Pachikov chose to fix it himself.
Working with a friend, he took it apart and reassembled it with success. The machine worked fine but there were five spare parts still on the floor.
"We had no idea what to do with them. The instructions were in French with no translation. Despite being trained engineers, we were at a loss," Pachikov recalls.
It was then that he had the idea of creating animated three-dimensional repair manuals with detailed illustrations of all stages of the process, translated into several languages. That same year, he founded a company called Parallel Graphics. By 2010, Parallel Graphics' turnover hit $5 million and it employed more than 800 staff.
Pachikov is by no means the only successful Russian software entrepreneur. His brother, Stepan Pachikov, developed Evernote, a popular note taking and archiving service in use around the world.
Exporting algorithms
Software development and Russia may be natural partners.
"If we get an urge to solve a problem, we'll get it done, come hell or high water," says Artem Lyuftin of Moscow-based Mobile Research Group.
Russian companies are now world famous as developers of complex software solutions employing sophisticated algorithms. No field illustrates this more clearly than anti-virus software. Russia's Dr. Web and Kaspersky Lab are world leaders in the field.
The latter was founded in 1997 by Eugene Kaspersky, a graduate of the KGB Institute of Cryptography. Kaspersky Lab produced revenues of over $600 million in 2011 and it employs more than 2,500 people.
A different breed of algorithm is offered by ABBYY, a Russian company that developed the inimitable optical character recognition software FineReader. The first version of FineReader was released in late 1993. Today, the program supports about 190 languages and the company's annual proceeds are estimated at over $100 million.
Among the less well-known but no less noteworthy companies are CBOSS (automation systems for the telecommunications industry), Paragon Software (hard disk tools), PROMT (translation), DocsVision (document workflow software), and Spirit Dsp (software for voice, video and other data), all offering products and services in global use.
One market where Russian IT firms have enjoyed particular success is computer games. It was Russian Alexei Pajitnov who first developed Tetris, one of the most popular computer games ever. The fifth installment of the popular "Heroes of Might and Magic" was developed by Russia's Nival Interactive with French copyright owner Ubisoft. It sold more than 2 million licensed hard copies worldwide.
Another Russian game developer, ZepoLab, also tasted success with "Cut The Rope" in 2010. The concept was simple: feed a green creature by cutting ropes that hold sugar candy. If successful, the candy flies right into the creature's jaws. The falling candies follow the laws of physics.
The app became extremely popular with smartphone and tablet users, with the game being downloaded more than 100 million times and earning more than $85 million. It is now the world's second most popular game for mobile devices after Finnish developer Rovio's "Angry Birds."
The strength of Russian firms comes down to their ability to create imaginative algorithms.
"Solving complex tasks, in-depth analysis of large data volumes, designing algorithms - these are areas of the IT market where Russia can compete internationally," says Alexander Galitsky, founder of the fund Almaz Capital Partners.
"This is because the country provides world-class education in the field of mathematics and physics, which can be used to solve the most complex software development problems. Programmers in India and South Korea are also pretty nifty, but if you've got a task no one is willing to tackle, or you don't yet have a clear concept of the finished article, then 'Welcome to Russia!'" says Alexander Vovkula, technical director of Parallel Graphics.
All rights reserved by Rossiyskaya Gazeta.