Global energy rivalry changing gas market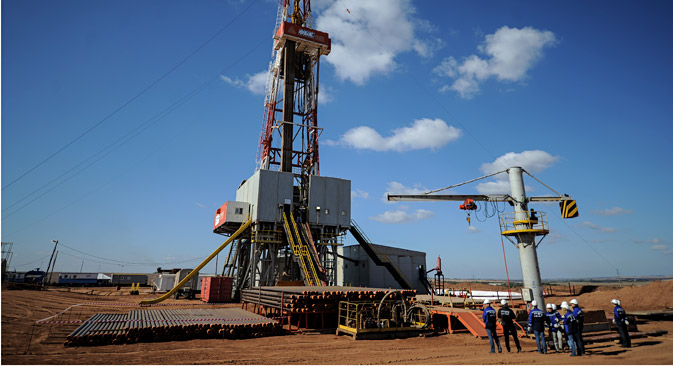 Russian experts admit that the outcome of the shale revolution would have a substantial impact on the global energy market. Pictured: Gas extraction in the Orenburg Region in Russia. Source: RIA Novosti / Vladimir Astapkovich
The increasingly widespread use of shale hydrocarbon production technologies may lead to both a reduction in energy costs and intensified competition between global natural gas market leaders – primarily between the two super-giants, the United States and China.
A tangible reduction in energy costs will inevitably lead to industrial modernization and an attempt by the United States to repatriate some of its manufacturing base. According to Mikhail Delyagin, director of the Institute of Globalization Studies, up to a quarter of manufacturing capacity that was previously outsourced to Asia for cheap labor could return to the United States.
China, which is America's main rival, lags behind the U.S. in shale development and would only be able to meet 7 percent of its consumption with shale natural gas, according to International Energy Agency (IEA) experts.
Russia, rich in natural gas, has always been skeptical of shale projects. But even Russian experts admit that the outcome of the shale revolution would have a substantial impact on the global energy market. A reduction of prices in America to below $100 per 1000 cubic meters (roughly 35,000 cubic feet) over the first seven months of 2012 was quick to re-align the energy industry there toward natural gas. Oil has all but disappeared as a source of electricity in America, while natural gas has been actively penetrating the transport sector there, said Laszlo Varro, head of the Gas, Coal and Power Division at IEA.
Falling energy costs not only bolster the United States' competitive position amid an approaching acute phase of the global economic crisis, but they also facilitate re-industrialization. According to Delyagin, the U.S. is transforming into a low-cost energy zone, along the lines of the former Soviet Union and the COMECON member countries it used to supply with cheap energy.
Re-industrialization, in turn, should put a limit on American natural gas exports. For example, Laszlo Varro believes that the U.S. would be able to export only around a third of today's Russian exports over the medium term.
Meanwhile, demand for natural gas is growing in China. The Skolkovo Business School Energy Center experts believe Chinese demand will almost quadruple to more than 400 billion cubic meters by 2030. Moreover, the growth of non-traditional natural gas production in China would increase consumption there without affecting the import market niche.
A baseline scenario suggests that production of non-traditional natural gas will only reach 50 billion cubic meters, while a best-case scenario estimates 150 billion cubic meters with imports at 200 billion.
China's problem is exacerbated by the fact that Asia is home to at least two more large buyers of liquefied natural gas (LNG) – Japan and India. According to Skolkovo experts, Japan's demand for natural gas will increase by just over 30 percent to more than 120 billion cubic meters by 2030.
IEA experts are confident that Japan, which had decided to stop using nuclear power, will not be able to follow through. "We don't believe that Japan, an extremely overpopulated country, will be able to ditch nuclear energy any time soon," Varro said. In his opinion, in order to replace nuclear power completely, Japan would need to spend a huge amount of money and fully deplete one of the world's largest natural gas deposits.
That being said, there is no shortage of natural gas supply sources in the world today. Asia has become a destination for some of the LNG previously consumed by the United States. In addition, a flow of LNG from Australia will hit the market soon. Australian gas, however, is more expensive because some of it is produced offshore.
Furthermore, the next 20 years or so will see the proliferation of resources from East Siberia and Russia's Far East. Skolkovo Business School Energy Center experts believe these sources may reach 110 billion cubic meters by 2030. Large natural gas deposits have been discovered along Africa's east coast, off the shores of Tanzania and Mozambique; these are geographically pre-ordained to flow to Asia's market. However, since both countries are poor, they will have to find foreign investors and specialists to develop those deposits.
All rights reserved by Rossiyskaya Gazeta.