Bulgaria to receive unprecedented natural gas discounts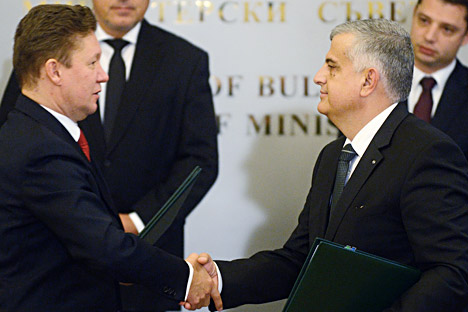 Bulgarian Energy Holding (EAD) Executive Director Mihail Andonov (right) and Gazprom CEO Alexei Miller (left) decided to build South Stream through Bulgarian territory. Source: ITAR-TASS
Construction of the South Stream pipeline will start as soon as early December, and project shareholders have signed a final investment decision on its offshore section. The pipeline's launch will expand Gazprom's export capacity to 350 bcm of natural gas per year, up from its current capacity of 150 bcm.
Bulgarian Energy Holding (EAD) Executive Director Mihail Andonov and Gazprom CEO Alexei Miller, in the presence of Bulgaria's Prime Minister Boyko Borisov, signed a memorandum on the final investment decision to build South Stream through Bulgarian territory, the company said in a press release.
In addition, Gazprom has signed a new ten-year contract with EAD subsidiary Bulgargaz.
According to Boyko Borisov, his country will receive up to 2.9 bcm of Russian natural gas (directly, without intermediaries) with a 20 percent discount, effective January 1, 2013.
"In this document, we have retained the principle of building long-term contracts linked to oil product prices and a take-or-pay clause, which facilitates the expansion of Bulgaria's natural gas consumption," Gazprom Export CEO Alexander Medvedev said. For now, the gas will be delivered via the traditional route, which will change once South Stream becomes operational.
Although Miller insists that Gazprom's contract signing had nothing to do with the South Stream agreement, a source for RBC Daily familiar with the situation maintains that the opposite is true. Under pressure from European consumers, the gas monopoly has already granted up to 10–15 percent discounts to a number of countries, while 20 percent is a substantial cut rate, the source said.
Bulgaria was the last country to join South Stream. The signing of the memorandum heralds the final transition to the beginning of actual implementation of the project, Miller said of the agreements.
Members of South Stream AG Board of Directors, which includes representatives from Gazprom (which owns 50 percent of the project), Italy's ENI (20 percent), France's EDF (15 percent) and Germany's BASF SE (15 percent), had earlier discussed the key matters related to South Stream implementation and made a final investment decision on the project's offshore section. The board meeting also led to a decision to register the South Stream Transport B.V. company in Amsterdam.
South Stream will run through Bulgaria, Serbia (with branches to Bosnia and Herzegovina and Croatia), Hungary and Slovenia. The pipeline will end in the town of Tarvisio in Northern Italy. The start of construction is planned for December 7, 2012, with the first commercial deliveries slated for late 2015.
The South Stream's projected capacity is 63 bcm a year. Analysts are worried that, because of the weak European market, Gazprom will not be able to meet all of its new and existing export capacity. Valery Nesterov of Sberbank Investments Research noted that, after the completion of South Stream's four pipelines and Nord Stream's additional two pipelines, the company's export capacity will exceed 350 bcm of natural gas a year, as compared to current exports at just 150 bcm.
According to the calculations of Mikhail Korchemkin, president of the East European Gas Analysis consulting company, Gazprom's combined spending (without its partners' contributions) on South Stream and on pipelines linking the Yamal with the Black Sea coast will exceed $44.7 billion. He believes that these huge capital expenditures could generate losses rather than profits, adding that South Stream could become the project that brings Gazprom to its knees. "It's like the proverbial last straw that broke the camel's back," said Korchemkin.
All rights reserved by Rossiyskaya Gazeta.