Rosneft alarmed by Europe's financial woes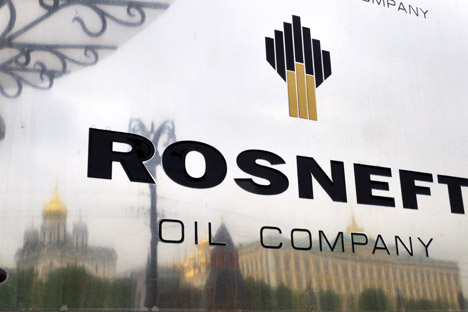 Rosneft is likely to be affected by the financial underperformance of its joint-venture partners. Source: AFP / East News
A recently released memo from the Russian oil company Rosneft has expressed concern about the financial situation in the euro zone. The company fears that Europe's economic instability could affect its operations, which, in the future, may require significant capital investments from abroad.
A new investment memo released by the state-owned oil company Rosneft says that the European crisis might negatively affect its operations. The memo was released to coincide with the new issue of the company's euro bonds. The turbulence that global markets have been facing lately ‒ particularly between 2010 and 2012 ‒ has left the company's management convinced that the prospects for economic improvement in the near future are close to zero.
Rosneft is likely to be affected by the financial underperformance of its joint-venture partners. Moreover, a decline on global financial markets might result in a downgrade of Rosneft's credit rating, both in Russia and abroad. This, in turn, would effectively deny the company access to cheap money.
The memo also mentioned that the European Union is currently looking for ways to deal with debts accumulated by countries like Greece, as financial authorities are negotiating debt restructuring issues. This has made Rosneft doubt the stability of the European currency system and economy. Further weakening or collapse of the EU's economy and its currency might have a significant negative effect on Rosneft's operations, the company stated.
Among the strategic goals that have been set by Rosneft's board are those of taking up leading positions in the natural gas sector, modernizing company oil refineries, and increasing profit margins on domestic and foreign sales of oil and petrochemicals. However, Rosneft is likely to run into a number of challenges while implementing these objectives.
First and foremost, there will be significant capital expenditures needed for prospecting, field development, production, transportation and refining. This entails a risk of runaway costs, while the projects, which Rosneft intends to finance with its own funds, have no guarantee of being completed on schedule.
That being said, should global oil prices slump, the company will be forced to resort to raising capital. The problem is that, since 2008, the situation on the lending market has been dreary. Many creditors have reduced investments or shut them off altogether. This is especially true for the developing markets. Rosneft does not rule out the possibility that it might not be able to raise extra capital and therefore avoid backtracking on the projected capital expenditures.
Currently, the company is negotiating buying out TNK BP shares held by BP and AAR Consortium. For this purpose Rosneft has already arranged to take out a $30 billion loan from foreign banks. This will drive the company's total debt up to $45 billion, according to Rosneft's memo.
First published in Russian in RBC Daily.
All rights reserved by Rossiyskaya Gazeta.