Russians are in no hurry to invest in gold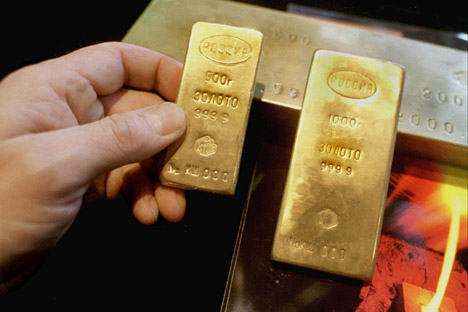 Regardless of the fact that Russia is one of the largest consumers of gold in the world, Russian investors are still in no hurry to invest in gold. Source:
Despite the fact that Russia is one of the world's largest consumers of gold, Russian investors are still in no hurry to invest in gold. Meanwhile, reputable investors of global standing keep accumulating gold in their portfolios.
Reputable investors of global standing continue to accumulate gold in their portfolios, buying up stocks of the metal even at today's high prices.
For example, the hedge fund directed by renowned manager John Paulson, which made a fortune in 2007 by predicting the mortgage crisis in the U.S., saw its investments in gold in the third quarter of 2012 rise to a record $3.66 billion — underscoring yet again that the 12-year rally of this "despised" metal is far from running its course. Russian investors, meanwhile, remain deaf and dumb to such signals.
Despite the fact that Russia is one of the largest consumers of gold in the world (Bank of Russia has been the largest buyer of the metal out of all the world's central banks over the past five years), Russian investors are still in no hurry to invest in gold. Presently, the investment component in the overall structure of demand for gold in Russia does not exceed 3.5 percent, according to the World Gold Council. By comparison, the average figure worldwide is 27 percent. Experts believe that the imbalance is due to the historical heritage of the past few decades, as a result of which the greenback is still the preferred savings option for most Russians.
Nevertheless, it would be unwise to say that gold has no place in Russia's investment market or culture. Russians have available to them at least five ways to invest in the metal, including: physical purchase in the form of bars and coins; acquisition through unallocated bullion accounts (UBA); transactions in the futures market; and acquisition of shares in Western exchange-traded funds (EFT) that have gold and its derivatives in their asset structure.
"UBAs are perhaps the most common way to invest in gold at the moment, because they offer minimum spreads and instant liquidity," said Irina Lozinskaya, head of operations with precious metals at Lanta Bank.
However, such instruments are not suitable for cautious investors: Unlike bank deposits, they are not underwritten by the government, and all investments could be lost if the bank fails.
Such market participants would be advised to opt for investment coins, which have several advantages over ingots and represent the second most popular method of investing in bullion. Not only do investors avoid VAT on the purchase, but much of the headache of storing and selling the asset is alleviated. Although, it is true that spreads on gold can be several times higher than on UBAs.
A separate niche in this market is occupied by ETF investments, which are still a small but rapidly growing segment.
"In recent times, the market has seen high demand for gold ETFs. They are popular for their reliability and enhanced functionality. The asset can be used as collateral for margin trading, and brokers will accept it with a minimum discount," said Kirill Samyshkin, an analyst at Saxo Bank.
Yet this type of investment is hindered by the fact that, in Russia, there is not a single ETF linked to gold. Investors have to look for similar instruments either abroad or through the purchase of shares in local mutual funds, which increases overall costs.
Regardless of the method of investment, experts advise investors not to forget that gold is, first and foremost, a means of saving and not a profitable speculative tool. In other words: Do not put all your eggs in one basket.
"The recommended proportion of gold in any given portfolio is typically 3-4 percent, although, at present, 5-6 percent would be a good bet. But it should not exceed 10 percent," said analyst Yevgeny Grigoryev of VTB Capital Asset Management.
Even at such a proportion, gold can earn good dividends, believes Alexei Morozov of UBS. As early as the first quarter of 2013, gold will be trading at more than $1,900 per troy ounce — i.e., at least 10 percent above the current level. Incidentally, if such returns seem insufficient, analysts recommend taking a closer look at silver.
All rights reserved by Rossiyskaya Gazeta.