Children today often dream about what they will be when they are older, just like their parents used to do when they wanted to become cosmonauts, doctors or bus drivers. But kids do not often understand the value of money, and they are unable to judge, for example, whether $100 is a high price for a toy or not.
The "Masterslavl" (literally, "Masterville") project has been designed to help children and their parents in this regard. The amusement park, which launches in the spring of 2013, will be a place where children can master different professions, earn money and then spend it on entertainment or further training.
Masterslavl covers an area of about 64,580 square feet, featuring over 60 buildings and city structures. Just like a real city, it has a bank, a railway station, a theatre, a hospital, a university, a fire station, etc. Here, children can learn any profession and even try out a career. It is essentially a form of educational entertainment.
The creators of the project wanted Masterslavl visitors to understand from their own experience where money comes from, how important education is, and what occupations are actually out there. The project has also embedded an inclusive education option that allows children with disabilities to learn and work just like everyone else.
A day at the park would normally look like this: Parents buy their child a ticket to one of the two daily shifts (each of which is 4 hours long) for $25. Upon entrance, the young Masterslavl citizen is given local money ‒ 80 golden talents ‒ which he or she is free to spend on either entertainment or education within the city. Prices vary, but most things usually cost around 20 talents.
Workshop training usually involves three steps of mastering a trade: basic knowledge for beginners, master classes and career guidance.
As soon as new Masterslavl citizens arrive in the city on a special train, they go down to the bank to cash their checks, and then they are off to the job center to find out about vacant jobs or trainee positions. Children can study and earn some play money. Once they complete their education, they will be able to both earn more and spend more on entertainment.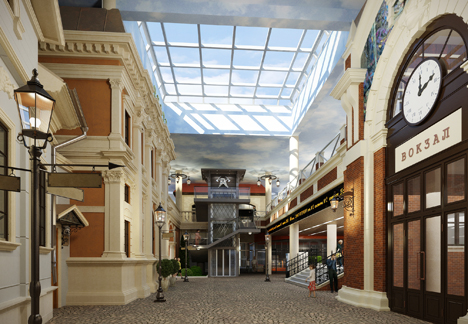 Masterlslavl covers a huge square. There is even a railway station. Source: Press Photo.
Some parents might expect their kids to blow all their money within the first 10 minutes, without even thinking about spending any on education. But the organizers of the project guarantee that there will be no kids left standing in the middle of the street, lost and penniless.
According to them, it is easy to earn talents in Masterslavl; you can perform simple tasks, such as cleaning up a workshop after a class, or performing more complex jobs that require prior training. In any case, the project will always account for all of the children. If they run into problems, or simply get bored, project staff will immediately attend to them.
"We have been tailoring the project for children aged 4–14, inclusive. But we also have a 'dormitory district' for younger children, where project staff will play with them. Parents can even bring them here for a nap. But no child under four will be permitted to attend workshops," the project's mastermind and leader, Vitaly Survillo, said.
However, it is difficult to set a worried parent's mind at ease. What will kids do when they have money at their disposal? Is there any guarantee they will not plunge into gambling, fraud or even racketeering? This is especially a concern, since the city's police will also be manned by children ‒ and where there are police, there are gangsters.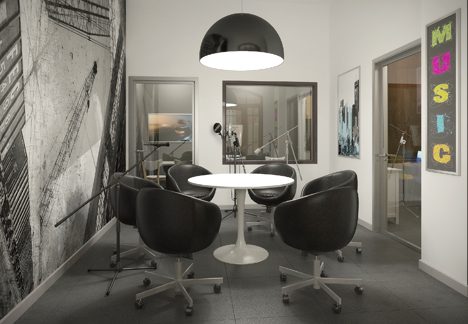 Recording studio in Masterslavl. Source: Press Photo.
"We are certainly considering every possibility. It is true that the incentive system may cause some illicit thoughts in children, since they tend to copy everything that adults do. We will do everything in our power to stop this kind of thing from happening. Our money is fraud-resistant, and our computer system keeps tabs on the movements of every child – their successes and achievements, and also their spending. Financially, the scheme is absolutely transparent," Survillo said.
Masterslavl is the only project of its kind in the world, and its creators promise to continually refine and update the design as it develops. The closest analogue is the global "Kidzania" network of entertainment centers, which offer kids the chance to work as a baker, fireman or policeman. But, according to Survillo, the Kidzania jobs are presented as a kind of entertainment, which remains the same no matter when you come there.
Unlike Kidzania, Masterslavl is designed to give kids the chance to learn new trades and improve their skills in them ‒ and these skills can be used in their everyday lives and future careers.
The project's developers are hoping to attract around 500,000 visitors a year. They have already invested some $13.6 million dollars into the project. Masterslavl employs over 200 people. The entertainment city is being erected in the Evolution Tower of the Moscow City business center.
Vitaly Survillo and his partners are planning to expand the Masterslavl project into other cities. The parks in other regions will, of course, be smaller, and adjustments will have to be made regarding the expected number of visitors and how much parents will be able to pay.
All rights reserved by Rossiyskaya Gazeta.