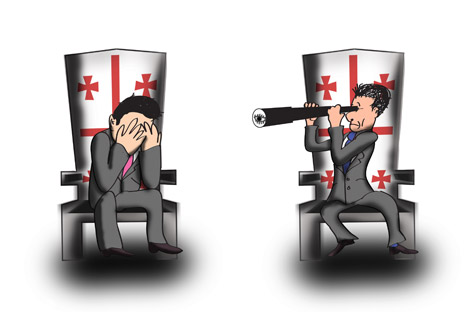 Drawing by Niyaz Karim. Click to enlarge the image.
Georgia is experiencing another period of change. The Georgian Dream coalition, led by new Prime Minister Bidzina Ivanishvili, has set about dismantling the system built by the incumbent President Mikhail Saakashvili. There is an interesting atmosphere in post-election Tbilisi.
Society and much of the political elite are in an upbeat mood. The fact that a change of government has been achieved – and that it happened without any kind of cataclysm, through a democratic election process – has inspired everyone. Hopes (sometimes clearly exaggerated hopes) are pinned on Ivanishvili.
Still, he is not being treated like a messiah, as Eduard Shevardnadze and Saakashvili were when they came to office. Nobody expects any miracles from the new government; but they do expect the government to work systematically to stimulate the economy and restore the democratic mechanisms that were thwarted under the United National Movement.
So far, the news that grabs the headlines has to do with arrests at the security and military agencies ‒ which is not surprising, since the model built by President Saakashvili relied on a severe system of suppression and control.
Many resent and are angered by the West's reaction. Brussels and Washington speak of political reprisals, yet they make it clear in private that Saakashvili and his supporters should be left alone, even as shocking details of their rule are emerging.
Saakashvili is using his Western connections to plug the line that a campaign of political reprisals has been launched in Georgia. People in Tbilisi maintained that Ivanishvili would continue the "purge," in spite of the pressure; though he understands that he has to tread warily, because a quarrel with Europe and the U.S. would spell political disaster.
In addition to arresting officials (at the Ministry of Internal Affairs, within the penal enforcement system, and at the Ministry of Defense), there is a mounting wave of property disputes, with numerous cases of real estate, businesses and media outlets being reported as changing hands unlawfully.
It is now claimed that these deals were the results of pressure applied during the 2003–2012 period. A massive restructuring of the market may lead to unpredictable consequences.
Georgia is in a bizarre situation of dual power. Mikhail Saakashvili remains president with vast powers until fall of next year, when presidential elections and constitutional reform will turn the country into a parliamentary republic.
However, Saakashvili is hardly using his clout, confining himself instead to sharply worded statements. The official version has it that he respects the opinion of the people who have voted for the "dream."
There are, however, other explanations. The president may be waiting for his opponents to make mistakes, in order to launch a counteroffensive under the slogan of saving the country.
Rumors abound about attempted behind-the-scenes deals that would ensure immunity for the former regime leaders and their interests in exchange for neutrality. The same rumors say, however, that Ivanishvili rejects a "separate peace," because his voters expect him to behave in the opposite way.
Finally, Saakashvili, like any authoritarian charismatic leader, did genuinely believe that the people were behind him; so defeat may have broken him psychologically. Be that as it may, many in Georgia say that the Saakashvili era is over ‒ he will never regain the people's trust.
Ivanishvili's main task is to make the Georgian system more democratic, without forfeiting the achievements of recent years. In fact, Saakashvili's only achievement has been to organize the work of the state apparatus, which is indeed very efficient now. Whether this can be preserved without resorting to repressions is unclear.
The new government does not seem to have a coherent economic program. The Georgian Dream made many promises during the campaign, and it now has to keep them. Ivanishvili may invest his own money to deliver a quick result, but that would be a one-off measure that would not restart the economy.
Naturally, Russia looms large in conversations. On the one hand, Georgian colleagues understand that the relations are in a stalemate that will take a lot of patience to break. They seem to be aware of the asymmetry: Moscow has much less need for mending fences than Tbilisi.
Even so, there is an expectation that Russia will reciprocate if Georgia takes a step toward reconciliation. The fact that Moscow did not react to the appointment of Zurab Abashidze, an experienced diplomat, as the prime minister's special envoy for relations with Russia, is seen here as negligence.
The same holds for the main conflict involving the status of Abkhazia and South Ossetia. Tbilisi realizes that there is nothing to discuss at present; one must accept the status quo as a given and try to sidestep the topic. At the same time, it hopes to see at least some changes in Russia's position on the matter.
Georgia is indeed changing and learning lessons from the dramatic events of the past two decades. It is an internal process; each nation has to make the journey of self-discovery.
If Moscow wants to preserve some of the traditional links between the two peoples, it needs to do just one thing: send a clear signal that there is a chance for improved relations and that Russia is interested in this.
Fyodor Lukyanov is editor-in-chief of Russia in Global Affairs and head of the Foreign and Defense Policy Council.
First published in Russian in Rossiyskaya Gazeta.

All rights reserved by Rossiyskaya Gazeta.