One last lucky number before the end of the world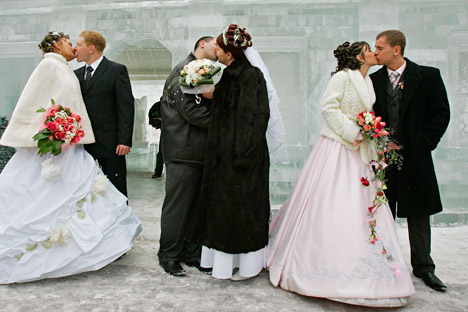 The first twelve years of this century have seen a wedding blitz on each "three-number day" (12.12.12) since it is considered to be a good omen. Source: AP
This century's last "three-number day" (12.12.12) is expected to see a wedding marathon.
If statistics existed on the most superstitious countries, Russia would probably be in the top ten. People here fear black cats, avoid using the word "final," and have more synonyms for "die" than anybody else. Numbers are also very closely watched.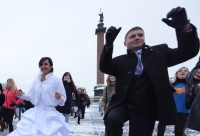 The "three-number date" has been popular ever since January 1, 2001. The first 12 years of this century have seen a wedding blitz on each "three-number date," since the numerical sequence is considered to be a good omen. This year, the cycle ends: the next lucky date will be in 89 years' time on January 1, 2101.
"We didn't get to marry on last year's three-number day, so we postponed the wedding until this year," bride-to-be Natalia Naydenova told RBTH. "We agreed with the registry office six months ago that we'd get married on 12.12.12 at 12:00."
"For me, it's no big deal," said Anatoly Bocharov, Natalia's fiancé. "Although, there is a plus side: it's easy to remember. And women get very offended if you forget such dates."
In September 2009, there were fewer weddings than usual for such an auspicious date. The reason? Superstition, of course. Three inverted nines resemble the biblical number of the beast, and Russians latch onto bad omens just as willingly as good ones.
More than 1,000 couples will wed on Dec.12 in Moscow alone – a record for a Wednesday.
"In Moscow, 1,082 marriage applications were filed," said the press secretary of Moscow's Central Civil Registry Office, Yevgenia Smirnova. "Although that's slightly fewer than last year: 1,179 applications were filed for 11.11.11."
The reasons for the drop in demand for the "beautiful date" have been investigated by Ipsos, a company that specializes in market research. Having conducted a survey of 16,000 people from around the world, it found that 13 percent of Russian citizens believe that the world will end on Dec. 21, according to the ancient Mayan calendar. In China, the figure is 20 percent.
Russia took first place in another "category" on the survey – fourteen percent of the population is experiencing fear and anxiety in the run up to Dec. 21. In second place, by a small margin, are the Poles, followed by the Chinese in third.
It would seem that those who believe in the magic of numbers and those who believe in the impending apocalypse on Dec. 21 are essentially one and the same. Therefore, they probably consider it to be bad form to get married one week before the end of the world and in an atmosphere of feverish angst.
Still, almost 600 pairs of lovebirds have applied to their local registry office to get married on the actual date of Dec. 21.
"For any self-respecting confirmed bachelor, getting married is in itself the end of the world, and all that stuff about the Mayans is a storm in a teacup by comparison," jokingly said Alexey Solonin, who has appointed the date for his wedding.
His bride has her own motivation, which has nothing to do with superstition.
"Dec. 21 is the longest wedding night of the year," she said wistfully. "As for the end of the world... What's the point of being afraid of something over which you have no control?"
Those who plan to marry on the "three-number date" are sure that the numbers will protect them. From a numerological perspective, the perfect wedding date was February 2, 2002: the day of three deuces. In the esoteric science of numbers, "two" represents the synthesis of the male and female elements and is a sign of love and motherhood.
However, statistics have put a damper on the mysticism: forty percent of couples married on "triple-deuce day" are now divorced, ten years later. Clearly, it's not all in the numbers.
All rights reserved by Rossiyskaya Gazeta.