Will Magnitsky cause a trade war?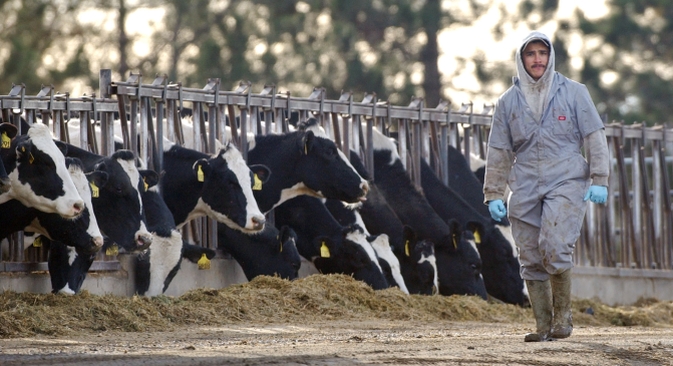 Russia is the sixth-largest meat export market for the United States, worth $500 million annually. Source: AP
Russia effectively bans the import of some U.S. meat products. Market players and industry experts relate this stance to the Magnitsky Act.
A new trade war might break out between the United States and Russia over agricultural products. The Federal Service for Veterinary and Phytosanitary Control (Rosselkhoznadzor) stopped imports of American meat from animals fed ractopamine – effectively, all meat available for export to Russia. The U.S. has protested that the move violates WTO regulations.
Russia is the sixth-largest meat export market for the United States, worth $500 million annually. Exports of pork to Russia from the U.S. were valued at about $208 million from January to September 2012, up 14 percent year-on-year according to the U.S. Meat Export Federation. Beef sales, meanwhile, rose 25 percent to $242 million.
Ractopamine is a beta-adrenergic agonist used as a feed additive for swine and cattle. Rosselkhoznadzor claims that eating such meat is unsafe for the human cardiovascular system. Russia is not imposing a ban on meat imports, but is asking for ractopamine-free certification.
But because the U.S. does not have a certification program in place, Russia's requirement would effectively ban imports of U.S. products, according to a statement made by Joe Schuele, a spokesman for the U.S. Meat Export Federation to the Wall Street Journal
Rosselkhoznadzor has promised a transition period for countries without the relevant expertise approximately until the end of January 2013. Russian laboratories will test meat for ractopamine during that period. Any batches of imported meat in which it is found will be sent back.
"The United States calls on Russia to suspend these new measures and restore market access for U.S. beef and pork products," U.S. Trade Representative Ron Kirk and Agriculture Secretary Tom Vilsack said in a joint statement. The USDA is working with the Russian agency, citing the World Health Organization's Codex Alimentarius, which approved small amounts of ractopamine in meat. Representatives of 186 countries adopted the document in July 2012, against protests from Russia and the European Union.
Market players and industry experts were quick to link Rosselkhoznadzor's decision to politics. "These Russian demands constitute a political retaliation to the U.S. Senate passing the Magnitsky Act," ITAR-TASS quoted unnamed representatives of the U.S. Meat Export Federation as saying.
"There is certainly no doubt about it", Rich Nelson, chief strategist at research and brokerage company Allendale Inc., told Reuters.
Rospotrebnadzor first stated publicly on Oct. 6, 2011 that using ractopamine in products intended for the Russian market was unacceptable. The agency then expressed concern about use of the drug by Brazilian exporters of meat to Russia. Russian delegations visited Brazil several times during the year to resolve the situation. The most recent such visit took place this autumn and the Russian agency said afterwards that, in order to make a final determination on resumption of exports from Brazil, it needed to study documents supplied by the Brazilian side.
Mike Zuzolo, president of Global Commodity Analytics said: "My first inclination is to ask how much of this is related to geopolitics and how much of this is the Russians trying to negotiate political issues through our pocketbooks."
The day before the ban, the US Senate voted in a landslide 92 to 4 votes to pass the Magnitsky Act prohibiting Russian citizens implicated in human rights violations from entering the US or conducting financial operations there.
Rosselkhoznadzor has assured that the Magnitsky Act had nothing to do with the ban. "Rosselkhoznadzor considers it expedient to remind that it announced publicly more than a year ago that using ractopamine in products intended for the Russian market was unacceptable," the agency said in a special statement.
Russia also halted imports of meat from Canada, Brazil and Mexico over ractopamine.
The move has affected the market for U.S. meat products. Hog futures dropped 1.4 percent to hit a two-week low on the Chicago Mercantile Exchange on Dec. 6. "It's bearish news for the pork market," said John Kleist, a senior analyst with futures brokerage Ebottrading.com.
Steve Meyer, a pork-industry economist with Paragon Economics Inc., wasn't so negative. "We'll have some more product on the market but we won't be overwhelmed with pork product. It's not as if the Japanese quit buying," Meyer said. Japan is the top importer of U.S. pork and buys four times as much as Russia.
The United States is Russia's fourth biggest supplier of pork. Imports account for a third of Russia's domestic market.
First published in Russian in Gazeta.ru.
All rights reserved by Rossiyskaya Gazeta.