Hawking receives the world's science prize founded by Russian investor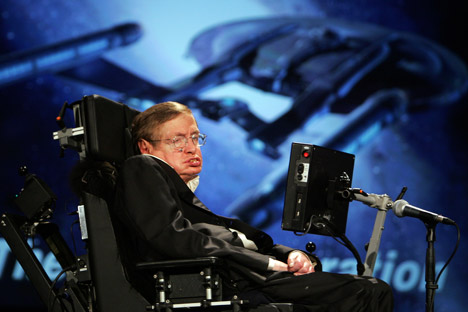 Physicist Stephen Hawking became the winner of the Special Fundamental Physics Prize founded by the Russian investor and Internet mogul, Yuri Milner. Source: AP
Renowned physicist Stephen Hawking recently received just under $3 million as the winner of the Special Fundamental Physics Prize. The annual award was founded by the Russian investor and Internet mogul, Yuri Milner. Hawking intends to spend his prize money on his autistic grandson and a vacation home.
The prominent British cosmologist Stephen Hawking has been awarded the biggest prize for science in the world. The Guardian reports that the renowned British theoretical physicist will spend most of his $2.9 million in prize money on a holiday home and his autistic grandson.
In an email to the Guardian, Hawking said he was delighted and honored to receive the prize. "No one undertakes research in physics with the intention of winning a prize. It is the joy of discovering something that no one knew before," he wrote. "Nevertheless, prizes like these play an important role in giving public recognition to achievements in physics. They increase the stature of physics and interest in it."
The Special Fundamental Physics Prize was set up this summer by the Internet mogul and founder of Mail.ru Group, Yuri Milner. Winners of the prize are named by an independent commission of scientists, which includes Edward Witten (one of the most influential researchers in superstring theory) and Alan Guth (the developer of the idea of cosmic inflation). The annual prize is awarded for both outstanding discoveries and the popularization of physics; each prize-winner receives $2.9 million, which is roughly three times the equivalent of the Nobel Prize.
The former professor of mathematics at Cambridge University was awarded the prize for positing a theoretical argument in 1975 for the existence of radiation (thereafter named "Hawking radiation") predicted to be emitted by black holes. The scientist is prominent for his achievements in cosmology and quantum gravitation, and, in 2004, Hawking provided an explanation of the black hole information paradox. He has also achieved success with works of popular science, many of which have become international bestsellers, such as the book "A Brief History of Time."
Hawking has had motor neurone disease since the 1960s and is unable to get around without the use of a power chair. In 1985, Hawking, having contracted pneumonia, had an emergency tracheotomy and lost his ability to speak. Despite this, he has led a very active life in the last decade. In 2007, for example, he had the chance to take a zero-gravity flight in a special plane. Hawking served as the Lucasian Professor of Mathematics at the University of Cambridge – the same academic chair that was held by Sir Isaac Newton.
First published in Russian in ITAR-TASS.
All rights reserved by Rossiyskaya Gazeta.