The repeal of the Cold War era Jackson-Vanik amendment, which limited trade with Russia and was a roadblock in relations, should be seen as an historic feat. The legislation was sent from Capitol Hill to the White House on Dec. 7, and President Barack Obama has signed the legislation on Dec. 14.
But Russian and some American officials aren't lining up to celebrate the long-awaited permanent normalization of U.S.-Russia trade relations, since the provisions of the Sergei Magnitsky Rule of Law Accountability Act, long linked to the trade bill, will also become law. The new sanctions against some Russian citizens could sour relations for months to come.
The linkage of the two bills was passed with overwhelming bipartisan support in both the House of Representatives and the U.S. Senate despite repeated warnings from Russia's Foreign Ministry that the bill would "negatively affect prospects of bilateral cooperation."
During the second week of December, Moscow came up with its own legislation to be named after a Russian adopted child who died of heat stroke when his American father left him in his car for nine hours. The Dima Yakovlev Act will contain a list of categories of Americans that will not be allowed into Russia. This bill is likely to pass as well.
But this is not how the Obama administration wanted this to play out.
"We can be sure that Obama will want to continue to seek a genuinely cooperative partnership with Russia," said Sam Charap, a senior Fellow for Russia and Eurasia at the International Institute for Strategic Studies.
"But Moscow has shown little interest in this relationship since Putin's return to the Kremlin," he added. "So the real question is: How will Putin handle U.S.-Russia relations under Obama's second term? Will he put the campaign-driven anti-Americanism and blasé attitude toward a president in the last year of a term behind him, and respond to the administration's initiatives? Or will he continue the status quo?"
Some American lawmakers on the Hill, where the legislation was passed by 92 to 4 in the Senate and 365 to 43 in the House, also downplayed the consequences of a vote that Moscow labeled a "spectacle in the theater of absurd." The Foreign Ministry had promised a "mirror response."
Rep. Adam Smith (D-WA) who voted for the legislation, said in an interview that he is still looking forward to working with his Russian counterparts in the State Duma.
"There is no relationship in the world without differences," he said." We have concern about human rights in Russia. But we will continue to work with your country."
On the eve of the Senate vote there was uncertainty regarding the focus of the bill's "targeted sanctions"–some key lawmakers behind this push, including its main backer Sen. Benjamin Cardin (D-MD) – initially wanted the scope of the bill to be global. But, in the end, the only target was Russia.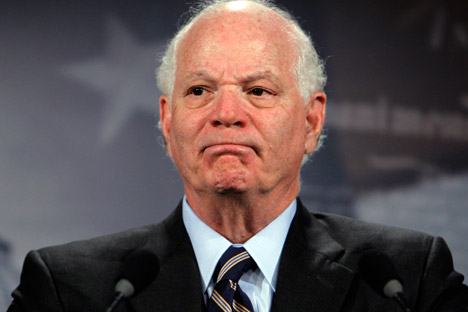 Sen. Benjamin Cardin (D-MD) is among one of the main backers of the Magnistky Act. Source: AP
"American lawmakers today rarely come together on certain issues because of very partisan debates on key domestic policy topics," said one Congressional staffer who did not want to be named. "But bashing Russia is something that everybody on the Hill can afford. Doing the same thing regarding China or Saudi Arabia where human rights leave much more to be desired compared to Russia is politically very complicated."
However David Kramer, president of the Washington D.C.-based human rights watchdog Freedom House and an outspoken supporter of the Magnitsky Act, said that, "next year Congress should apply this model to human rights abusers in other countries where there is impunity for such violations."
The human rights community has already suggested that the legislation be expanded to include Ukraine, Belarus and Central Asian states.
If the Magnitsky Act is signed before the end of this year, the black list of Russian officials - deemed responsible in some way for the tragic death of attorney Sergei Magnitsky in prison - will become public in in about 120 days. The number of American visa and financial sanctions will most likely apply to a much broader number of persons than those allegedly involved in the Magnitsky case.
The bill provides an opportunity to go after "other gross violators of human rights" and gives the chairmen and ranking members of certain congressional committees the right to send written requests to the government agencies that certain individuals be added to the "stop list."
Russian opposition leader Boris Nemtsov, who has supported the legislation, told RBTH that "this law is much wider than just the Magnitsky list."
"Now we have a great opportunity to put a lot of people on this list," he said.
Russian Minister of Foreign affairs Sergei Lavrov has warned of both symmetric and asymmetric responses to new U.S. sanctions against Russian citizens.
The Dima Yakovlev legislation in Russia will also prohibit some Americans from doing business or holding investments in Russia.
There is politics, and then there is business
RBTH has also learned that some of the American lawmakers who were proactive in pushing the Magnitsky Act through Congress may be included on a Russian "black list."
Russian First Deputy Prime Minister Igor Shuvalov said that he hopes that Russian retaliation won't affect the interests of the American business community because of the Magnitsky Act.
"Russia is preparing its response," Shuvalov said at the recent 2012 New York Stock Exchange Russia day. "But this is the political side of U.S.-Russia relations and may affect some American officials. It's not about business people."
The U.S. business community has focused on the trade dimensions of the U.S. legislation and is urging Obama to sign this measure into law as soon as possible.
"This is an historic step that the business community has worked long and hard to achieve," President and CEO of the U.S.-Russia Business Council Edward S. Verona told RBTH.
Like their competitors from other World Trade Organization member countries, American companies will now be able to take full advantage of the opportunities created by Russia's membership. This could lead to a doubling of U.S. exports in the next five years to approximately $20 billion, according to some estimates.
Similarly, Russian companies will enjoy improved access to the United States market, where Russian steel, titanium and fertilizers have already had considerable success.
"I believe that this will increase our mutual stakes in a more stable economic and commercial relationship, which bodes well for overall U.S.-Russia relations." Verona said.
Alexander Gasyuk is Rossiyskaya Gazeta's Washington D.C. Bureau chief
All rights reserved by Rossiyskaya Gazeta.