At least once a year, the entire population of Russia sits down to a scrumptious prelude of flavors, in the vein of the most upscale designer restaurants. Since this is done for New Year's celebrations, it is a very old tradition. The New Year's dinner would lose much of its flavor if it were not imbued with the mixed smells of freshly cut fir trees and the much-loved New Year's dessert – tangerines.
Notably, these tangerines differ from those imported from Africa or Spain, to which Europeans are accustomed. These are a different breed grown in the South Caucasus, with the peel not purely orange but with yellow and greenish spots – more juicy, with a less bitter and more pronounced pine scent.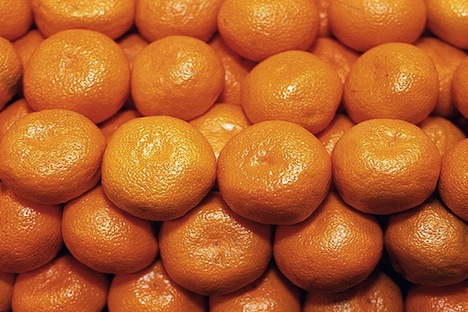 Tangerines. Source: Press Photo
By now, the New Year's trees have finally been decorated, and kids are already munching tangerines, spreading the smell and the peels all over the place – the right atmosphere is here. It is time to check out the meal itself. Unfortunately, it is mostly composed of appetiser dishes; the tradition of a grand Christmas dinner "to the heavens," with an exquisite menu and multiple dishes, was wiped out by Communists and never restored.
Drinks and snacks were the only survivors. The present New Year's dining tradition was formed during the Soviet era, and there is no sign of it dying out anytime soon: people in Russia certainly do enjoy drinks and snacks.
Let's start with the most traditional snacks that "go with vodka" – sauerkraut and pickled cucumbers. Grown in Russia's temperate climate, these vegetables have a far more delicious taste than cucumbers or cabbage grown in the gastronomic paradise of the Mediterranean, which might be a piece of news even to the greatest patriots of Russia. This is not the humble opinion of yours truly, but rather a fact according to Pietro Rongoni, chef at one of Moscow's top-notch restaurants.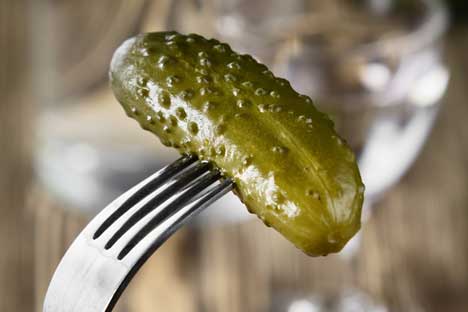 Pickled cucumbers. Source: Lori / Legion Media
Making sauerkraut is very simple: before letting the shredded cabbage ferment in a brine of salt and lactic acid bacteria, it is mixed with carrots, cranberries or green apples. Making pickles, however, requires more sophistication: only pickles made in Russia taste right. It is actually pickles, along with dark bread, that make all Russians living abroad so furiously nostalgic, because of the special flavor, the special pickling techniques using oak casks, and the complicated mixture of spices.
Apart from allspice and tarragon, which are fairly common in the West, they also use horseradish, cherry and blackcurrant leaves, fennel blossoms and other herbs to make pickles; every housewife is sure to have a few secrets of her own. Usually, sauerkraut and pickles go with ice-cold vodka.
Next comes the dullest – and the most omnipresent – part of the New Year's meal: the salads. Traditional salads are so uninteresting because most Russians go for the store-bought mayonnaise as a dressing, which hopelessly spoils the dishes.
There are three traditional salads, and we must start with the most famous one, "salade russe" (dubbed in Russia "Olivier," after the French chef who invented it in the mid-19th century). While the total sum of ingredients for the original Olivier salad could run up to 40 (including grouse flesh, blue cheese and crayfish tails), the basic components are always the same: boiled potatoes, carrots and eggs, green peas, onion, pickles and cucumbers.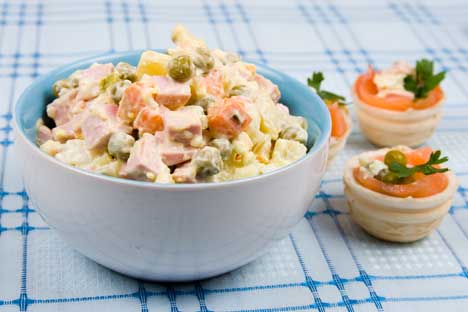 Salad 'Olivier.' Source: Lori / Legion Media
Another Russian salad with a French name, "vinaigrette," or beetroot salad, is also fairly easy to make: the above ingredients are supplemented with boiled beet roots, which is a very common vegetable in Russian cuisine. Naturally enough, it is dressed with vinegar, as follows from its title, and can also contain herring fillets salted with spices.
The fish can also have a solo role at the holiday table, as the main ingredient of the dressed herring dish (often dubbed "herring under fur coat"): a layered salad where the herring fillet layer is followed by boiled vegetables (including, incidentally, beetroots) and green apples.
Running jokes about New Year's salads are very common, and they tend to make fun of the quantity and softness of the salads. The salads are so soft that, if inebriated guests or hosts fell face-down into their dishes, they could get a comfortable night's sleep.
As the merrymakers wake up in the morning, they will definitely need to fix their health – and this is where meat and fish jelly will come into play, along with a drink or two.
Meat jelly, or "kholodets," is made of boiled and spiced pig feet and heads jellied in a meat broth. In France, the dish is known as "fromage de tête," but a Russian kholodets is actually thinner. Fish jelly is a dish very similar to kholodets.
Meat jelly. Source: Lori / Legion Media
While for everyday eating a jelly can be made of virtually any kind of fish, a holiday menu in a decent household requires sturgeon. Fish and meat jellies, washed down by a little vodka, are a good remedy to deal with the aftermath of an extravagant New Year's feast.
Of course, this list of snacks can hardly be considered exhaustive. We still have not mentioned the main course – or merely the "hot dish," as most Russians put it.
"Hot" is actually its main quality, and each family makes its own call. The main course varies from pies (most often, stuffed with cabbage, meat or fish), to fowl, to pig, to leg of a mutton, to gammon, or even to barbecue, if the celebrations are held outside. The main course is usually the highlight of the evening, served most often right after the 12th strike of the clock and after a drink of champagne.
Russian wines, including sparkling wines, are worth a separate article. It should be noted, though, that, unlike the tradition of Christmas dinners, the old tradition of greeting the New Year with French champagne has been restored. Thankfully, Veuve Clicquot and other wines are now back on Russian tables, just as they were in Pushkin's time.
Happy New Year!
All rights reserved by Rossiyskaya Gazeta.