Sochi Olympics ticket scalpers to face fines of up to $33,000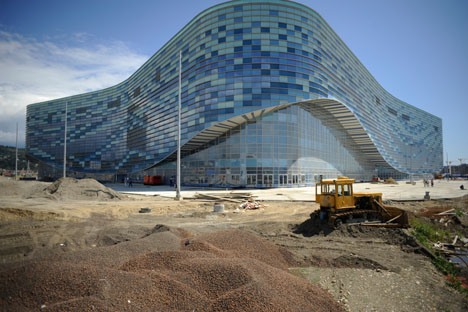 Construction of new infastructure in Sochi before the 2014 Winter Olympics. Source: Mikhail Mordasov
The Federation Council has approved 1-million-ruble fines for the resale of Sochi 2014 tickets.
Both chambers of the Russian parliament passed legislation to impose fines of up to 1 million rubles ($33,000) for violations of the rules on selling admission tickets to the events and the opening and closing ceremonies of the 2014 Winter Olympics in Sochi.
Scalpers will be fined up to ten times the face value of the tickets resold, and the maximum fine for officials will be twice as high. The minimum fine is 50,000 rubles (about $1,650). Companies will be subject to fines from 500,000 rubles to 1 million rubles.
Individual entrepreneurs and companies will be subject to 90-day administrative suspensions instead of fines. Courts will be allowed to pass judgments on a fast-track procedure, which will take up to 10 days.
Fees for admission tickets to sporting events and ceremonies will be set in agreement with the International Olympic Committee and the International Paralympic Committee by March 16, 2014. The federal law went into effect on January 1, 2013.
"This is not the panacea for ticket scalpers, who will keep reselling tickets via ticket offices and Internet portals. These measures, these ticket programs are there for people to understand that tickets are sold for real on the Olympic Internet website and through special programs, instead of going directly to the secondary market," said sports expert Andrei Malosolov.
Furthermore, the law regulates the procedure for selling entrance tickets to sporting events and ceremonies of the Olympics, including the introduction of spectator registration cards that will be handed over to the ticket buyer after appropriate identification has been produced.
The Sochi 2014 Organizing Committee will create a registration system, which will incorporate the issuance of registration cards. Ticket owners may be denied a "fan's passport," in which case the buyer will be able to get a refund for the ticket.
"Security at the Olympic events is a sophisticated system of arrangements. Besides security measures at the arenas, agencies ensuring security must conduct thorough intelligence work, to prevent hooliganism and terrorist attacks and to deal with provocateurs," said Maksim Grigoryev, president of the Foundation for the Study of Problems of Democracy.
Editor-in-chief of the magazine Olympic Panorama, Alexander Ratner, notes that most of the tickets to the Olympic events are purchased by foreigners. "I don't see why and how they will be checked," Ratner said.
Political analyst Vyacheslav Igrunov believes that only Russian ticket owners will be checked, as there will not be enough resources for all of the foreign guests.
The XXII Winter Olympics will be held in Sochi from February 7-23, 2014. The XI Winter Paralympic Games will be held in Sochi from March 2-16, 2014.
The artice is based on materials from RBC Daily, Rosbalt, and NEWSru.com.
All rights reserved by Rossiyskaya Gazeta.