Russian banks battle for capital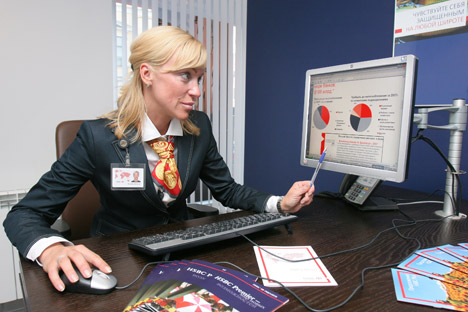 Poor capital quality remains the main problem for Russia's banking sector, according to Moody's, which believes the outlook for Russia's banking system for 2013 is negative. Source: ITAR-TASS
Experts expect a decrease in the banking sector's capital, a worsening quality of consumer loans, an increase in interest rates, and stricter supervision by the Bank of Russia.
Experts warn that Russia's banking sector is aggressively expanding lending – especially in the high-risk consumer segment – while the banking system's capital adequacy is declining. In its Russian banking system outlook for next year, Moody's Investors Service predicted, according to a central scenario, an increase in the share of problem loans to around 11 percent by the end of 2013.
This is up from 9 percent in both 2012 and 2011. Meanwhile, the Tier 1 ratio could decrease to around 7.5 percent by the end of 2013, down from 9.5 percent at mid-2012, due to continued (albeit decelerating) increase of lending, higher loan provisions, and potential trading losses.
On the downside, risks under a more negative scenario (which Moody's believes is so far unlikely) are due to uncertainties surrounding oil prices and potential capital flight in the event that the euro zone crisis intensifies.
"There is a possibility that a sharp drop in oil prices would trigger a repeat of the 2008 crisis: the ruble would suffer a de-valuation, the solvency of companies and individuals would decrease, and capital flight would intensify. The banking system would thus experience an increase in problem loans, a liquidity crunch, and a falling demand for loans," said Olga Ulyanova, vice president and senior analyst of Moody's Moscow office.
The expansion of high-risk, unsecured consumer lending, which, according to the Central Bank of Russia, grew by more than 40 percent annually in 2011 and 2012, should slow down in 2013 for several reasons.
First of all, experts believe that a natural process of market stabilization will kick in.
"Growth of retail lending has been radically outperforming the growth of personal incomes and savings. Russians will be cutting down on bank-financed shopping next year. As a result, banks' retail loan portfolios will be growing at half the rate of 2012," said Mikhail Losev, editor of the banking and finance section of RBC business magazine. Interest rates could rise as a result.
"It's hard to say by exactly how much, but banks will try and increase the risk premium," said Natalia Orlova, chief economist of Alfa Bank.
Secondly, the "overheating" of consumer lending worries the Central Bank of Russia, which introduced a number of new reserve and capital regulatory measures this year for banks operating in this segment.
Poor capital quality remains the main problem for Russia's banking sector, according to Moody's, which believes the outlook for Russia's banking system for 2013 is negative.
"The Central Bank has unambiguously indicated that it would implement the Basel III international requirements," said Ulyanova.
She added that 2013 would see an increase in both capital adequacy and quality of Russian banks, which will find it more difficult to increase lending. In this regard, privately owned banks will experience the strongest pressure, due to their limited ability to raise capital compared to state-owned banks and subsidiaries of international financial institutions.
As far as the latter are concerned, their biggest challenge will be switching from cheaper funding provided by their parent institutions to attracting resources locally. That being said, Moody's noted that it was not expecting apocalyptic scenarios for Russia's banking sector in 2013.
All rights reserved by Rossiyskaya Gazeta.