Russian scientists come up with project to shoot down the Apophis asteroid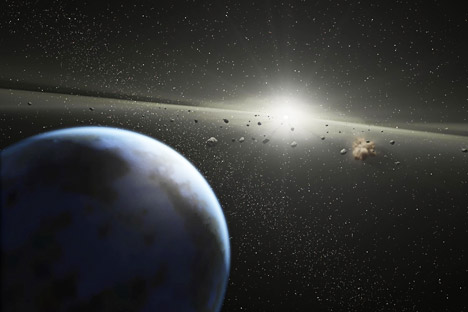 Russian scientists have outlined a project to protect Earth from the asteroid Apophis, which could theoretically strike in 2036. Source: AFP / East News
Russian scientists have outlined a project to protect Earth from the asteroid Apophis, which could theoretically strike in 2036.
Russian scientists have developed a new method to protect Earth from asteroid strikes: They propose that celestial bodies on alarming trajectories be knocked off course using other asteroids.
"It's about directing small asteroids into the path of large, dangerous ones," said Natan Eismont, one of the authors of the project and a leading researcher at the Institute of Space Research (ISR) at the Russian Academy of Sciences.
"The trick is to change the trajectory of the 'projectile' using a gravity assist from Earth," he added. "This gravity assist, or swing-by maneuver, can increase the velocity of a body to up to 3 kilometers per second [1.9 miles per second]; although, to bend the trajectory sufficiently requires a boost of only 2.5 meters per second,"
The group, which includes Eismont and other scientists from the ISR and the Moscow Institute of Electronics and Mathematics (under the Higher School of Economics led by U.S. scientist David Dunham), is creating a Russia-based laboratory to develop mathematical models to detect Earth-bound asteroids and comets.
The project is being financed by a grant worth 150 million rubles ($4.9 million), tendered by the Russian Ministry of Education and Science.
Scientists have already outlined a project to protect Earth from the asteroid Apophis, which could theoretically strike in 2036.
Eismont and his colleagues propose using a gravity assist to knock Apophis off its "dangerous path." Gravity assists are commonly used to accelerate spacecraft. The "slingshot effect" helps many interplanetary vehicles reach the outskirts of the solar system with almost no fuel expenditure.
According to Eismont, the calculations show that an Earth-assisted gravity maneuver for an asteroid projectile 15 meters (50 feet) in diameter and weighing 1.4 tons would require just 1.2 tons of fuel (dinitrogen tetroxide and heptyl) and about 30 kilograms (66 pounds) of engine thrust.
Scientists propose using a Soyuz rocket to place a beacon on Apophis; such an instrument is already being developed by the ISR and the Lavochkin Association. A second device — the projectile engine — would be launched on board a Proton rocket.
Scientists have identified asteroid 2011 UK10 as the most suitable candidate for the sortie. To "knock out" Apophis in June 2027, the engine should be launched in December 2021, for touchdown on the asteroid in August 2022. A second mission is also on the drawing board, which envisages setting up a collision with Apophis in 2031.
According to Eismont, the method he and his colleagues propose is one of the most effective.
Other methods, such as using a "gravity tractor" (a heavy satellite whose gravity gradually alters the asteroid's trajectory) or coloring the celestial body with reflective paint to increase the sunlight intensity, would take a very long time and have very little effect.
According to project leader David Dunham, a report will be presented in Arizona in April 2013 at a conference on planetary protection.
First published in Russian in RIA Novosti.
All rights reserved by Rossiyskaya Gazeta.