Tarkovsky's interpreter reveals details about his life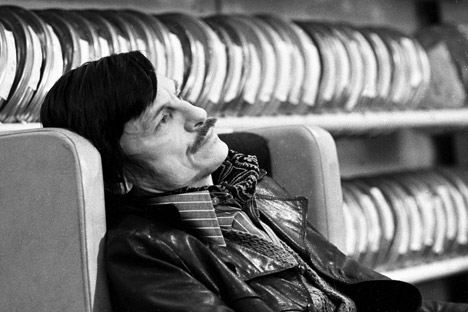 Russian iconic filmmaker Andrei Tarkovsky. Source: RIA Novosti
Layla Alexander-Garrett's memoir about the famous director is a chronicle of intriguing humanity and poetic imagery.
In the summer of 1985, the great, Russian filmmaker, Andrei Tarkovsky, shot what turned out to be his last film; he died the following year. Tarkovsky directed five films in the Soviet Union, including classics like "Stalker" and "Andrei Rublev," then "Nostalghia" in Italy and his final masterpiece, "The Sacrifice," in Sweden.
Layla Alexander-Garrett worked as his interpreter during the shooting of "The Sacrifice"; "Andrei Tarkovsky: Collector of Dreams" is based on the diaries she kept that year and shows the director in a very human light.
Tarkovsky's cinematic trademarks include an emphasis on spiritual themes (which brought him into conflict with the atheist Soviet authorities), long, slow takes and haunting music. His last movie's strange story involves the "sacrifice" of an aging actor and critic, who leaves his family and burns down his own beautiful house in order to prevent nuclear catastrophe.
The Swedish director, Ingmar Bergman, praised Tarkovsky, calling him the greatest filmmaker: "who invented a new language, true to the nature of film, as it captures life as a reflection, life as a dream." Images of dreams and reflections recur throughout Alexander-Garrett's memoir. The two longest sections describe the actual shooting, often frame by frame, of "The Sacrifice."
The chapter on "Gotland Dreams" is a particularly evocative and fascinating portrait of an artist, working with, and sometimes against, the windswept, Baltic landscape he has chosen to represent timeless simplicity. She reveals his stubborn methods (like insisting all the dandelions are removed from the grass), verging on the sublime as he allows the sun to shine straight into the camera for the closing shots after hours of deliberately veiled light and overcast skies.
On her first encounter with Tarkovsky's work, a screening of "Ivan's Childhood" at school, Alexander-Garrett writes "it was as if someone had torn away my skin."
The chance to work with her hero is unexpected and she records it in a lively style; the reverence of the star-struck child sometimes resurfaces, but she can see Tarkovsky's failings too: his impulsive moods and possessiveness; his autocratic insistence that his interpreter remove her sunglasses; or his insistence that she drink ice tea rather than Coke.
The author's own role in "Collector of Dreams" is both objective and delightfully subjective. She faithfully transmits Tarkovsky's ideas and methods: "Interpreters are not free agents: like serfs, they are to forget their own wishes," while painting unflattering portraits of some of the people around him.
His wife is "a corpulent woman with elaborate hair … wearing a summer dress with ruffles and flounces." Alexander-Garrett is scathing about the hypocrisy of Soviet leaders who "bask in the reflected glory of the artists they have ground into dirt."
Alexander-Garrett's tendency to become side-tracked by nostalgia and historical digressions occasionally derails her narrative, but Tarkovsky's personality shines through. She records details not only of the movies he made, but those he was planning, like his scheme to film Hamlet's encounter with his father's ghost in the Grand Canyon, "the perfect place to speak with God."
Before he died, Tarkovsky predicted that Alexander-Garrett would write about him. "Don't describe me as some kind of impossible, tyrannical dictator," he said, and advised her: "Write only what you yourself actually felt, what I meant to you… Don't be neutral … don't be afraid of the pronoun, I." It is advice she has listened to and that he himself lived by. This human connection will delight fans and fascinate students, making Collector of Dreams a valuable chronicle.
All rights reserved by Rossiyskaya Gazeta.