Each year, with the approach of summer, street vendors appear in Moscow: In locations around the city, arts and crafts vendors display their wares on unsophisticated tabletop showcases. Here you can find jewel cases and candlesticks, printed T-shirts and gadgets for the home. However, the thing that whets the appetite of snappy dressers the most is the handmade jewelry that is typically found at these little markets.
Today, handmade accessories have become more than just an affordable way to diversify one's wardrobe and display one's originality. These ornaments can be combined with almost any style, thus giving it some frivolity.
This way, the office uniform, completed with a ceramic or metallic necklace, loses its officious and aggressive character. A modest school outfit, combined with long silver beads and gems, becomes mysterious and romantic. These knickknacks are a way to distance oneself from mass consumer goods, and show one's membership in the counterculture.
A brief history
It all began in the eighth century, when ancient Slavic tribes began to pay attention to jewelry and accessories. Earrings, rings and massive necklaces became popular among Slav women. Ornaments were not just nice things to have, but also served as symbols of wealth and prosperity, bringing luck to their wearers and safeguarding them against the evil eye.
The ancient Slavs were true fashion enthusiasts. They preferred long and delicate earrings, and the necklaces they wore were of two basic types: multi-layered strands of glass and metal, and jewelry made of semi-precious stones, beads and massive metal hoop-torques of various shapes and often with unusual decorative solutions. These models are once again in real demand today.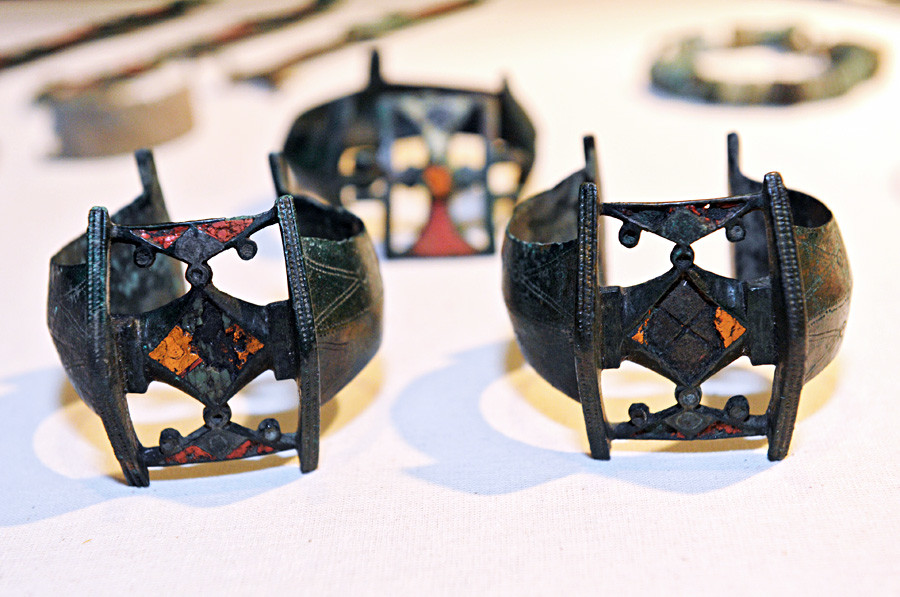 Headbands and tiaras, which not so long ago again came back into fashion, were very popular in those days. Lubor Niederle, a Czech historian, wrote: "The most important, and characteristic for the Slavs, were rings woven into women's hair.
These represented original decorations that were hung from both sides of the head, in front and behind the ears, covering the temples or hanging to the shoulders. These hung from slings or diadems, encircling the head, or simply freely woven into the hair."
A tribute to those tired of civilization
Felt beads and wooden bracelets with frescos, earrings with ceramic figurines and forged rings bearing Scythian and Slavic symbols – all these can be found at seasonal festivals such as Other Things or Apple Paradise, and others. In the better places, there are tables, which for a moderate fixed sum are rented to sellers during the time of the fair, usually the two weekend days.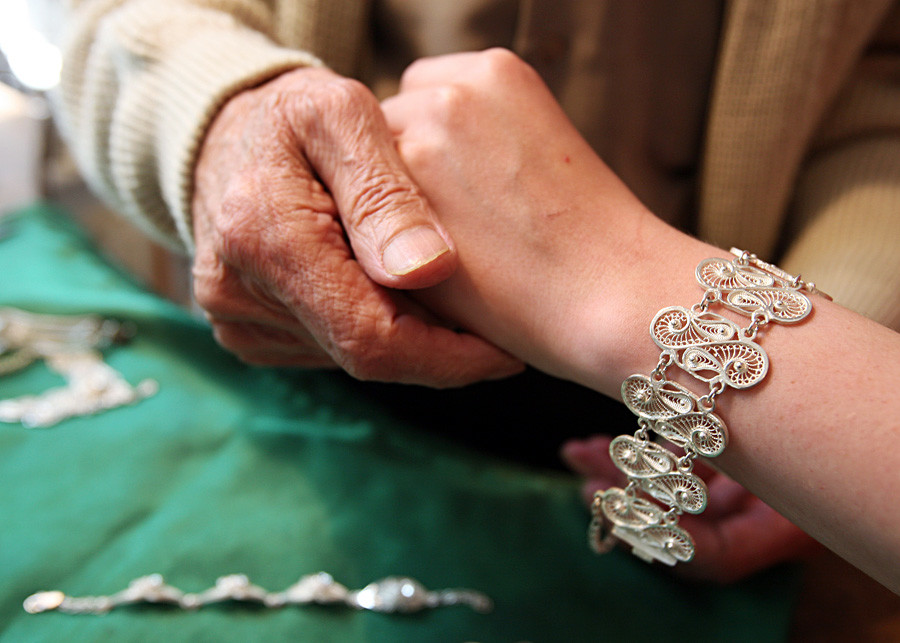 Retro-style jewelry.
Taras Litvinenko /Sputnik
Visitors also have to pay admission (about $7–10) and can move freely along the tables choosing their decorations. These are handmade at home from independently selected materials.
Very popular, for example, are jewelry earrings, pendants and brooches in the style of the 18th and 19 centuries, made from bronzed metal with glass, lace and pearl elements.
Then there are the wooden, and more precisely – veneer, brooches in the form of small animals, painted with acrylic colors, and original earrings and pendants made using the "wooden lace" technique, which is cut from thin veneer in the form of various ringlets and figurines.
Such things are sold personally or through friends at such fairs or in small showrooms, such as the Khokhlovka Showroom. These venues are widely known in narrow circles.
Combining one's main occupation with 'needlework for the soul' has become a common phenomenon. "Friends wonder how I have time to do all this, and more importantly, why am I doing all this," says Natalya, a marketing specialist by day and 'flea-marketer' in the evenings.
"Well, for me, this is pure joy – to sit in the evening with my beads and make something tangible, real, and not an information file or an article of news – a Real Thing," she says.
Those with an interest in amateur jewelry and other handmade accessories can find temptations aplenty on the portal Livemaster, where hundreds of arts and crafts masters from all over Russia and beyond are already registered.
Here, like at a real market, you can not only buy a ready-made thing, but also by talking directly with the artist, you can order a personalized version of your favorite piece.
In recent years, some popular brands have emerged from such 'works for the soul'. For example, the eponymous brand created by Anna Slavutina, who now even has her own studio, sales outlets, and the regular customers, began when its founder decided to make a birthday gift for a friend with her own hands, and then people asked her to make more and more of the same things.
The accessories segment is one of the most promising and rapidly growing sectors in Russia. However, most of the masters see handmade objects merely as a hobby that brings in very little extra income.
In Russia, accessories have become an important part of the popular trend of mix & match (combining mass-produced and luxury items to create a distinct look).
Today you can easily meet a girl in a conceptual minimalist dress with jewelry from Pandora around her neck, a diamond on her finger and handmade earrings in her ears. If things continue this way, handmade jewelry will soon become a direct competitor to factory-made jewelry.
All rights reserved by Rossiyskaya Gazeta.