Highlights of Russian art week in London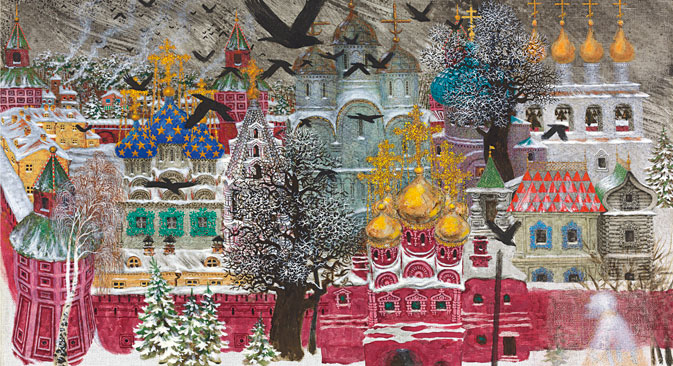 Vasily Sitnikov, Self-portrait with crows by the Kremlin, 1970.
Christie's
Bi-annual Russian creative showcase returns to the UK.
The return of the Russian Art Week to London this autumn is a timely reminder of how the arts can transcend politics. From Nov. 27 – Dec. 4, Russian art sales will be hosted at the capital's major auction houses accompanied by Russian cultural events including exhibitions, talks, opera and ballet.
Our previous event in June was clearly affected by economic sanctions that contributed to the weakest ever Russian Week of auctions in London. As the comprehensive report I commissioned on the Russian auction results for Russian Art and Culture explained, this was in part also due to the sharp fall in the value of the ruble and a general 'feel bad' factor amongst wealthy Russians. However, despite a reduction in spending by collectors, there was some positive news, including the sale of Zinaida Serebriakova's 1923 oil Study of a Sleeping Girl at Sotheby's. It became the most expensive painting sold during the June 2015 Russian Art Week, fetching £3.8m. The current international situation makes it difficult to forecast the result of forthcoming sales, but I predict that major works by artist with a good provenance will continue to do well.
November's Russian sales promise a diverse selection of works of art and decorative objects. Highlights at Bonhams include Romantic Encounter by Pavel Svedomsky and silver objects, such as a gem-set silver-gilt and cloisonné enamel presentation kovsh from a Moscow artel - artistic collection - and a silver-gilt presentation cup and cover by Khlebnikov. Christie's has a range of paintings and decorative art, including The cloud, 1961, a summer landscape by Vasily Shukhaev, and another scene with an unusual composition by Vasily Sitnikov, Self-portrait with crows by the Kremlin, 1970. The sale will also offer an important group of Fabergé, including a striking mantel clock and rare porcelain figures, produced by the Imperial porcelain factory.
One of my auction highlights has to be the Lefebvre-Foinet collection of over 200 works on paper by Natalia Goncharova. To be auctioned by Sotheby's, it is the largest single-owner collection of this highly acclaimed artist, who was one of the pioneering modernist painters of the early 20th century working in Russia. Together the works provide a comprehensive overview of her career as a key figure of the Russian avant-garde. Among the highlights of this collection will be Goncharova's ground-breaking set and costume designs for Diaghilev's ballets, her work for French fashion house Myrbor, interior design projects, studies for paintings and a number of sketches by Mikhail Larionov. Other highlights for sale include Winter in Abramtsevo, 1886 by Valentin Serov and Ramayana, 1931 by Boris Grigoriev.
MacDougall's sale highlights will be represented by depictions of Russian nature by well-known masters, including Forest Meadow and High Water by Isaak Levitan and Forest Clearing by Ivan Shishkin. Works by both of these outstanding artists enjoy wide popularity in Russia; their best works have gone on to become classics of Russian landscape painting. Shishkin has a keen following in Russia and is famed as the creator of the popular and well-loved painting Morning in a Pine Forest featuring bears. I expect that both of these pictures with traditional, realistic subjects will attract serious bids from top Russian collectors.
Alongside the sales, leading London galleries will also be presenting the work of living Russian artists, providing a good overview of the diversity of contemporary art in Moscow. One of my other highlights is the Peripheral Visions exhibition at GRAD gallery, which showcases works by Olga Chernysheva, who documents the everyday in a variety of media. Mayfair's Erarta Contemporary Art Gallery London, in collaboration with well-known Russian dealer Maxim Boxer, will present the first UK retrospective of famed Moscow conceptualist Sergey Shutov, Russian Landscape. Over at Pushkin House visitors can see cartoons by Alexei Merinov.
Several lectures will take place in Russian Art Week, including one by world-renowned Professor John Bowlt, visiting from California, who will lecture on the origins of the Russian Avant-Garde. At GRAD gallery, dealer James Butterwick will take part in a panel discussion on the challenges of fakes and forgeries in Russian art and Gallery Elena Shchukina will host Gregoire Aslanoff's lecture in Russian on Marc Chagall. In addition, the Courtauld Institute of Art will host a screening of The Gospel Circle of Vasily Polenov followed by an academic round-table discussion.
Coinciding with our Russian program is an exceptional exhibition at the Science Museum - Cosmonauts: Birth of the Space Age. This display has been brought to London, despite significant political challenges during its planning stages when it was pushed back from being timed to coincide with the closing the UK-Russian Year of Culture last year. The extraordinary show explores Russian space travel bringing together unique objects, including space suits and capsules and moon rovers that have been top secret for years and have never before left Russia.
Finally there is much to enjoy for anyone who is a fan of Russian classical music and literature at theaters and concert halls. In December, the Royal Opera House will stage Tchaikovsky's Eugene Onegin, conducted by Semyon Bychkov and performed by Dmitry Hvorostovsky. Pushkin enthusiasts can enjoy a special evening of poetry and performance, organized by the Royal Opera House with excerpts from Rachmaninoff's repertoire.
For more information on the full program see www.russianartweek.co.uk and find out where to pick up a printed copy of the Russian Art Week guide.
Theodora Clarke is the editor of Russian Art and Culture and director of the Russian Art Week in London.
All rights reserved by Rossiyskaya Gazeta.