A few years ago you left Covent Garden rather unexpectedly. Why?
Sergei Polunin: Dancers don't have any rights there. They aren't allowed to do anything. When I was growing up I had a goal: Become the best dancer in the world, dance in the best theater. And I almost achieved it, but I had no money, no fame, no freedom, no satisfaction from what I do, no choice.
I couldn't understand why the principal dancer in one of the best theaters in the world is so restricted. Why does no one recognize me on the street, why can't I be filmed in a commercial, work in TV, participate in a show? I saw what Baryshnikov used to do in America and I thought that was correct. I spoke about this with Monica Mason, the artistic director back then, but this didn't change anything. So I left.
Have you achieved everything you wanted in Russia: freedom of choice, money, fame?
S.P.: Well, in general, I'm free: I dance wherever and whatever I want. I'm involved in many projects besides ballet. The full-length documentary film about me, Dancer, will premiere in London. It is a film about the role of the family in the formation of a dancer, about the sacrifices he or she must make, about the career difficulties, the artist's psychology – from the very early stage of their childhood.
I still have some unique video footage of me when I was very small, still in [the southern Ukrainian city of] Kherson, before I moved to Kiev. This film will be shown at the festival in New York and then in Berlin.
The famous video for "Take Me To Church," directed by LaChapelle to the music of Hozier, which in four days was viewed by 3,500,000 people on the internet – is that a fragment of the film Dancer?
Source: David LaChapelle Studio/Youtube
S.P.: Yes, we filmed it in Hawaii in 2014. My friend and I created the choreography in just a few days. At that time I wanted to quit ballet and enroll in an acting school in Los Angeles, and it would have been the last dance in my life. I thought – let me just shoot this video and then I'll begin a new life. But for all the nine hours during the filming I cried. I was tormented and didn't know why.
In the end it was my friend who went to acting school, while I continued dancing, and working in film. LaChapelle is writing a screenplay for a new musical film with me in the leading role. It's a dancing role, practically without words. It will be a 40-minute film shot in Hollywood with the participation of serious artists.
And what about the ballet?
S.P.: I want to buy a studio in Serbia where I could prepare my ballet projects and where other soloists could also work. Life in Serbia is not expensive. In London I want to establish a foundation, the Polunin Project, which would help young dancers free themselves from the oppression of the theaters. Why is it that opera soloists can sing for any theater, while ballet soloists are the theater's property?
The foundation will have a strong team headed by an experienced producer, Gabrielle Tana. We'll have agents and experienced lawyers who won't rob the dancers, but will give them freedom so that they can dedicate themselves to art and not to defending their rights.
And what about responsibilities? In the fall you were supposed to dance Ratmansky's version of The Sleeping Beauty in La Scala with Svetlana Zakharova. But shortly before the premiere you backed out, citing an injury.
S.P.: There was an injury. Sure, I should have still come to Milan and tried to dance with the injury. Honestly, I got my act together only recently. Somehow I understood that I should be more responsible. I must be responsible for my family, for myself.
Basically, all my life I've behaved like a boy. Never wanted to grow up. I would easily get carried away with plans only to quickly change my mind. Now I think I should finish whatever I start. Now, for example, I want to dance only with Natasha Osipova. I think she's the most interesting ballerina in the world and I am willing to fight to the end for an opportunity to dance with her.
It seems that Natasha Osipova is also ready to fight: She has refused to dance Manon in Milan with another partner.
S.P.: It's not like that. Natasha had just asked for a strong and reliable partner. It was important for her, since she hadn't been dancing for a few months due to an injury. Her wish was not granted. But now that she and I have decided to dance together, we will defend this choice everywhere – in the Bolshoi, in Covent Garden, in Munich.
Just a year ago you said that you were interested in dancing with different ballerinas. Are you contradicting yourself?
S.P.: This was before I met Natasha. Even before meeting her I knew that we would be together. I dreamt it… I didn't want to dance with Natasha – I postponed our meeting to the very end. Because I knew that as soon as we met, it would be for the rest of our lives.
After the first rehearsal of Giselle in La Scala I woke up at night and told myself: "It's happened." We had about eight rehearsals. I had not danced for a while, was just vacillating, searching for something.
It was difficult rehearsing with Natasha but very interesting. We had two performances in La Scala and obviously everyone noticed immediately that there was something between us – you can always see true sentiment on the stage. Many people would then approach me and say, "You have never looked at anyone like this." And I realized that indeed I hadn't – for four years I hadn't even looked the ballerinas in the eyes.
This text is an abridged version of an article published by Kommersant.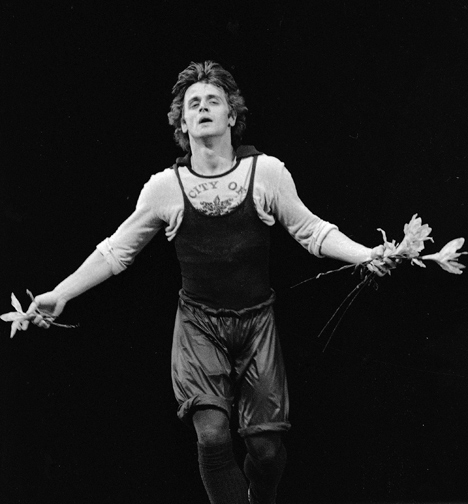 All rights reserved by Rossiyskaya Gazeta.