Artist Valery Kosorukov. "Yekaterina Maximova."
Alexander Krasavin/RIA Novosti
These women performed all over the world, from Paris and London to New York and Tokyo. Despite their fame and professional successes, the personal lives of these women never turned out to be quite as ideal as their audiences might have imagined.
Alla Shelest (1919-1998)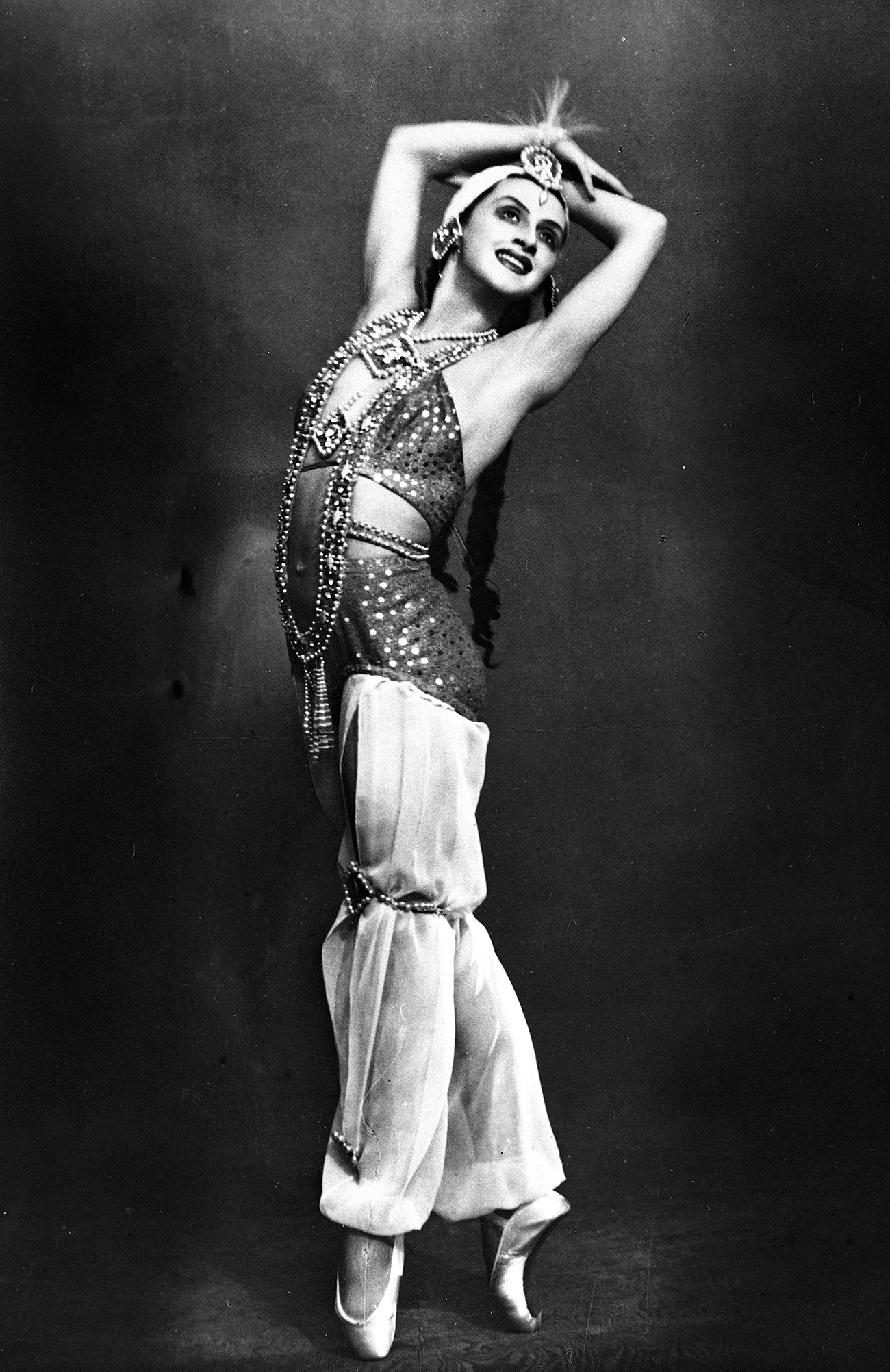 Alla Shelest (Zarema) in Boris Assafiev's Bakhchisarai Fountain ballet. The Leningrad State Academic Theater of Opera and Ballet. / RIA Novosti
Shelest demonstrated a brilliant talent for ballet that was obvious even when she was a schoolgirl. Everything about her was in harmony: her figure, her gift for mastering technique, and her face, which easily morphed from one character to the next with stage makeup. At the St. Petersburg ballet school, Anna became a favorite of Agrippina Vaganova, known as a great reformer of ballet teaching methods. It didn't take long before Shelest found herself in leading roles for the Kirov Ballet (today known as the Mariinsky Ballet). With her outstanding, tragic temperament, she was a favorite of choreographers. Shelest is believed to have coauthored the role of Mehmene Banu in The Legend of Love, a play by the young Yury Grigorovich — her husband at the time.
Shelest was at the Kirov Ballet during a time when the troupe teemed with grand ballerinas, including Natalia Dudinskaya and Galina Ulanova. Her weakness, however, was that she didn't have the ability to stand up for herself. As a result, many of roles she dreamed of were given to her rivals. She only performed the role of Giselle once, shortly before retirement in 1963, and anyone who saw her performing it then would say that it was worth it. Only a single video exists of the ballerina dancing.
Nina Timofeeva (1935-2014)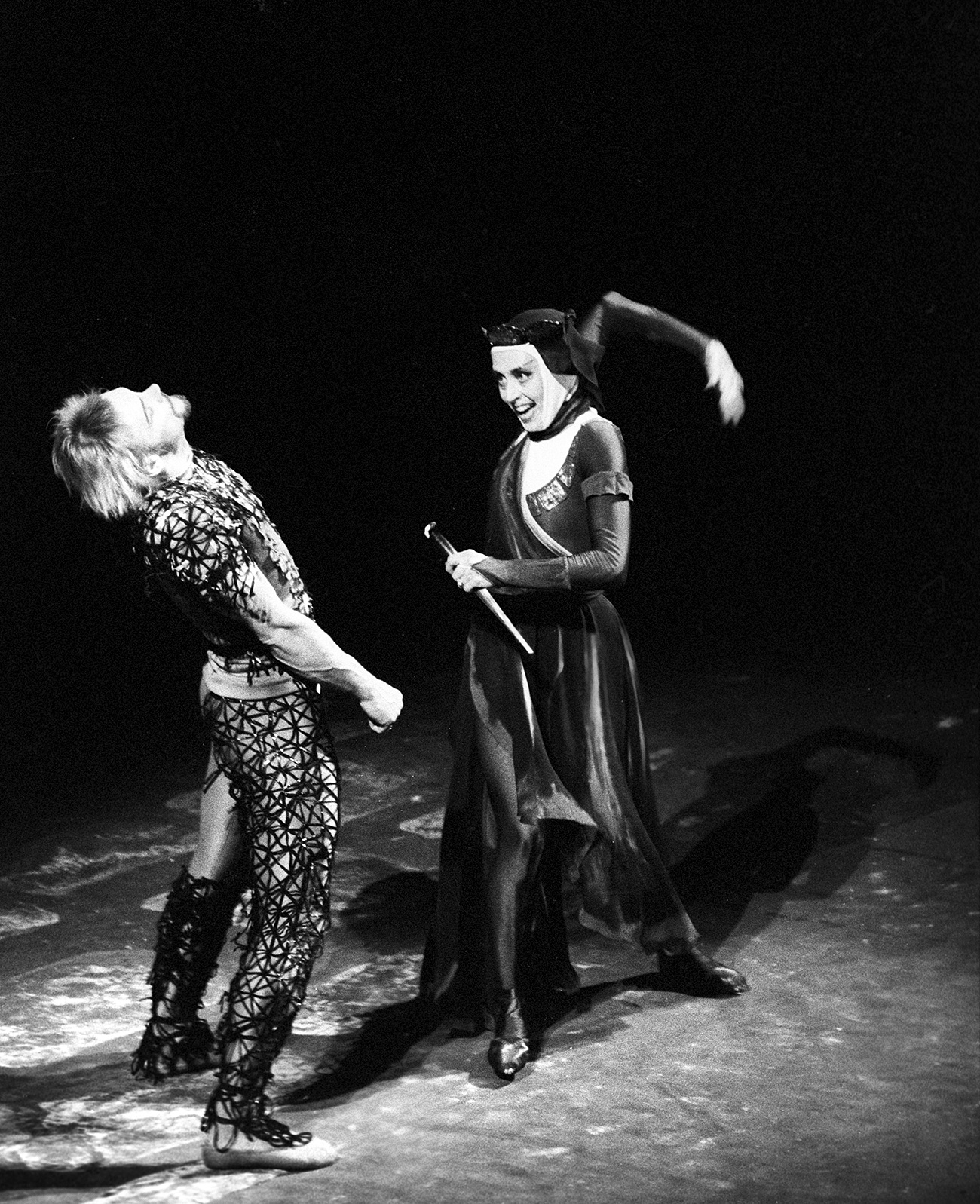 The State Academic Bolshoi Theater. Vladimir Vasiliev as Macbeth, Nina Timofeyeva as Lady Macbeth. / Alexander Makarov/RIA Novosti
The Kirov Ballet had high hopes for Timofeeva, which is evidenced by the fact that in only the first year after her graduation from the Vaganova Academy of Russian Ballet she was entrusted with the leading role in Swan Lake. However, as she later recalled, the very next day she would be assigned a small role as an extra, only to be called back again, urgently, for a new major part. Proud as she was, Timofeeva could not take this. She left for the Bolshoi Theater in 1956, becoming one of the first students under the legendary Galina Ulanova.
Tall, well built, and with masterful technical, Timofeeva was a prime symbol of heroic Soviet ballet. Unfortunately, her prime coincided with the decline of that particular school of ballet and she found herself forced to fit into the standard lyrical repertoire. Nevertheless, even in the role of Giselle she managed to project her individuality.
Timofeeva's life offstage was no less tumultuous. Following the collapse of her protracted marriage to the conductor Gennady Rozhdestvensky, she married the composer Kirill Molchanov who created the ballet Macbeth for her. Timofeeva played the main role, but Molchanov passed away in the Bolshoi Theater on the day of the premiere.
Alla Osipenko (born 1932)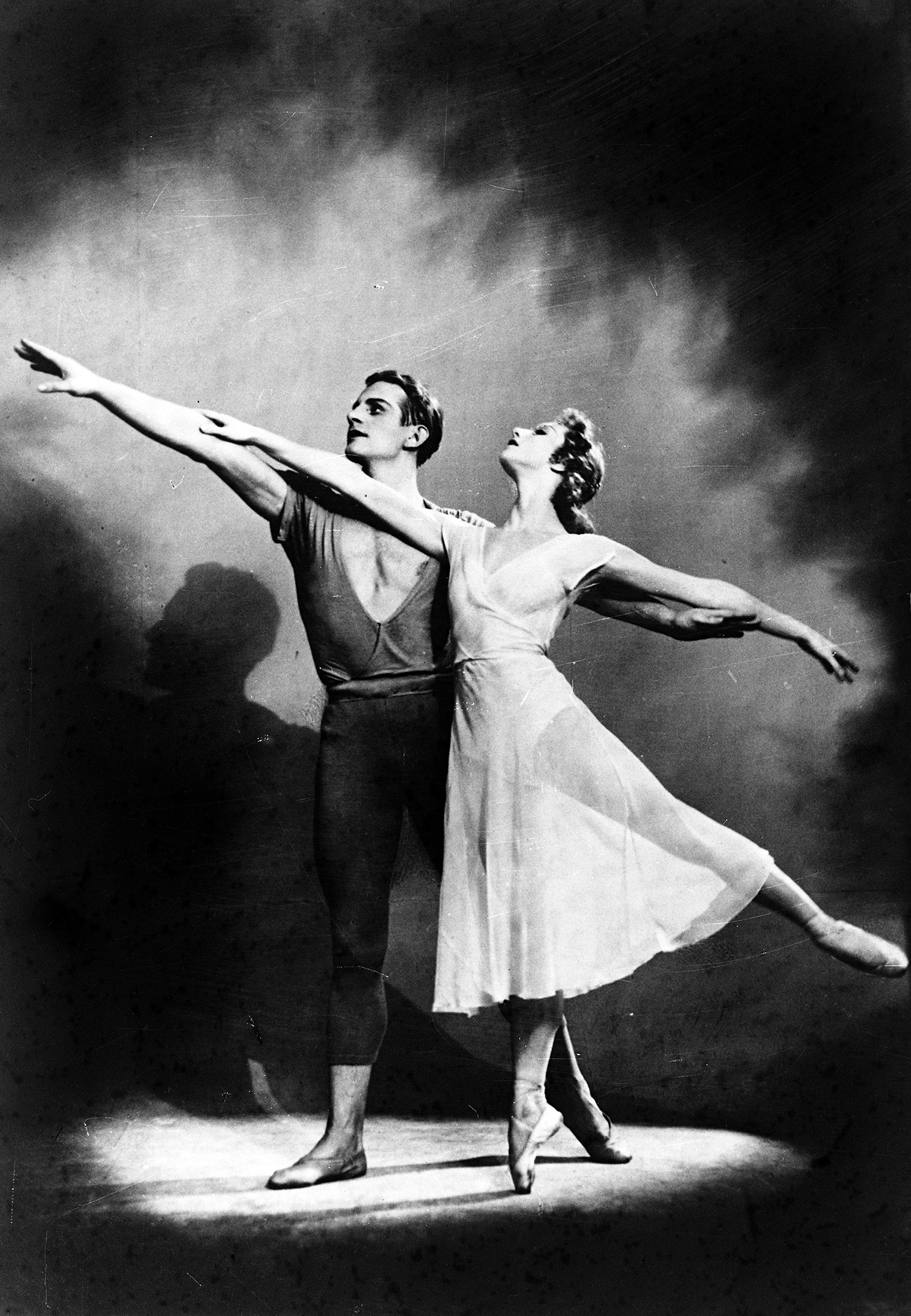 Alla Osipenko and Askold Makarov in the Coast of Hope ballet. The Leningrad State Academic Theater of Opera and Ballet. / RIA Novosti
One of Vaganova's last students, Osipenko was a dazzling beauty and a model of grace. Her legs, however, had difficulty reaching the level of virtuosity for which the Soviet ballet school was famed. So much so, that during her graduation exam she was allowed her to skip the fouette piece.
Where other ballerinas relied on their virtuosity and vigor, Osipenko offered delicacy and refinement. Her talent required more than the standard classical repertoire provided. She participated in Grigorovich's revolutionary premieres, The Stone Flower and Legend of Love. After Grigorovich left the Kirov Ballet for Moscow, Osipenko left her prima ballerina position there as well. Alongside her partner and husband, John Markovsky, she joined an independent troupe set up by the choreographer Leonid Yakobson. Several years later she joined a new troupe under Boris Eifman, then a young choreographer. Her artistic individuality was also reflected by her cameos in films by Alexander Sokurov, Mournful Unconcern and Russian Ark.
An unconventional personality, Osipenko was married several times. She left some of these men and others left her. She raised a son and lived through his tragic death. Today, Osipenko gives ballet lessons and is adored by her students.
Ekaterina Maximova (1939-2009)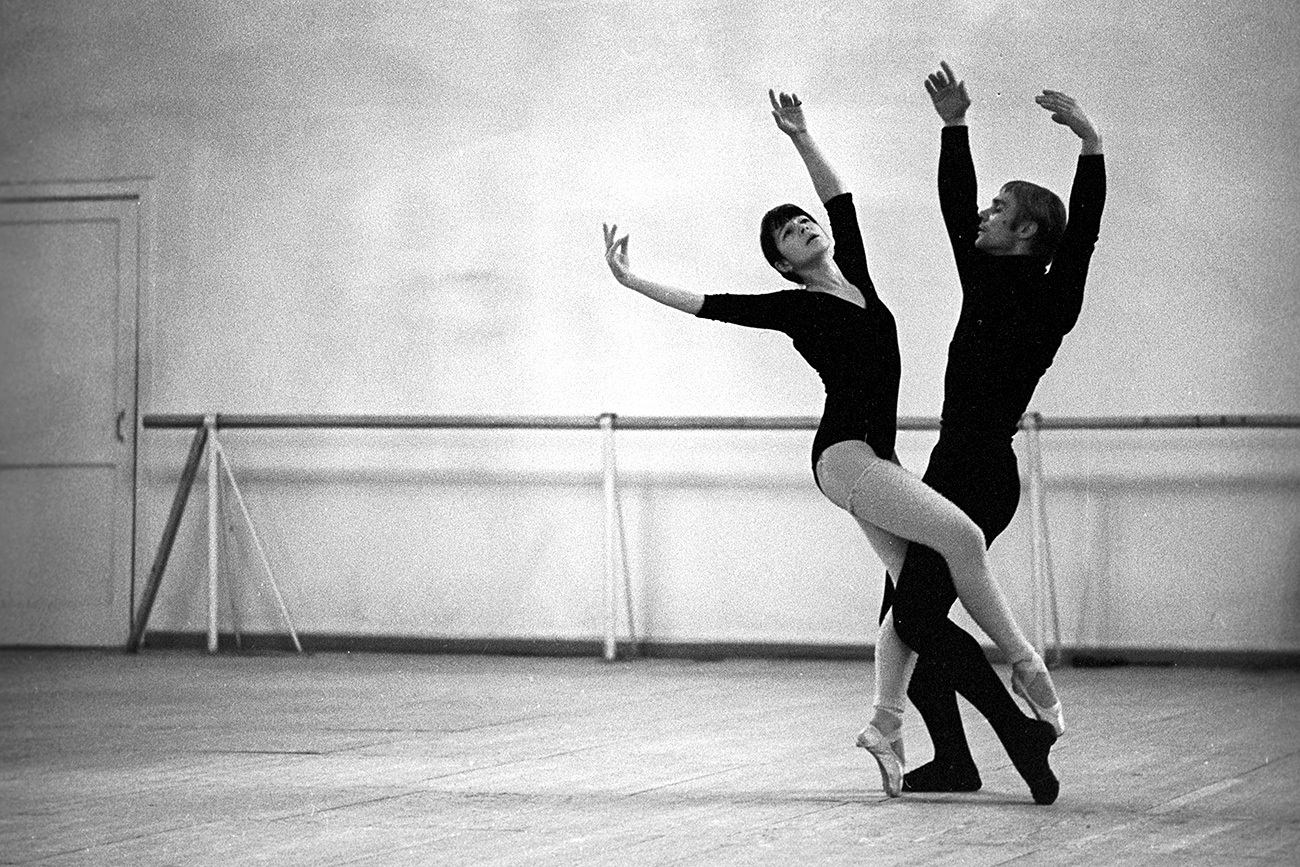 Bolshoi Ballet dancers Yekaterina Maximova and Vladimir Vasilyev rehearsing "Icarus", 1971. / Alexander Makarov/RIA Novosti
It is difficult to name a ballerina whose fame could eclipse that of Maximova's. While still a schoolgirl, she was presented as a prodigy to both the Belgian queen and Harald Lander, an outstanding Danish choreographer. Immediately after graduating from ballet school, Maximova landed the leading role in The Stone Flower and had phenomenal success during the Bolshoi Theater's first tour of the United States and China. It was at that time that Maximova began working onstage with her former classmate Vladimir Vasilyev, whom she would later marry. The two were selected as the main characters in a promotional documentary, The USSR with an Open Heart, and spent their honeymoon in Paris while filming.
Maximova received unending offers for roles, as well as love, and admiration. While still in the Soviet Union, she performed the main role in Maurice Bejart's Romeo et Juliette. It was then that Roland Petit invited her to join the Ballet National de Marseille. She also starred in Franco Zeffirelli's La Traviata.
Few people know that Maximova suffered a spinal injury as a result of a fall onstage in 1975 that resulted in months of hospitalization and treatment. As a result of the accident, she could not have children. Recovery took a long time, but Maximova eventually returned to ballet and continued in the profession for many years.
If using any of Russia Beyond's content, partly or in full, always provide an active hyperlink to the original material.