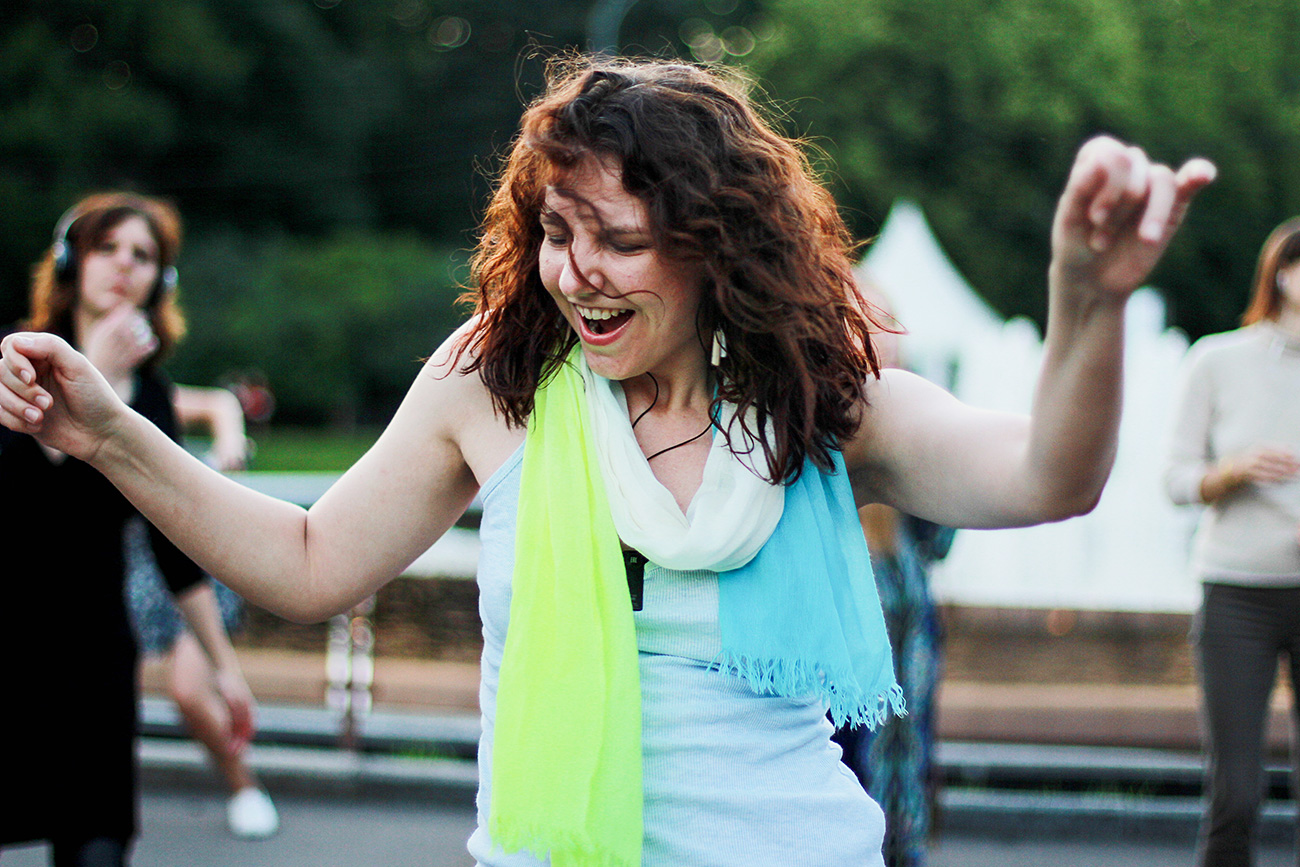 Dance your stress out / Photo: Victoria Ryabikova
A group of people hops through the main gate of Sokolniki Park. Less than 30 seconds later, the men and women — dancing, puffing and emitting inarticulate sounds — grab the Earth. Not the real one, of course, but a model in the local astronomy garden. They do this despite the fact that this behavior shocks some of the park's guests. Some onlookers take photos of the scene, and some are indignant.
"It's uncomfortable to dance without music!" yells an inebriated shirtless 45-year-old man as he turns on a song by Egor Krid, a Russian singer popular with teenage girls, on his smartphone and the lyrics "My God, mom, mom, I'm going mad" sound out.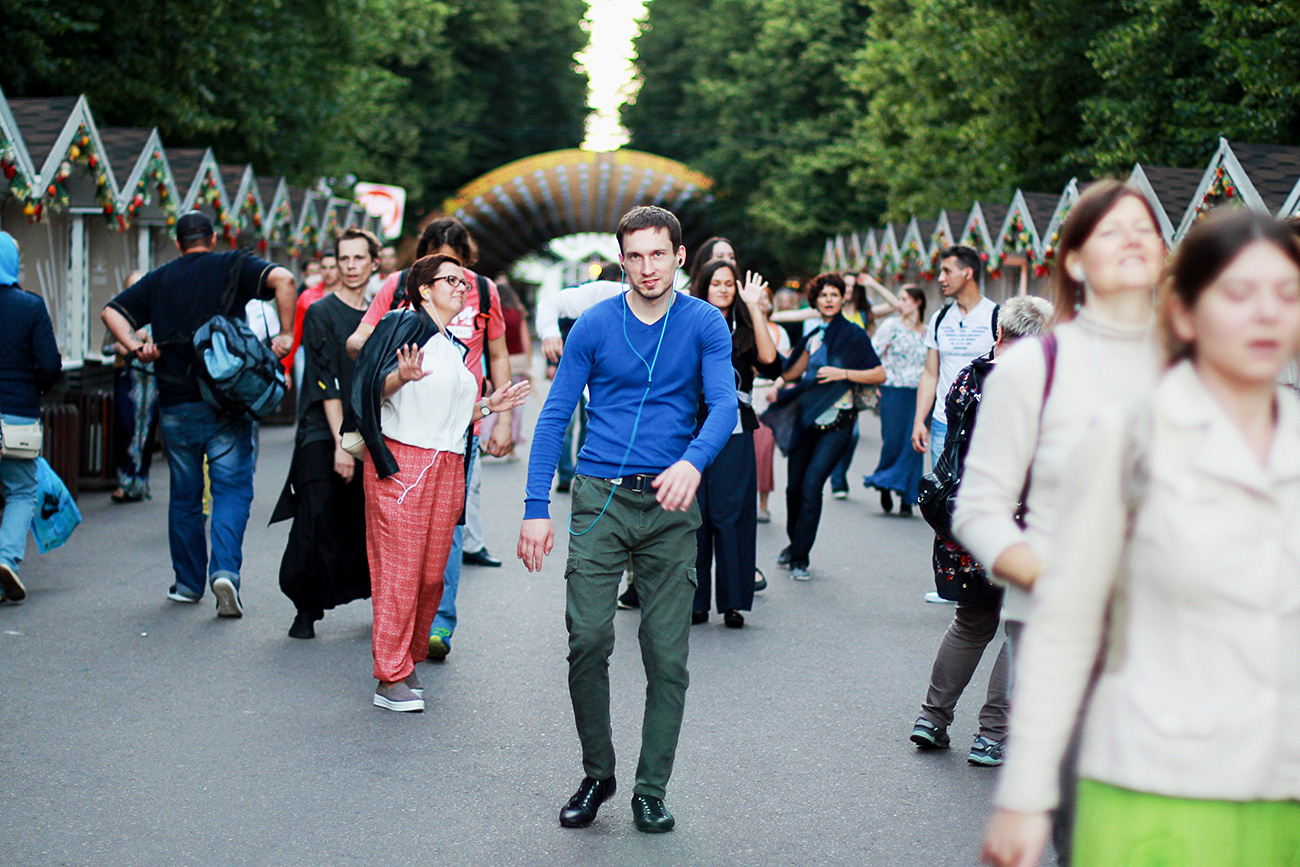 People dance in Sokolniki Park / Photo: Victoria Ryabikova
But actually, there isn't a single madman in the crowd of dancers. This is just how almost every dance walk begins in Moscow. It is the social project launched by psychologist and dancer Alexander Girshon.
Dancing as a reaction to the Russian-Ukrainian conflict
The first dance walk took place three years ago. "In 2014, with the help of the media, we all observed the conflict between Russia and Ukraine and poured our emotional tension out onto the streets. That is when I decided that we needed to mix this tension with something positive, simple and free," Girshon explained as his motivation for creating these walks.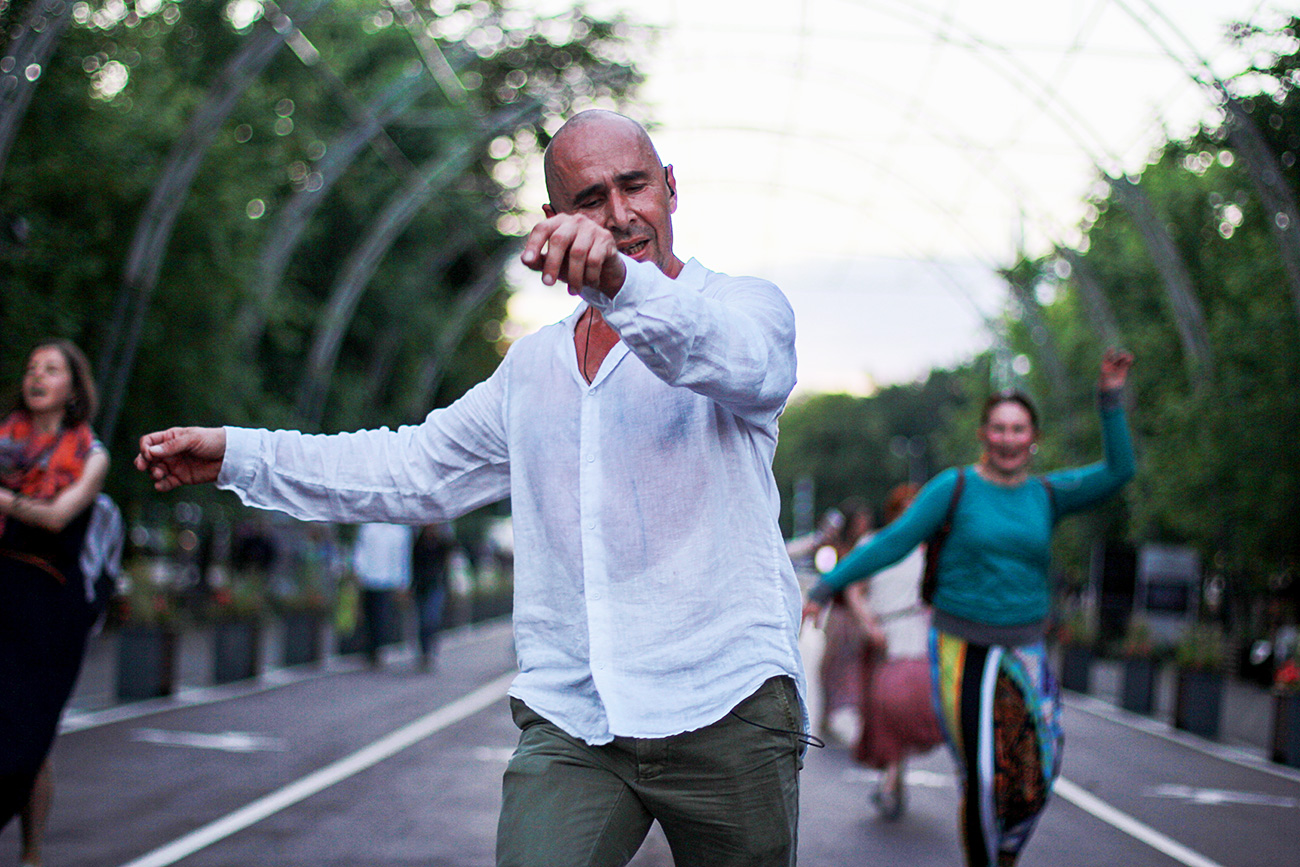 Alexander Girshon / Photo: Victoria Ryabikova
Now, every two to three weeks people come together in a scenic location, simultaneously turn on a prearranged playlist and start dancing as they walk around the city's landmarks. According to the organizer, not only Muscovites have dance walks, but also the residents of almost all large Russian and CIS cities. In July, people from Arkhangelsk (1,230 kilometers from Moscow, with 350,000 residents) and a small town called Revda in the Sverdlovsk Region (1,740 kilometers from Moscow, with 64,000 residents) joined the outing.
Girshon is in charge of practically every dance walk in the capital, jumping higher than anyone else and taking turns dancing with each participant. "We use various styles of music — from folk to pop — so that people can express themselves differently. When we know that we are all dancing to the same music, it is easier for us to synchronize. Dance is communication. Only, in this case, people communicate through movement and touch, not verbally," Girshon says, explaining the details of these strolls.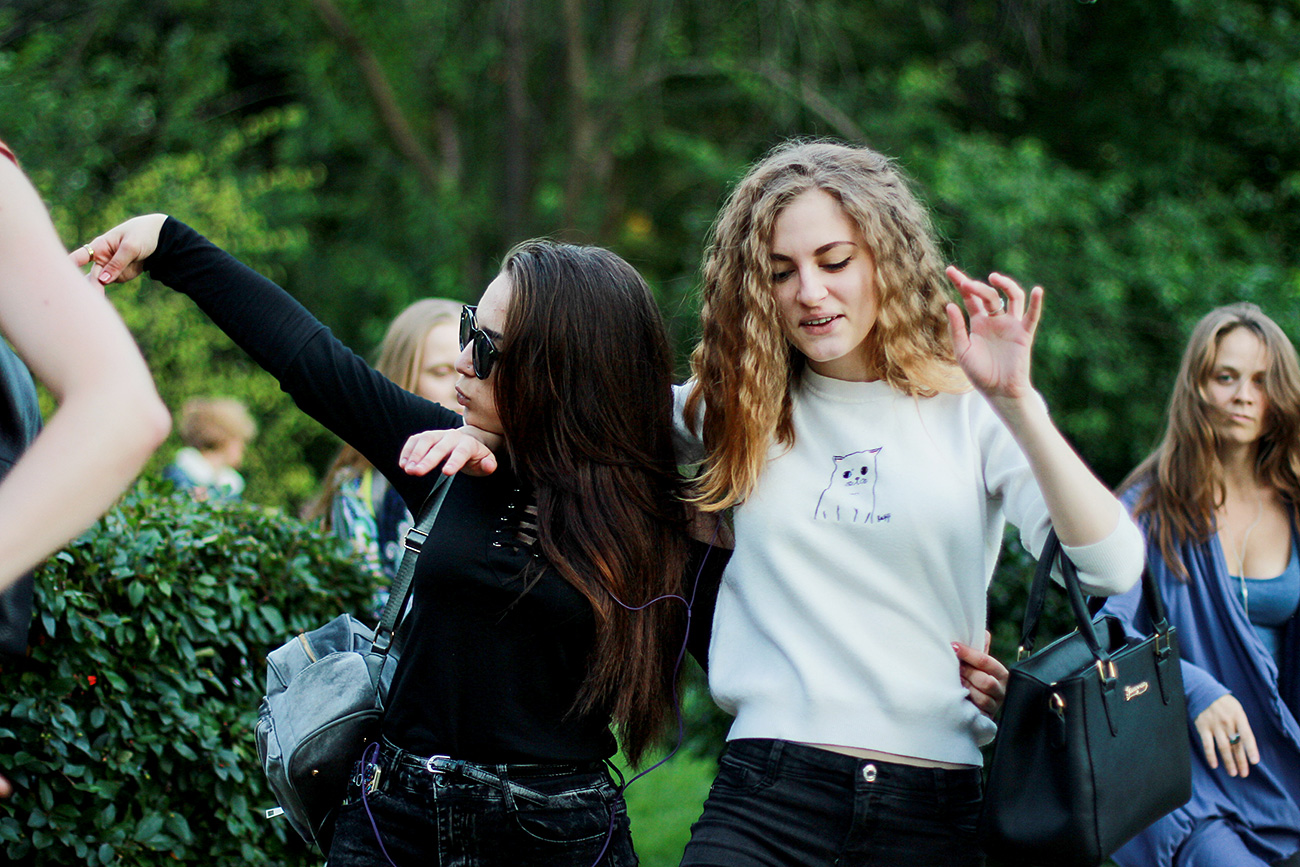 "Dance is communication," Girshon says / Photo: Victoria Ryabikova
Why would you need to dance on the street?
While some people communicate through movement, others throw the artificial Earth around and reach for the real sunset. According to dancer Anastasia Nadezhina the participants not only dance but engage in various ways: "Some people easily interact with others, some prefer to be alone with the music."
Girshon, the organizer, believes that the walks are not just about communicating through dance. He says these kinds of dance walks have a therapeutic effect, and he is convinced that in this way people "dance their stress out."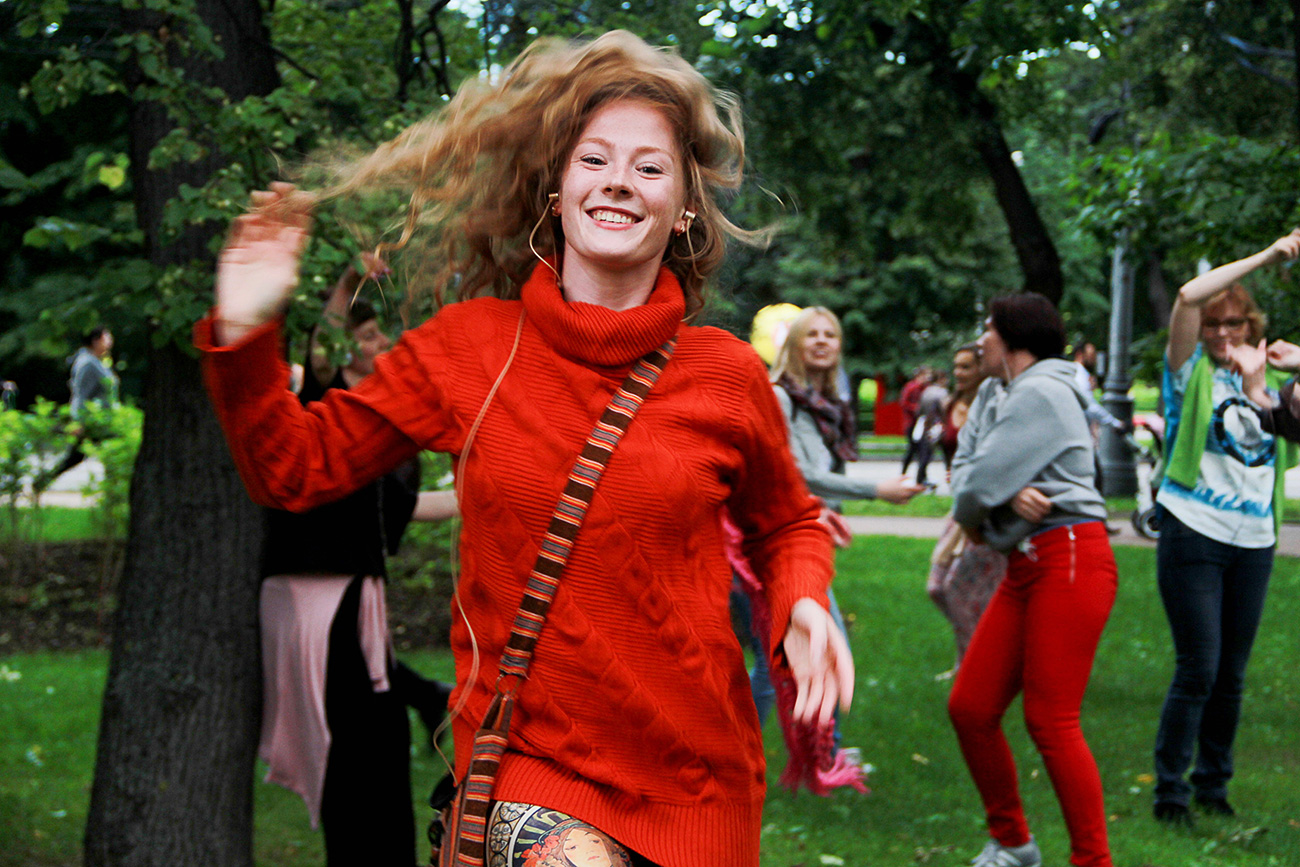 Anastasia Nadezhdina / Photo: Victoria Ryabikova
"Here we all relax, get away from the fuss and become more self-confident. Sure, you can dance in a club, a bar or at home. But it feels completely different when people are dancing in an open space. Each person sort of finds themselves in an unrehearsed musical where they play the leading role."
Gradually the improvisers fill the park's main stage, which usually hosts concerts, and do indeed become the stars of the evening. The dancers freeze in various poses and the park's stage turns into an exhibition of living sculptures. "The freezes make our performances more effective," says Girshon. At this moment, a guard with a dissatisfied look on his face tries calling someone and, not being able to reach them, wanders off somewhere. A minute later, the freeze ends, and the participants dance over to the festival square.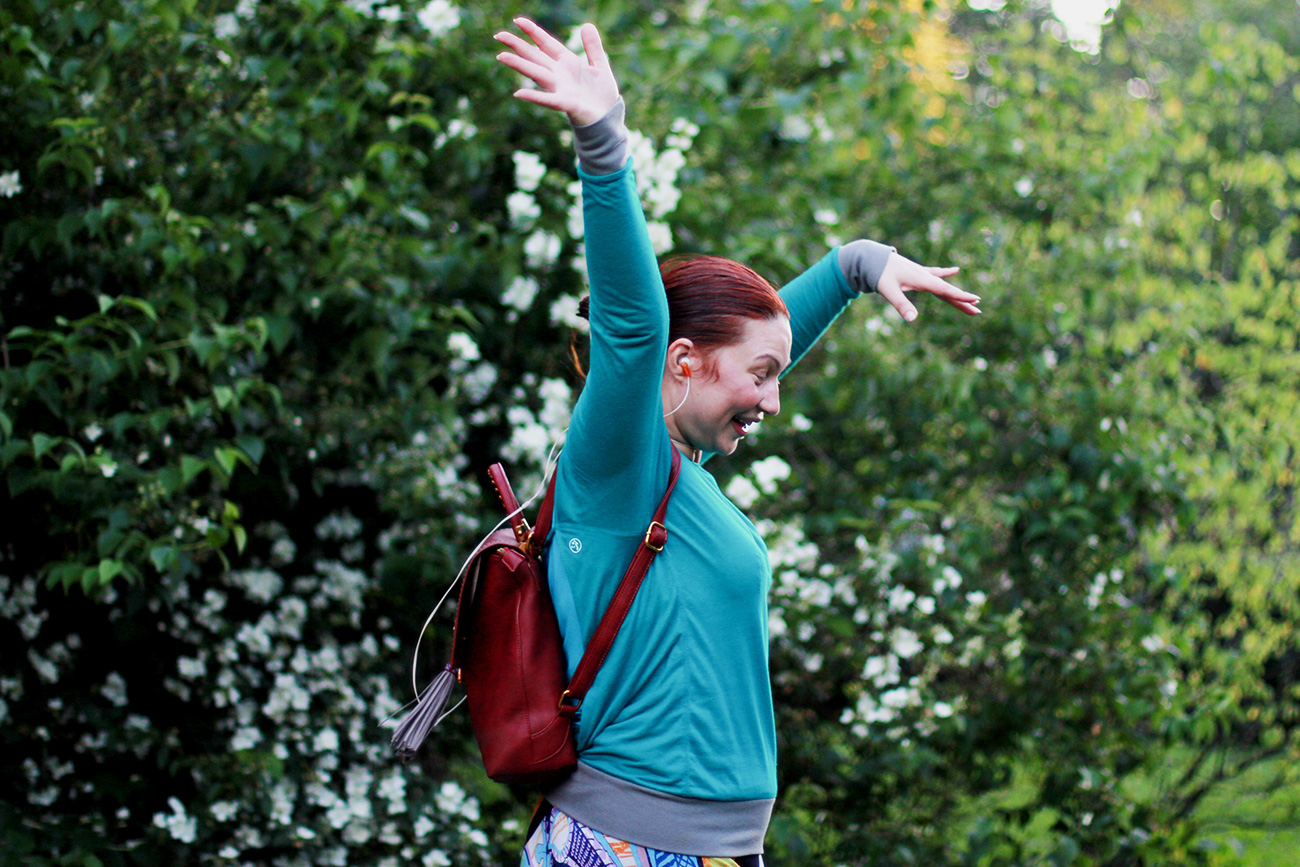 Improvisers who enter the scene, become the stars of the evening / Photo: Victoria Ryabikova
A hobby for IT workers and the search for truth
IT specialist Alexei Finik is especially happy with the amount of attention he receives. "I am a very emotional person and I pour out all my positive emotions here. Sure, there is an element of egoism. You want everyone to look at you, but everyone wants that. And I didn't show off on purpose. I was just riding to work on my scooter, and it turned out quite well."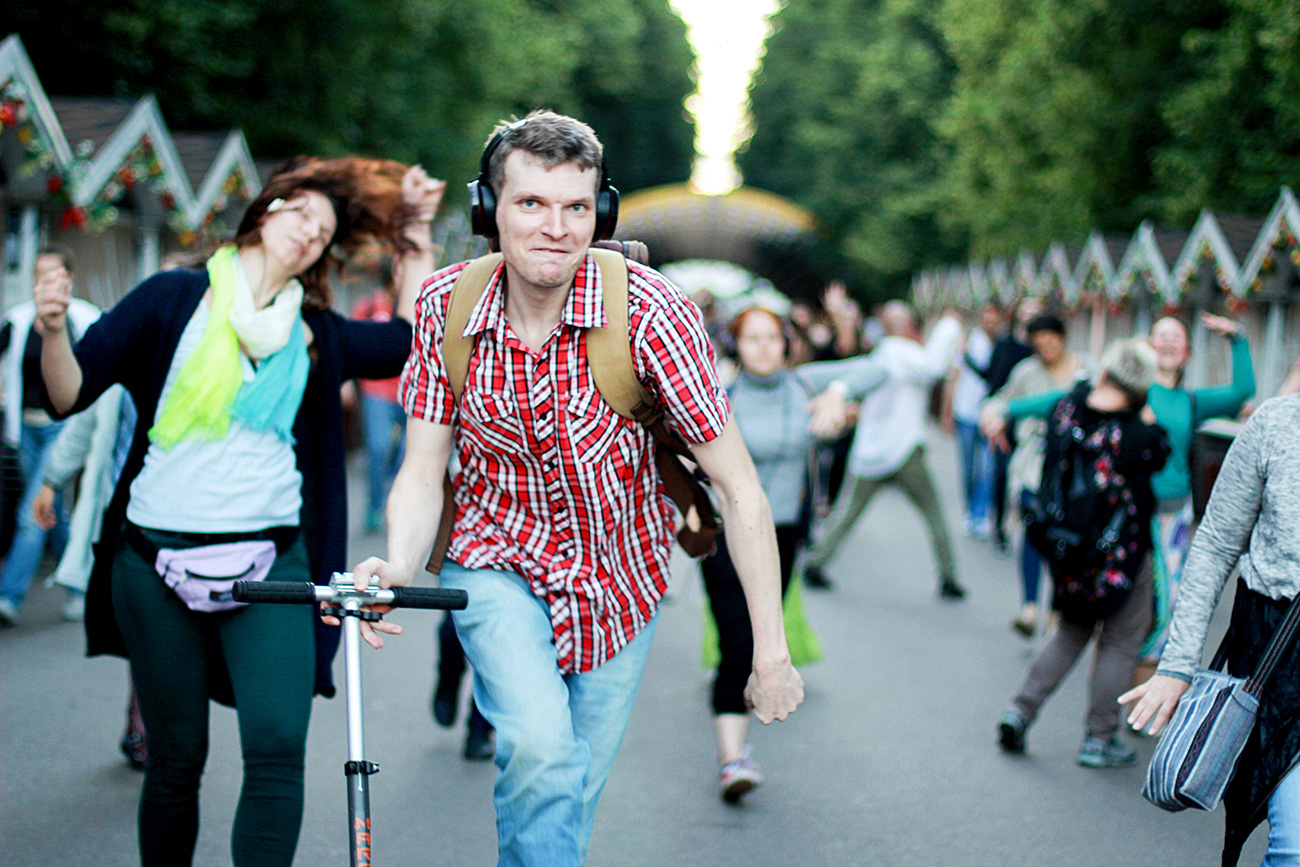 Alexei Finik / Photo: Victoria Ryabikova
"I don't understand why they can't use speakers and let people listen and dance along with them," wondered Vsevolod, a visitor in the park.
"Exactly! What are they so happy about? Has it become easier to live in Russia?" added a man walking by.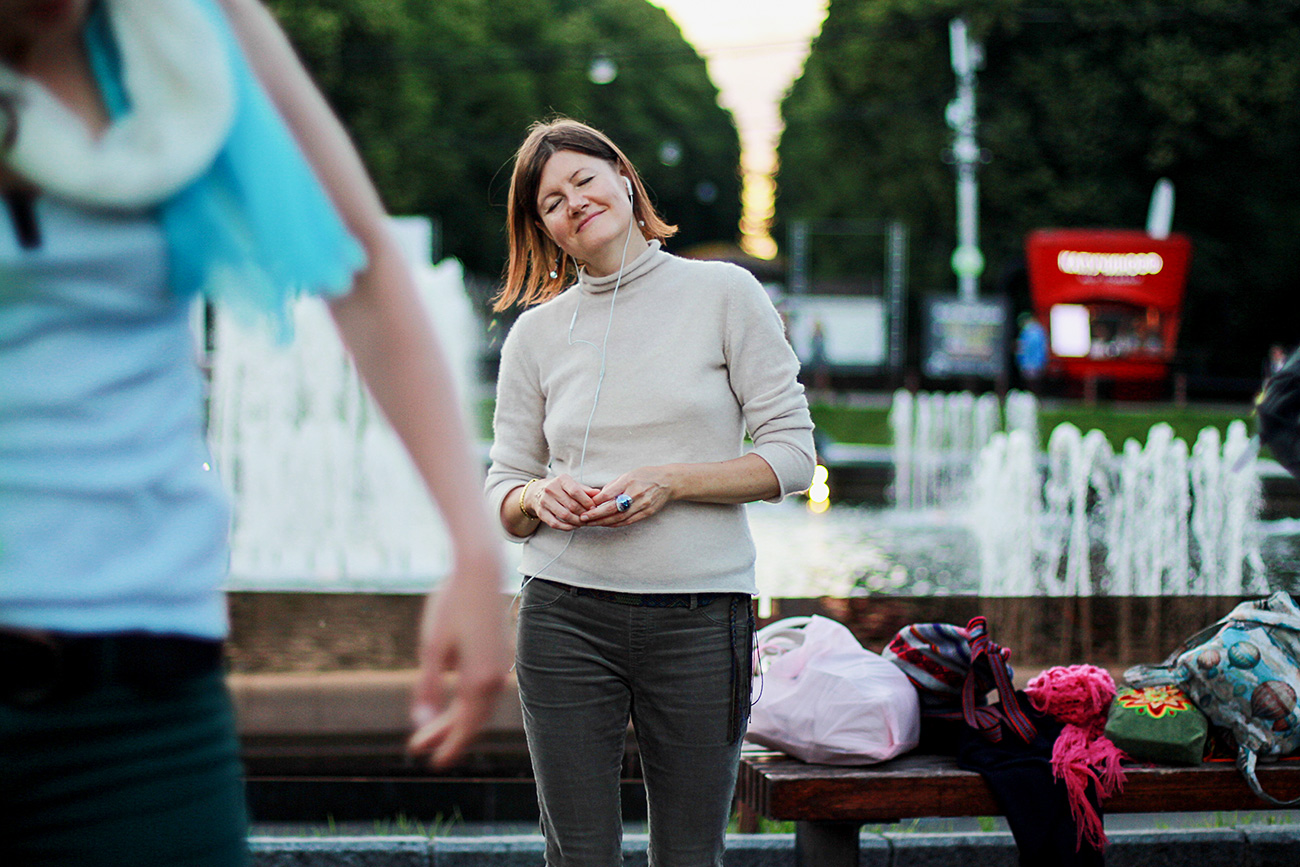 Visitors of the park not always understand why these people dance / Victoria Ryabikova
Girshon has a philosophical approach to such questions. In his view, the people passing by think that the project participants are removed from the real world. But what the real world is, no one really knows. "Reality — is this when we are dancing or when a mountain of absolutely useless information caves in on me? If dancing gives me strength and inspiration, which helps me to carry out the important tasks in life, then I choose to dance," replies Girshon, who hurries off to dance by the exit before it gets dark.
Read more:
If using any of Russia Beyond's content, partly or in full, always provide an active hyperlink to the original material.