Photos from the life of Leo Tolstoy that you've never seen before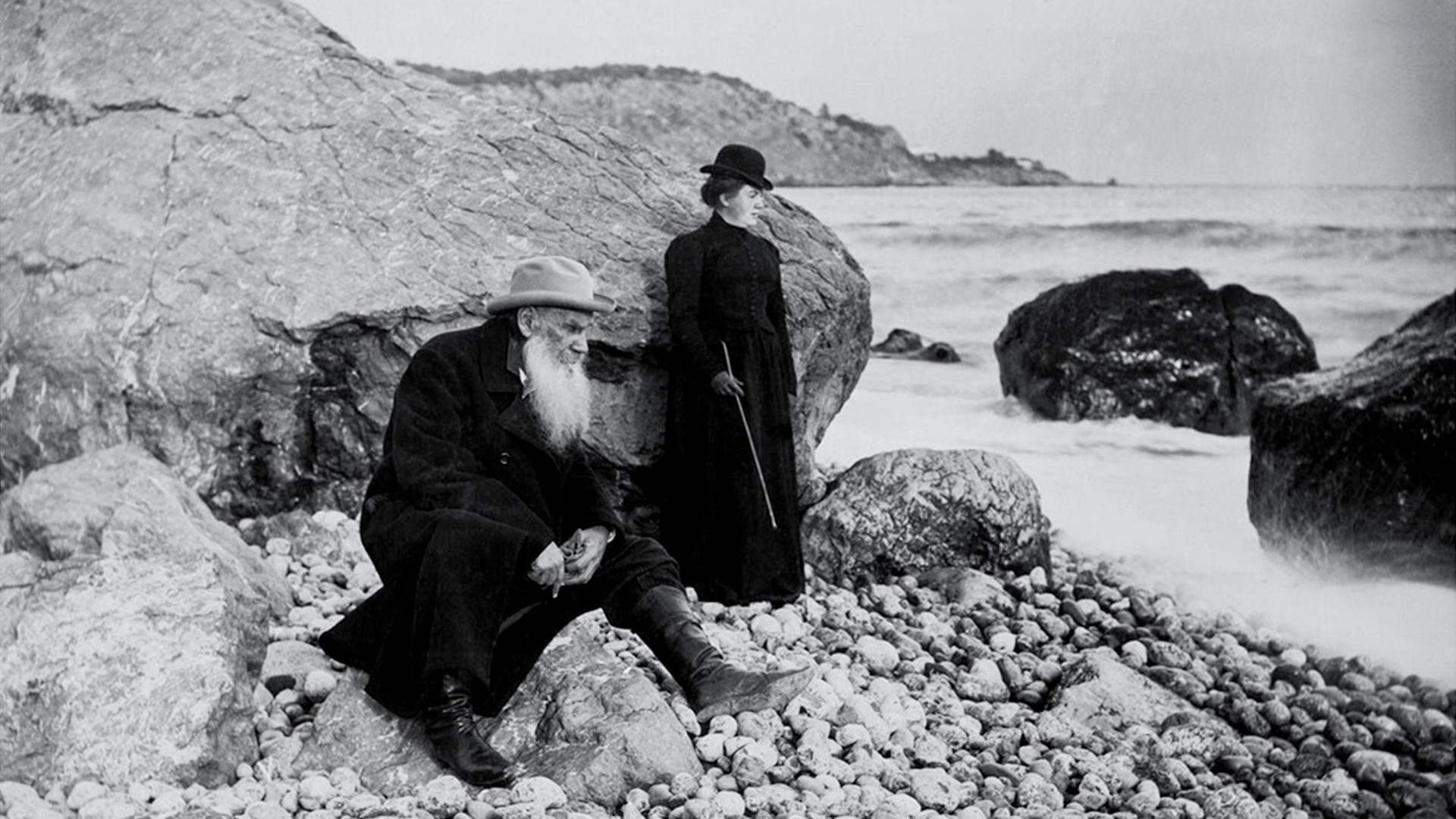 The great author spent much of his time enjoying the outdoors and writing at his country estate. Today, on the occasion of his birthday, let's take a look at some moments from the life of Leo Tolstoy.
Look at this man in a peasant shirt and boots. Can you believe that he was a count, born into a noble family, and one of the greatest and smartest writers of all time? Tolstoy spent most of his life on his estate in Yasnaya Polyana, in the Tula Region (200 kilometers south of Moscow), where he was surrounded by the splendor of the countryside. In this photo, Tolstoy, aged 79, is pictured in the front of his house. / May 1908
Can you remember the scene in Anna Karenina when Levin takes a scythe from one of his peasants and goes to cut the grass to calm himself down? That scene (and the whole character of Levin) was autobiographical. Tolstoy liked using a scythe and did so until late in his life because he found this task relaxed him. / 1890
An invitation from the writer to go for a walk was often met with a bit of annoyance by Tolstoy's friends and family. For him, a walk lasted many hours, covering many kilometers at a fast pace. Everyone else would be left exhausted, but not him — even into his 80s. In this picture, Tolstoy (with his daughter Alexandra behind him) and a small group are going to the opening of the first public library in Yasnaya Polyana. / 1910
Tolstoy had dozens of hobbies such as tennis, riding and cycling. Another was chess. In the photo, he is playing with Dmitry, the son of Vladimir Chertkov (the leader of the Tolstovian movement, as well as Tolstoy's friend and publisher). You can also see the edge of a canvas, which is the backside of a portrait of Tolstoy. It was quite convenient for the artist, Mikhail Nesterov, who worked on it while Tolstoy played chess and would sit for several hours without movement. / 1907
Besides being known as extremely intelligent, stern and serious, Tolstoy was kind of cute. Look at him talking to his granddaughter Tatyana. What is this old man whispering to her? Probably some interesting tale. He loved all his grandchildren and was sure to make time for their education. / 1908
Despite being a nobleman, Tolstoy refused to have servants. He not only mowed his lawn but cleaned his bedroom and house too. Every day, dozens of people came to visit his house in Yasnaya Polyana to be in his company. But Tolstoy also went to other villages and met with people. Witnesses recalled that on the day pictured here it was very hot. Tolstoy had gone to meet with a group of peasants and spoke to them for a very long time, wearing just a shirt and pants with suspenders. / Moscow Region, Krekshino Village, 1909
We couldn't possibly pass by this photo of Tolstoy and his wife, Sofya Andreevna. Here, they are pictured on their 34th wedding anniversary. Andreevna was 16 years younger than her husband, and she was certainly a great woman, which Tolstoy deserved. They spent 50 years together and gave birth to 13 children. Bravely, she endured his stormy nature and rewrote the manuscript for War and Peace several times by hand, as Tolstoy made corrections. / 1896
Physically fit and active throughout his life, Tolstoy was very healthy. Here is a rare photo of him holding a cane (and also, a rare photo of him with a dog rather than a horse). What do you think of his winter look? / 1908
Tolstoy spent the majority of his time in Yasnaya Polyana. However, he did travel to Moscow, where he had a house, and to Crimea, where he enjoyed the sea — as seen in this photo with his daughter Alexandra. As his youngest daughter, she devoted her entire life to her father. She was his secretary and personal assistant and wrote Tolstoy's diaries as dictated by him. Alexandra was the founder of the Yasnaya Polyana Museum and the Tolstoy Foundation and wrote memoirs and books about her famous father. She eventually emigrated to the United States where she died at the age of 95 as the last living child of Tolstoy. / 1901
Look at this ordinary man, waiting for a train at the station. He has rested his leg on his suitcase and is probably taking a break after a long walk to reach the station. This photo was taken a year before Tolstoy suddenly and secretly fled his house one night and took a train out of town. After traveling for 10 days, he fell ill and stopped off at the Astapovo station where he died. / 1909
Read more:
If using any of Russia Beyond's content, partly or in full, always provide an active hyperlink to the original material.