112. Boris Akunin (b. 1956)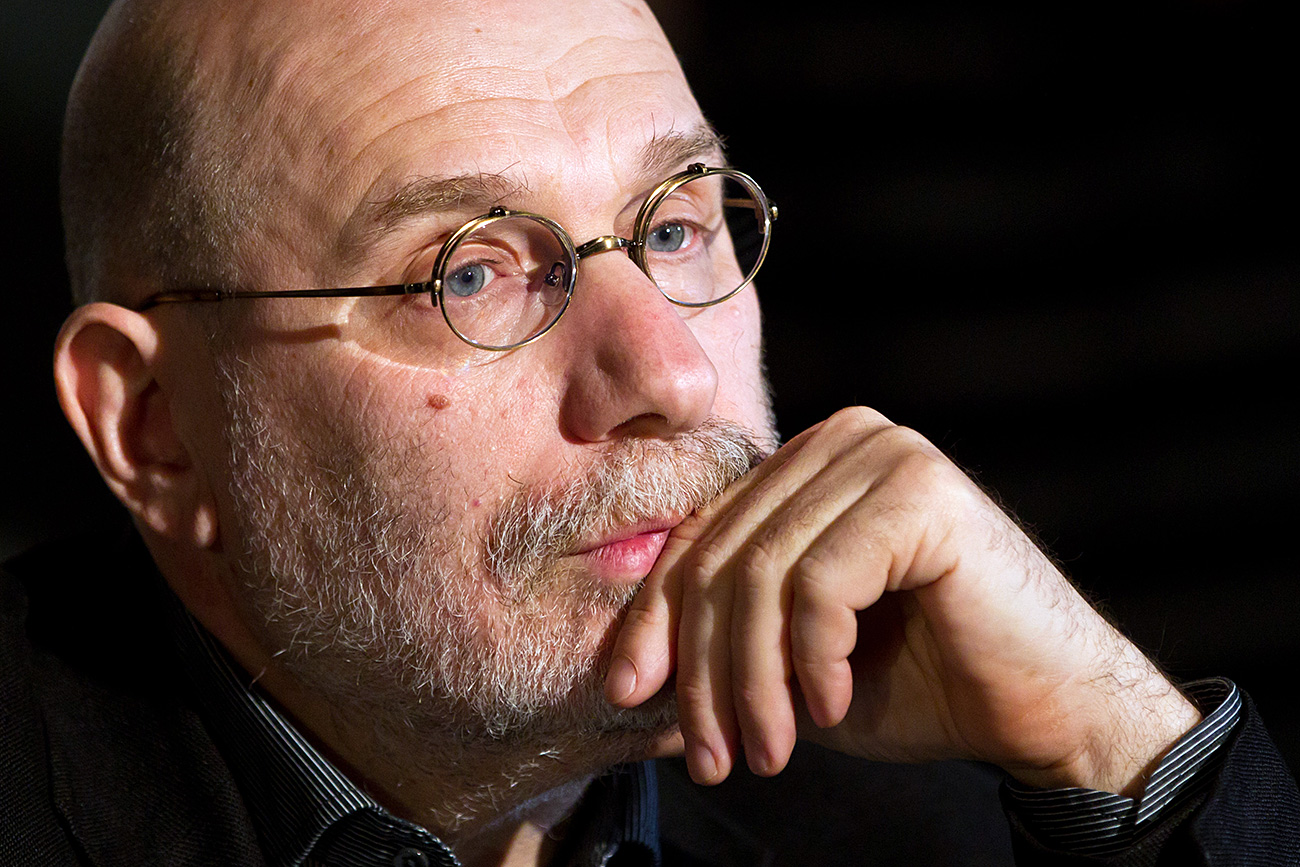 Boris Akunin / TASS / Sergei Belyakov
We're putting this great author on the honorable 112th place not because we like him less than the others, but because he admits that he's not a writer but a belletrist. His real name is Grigory Chkhartishvili and he's the ultra-popular Russian detective writer. Several of his novels, set mostly in the late 19th and early 20th century czarist Russia, have been adapted and turned into full-length feature films that were box office hits. His main hero, detective Erast Fandorin, is a Russian Sherlock Holmes, and one of the most charismatic heroes in modern literature.
Another of Akunin's project is, "The History of the Russian State," a multi-volume work that seeks to understand why Russia has remained stable in the face of so many revolts and revolutions. His pen name first appeared as B. Akunin, which has several allusions - combining the Japanese word "aku-nin" (fiend or villain), and the name of the famous Russian anarchist, Mikhail Bakunin.
111. Archimandrite Tikhon Shevkunov (b. 1958)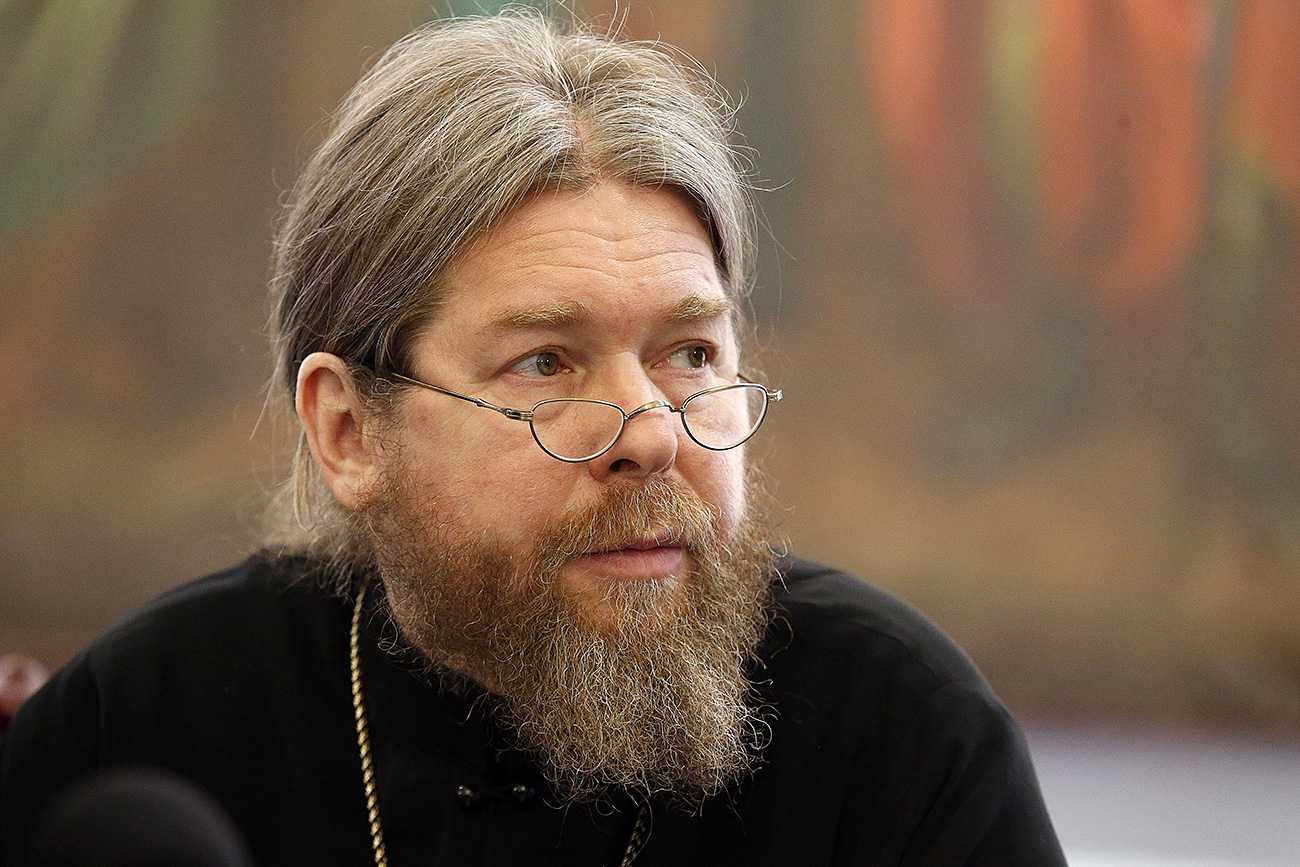 Tikhon Shevkunov / Alexander Nikolayev / TASS
Tikhon Shevkunov is also not a professional writer. He is the abbot of the small but very active Sretensky Monastery in Moscow, and according to media reports, he's Vladimir Putin's personal confessor. His book, "Unholy Holies," tells miraculous and true stories about the lives of contemporary Orthodox monks and priests, and helps the reader better understand the contemporary church.
These stories do not seem like typical religious literature written for neophytes, and they combine a Soviet-style didactic tone with Bible parables. The stories are unlike other religious literature in Russia – they're more philosophical texts that require preparation and knowledge of the faith. The book was first published in 2011, and has been translated into several languages and still remains a bestseller.
110. Oleg Zaionchkovsky (b. 1959)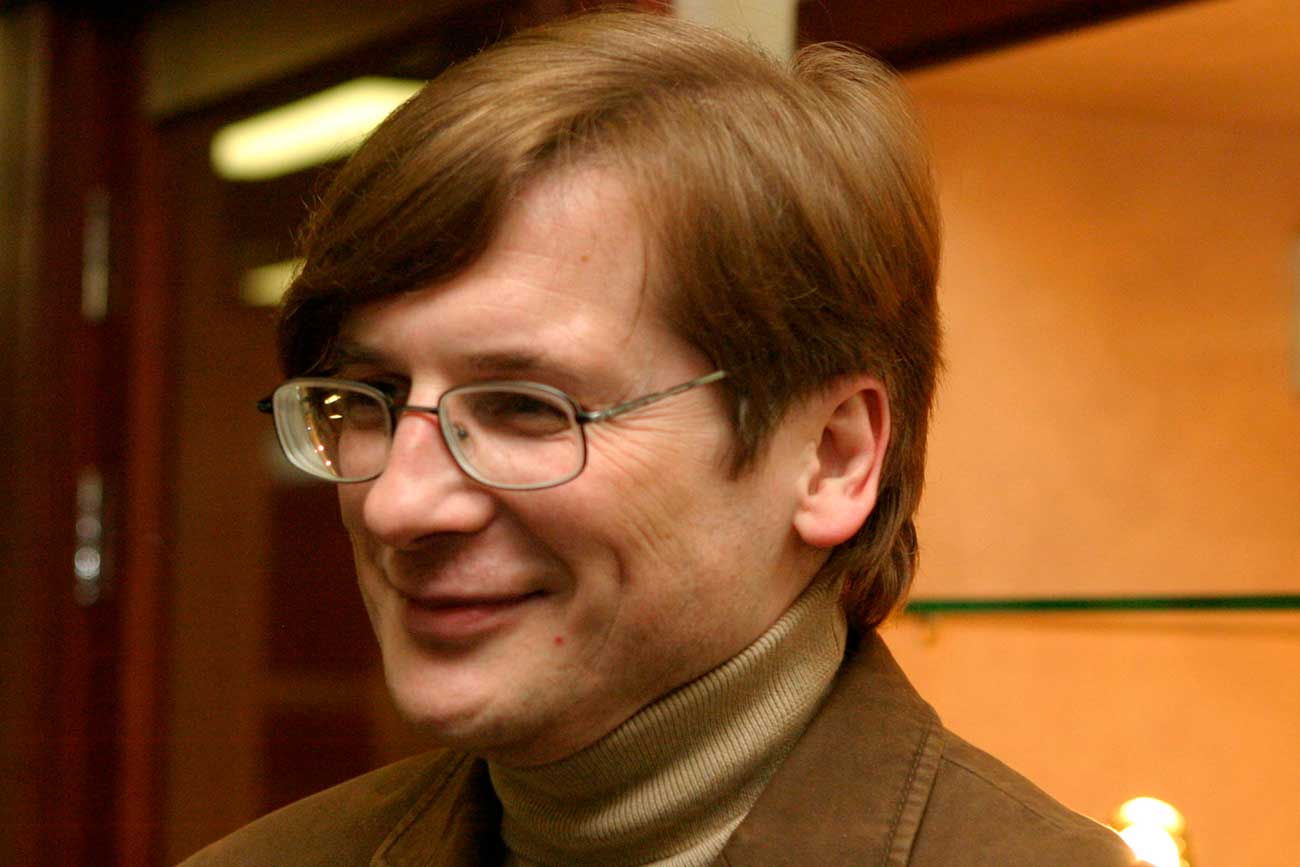 Oleg Zaionchkovsky / RIA Novosti / Vladimir Fedorenko
Oleg Zaionchkovsky takes the third-to-last position for his novel, "Happiness is Possible," which is an evocative and amusing tribute to Moscow. It has become a cliché to describe one city or another as the main character in a novel, but Zaionchkovsky's Moscow is alive and all-embracing. The characters interact with an anthropomorphized city, making it an unusual novel among contemporary Russian works. It deals with neither the triumphs nor terrors of history, nor the prophetic horror of a dystopian future, but instead, the book shows a contemporary Moscow with its daily pressures and pleasures. It combines situational humor and philosophical reflection with a distinctively Russian edge.
109. Yelena Shvarts (1948-2010)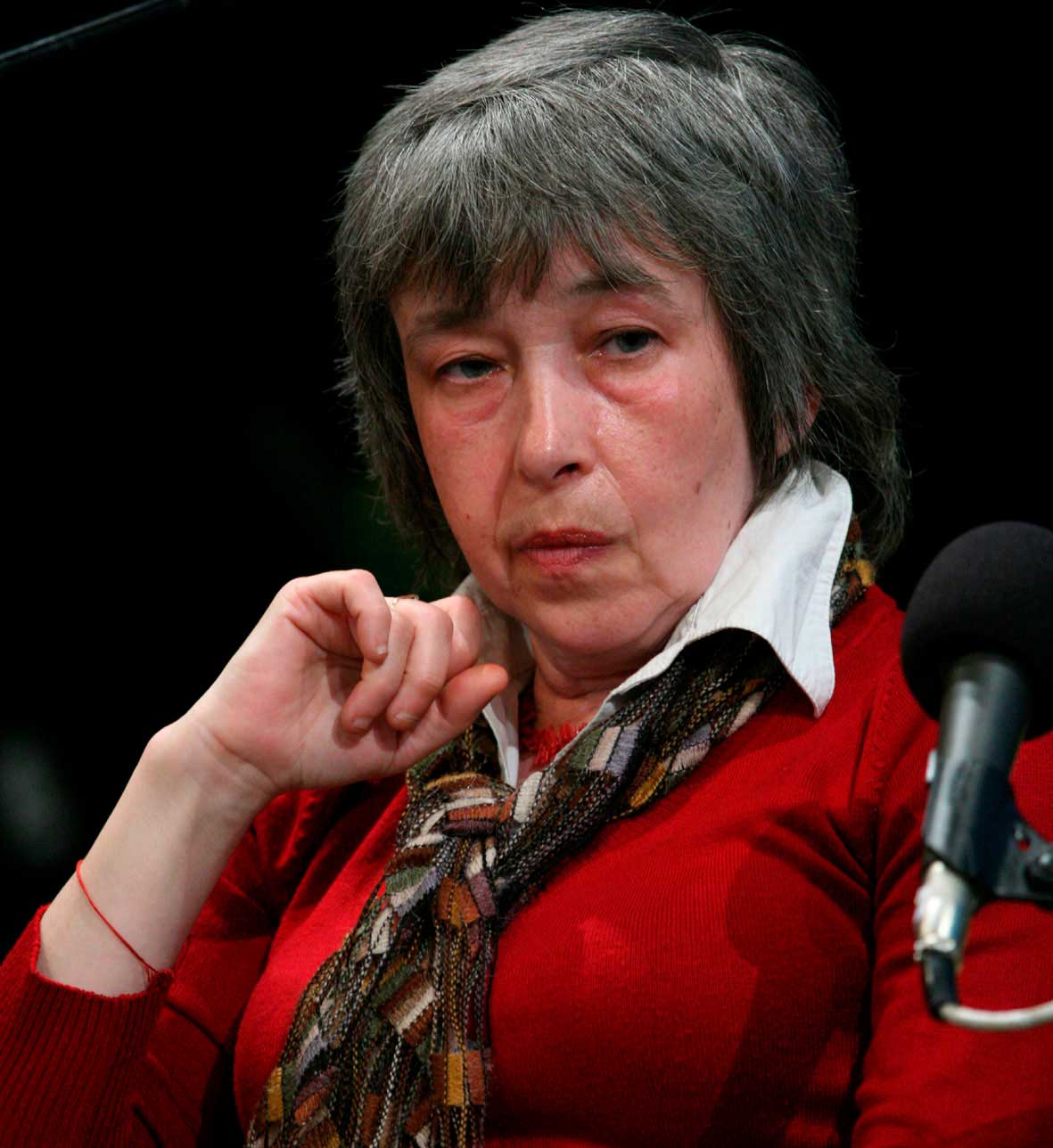 Yelena Shvarts / PhotoXpress
Every list of Russian authors must include censored ones! Before the 1990s, the poetry of Yelena Shvarts was published in samizdat, the underground self-published texts of the Soviet era. Her first official collection of poetry came out in New York in 1985. Overall, her poetry mainly deals with mankind's and the poet's search for a place in this world. Shvarts likes combining religion with historical fact, as well as reality and mysticism. "Her poems were challenging, which is why she is considered an heir to the Silver Age," said literary scholar Alexander Kobrinsky. Literary magazines only began publishing Shvarts towards the end of the 1990s.
108. German Sadulaev (b. 1973)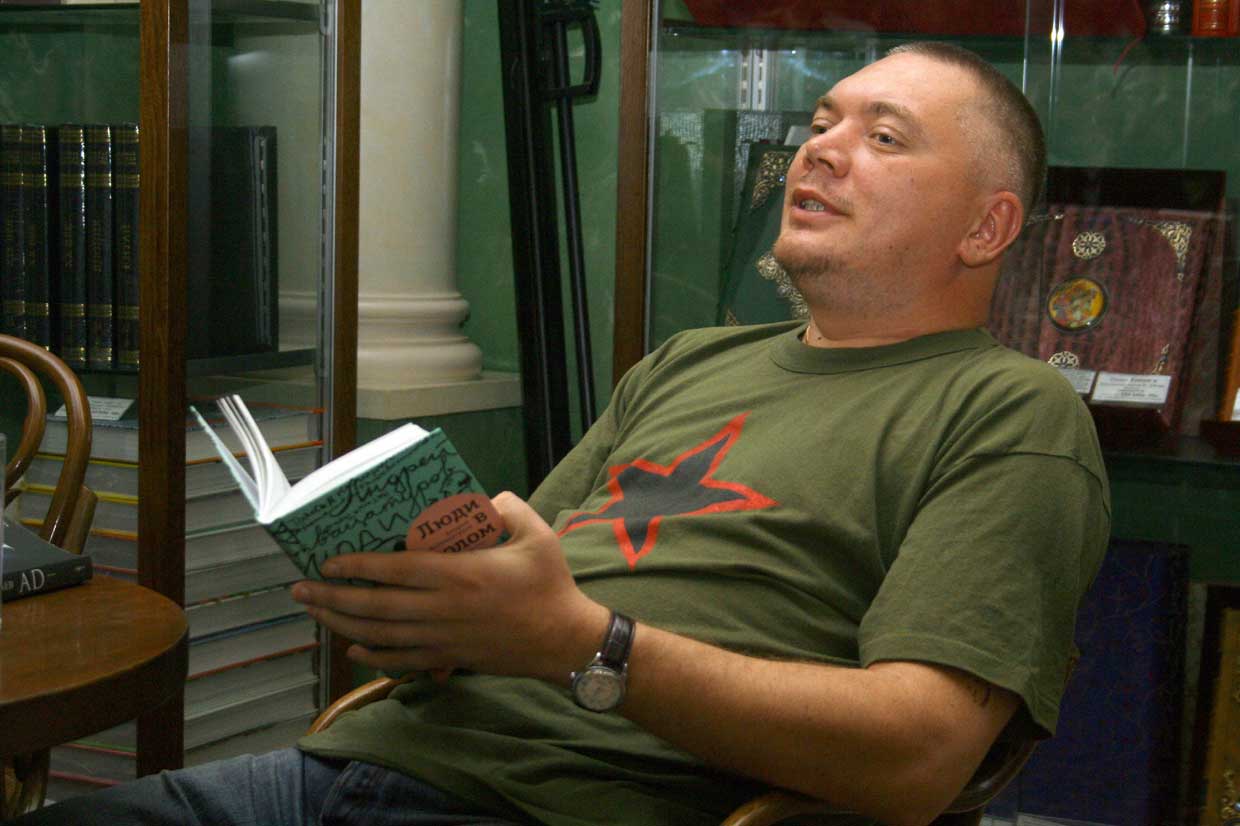 German Sadulaev / PhotoXpress
What would you think if someone tells you, "I am Chechen"? Sadulaev in fact became famous for a book with this title. He was born in the Chechen village of Shali and moved to Leningrad (now St. Petersburg) in 1989 to study law. He still lives in St. Petersburg, but his personal connections with Chechnya make it impossible to write dispassionately.
The nine short stories in "I am Chechen" are the author's fragmented meditation on war, identity and rootlessness, and are the result of an uneasy mixture of fictionalized memoir and painful lament. The war between Russia and Chechnya needs modern storytellers who are not serving "either side's propaganda," both of which foster an image of "the Chechen as an enemy of Russia."
107. Andrei Astvatsaturov (b. 1969)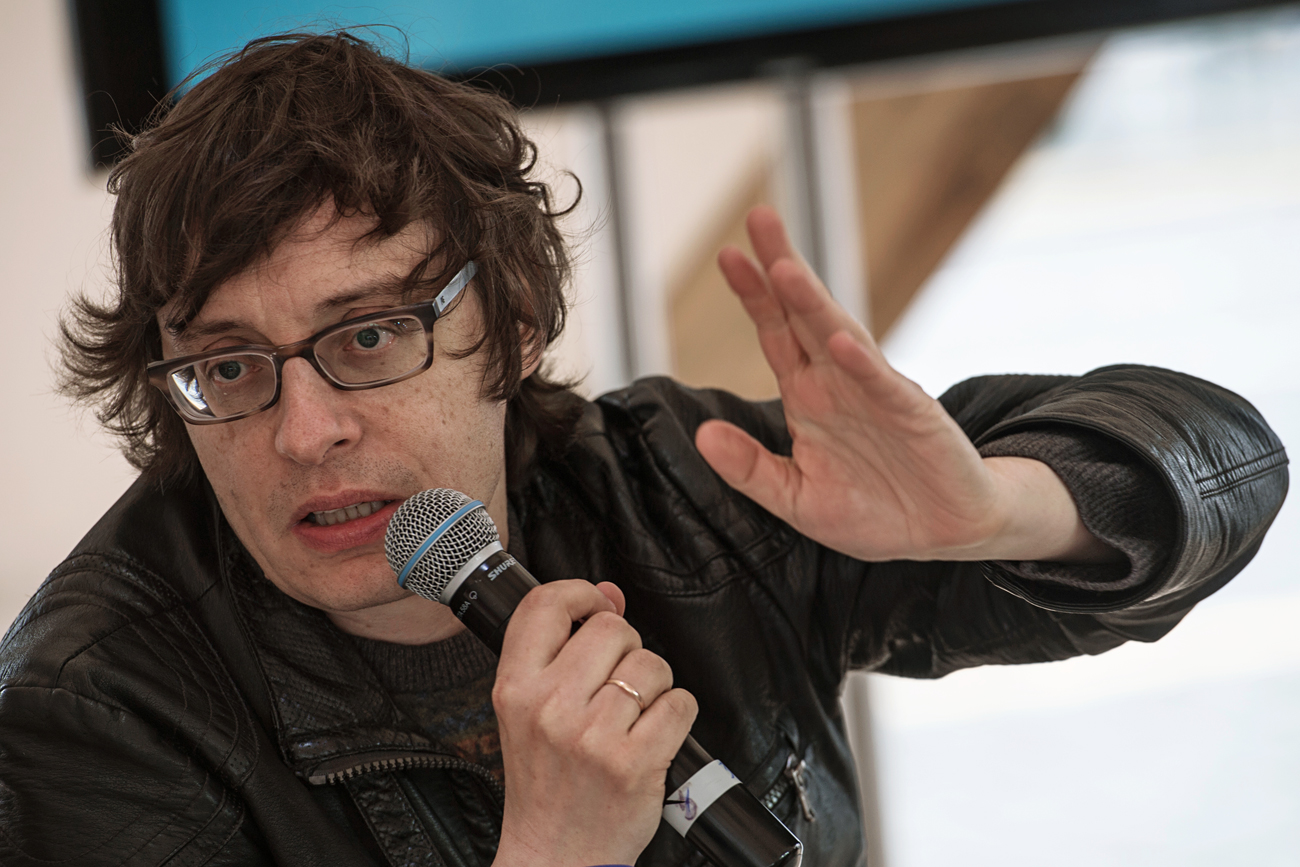 Andrei Astvatsaturov / Evgenya Novozhenina/RIA Novosti
Rarely translated and complicated for pronunciation, Andrei Astvatsaturov is first of all an academic at St. Petersburg University, but he is also renowned for autobiographical fiction that depicts his life and creative development through numerous flashbacks to his childhood. He found fame as an author in 2009 with "People in the Nude," the first in a trilogy, which also includes "Skunkamera" (2010), and "Autumn in Pockets." In 2016, he released a collection of essays about American and British literature, "Not just Salinger," which combines philology and creativity.
106. Chingiz Aimatov (1928-2008)
Chingiz Aitmatov / Grigory Sysoyev / TASS
Russia's "steppenwolf," Chingiz Aitmatov, is from rural Kyrgyzstan, and he brought to Russian literature the immensity of the steppes where a human is only a small part of nature. One of his main novels, "The Day Lasts More Than a Hundred Years," is the clearest expression of his vision and the importance of ritual and memory. He summarized this idea, saying: "From ancient times until now, the desire to deprive a human being of individuality has been one of the purposes of imperial and hegemonic ambitions. A person without memory of the past, confronted with the need to define his place in the world… a person deprived of the historic experience of his nation and other people, finds himself outside historic perspective and is only capable of living in the present."
105. Vera Polozkova (b. 1986)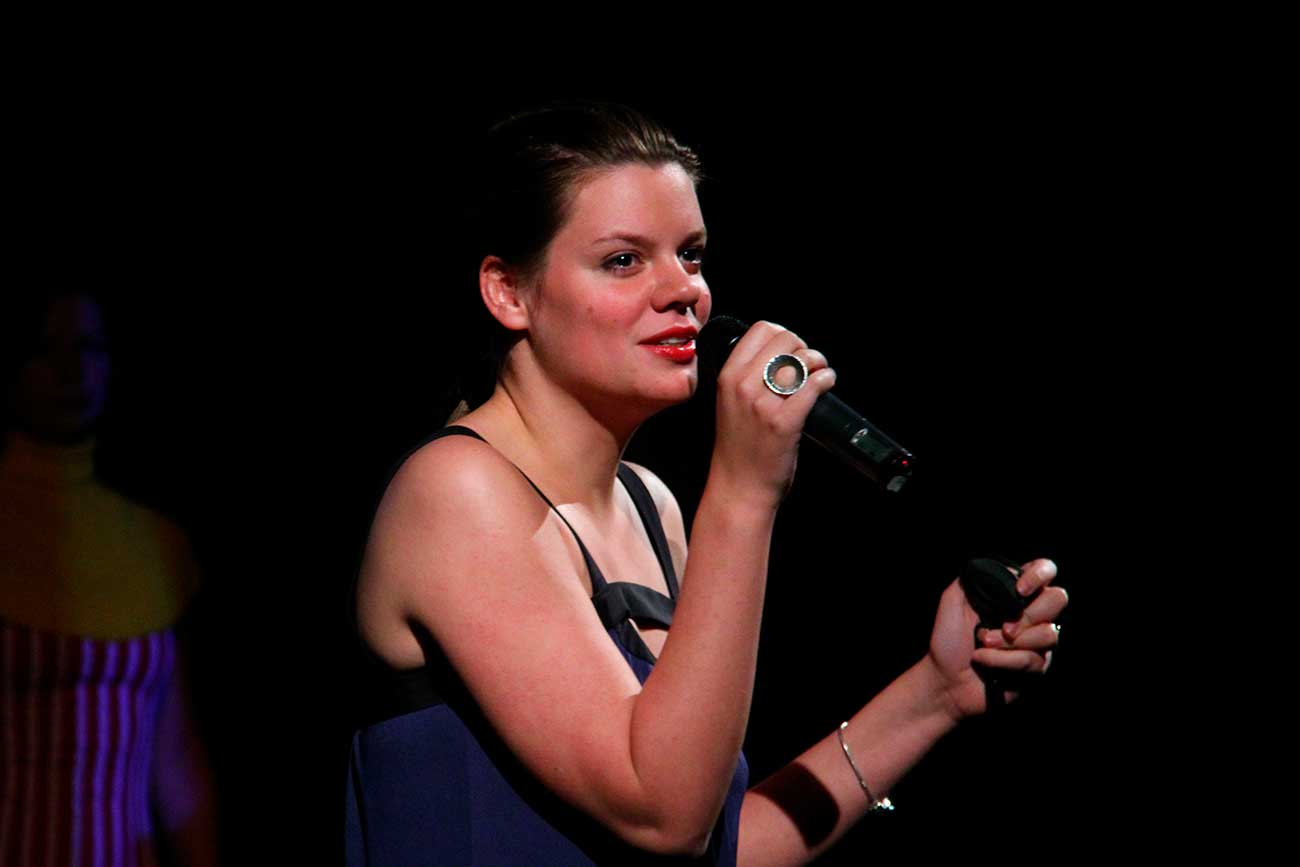 Vera Polozkova / TASS
Since she's an idol of romantic Russian girls, Vera Polozkova is in 105th place. She became popular thanks to the Internet, where she started publishing poems on Live Journal with the handle, Vero4ka. Her poems almost always consist of a dialogue between the protagonist and her beloved, often on the theme of parting or misunderstanding. For this reason critics have dubbed her poetry naïve and amateurish.
Polozkova now gives poetry recitals in packed clubs, making every occasion a performance. She acts out the characters in her poems and records them on video, adding musical, film, theatrical and literary elements.
104. Alexander Genis (b. 1953)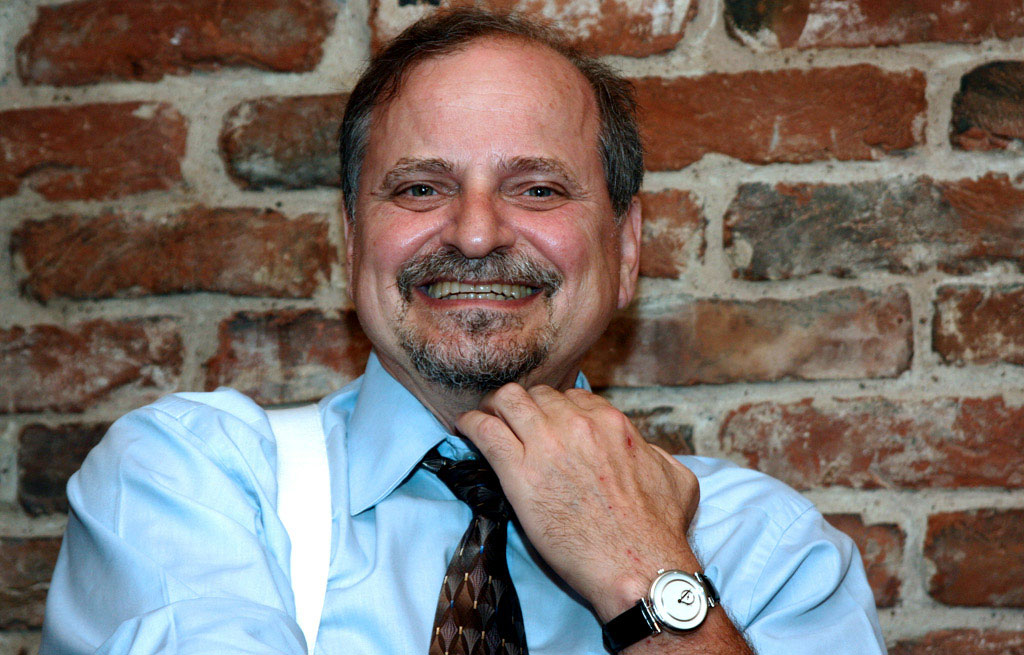 Alexander Genis / TASS
Genis is the last of the Mohicans of Soviet émigrés who moved to the U.S. in 1977. Shortly after arriving in New York, Genis befriended fellow émigrés Joseph Brodsky and Sergei Dovlatov. "My choice of America was kind of random," Genis told RBTH in 2012. "I didn't know anything about the country except Hemingway and Faulkner." But he knew he wanted to get out of the USSR and he knew he wanted to devote his life to Russian literature.
Since then, he has written more than a dozen bestsellers in Russia and has hosted his weekly radio show in Russian on Radio Free Europe/Radio Liberty for 27 years. He also contributes to the newspaper, Novaya Gazeta. One of his recent books, "Return Address," has anecdotes and memories about friends and idols, including Dovlatov, Brodsky, Vladimir Sorokin, Tatiana Tolstaya and many more.
103. Alexander Vvedensky (1904-1941)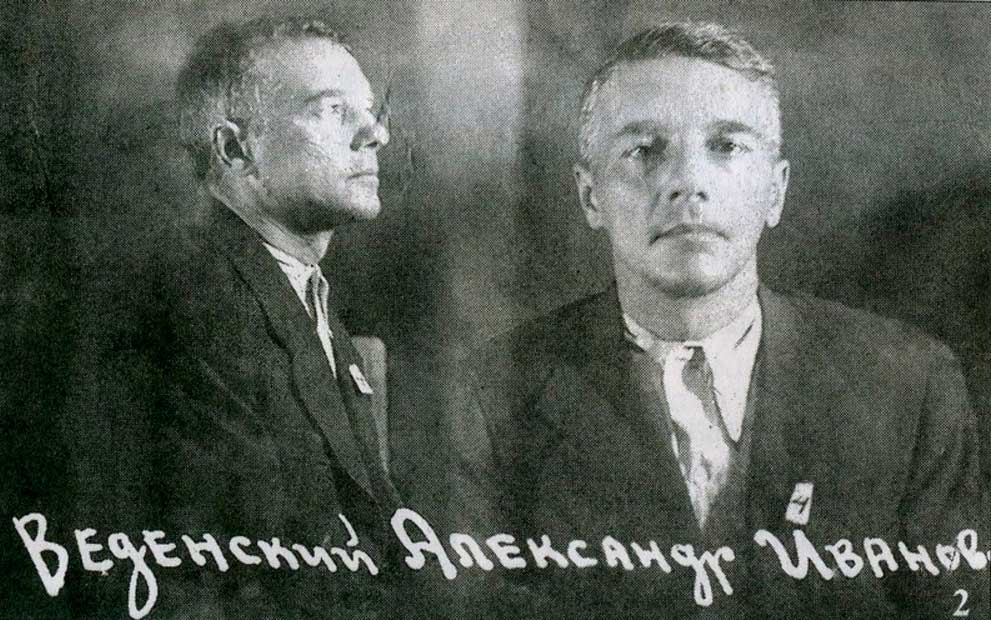 Alexander Vvedensky / Archive photo
"Pussy Riot are the disciples and heirs of Vvedensky," said Pussy Riot's Nadezhda Tolokonnikova at her trial in August 2012. Like the Russian poet Alexander Vvedensky, who died in a prison train, the punk band Pussy Riot pass judgement on the state, even as they are sentenced to prison: "The dissidents and the poets of the OBERIU poetry movement are thought to be dead, but they are alive," she asserted. "They are punished, but they do not die."
As a young adult Vvedensky became part of Leningrad's avant-garde Futurist movement. Much of his work was lost or destroyed, and what remains was mostly published posthumously, His texts are not easy to understand; for example, the 100 or so lines of "The Meaning of the Sea," written in 1930, begin with: "to make everything clear/ live backwards." The poem has no capital letters or punctuation and nouns congregate seemingly at random.
102. Vera Pavlova (b. 1963)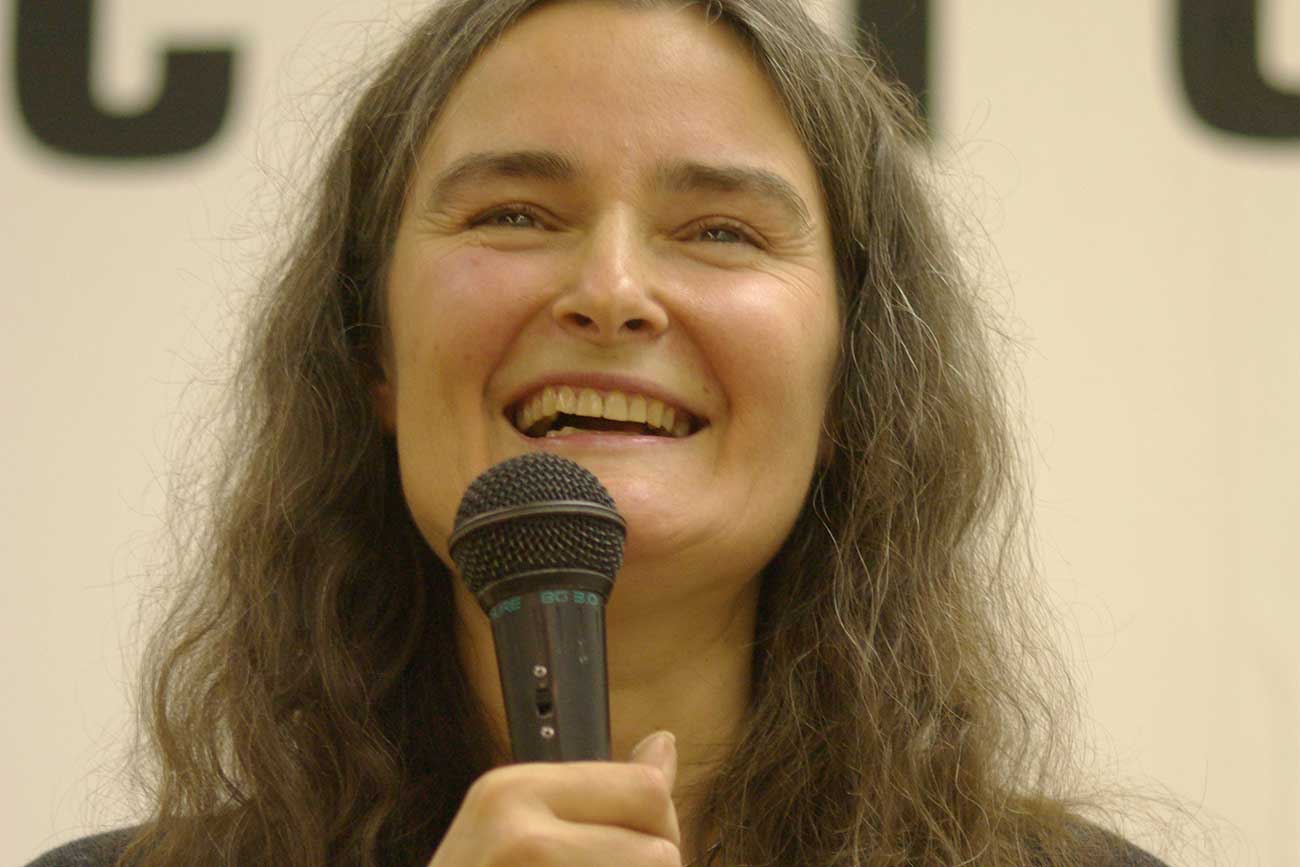 Vera Pavlova / Rodrigo Fernandez / wikipedia
Vera Pavlova writes love poetry with an obvious erotic subtext. Her poems show us various stages of a girl's development, and the amorous, intimate experiences of a modern woman - from buying her first bra, to reflecting on virginity before her first sexual encounter, to intense love as if for the last time, covering all the stages of a relationship. Her poems are often written in free verse and can be as little as two lines.
101. Marina Stepnova (b. 1971)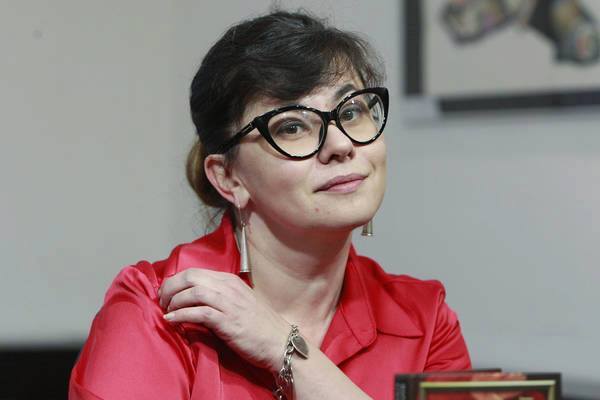 Marina Stepnova / Personal Archive / Facebook
Marina Stepnova's first novel, "Surgeon" (2005), wove together a contemporary plastic surgeon and an 11th-century Persian assassin. She describes it as "a very dark novel about talent and free will." Stepnova drew on her own medical experience while writing it; growing up in a family of doctors, she worked as a nurse in a cancer ward when she was just 15, and she saw "true and terrible human suffering."
For many years Stepnova was an editor of the men's magazine, XXL. When it closed, she became a full-time novelist. Her extraordinary 2011 novel, "The Women of Lazarus," is the story of her grandfather, Lazarus, a scientific genius, and three generations of women in his life. The novel was shortlisted for numerous awards and translated into 23 languages.
100. Anna Starobinets (b. 1978)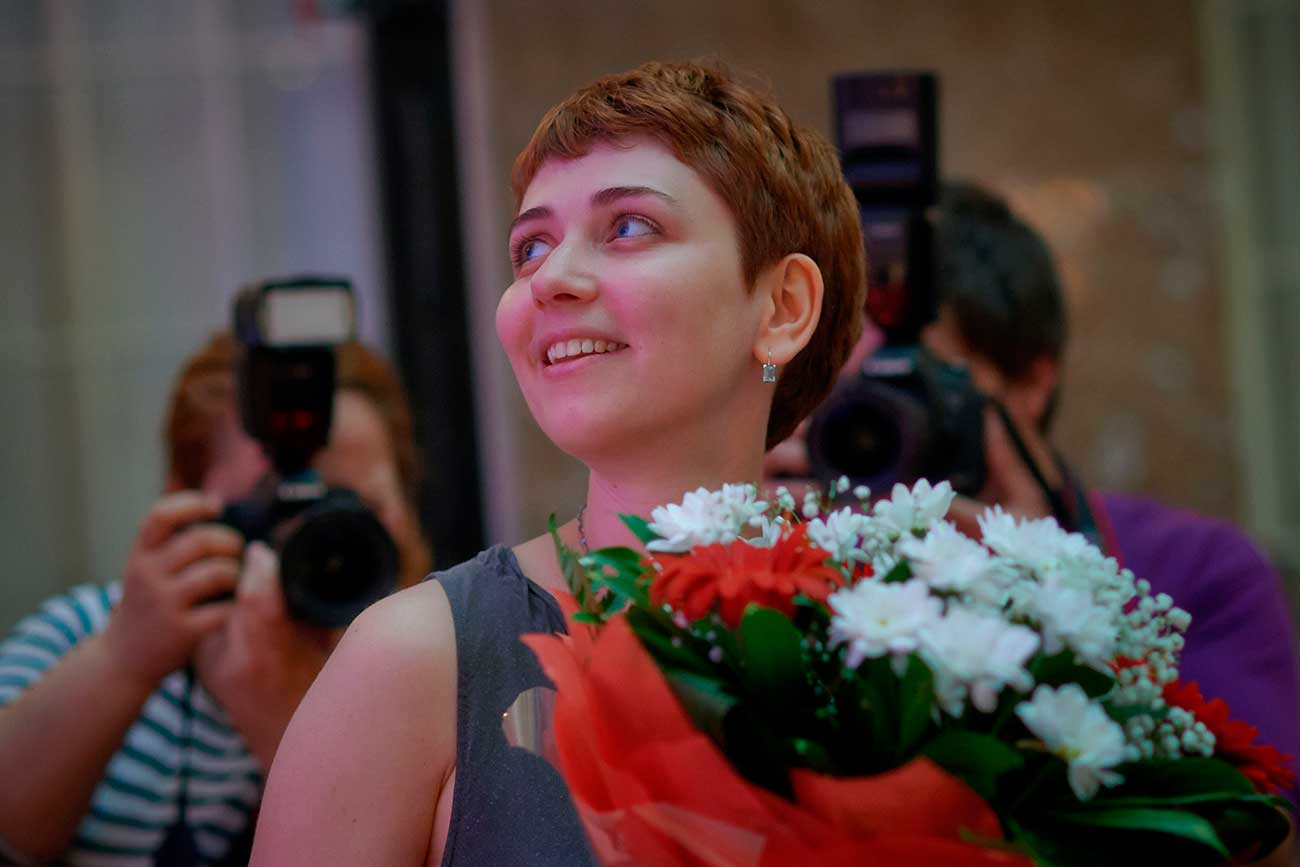 Anna Starobinets / RIA Novosti / Alexey Danichev
Journalist Starobinets became Russia's "Queen of Horror" after publishing several stories for teenagers that are dreadful to read even for adults. A mother of a fat boy, who hides candies under his pillow, one day finds his diary where he describes a queen ant residing in his mind who reveals her insidious plan to take control of the boy's body and conquer humanity. That is the plot of "An Awkward Age," a novel that brought Starobinets critical acclaim.
In Russia, she has been compared to Stephen King and even Kafka. Her stories communicate something urgent through schizophrenic characters in anti-fairy tales. The reader does not always understand what is real or imagined, only that neglect is never benign, in a family or society, and that all monsters come from some mother's womb.
99. Tatyana Tolstaya (b. 1951)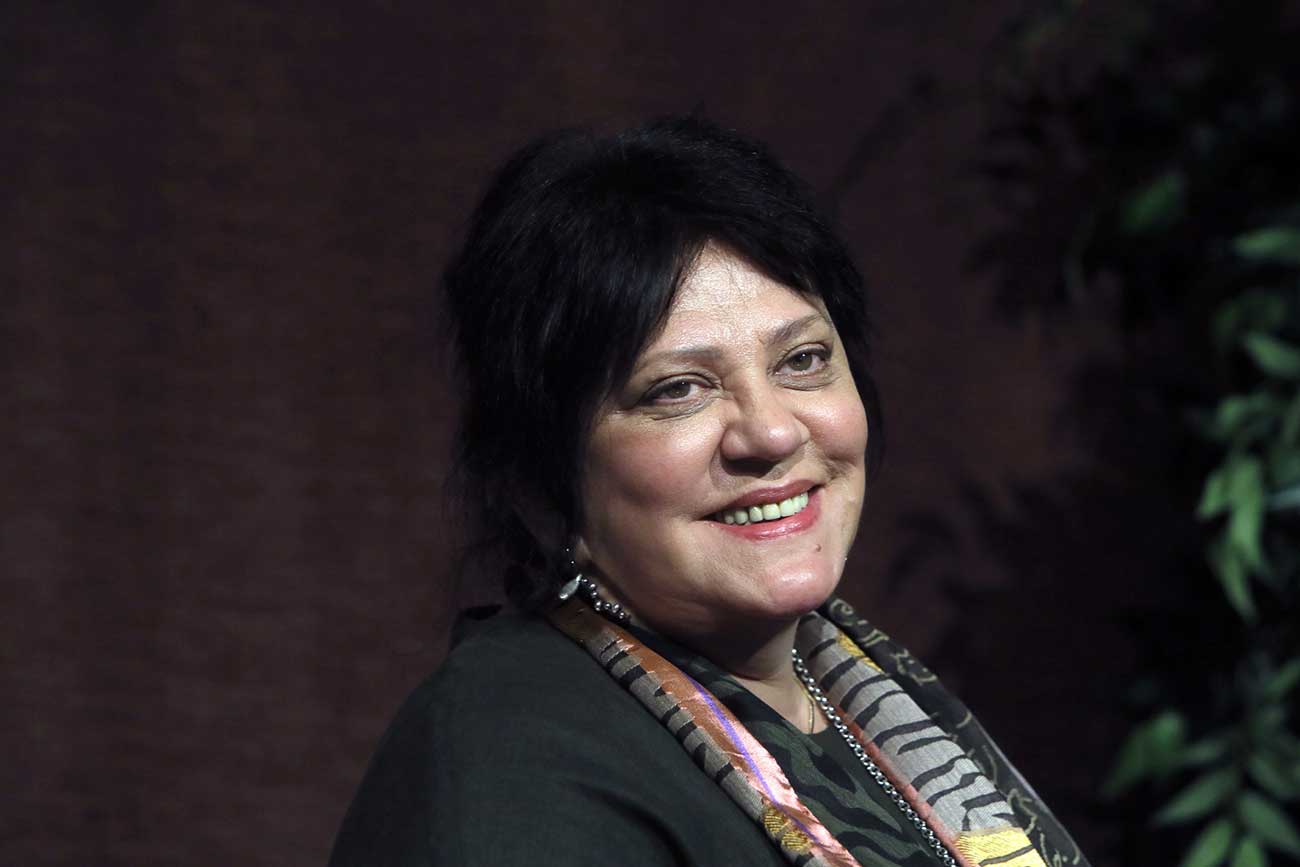 Tatyana Tolstaya / PhotoXpress
Tatyana Tolstaya is an absolutely incredible phenomenon in Russian literature. She was first renowned as an author of short stories, but real fame came with the novel, "Slynx," that she wrote 17 years ago. It's a post-apocalyptic dystopia, ironically on target describing the Russian national character. Based on the ruins of civilization, the language of the novel is full of neologisms and dialects. By the way, she is a distant relative of Leo Tolstoy.
98. Igor Sakhnovsky (b. 1958)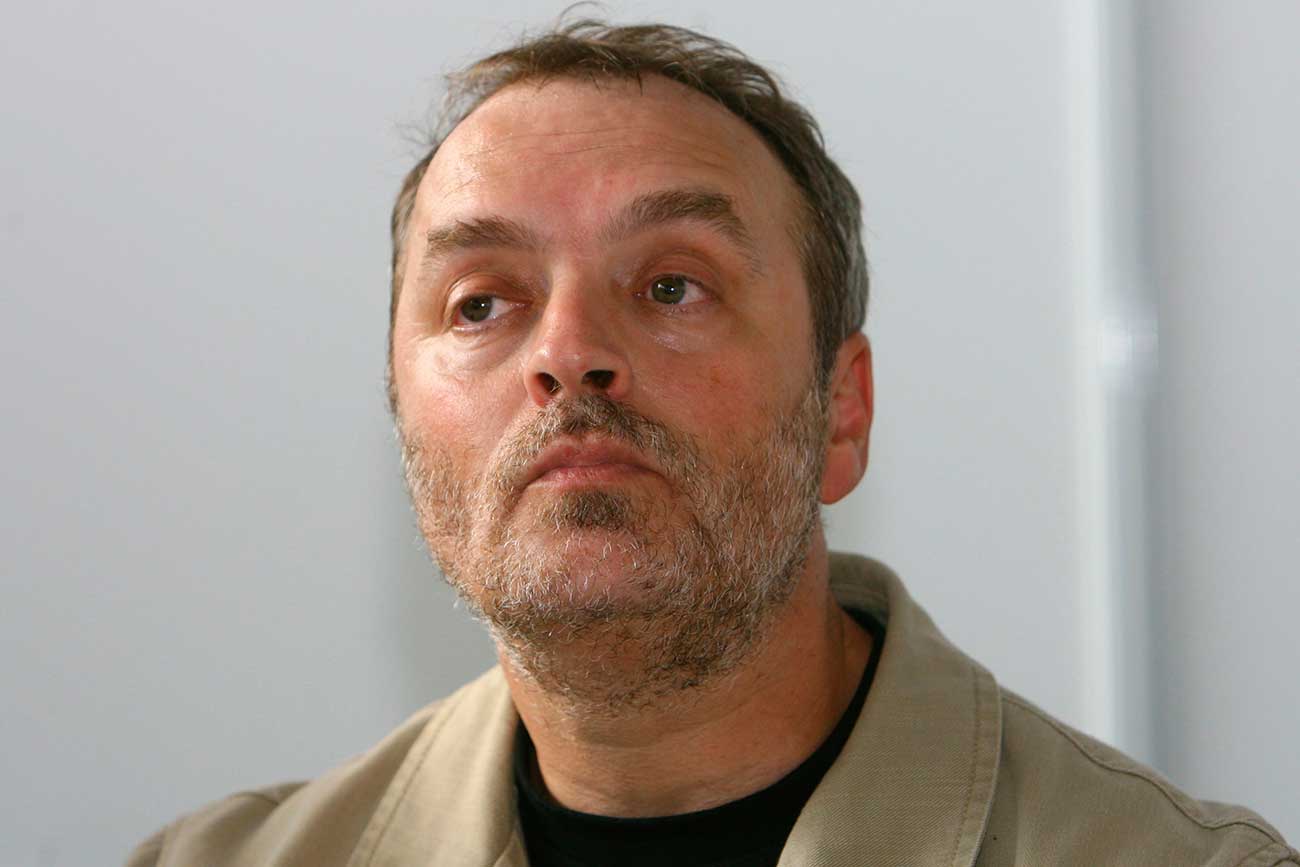 Igor Sakhnovsky / RIA Novosti / Iliya Pitalev
"Life's cornucopia of non-fictional material renders fantasy unnecessary," Sakhnovsky says. His pseudo-documentary prose brought him success with his very first novel, "Vital Needs of the Dead." For a book dedicated to the narrator's dead grandmother, it is surprisingly sexy. A young man's earliest memory of his grandmother is "naked and nocturnal," and she remains an active figure in his life long after her death.
In his second novel, "The Man Who Knew Everything," Sakhnovsky experiments with genre, twisting the storyline to the limits. All of a sudden, the protagonist is endowed with superpowers and simultaneously hunted by several global intelligence agencies.
97. Yelena Chizhova (b. 1957)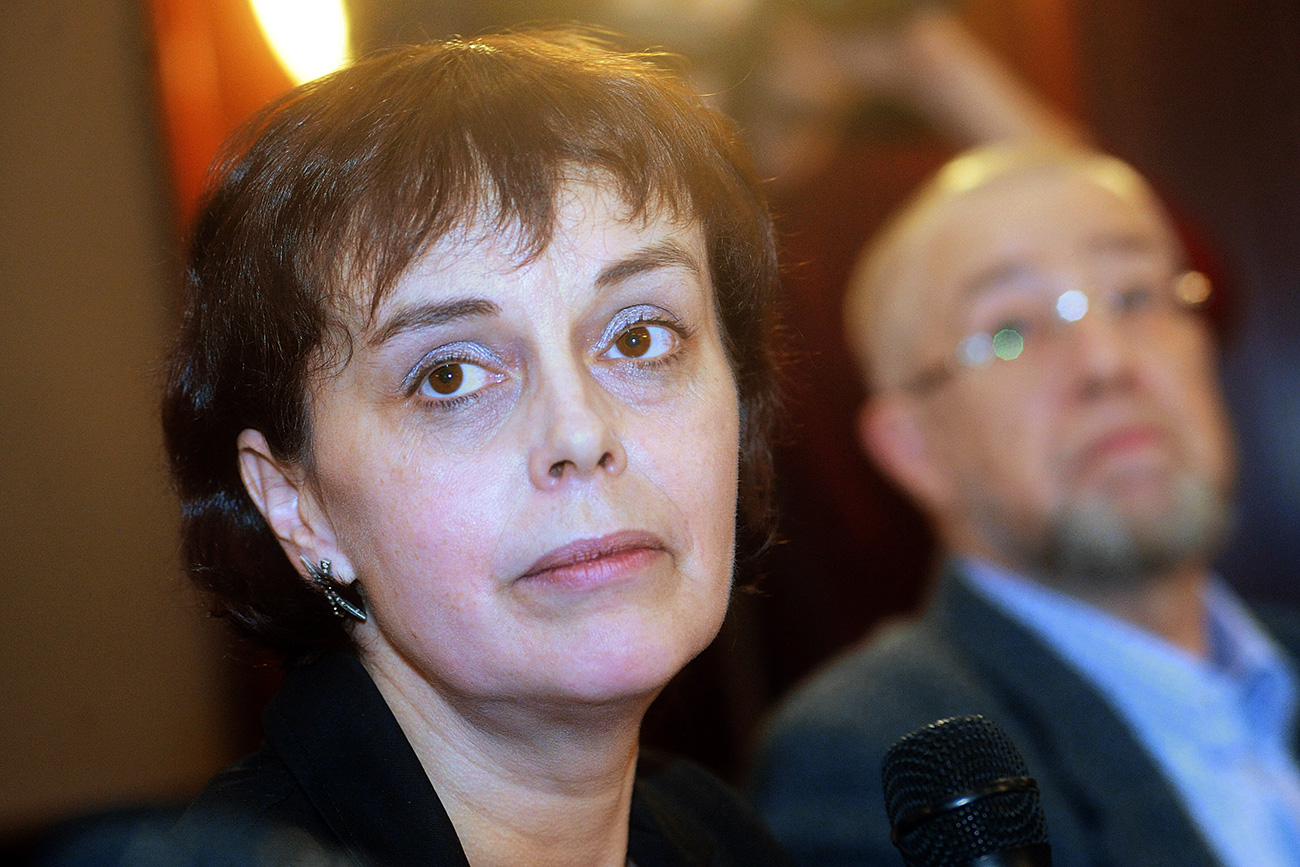 Yelena Chizhova / TASS / Valery Sharifulin
Yelena Chizhova is famous first of all for her novel, "The Time of Women," which is a sad and beautiful tale of life in Soviet Leningrad. Young Sofia can't speak, but she is one of the most important narrators, we hear her thoughts, and her adult voice framing the story, as she tries to make sense of life in a 1960s communal apartment, growing up with a single mother and three surrogate grandmothers. They raise her on a mix of secret religion, parables and French while keeping her out of the orphanage. Sofia's muteness becomes a metaphor for the enforced silence of the times. Chizhova's fragmented monologues embrace war and women, famine and food preparation.
96. Olga Slavnikova (b.1957)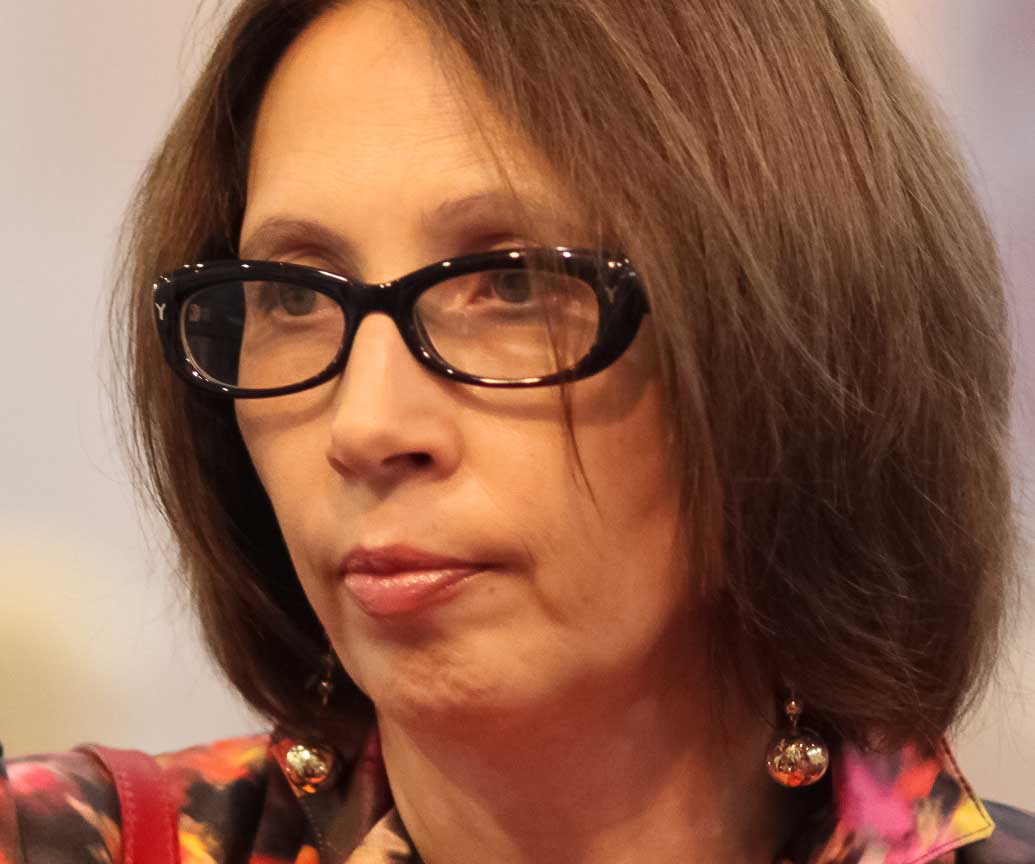 Olga Slavnikova / wikipedia / Dmitry Rozhkov
Her most famous novel is the dystopian, "2017," written in 2006, the same year as Glukhovsky's, "Metro-2033," (read further about him). This is an ambitious, postmodern contribution to a revered literary tradition. In the mythical Riphean Mountains, gem prospectors, called rock hounds, search for precious stones. On the streets of a Russian city, romance unfolds amid the backdrop of the centenary of the 1917 Revolution - seemingly a call to repeated violence. Slavnikova weaves these parallel plots and settings together with metaphor and fantasy.
Her first big novel, "A Dragonfly Enlarged to the Size of a Dog," was well received by critics, who wrote that she is a worthy follower of the traditions of magical realism. The author considers, "Alone in the Mirror," her best and most underrated novel.
95. Roman Senchin (b. 1971)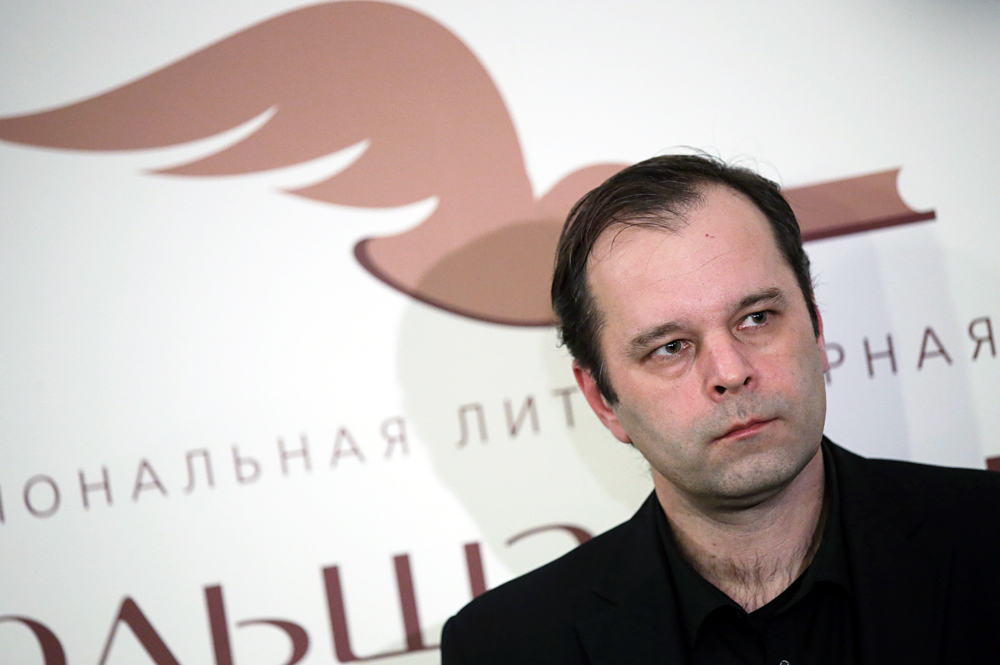 Roman Senchin / TASS / Artyom Geodakyan
Literary critic Lev Danilkin once wrote that Senchin's novel, "Eltyshevy," "is the opposite of, Robinson Crusoe: a clear degradation of the human spirit, losing to the outside world in every department." Roman Senchin was born in the Siberian Republic of Tyva, and moved to Moscow in the 1990s. He is now deputy editor-in-chief of Literaturnaya Gazeta.
One of his best-known novels, "Eltyshevy," is written in a genre known as rural prose, with nondescript losers for main characters. Senchin continues this genre with "The Flood Zone," a novel about the tragic destinies of people forced to abandon their homes to make way for a new hydroelectric plant.
94. Sergei Shargunov (b. 1980)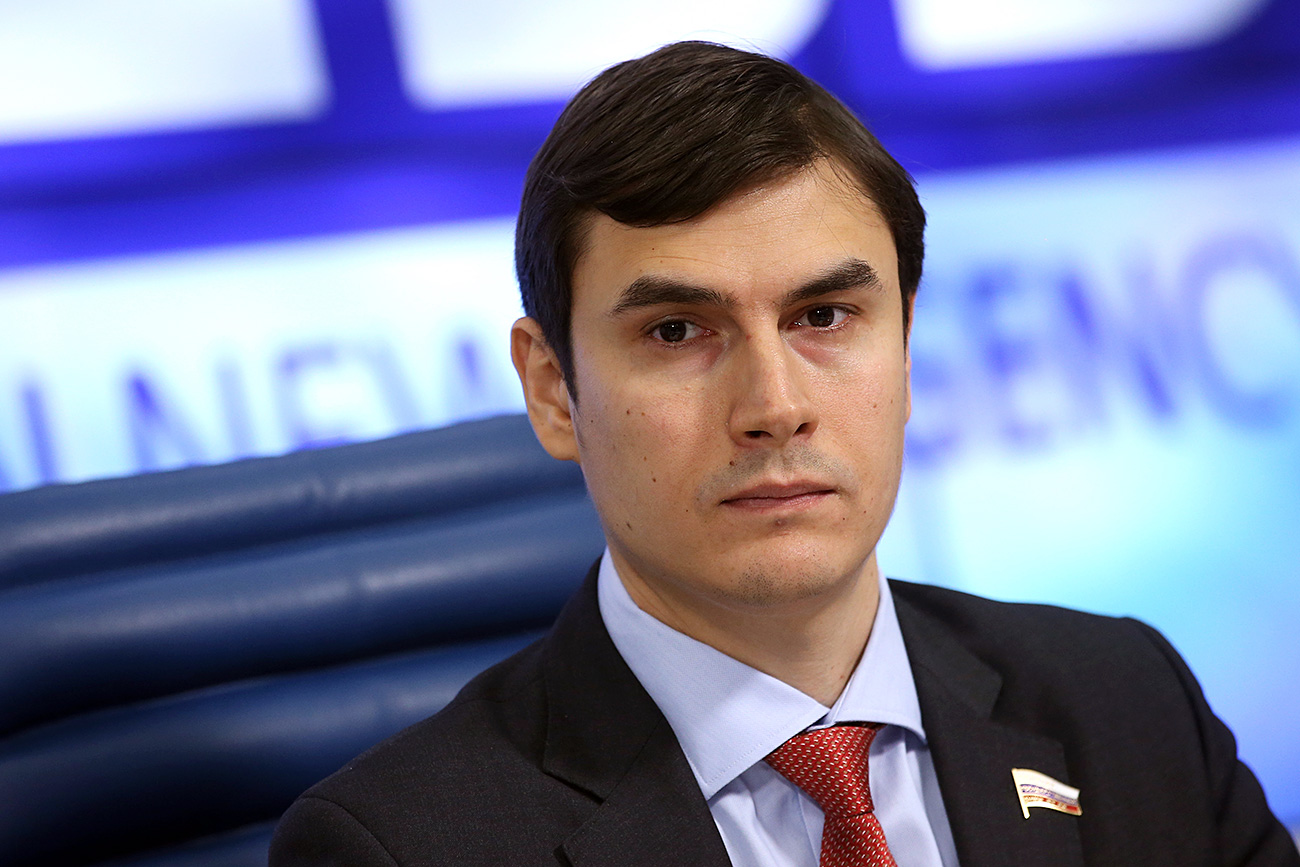 Sergei Shargunov / TASS / Anton Novoderezhkin
Shargunov's father was an Orthodox priest with an underground printing press, so naturally he grew up distrusting those in power. He was attracted to many anti-Soviet things – underground books, magazines, and radio – but he also felt the lure of their opposite, the communist world, which was forbidden in his family. Shargunov worked as a journalist, covering the wars in Chechnya and Georgia, as well as revolution in Kyrgyzstan.
His major work, "A Book without Photographs," tracks the last few decades of Russian history through snapshots of the author's life: a black-and-white photo of the Moscow barricades in autumn 1993, and the teenage Shargunov, who has gone to watch, is hidden in billowing smoke. Now, the author is a deputy in the Russian parliament, and chief editor of the website, Svobodnaya Pressa.
93. Vladimir Sharov (b. 1952)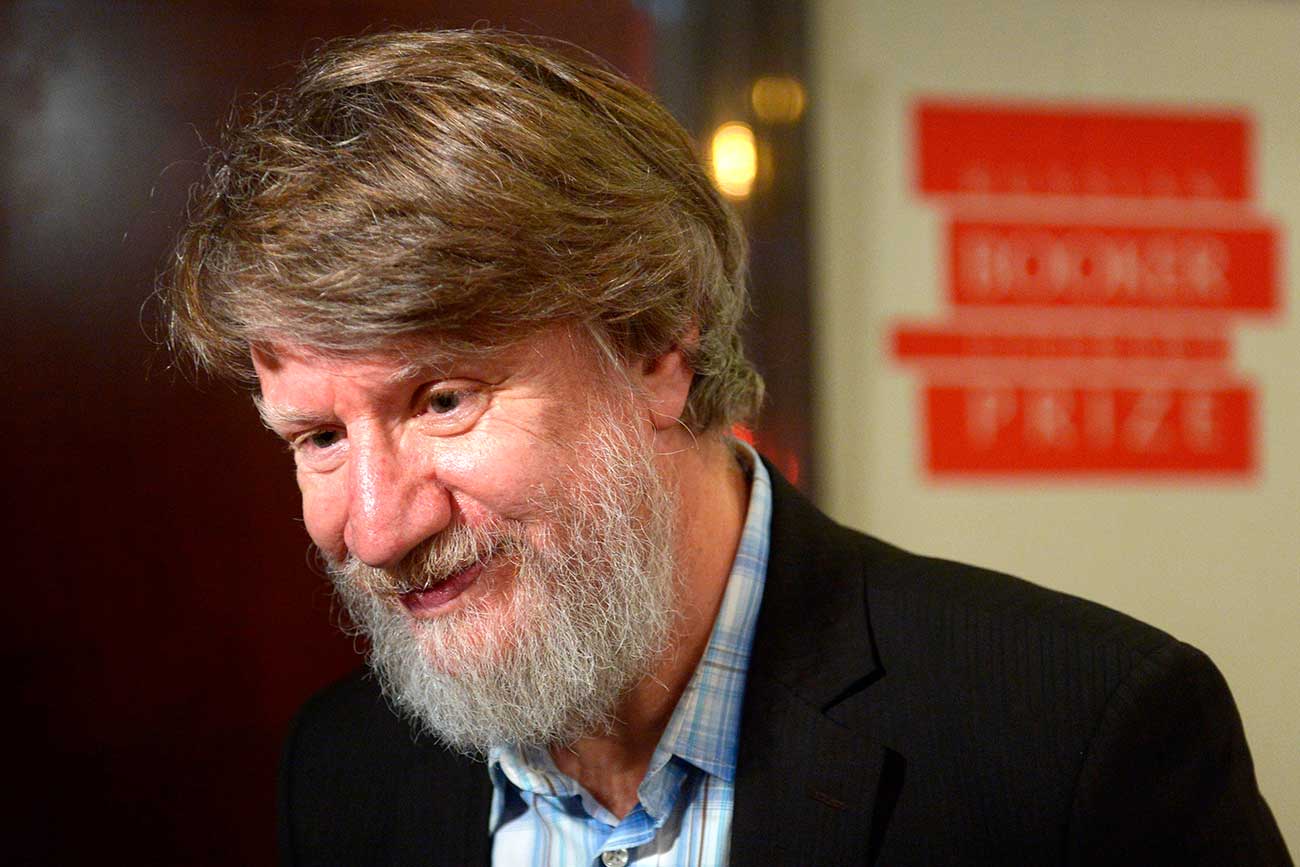 Vladimir Sharov / RIA Novosti / Evgeny Biatlov
Writer and essayist Sharov debuted as a poet in 1979. A tall man with a big white beard, the author bears an uncanny resemblance to Leo Tolstoy. His books are imbued with Biblical motifs and attempts at rethinking Russian history. His novel, "The Raising of Lazarus," interprets Stalin's repressions as the plan of highly moral security officers to save the souls of the dead.
His latest novel, "Return to Egypt," is written in the form of letters between Russian writer Nikolai Gogol's descendants. Their lives move through the Revolution, and they think that if Gogol only had written his second volume of "Dead Souls" (which he burned because he was not happy with it) then Russia could have taken another path.
92. Maya Kucherskaya (b. 1970)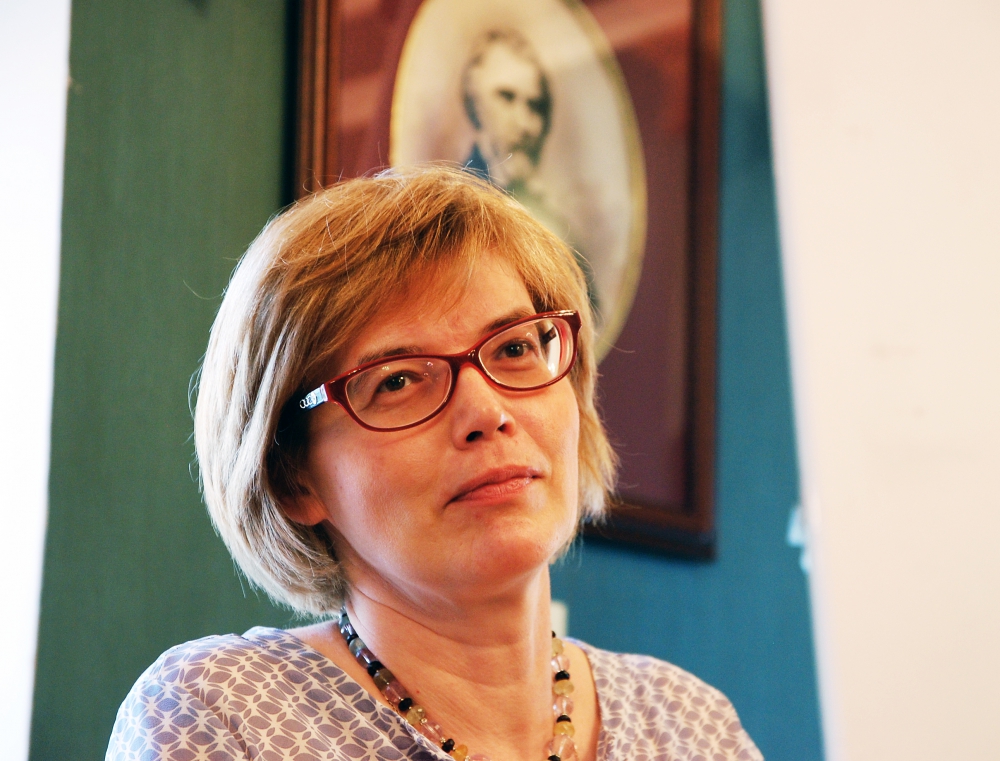 Maya Kucherskaya / litschool.pro
Kucherskaya is a writer and literary critic who also opened a creative writing school. This is quite a novel for Russia, where it has always been believed that you can only be born a writer. She is very interested in religious Orthodox literature, and her award-wining novel, "The Rain God," and "Faith & Humor: Notes from Muscovy," is a book about Russian Orthodoxy. Kucherskaya has also worked in other genres, and she wrote a biography of Grand Duke Constantine Pavlovich Romanov, and a book of Gospel stories for children.
91. Mikhail Elizarov (b. 1973)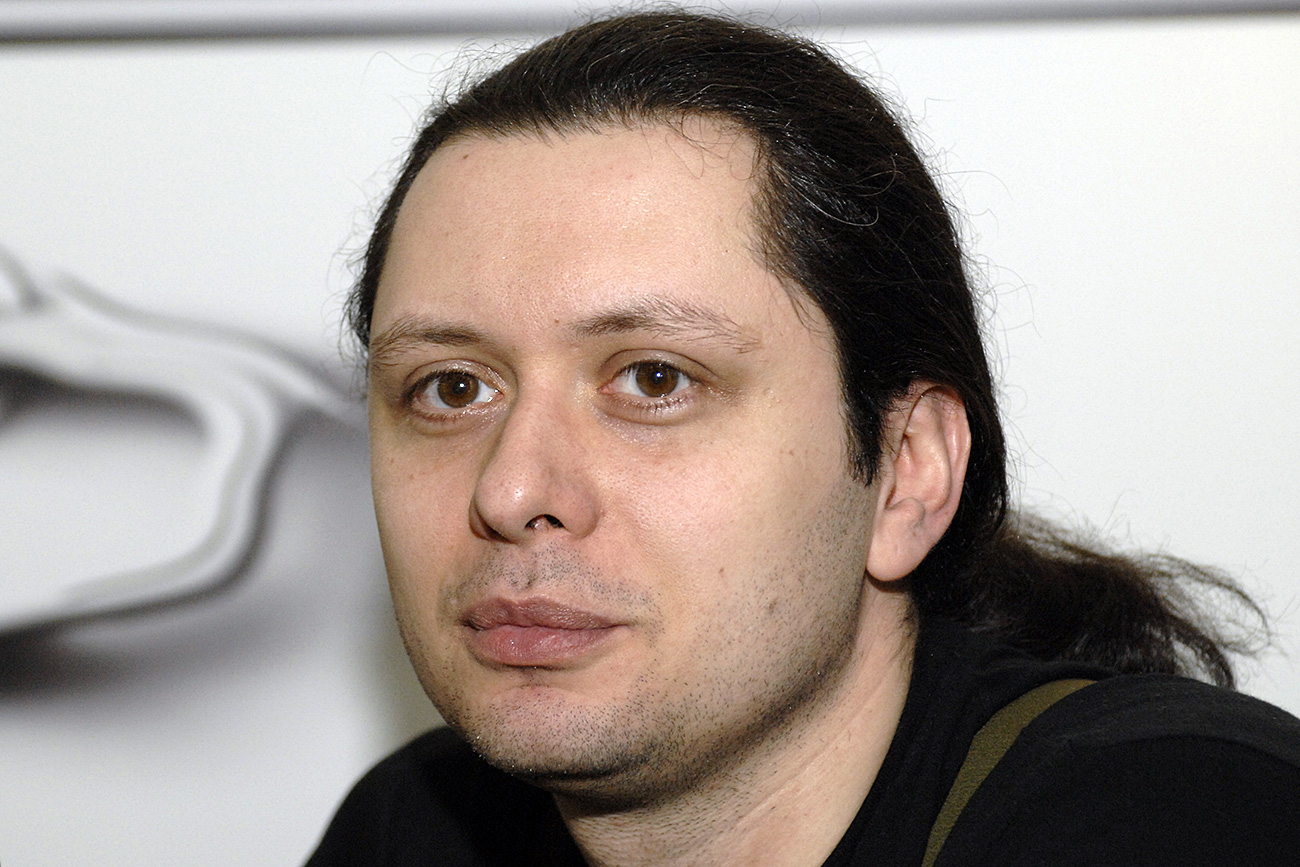 Mikhail Elizarov / TASS / Yuri Mashkov
All of Mikhail Elizarov's controversial works have led to intense battles among critics. Elizarov's novel, "Pasternak," can be called scandalous because it depicts the famous poet and writer Boris Pasternak as a demon trying to poison the intelligentsia's mind with his art works.
Elizarov's next novel, "The Librarian," was highly acclaimed by critics and won Russia's Booker Prize. The novel is a full-frontal exploration of the Soviet past: war-like "libraries" battle over copies of old novels that give their readers magical powers. Critics compare the evolution of Elizarov's works with Vladimir Sorokin: from scandalous to intelligent prose. Elizarov is also a singer and songwriter having recorded four albums in the bard-punk-chanson style.
90. Yelena Fanailova (b. 1962)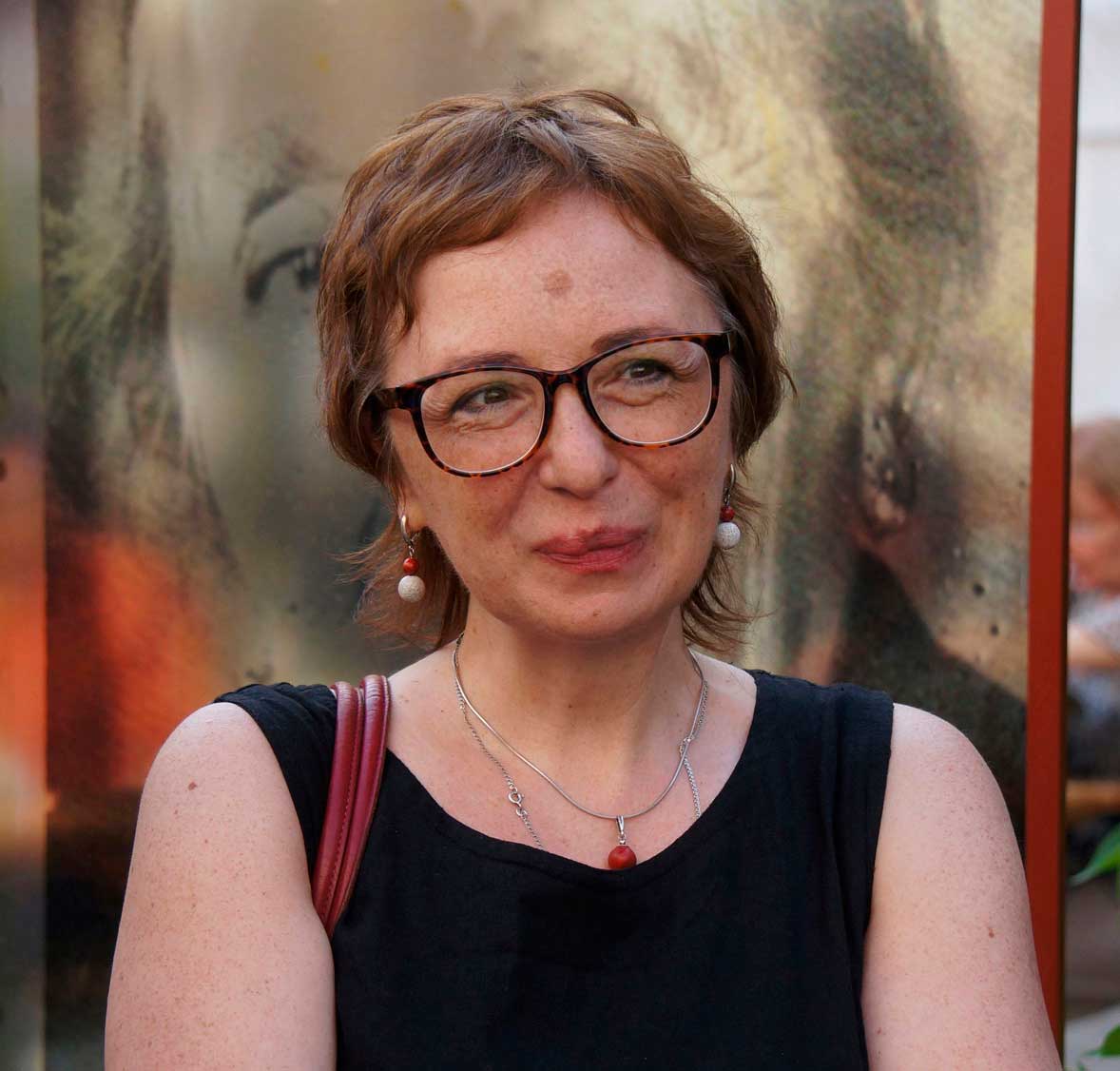 Yelena Fanailova / PhotoXpress
Yelena Fanailova writes poetry that explores issues related to love. Her poem, "Again they are for their Afghanistan…", (2001), tells the story of a soldier sent to fight in Grozny, and is intertwined with that of his relationship with his wife. She flies to see him, then has abortions, and gets old. He experiences the day-to-day reality of war, rapes local girls with his fellow soldiers and returns home. "Now, the lovers are both 40… I'll never find another country such as this."
Fanailova, who works for Radio Svoboda, is often called a harsh poet for her realistic depictions of people ("A one-armed woman on a beach removes her prosthesis and then swims and sunbathes"), for her cursing ("I'm an empty person, a vessel of shit"), and for her blunt and unique political statements ("The nation salutes me, …, it is taken hostage everyday and yet seems not to feel it").
89. Maria Galina (b. 1958)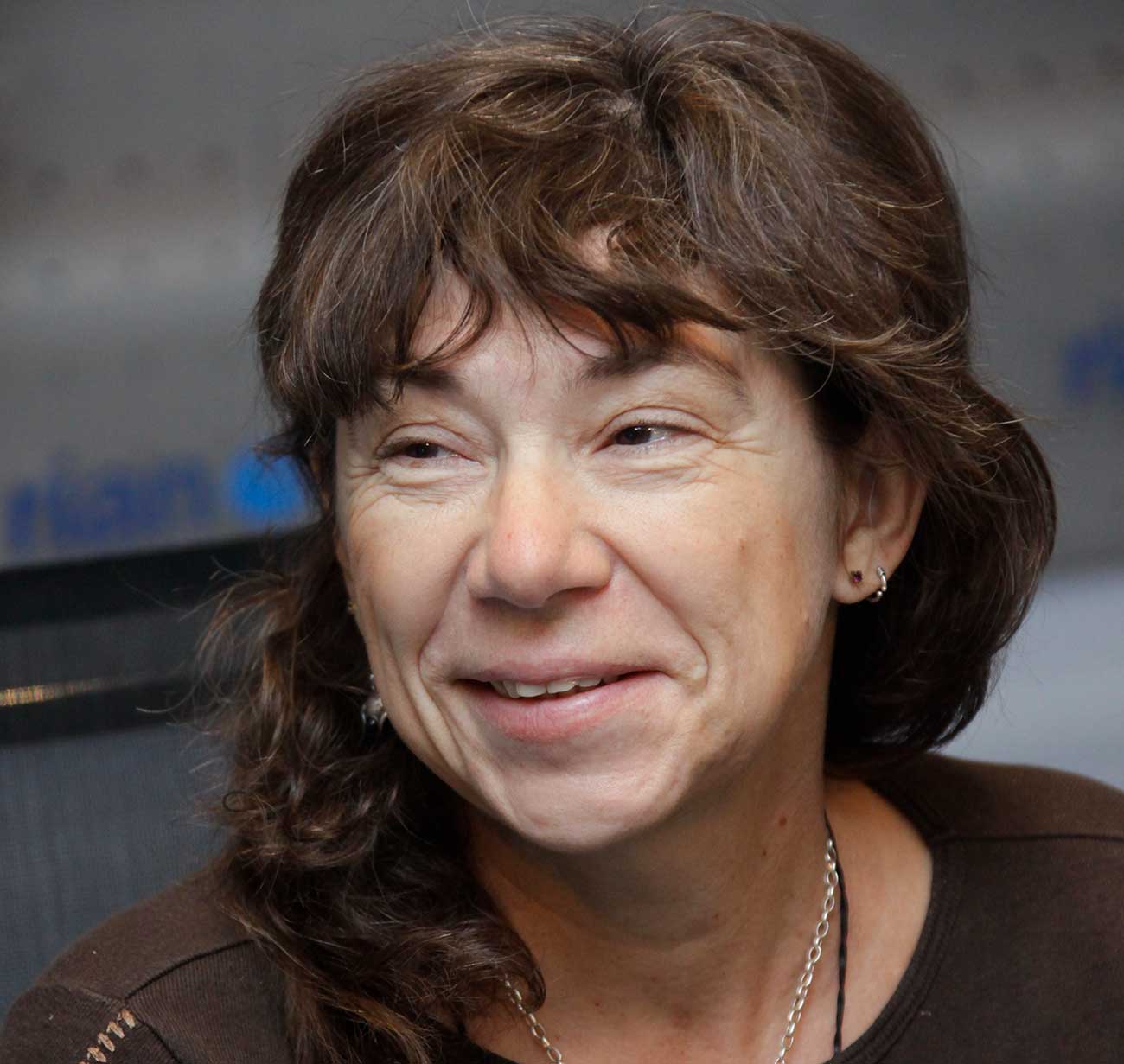 Maria Galina / RIA Novosti / Ruslan Krivobok
Born in Tver, north of Moscow, Galina grew up in Odessa where she studied marine biology. She said her mixed Russian and Ukrainian heritage gave her the outsider status that she feels all writers need: "I don't really know what nationality I am. It is easier for me to be just a human being." Galina believes that her "prose helps to dismantle the rigid image of reality in the mind of modern man," no matter what gender one belongs to.
Several of her novels have male protagonists. "Medvedki" ("Mole Crickets") tells the story of a reclusive writer creating personalized pastiches in which his clients can become the heroes of classic literature. It is a mystery, thriller, farce and family saga all in one book. Galina's fantasy novel, "Givi and Shenderovich," (in English known as "Iramifications"), involves two happy-go-lucky characters drawn into a mythical world of interlocking legends. The resulting mesh of stories from ancient Greece, Arabic mythology, English occult magic and Jewish mysticism is a far lighter read than this weighty background suggests.
88. Sasha Sokolov (b. 1943)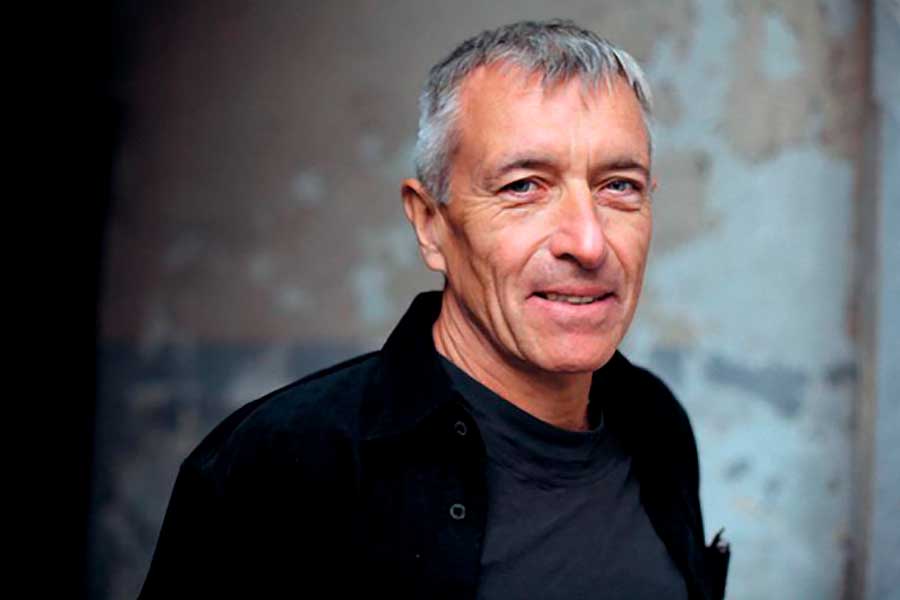 Sasha Sokolov / Screenshot / 1tv
Sokolov is one of the most mysterious Russian writers. Born in Ottawa, Canada to a family of Soviet intelligence officers, (and probably spies), Sokolov moved to the USSR but returned to Canada where he now lives as a hermit in a remote location, rarely appearing in public or giving interviews. He became famous when his novels were published by Ardis Publishers (founded by Americans Carl and Ellendea Proffer, who took banned Soviet manuscripts and brought them to the U.S.).
"A School for Fools" (1973) is a phantasmagoric novel about a student suffering from a multiple personality disorder. Another novel, "Between Dog and Wolf," (1980) is written in three distinct styles: poetry, classical narrative and colloquial, stream-of-consciousness letters. After completing his third novel, "Palisanria," Sokolov decided only to write essays, short stories and poems.
87. Evgeny Grishkovets (b. 1967)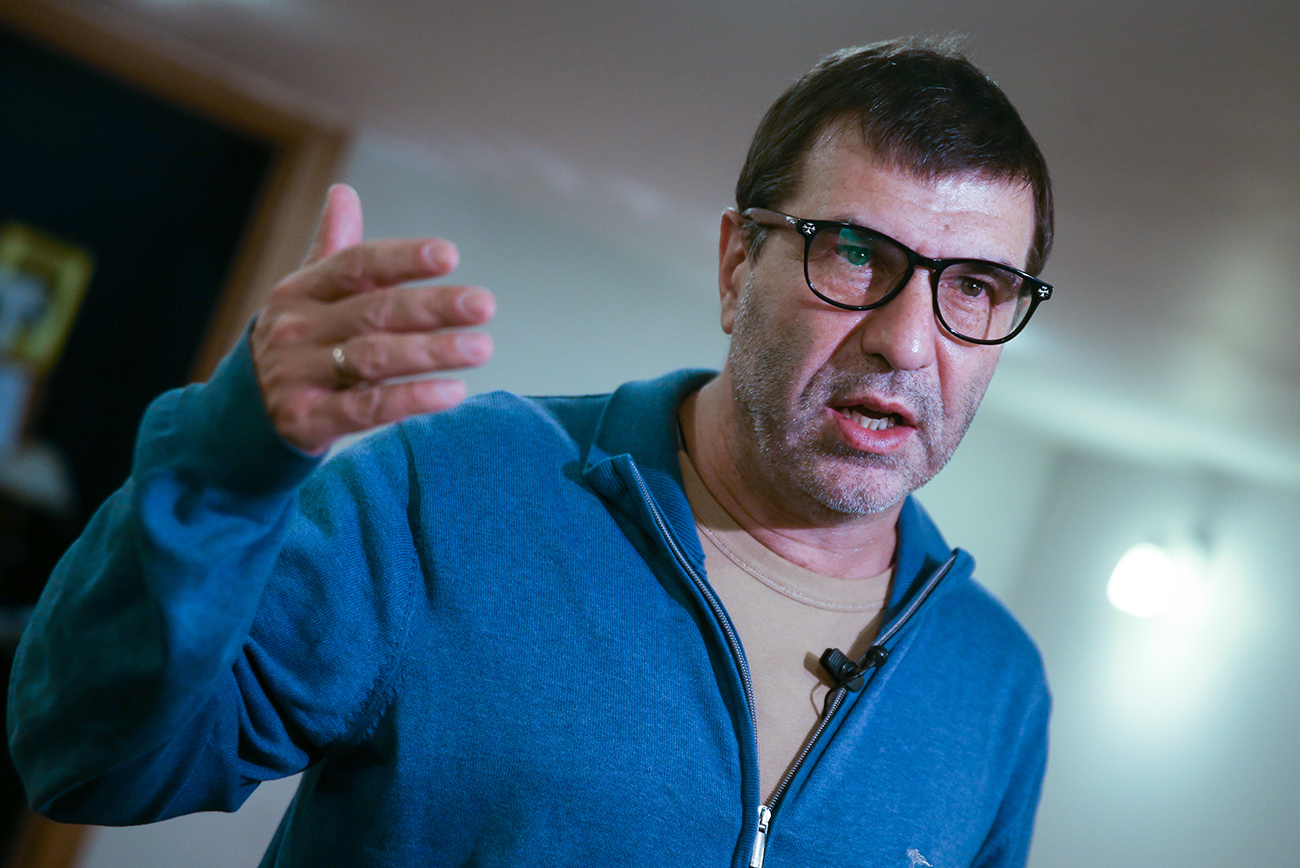 Evgeny Grishkovets / TASS / Vyacheslav Prokofyev
The young Grishkovets served in the Russian Navy on board a ship in the Pacific Ocean Fleet. After completing his service he put his memories and impressions into a one-man show, "How I Ate a Dog" [from the Russian idiom meaning to "cut one's teeth," which Grishkovets also uses in a literal sense when he describes actually eating dog meat]. The work details his feelings such as waking up in the morning and not wanting to go to school, and the meaninglessness of the military routine he experienced during his naval service.
After the success of this performance he composed several other one-man shows where he acted as well, then recorded songs with popular bands and acted in several movies. His monologues about Russian life are extremely popular on YouTube.
86. Mikhail Shishkin (b. 1961)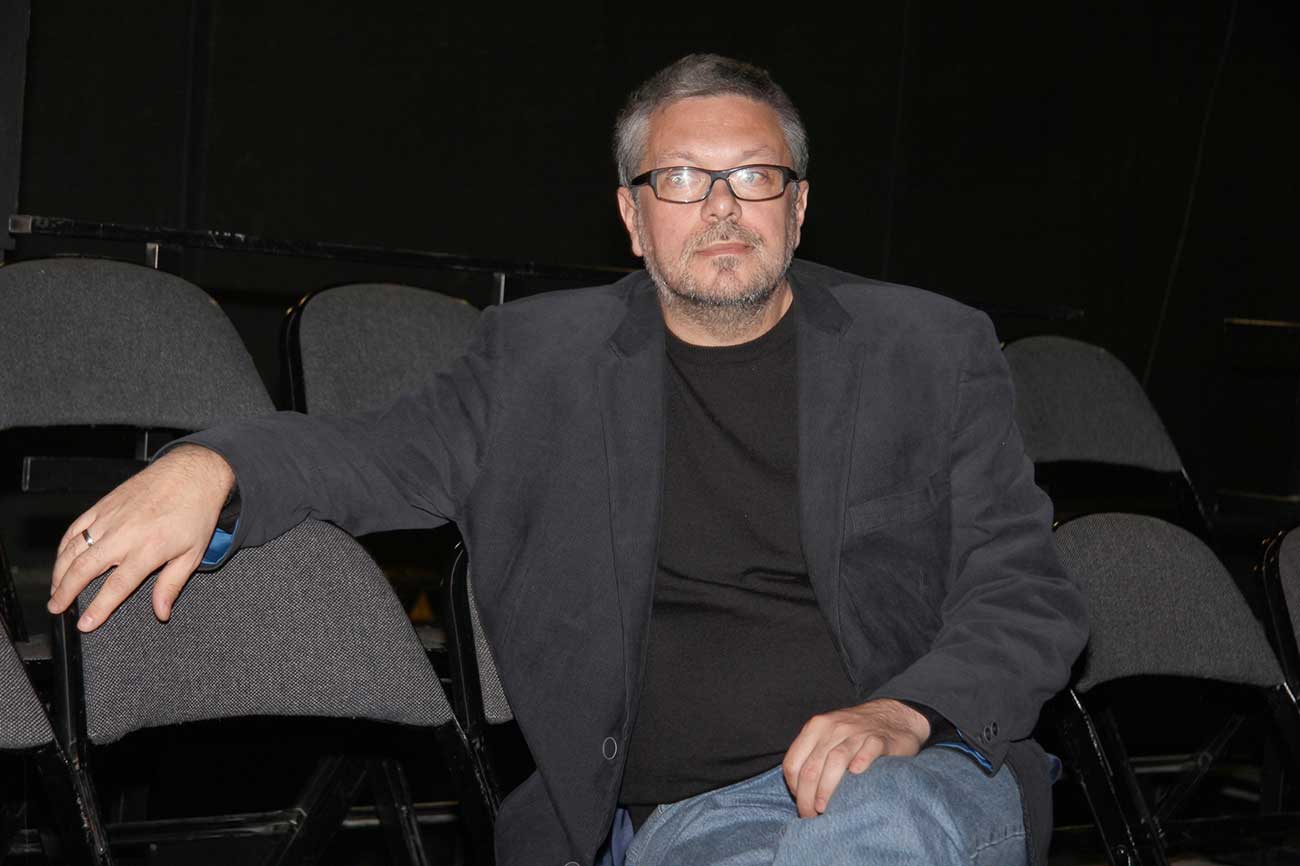 Mikhail Shishkin / PhotoXpress
Mikhail Shishkin, who lives in Switzerland, is an emigre writer whose fiction is based on Russian and European literary traditions, and which forges an equally expansive vision for the future of literature. In 2013, he refused to take part in the official Russian writers' delegation to Book Expo America, causing a scandal and became persona non grata in Russian literary circles.
Shishkin once said that an author is "a link between two worlds." The hero of his masterpiece, "Maidenhair," is – as Shishkin himself was – an interpreter for Swiss immigration authorities; but this character is also an interface between realities. The heroes of his other novel, "The Light and the Dark," are lovers separated by war. They communicate in letters where they share every detail of their lives: talking about their childhood, their families, their daily lives, their joys and their sorrows.
85. Maximilian Voloshin (1877-1932)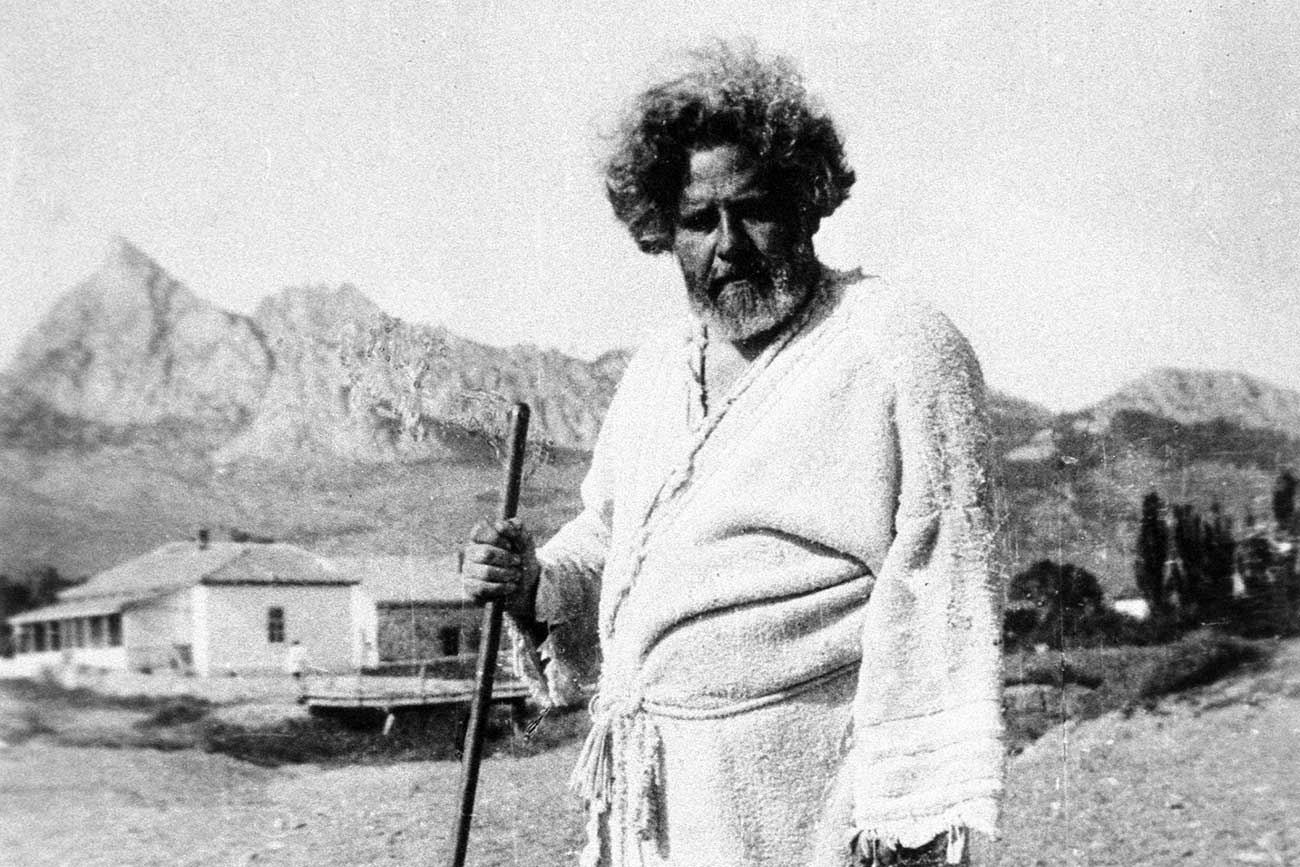 Maximilian Voloshin / RIA Novosti
Right after the 1917 Revolution, poet Voloshin settled in Koktebel, a breathtakingly beautiful place on the southern coast of the Crimean peninsula. Voloshin's house in Koktebel turned into a literary commune cum salon, and writers of diverse artistic and political views made pilgrimmages there. During the brutal days of the Civil War, Voloshin turned his house into a shelter for both the Bolsheviks and members of the White Guard. He was nearly alone in his effort to unite people.
"Some are going to liberate Moscow and to once again put Russia in chains" he wrote about the Bolsheviks. So, after they came to power, his poems were not published. Now his house in Crimea is a museum hosting an annual festival that gathers poets from different countries.
84. Dmitry Glukhovsky (b. 1979)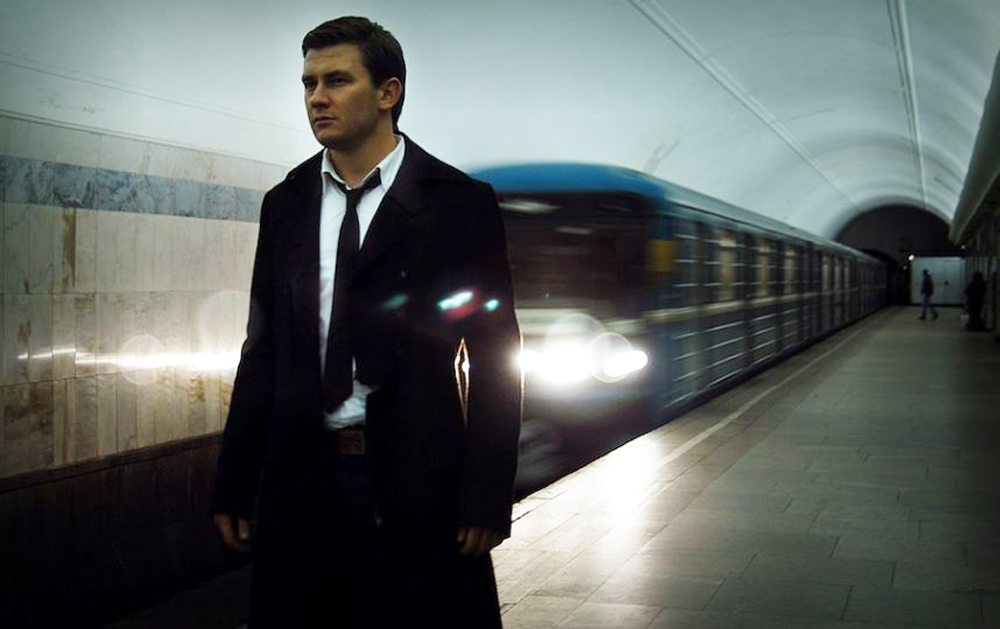 Dmitry Glukhovsky / Press photo
More than 15 years ago, the then 22-year-old Glukhovsky wrote "Metro 2033," a story about survivors of a nuclear disaster. He sent the manuscript to a publishing house that responded unenthusiastically, particularly disliking the fact that the main character dies at the end, leaving no hope for a sequel.
Despite the rejection, Glukhovsky posted all 13 chapters of his novel online. Little by little, the Metro 2033 website gained popularity. Encouraged by this positive response, Glukhovsky returned to the script and considerably reworked it. When completed, he again offered it to the publisher – this time backed by thousands of potential readers.
Now, two more parts have been published – "Metro-2034," and "Metro-2035." "I made my name thanks to the internet," says Glukhovsky. "All my novels are available online, on their own websites, accompanied by soundtracks and pictures." Glukhovsky's novels have been translated into more than 35 languages, and the books of some of the project's other authors have also been published abroad. Hollywood is going to adapt "Metro-2033" to the screen while there are already two successful video games devoted to "Metro Universe."
83. Sergei Lukyanenko (b. 1968)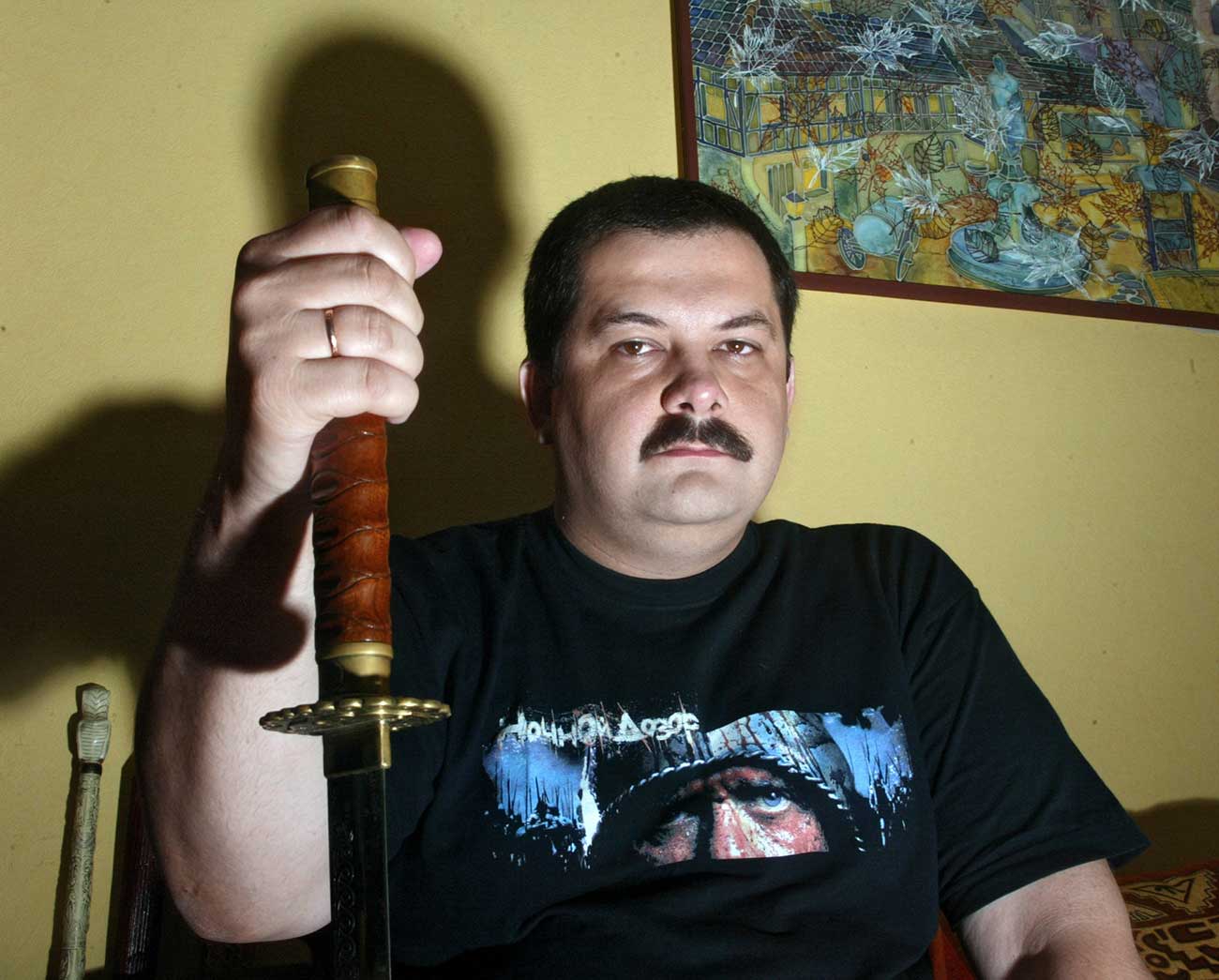 Sergei Lukyanenko / Kommersant
Long before Stephanie Meyer's "Twilight" series and less than a year after the first Harry Potter book, Lukyanenko conjured up a uniquely Russian supernatural world. The first book in Lukyanenko's bestselling vampire "Night Watch" series was published in 1998, which then became a blockbuster movie and a magnet for magic fans. Witches, warlocks, werewolves, sorceresses, succubi and yes, vampires, inhabit a gloomy Muscovite world with a distinct atmosphere. He has written other four books in the "Watch" series, considers his art work as postmodernist, and has earned numerous literary awards.
82. Strugatsky brothers: Boris (1933-2012) and Arkady (1925-1991)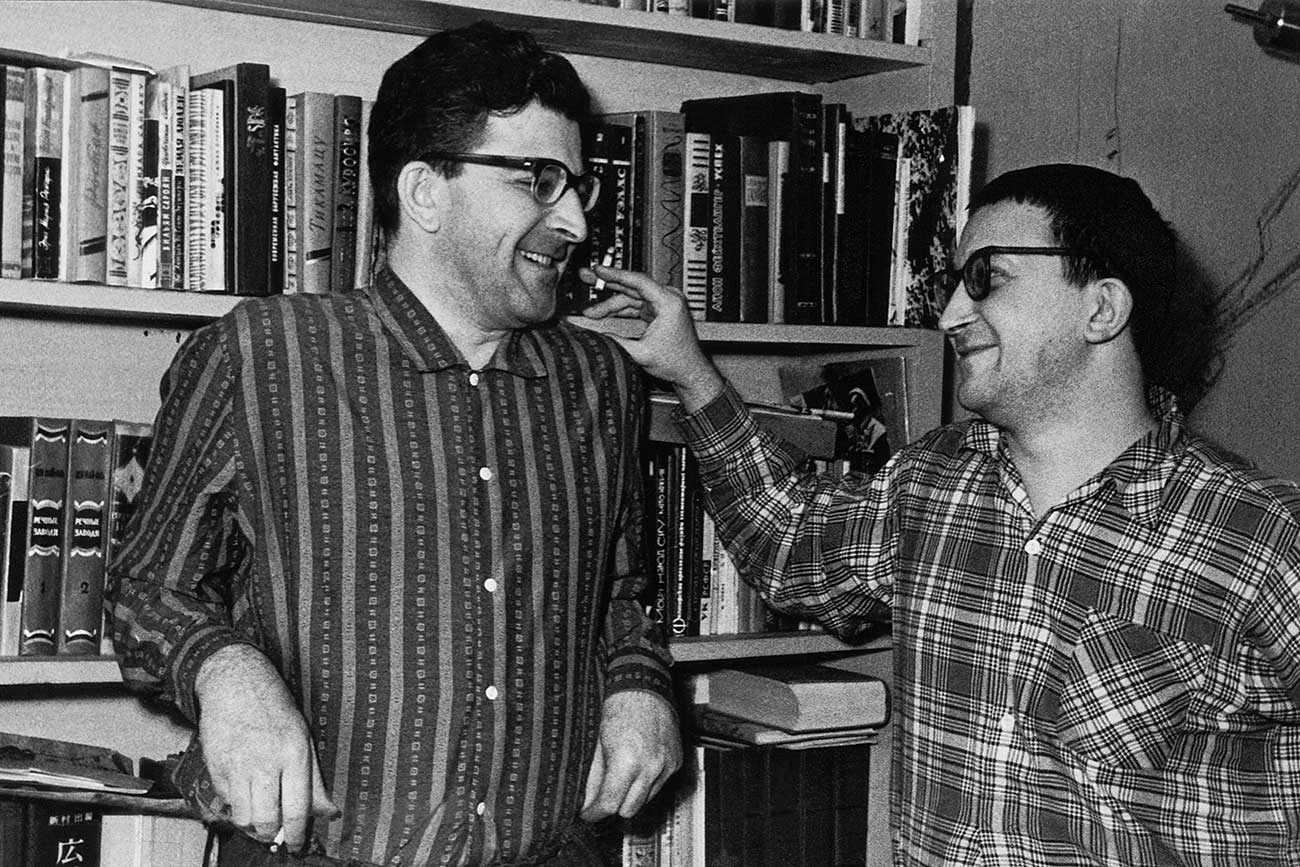 Arkady (L) and Boris Strugatsky / TASS
The Strugatsky brothers are the most celebrated Soviet science fiction writers, and their best-known book, "Roadside Picnic," inspired Andrei Tarkovsky's film, "Stalker." The Strugatskys' utopia touched the fundamental question of Soviet society - the question of labor. They imagined how the "subbotnik" (Soviet tradition of community service days) turned workdays into paradise, the philistine into a communard and the half-animal into a half-god. So some of their works (such as "The Snail on the Slope") were censored.
Their "Monday Begins on Saturday" was the Soviet equivalent of "Harry Potter," and was committed to a bureaucratization of magic by making it native, accessible and worthy of envy.
81. Dmitri Prigov (1940-2007)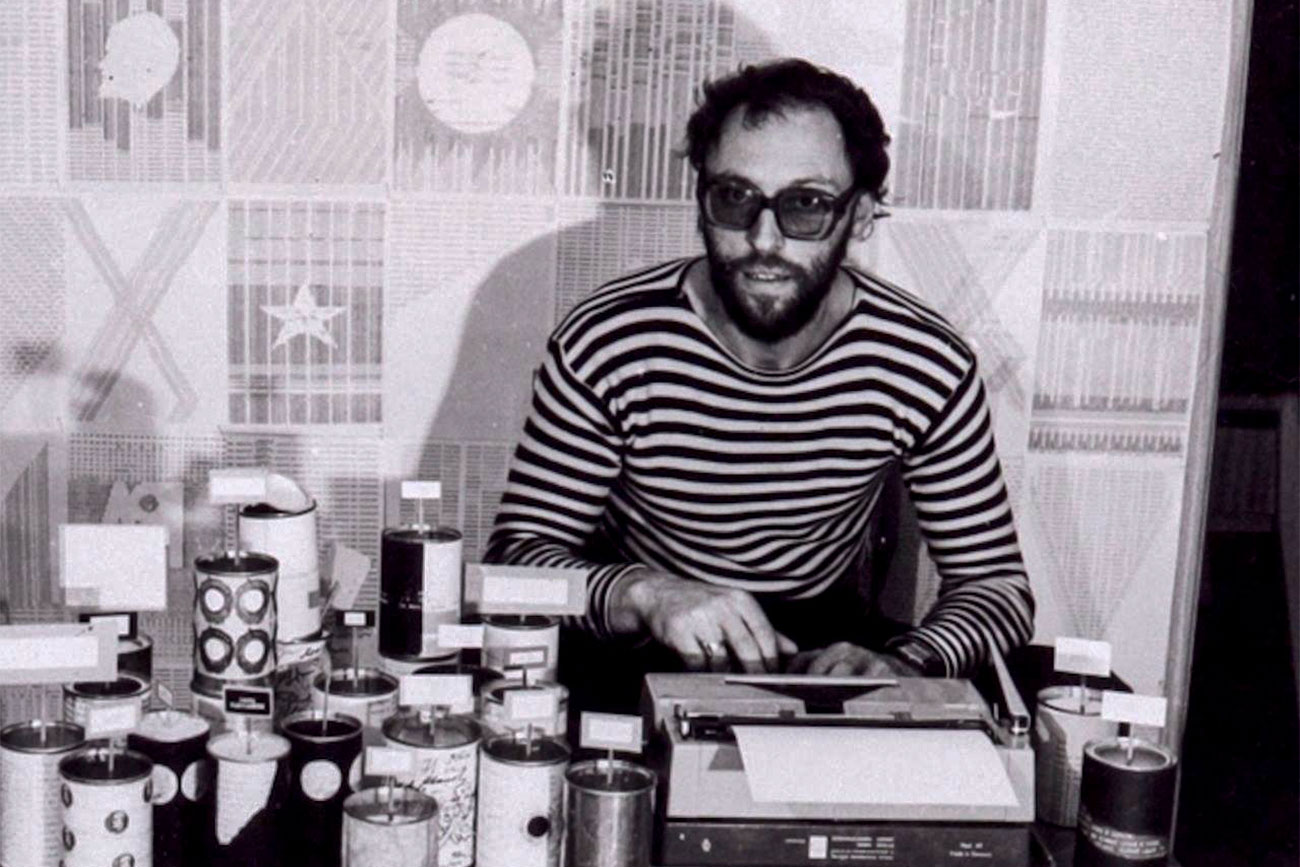 Dmitri Prigov / Tsiolkovsky book store
Dmitri Aleksandrovich Prigov was probably one of the most unusual and eccentric figures on Russia's culture scene, known for his innovative art works, and innovative "graphic" poems, which are not merely poems but geometrical objects. One of his works is even drawn on a Moscow building. As author of dozens of installations and art performances since the end of the 1980s, his artworks today grace galleries all over the world. Other art forms occupied his attention; for example, he penned 35,000 poems, some of which have been translated into English, Italian and German.
Avant-garde music was also on his creative horizon, and he was one of the main representatives of Moscow Conceptualism, which is a purely Russian genre with a new vision of art. As many other cutting-edge art movements, Prigov's art was unofficial and non-conformist.
80. Teffi (1872-1952)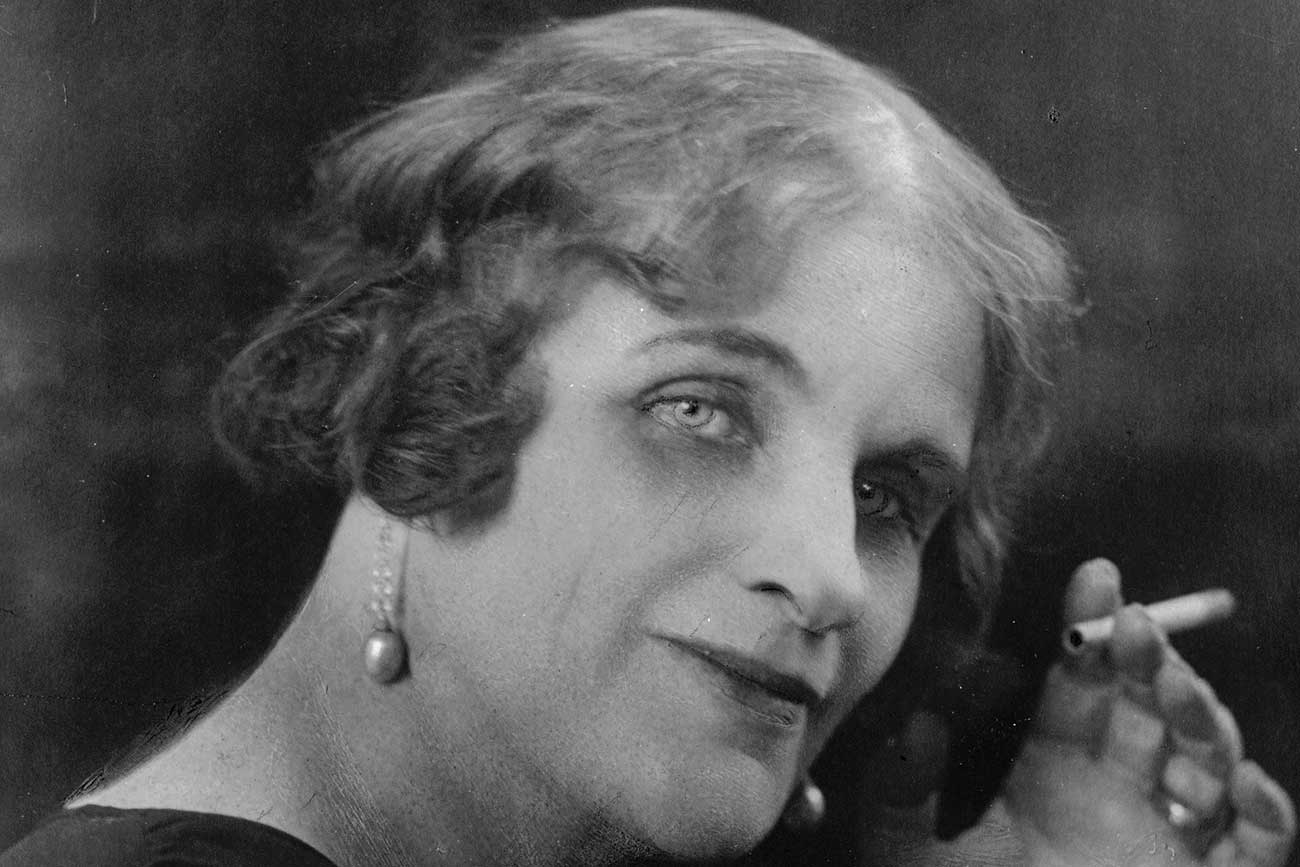 Teffi / AFP_EastNews_14666
If you asked most readers for a list of 20th century Russian prose writers, few would mention Teffi (whose real name is Nadezhda Lokhvitskaya). And yet in the years leading up to the 1917 Revolution, Teffi was a leading light, a superstar who was stopped on the streets of Moscow by admirers and who counted both Czar Nicholas II and Lenin as fans.
She mingled with high society figures like Rasputin and wrote about them with searing and uncompromising wit. She deliberately picked an androgynous pen name – adapted from the name of a fool, since fools were supposed to be speakers of truth – and set about carving a niche writing satirical articles and vignettes of contemporary life.
In her memoirs one can meet both leading Russian artists, poets and writers and famous figures as Rasputin, around whom was much hysteria, which she didn't share at all and was unimpressed with after meeting him twice.
79. Alexander Snegirev (b. 1980)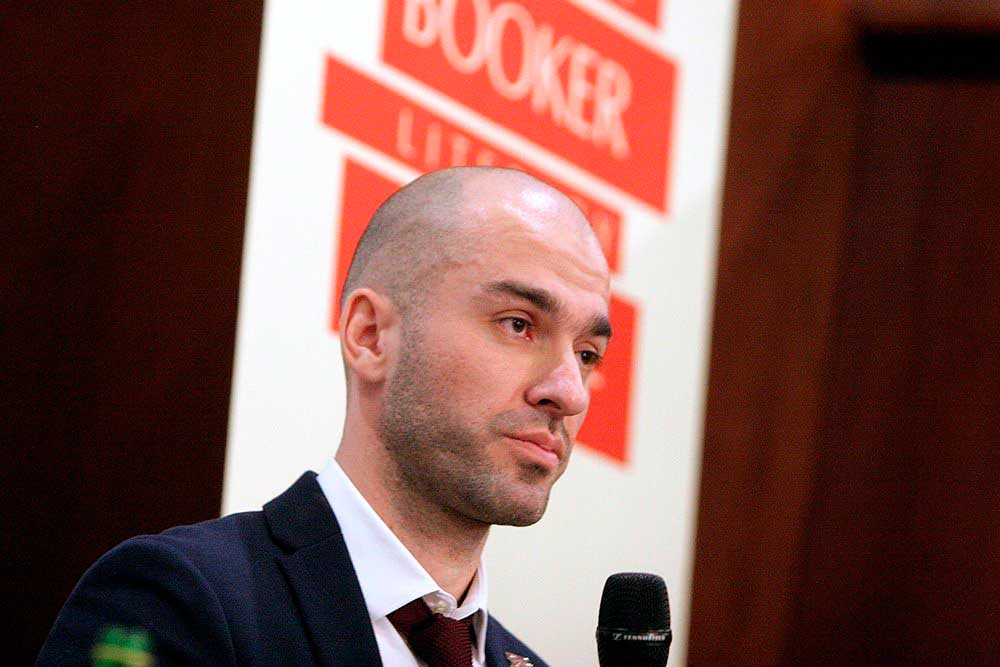 Alexander Snegirev / RG / Vitaly Yurchak
In 2009, Snegirev was recognized with the Debut Award for Young Authors. His novel "Petroleum Venus" (2008) was nominated for a series of leading literary prizes, and his works have been translated into English, German and Swedish.
His recent novel, "Vera," which won the Russian Booker Prize in 2005, is the story of a young woman, Vera, who is looking for herself, wants to have children and is putting all her energy into finding love. However, it turns out that it's not so easy to achieve all of this.
Snegirev's short stories are performed in theaters as part of the project, "Unprincipled readings." Besides writing, Snegirev works as deputy chief editor of the magazine, Druzhba Narodov (Friendship of Nations).
78. Sigizmund Krzhizhanovsky (1887-1950)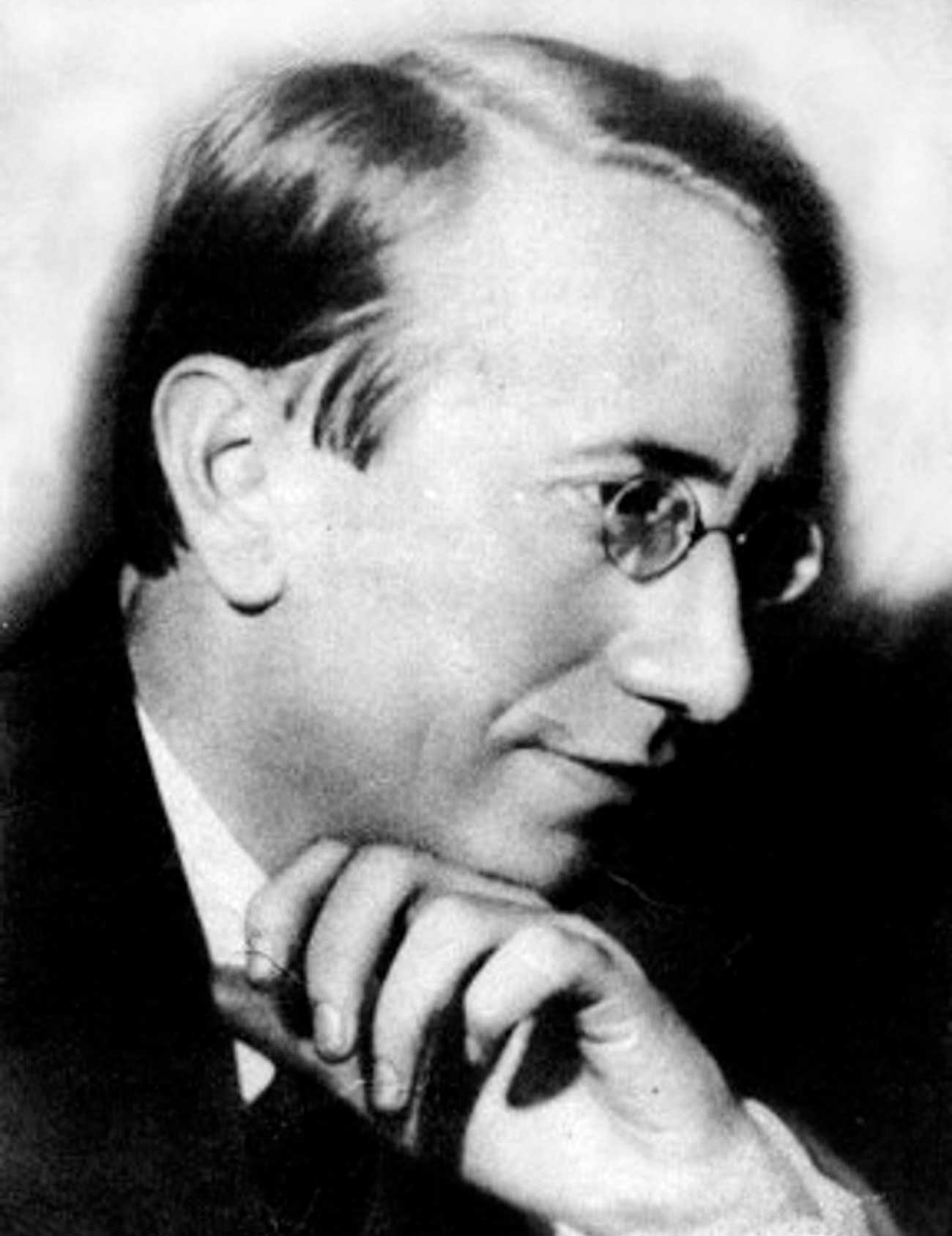 Sigizmund Krzhizhanovsky / Legion Media
Most readers will struggle just trying to pronounce Sigizmund Krzhizhanovsky's name, let alone having any idea who he is. Krzhizhanovsky's experimental stories are pearls of the modernist era, reminiscent of Bulgakov and Bely, as well as Kafka or Proust. Like Kafka, most of his works were published posthumously; like Bulgakov, his fevered surrealism is a response to life in Soviet Moscow, but much more than that.
Krzhizhanovsky's work has a universalism that transcends the politics of the 1920s USSR. His main works are "The Letter Killer's Club," "Autobiography of a Corpse" (an example of Soviet magic realism) and "The Return of Munchausen."
77. Mikhail Prishvin (1873-1954)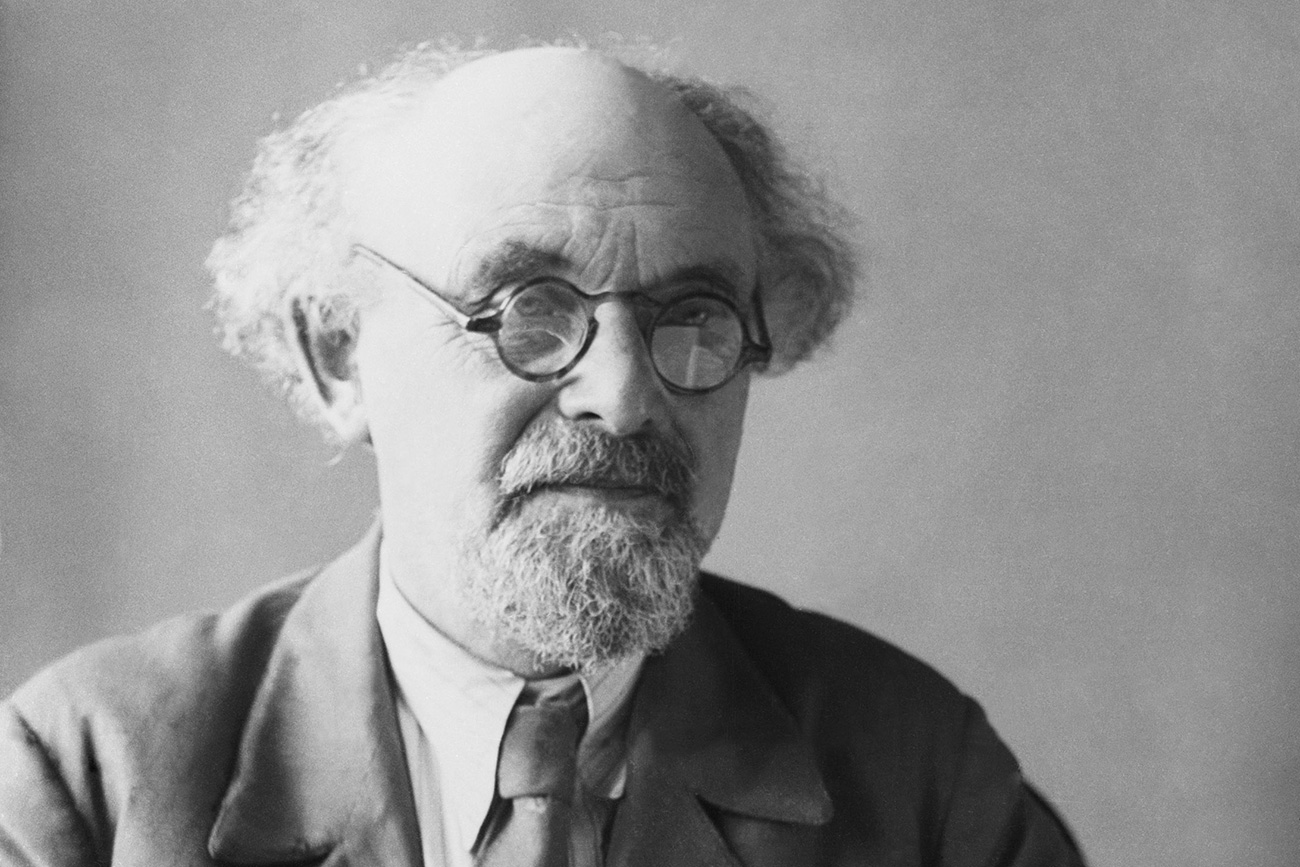 Mikhail Prishvin/ TASS / A. Grinberg
All Russian school children remember this writer from when they studied his descriptions of nature. He became very famous after writing "The nature's calendar," a collection of hunting and children short stories praising Russia's natural beauty and the wild. He travelled a lot through the entire Russian North and gathered information on local traditions and dialects, eventually reaching the Far East where he wrote about its wild animals.
Prishvin's language was so extraordinary beautiful that Soviet writer Maxim Gorky wrote that he had the exceptional skill to make almost everything he wrote about physically touchable with just the flexible combinations of simple words. By the way, Prishvin was a fan of photography and some of his books, such as "In the Land of Unfrightened Birds," were illustrated with pictures that he took. Experts strongly recommend reading Prishvin's diaries, and say it's worth more in terms of literary heritage.
76. Fyodor Sologub (1863-1927)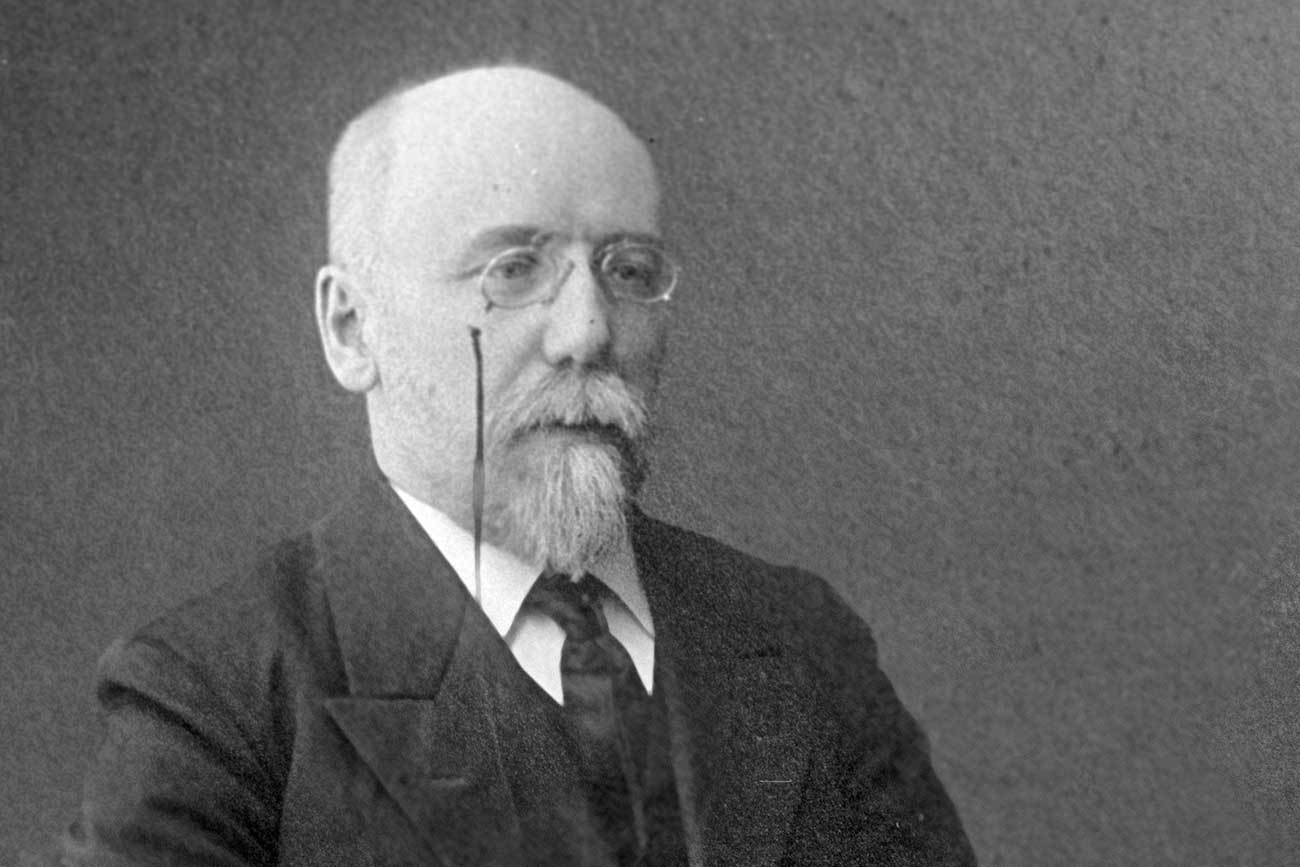 Fyodor Sologub / RIA Novosti
Fyodor Sologub spent an entire decade writing his most popular novel, "The Petty Demon," which he completed in 1902. The protagonist, a provincial schoolteacher named Peredonov, is a difficult, cowardly, and unbearably banal man who finds pleasure in hurting people, while barely managing to conceal his madness under the mask of respectability.
One of the novel's most formidable characters is not even a person – it is more like Peredonov's hallucination, a creature called Nedotykomka. While Sologub could be called a successor to Gogol and Dostoevsky, he still remained an original and outstanding author. While remaining within the realistic framework, Sologub was able to describe a subtle, yet mystical provincial daily life, balancing precariously between daydreams and reality, fear and desperation, which are felt so strongly in backwater towns.
75. Andrei Gelasimov (b. 1965)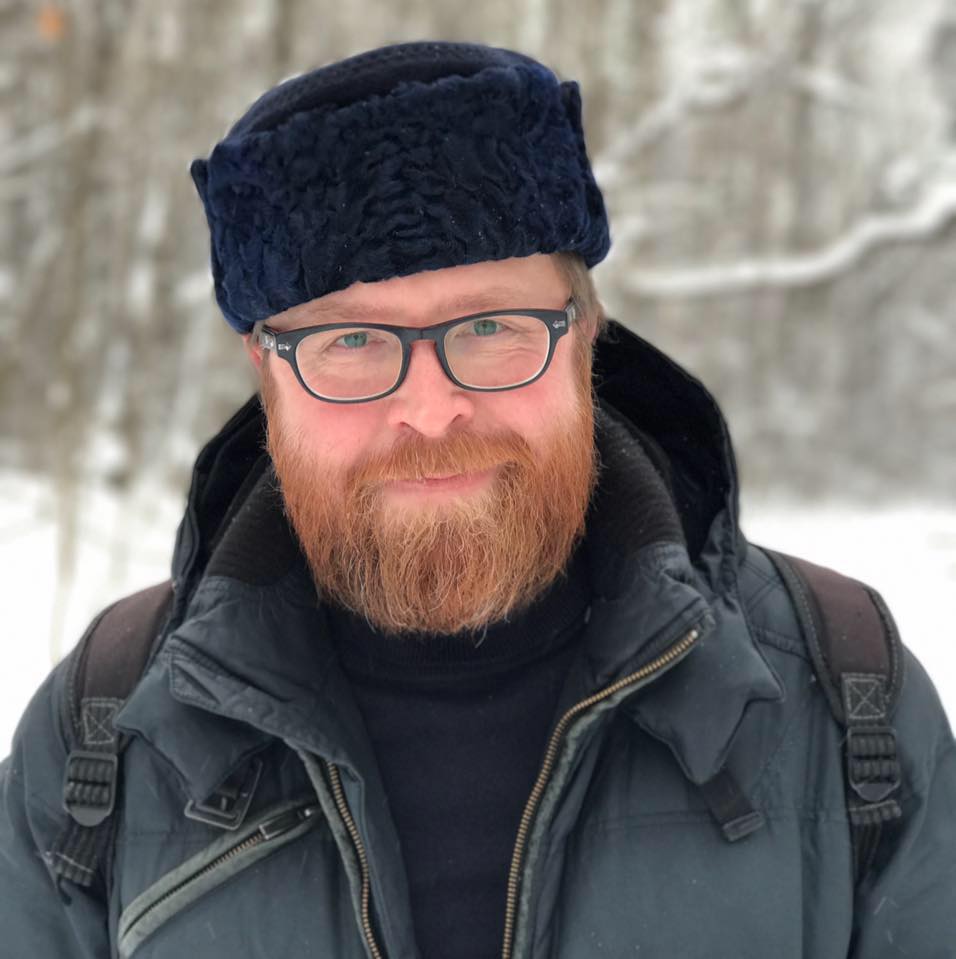 Andrei Gelasimov / facebook / personal archive
Originally from the Siberian city of Irkutsk, Andrei Gelasimov is an author of several novels that have been translated into many languages. "Thirst" follows three young men who have returned from the war in Chechnya and are looking for their fourth friend. "The Lying Year" focuses on the same period as "Thirst," the late 1990s, with its accompanying criminality and financial default. This is one of the most controversial episodes in recent Russian history, but the book is written in a humorous and satirical way, with certain elements of the grotesque.
The story, "Gods of the Steppe," takes place in 1945 far from Moscow on the Soviet Union's enormous eastern border with China. In a small steppe village people are waiting for Soviet troops to return after the war. An isolated 11-year-old boy whose father has died strikes up a friendship with someone who is equally isolated but for different reasons: he's a Japanese prisoner of war.
"Into the Thickening Fog" often feels like a quintessential Russian novel, and starts with a bout of heavy drinking in a frozen northern city, and features dogs, demons and existential angst.
74. Alisa Ganieva (b. 1985)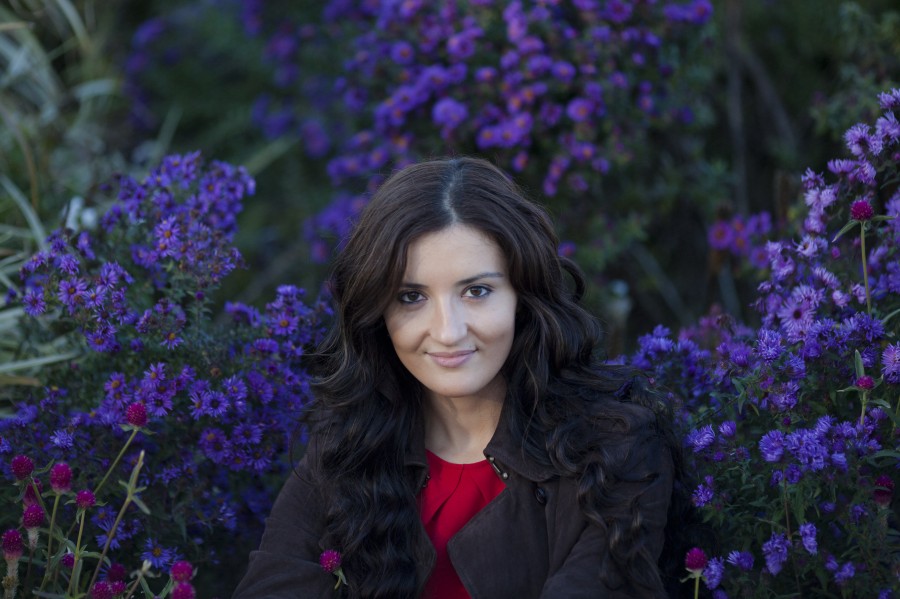 Alisa Ganieva / wikipedia.org
Raised in the Russian republic of Dagestan, Ganieva has lived in Moscow since 2002, working as a literary critic and editor. Ganieva's debut novel, "Salam Dalgat," which is set in the North Caucasus, was written under the male pen name, Gulla Khirachev. This story won the Debut Literary Prize for Young Authors, and is full of colorful descriptions of life in Dagestan. It is written with such an authentic masculine worldview that it's hard to believe a young woman wrote it.
Her second book, "The Mountain and the Wall," explores the possible secession of the Caucasus from the Russian Federation, as well as issues of Islamism and globalization. The 2015 novel, "Bride and Groom," which was shortlisted for the Russian Booker Prize, depicts a traditional Caucasian wedding. Ganieva has been listed by The Guardian as one of the most talented and influential young people living in Moscow today.
73. Fasil Iskander (1929-2016)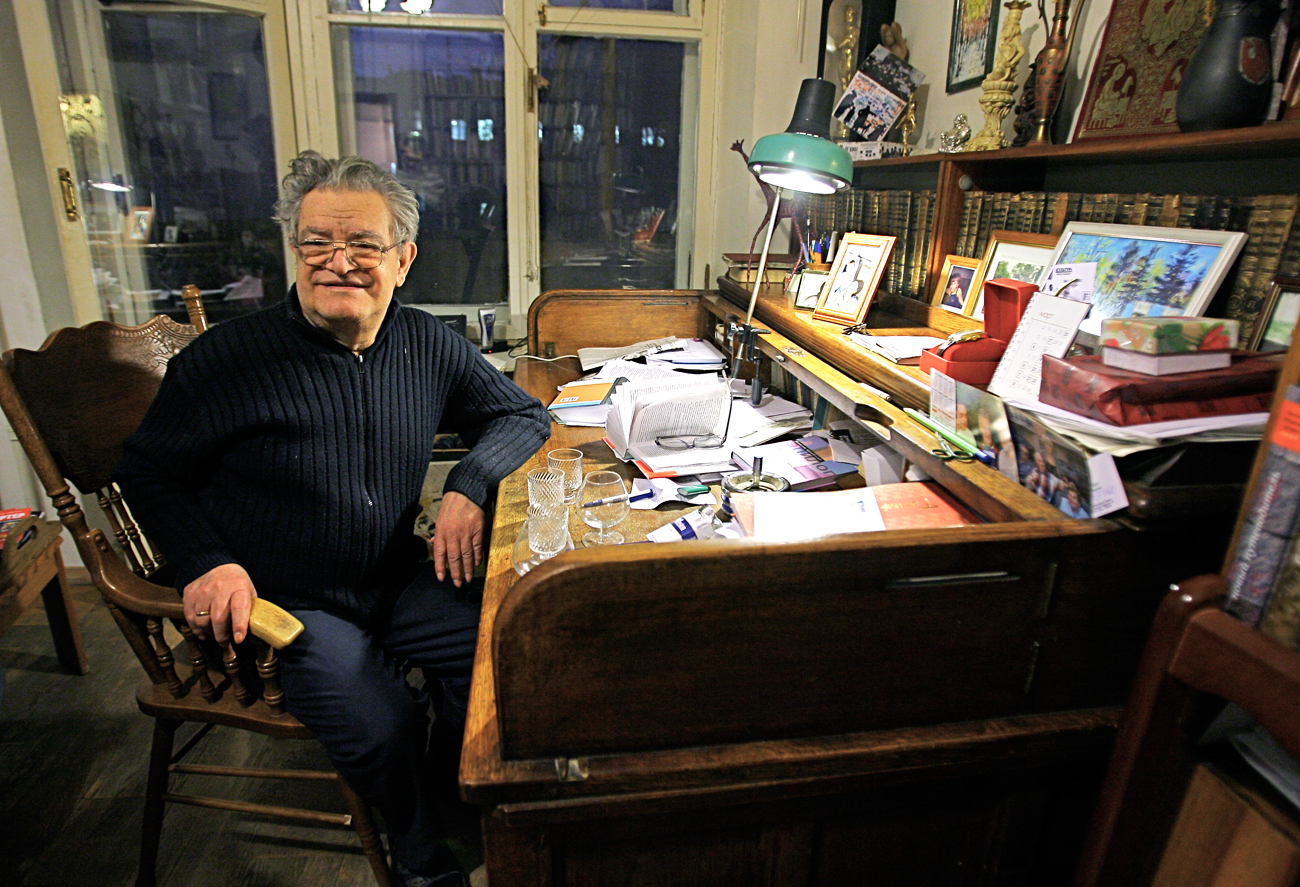 Fasil Iskander / RG / Sergei Kuksin
Iskander was born in Sukhumi to an Iranian father and a mother from the village of Chegem in the Caucasus. Sukhumi was the capital of the Soviet republic of Abkhazia, which at the time was part of Georgia. The writer had very fond memories of this multiethnic city where Abkhazians, Georgians, Armenians and Russians lived side by side.
"I am a Russian writer but I am the singer of Abkhazia," Iskander used to say. His major collection of works devoted to Abkhazia, "Sandro of Chegem," celebrates the traditional Abkhazian lifestyle and captures the poetry of a patriarchal society. One of Iskander's best-known books, "Rabbits and Boa Constrictors," (first published in the USSR in 1982), is a philosophical parable about the interactions between the upper and lower strata of society. The book was an instant hit among Soviet intellectuals.
72. Dmitry Bykov (b. 1967)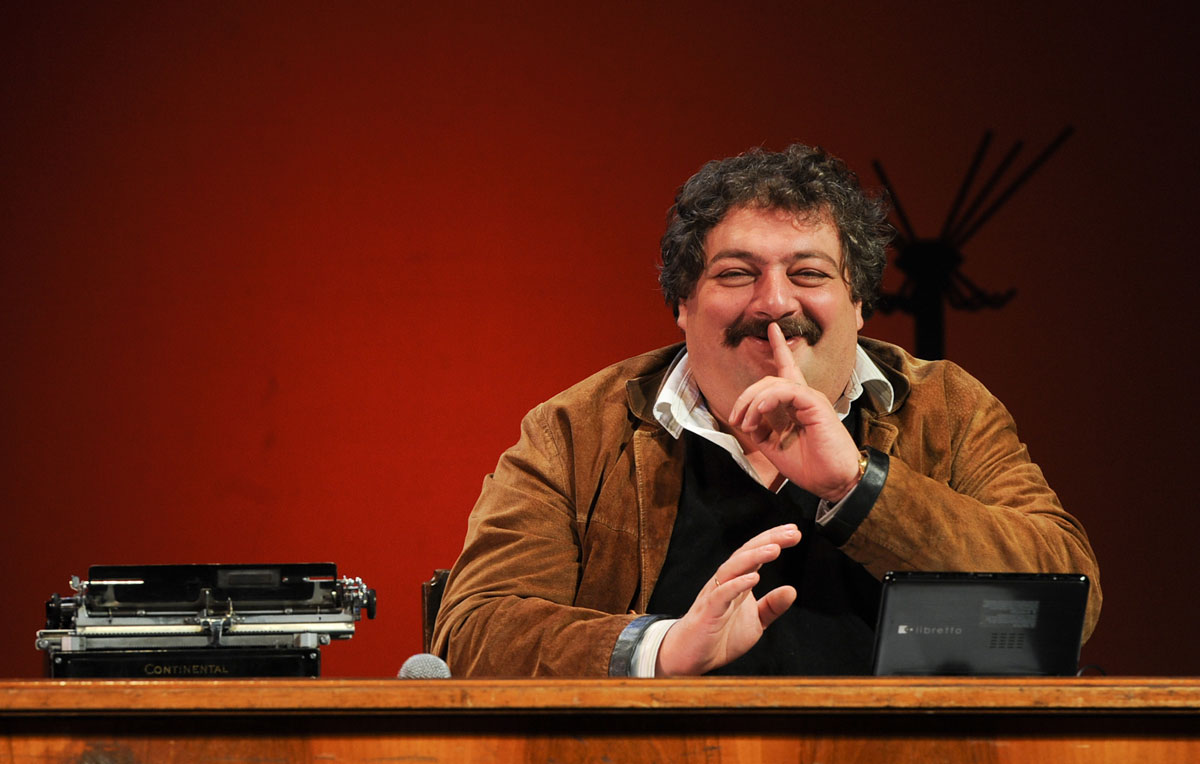 Dmitry Bykov / TASS / Alexandra Mudrats
Dmitry Bykov is a multi-tasking man - writer, poet, publicist, and professor. His online lectures in Russian literature are very popular and his joint project with actor Mikhail Yefremov, "Citizen Poet," got millions of views on YouTube. His is author of several biographies of Russian writers and a guest lecturer at Princeton University.
71. Alexander Terekhov (b. 1966)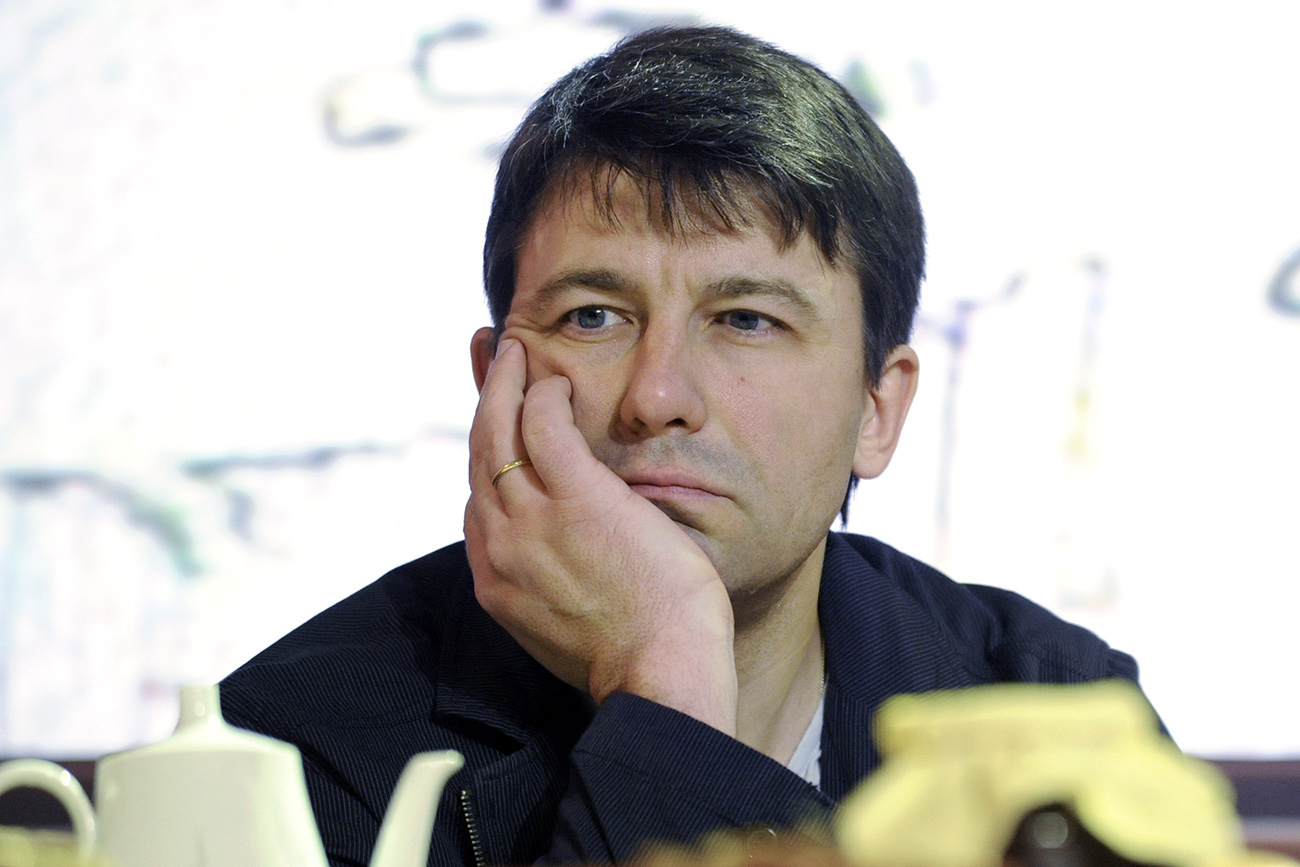 Alexander Terekhov / TASS / Alexei Filippov
Terekhov started his career as a journalist, and one of his most important books is the 800-page "The Stone Bridge," which is actually a Soviet-era Romeo and Juliet story. This is a pseudo-documentary story of a modern-day investigation of an old and bizarre accident.
In 1943 in Moscow on the Big Stone Bridge a 15-year old teenager killed his female classmate because of unrequited love and then killed himself. The story wouldn't be so interesting if the children hadn't been from Stalin's inner circle. Another of his highly acclaimed and award-winning novels is "Nemsty" (The Germans), which is about the lives of Moscow bureaucrats.
70. Yuri Mamleev (1931-2015)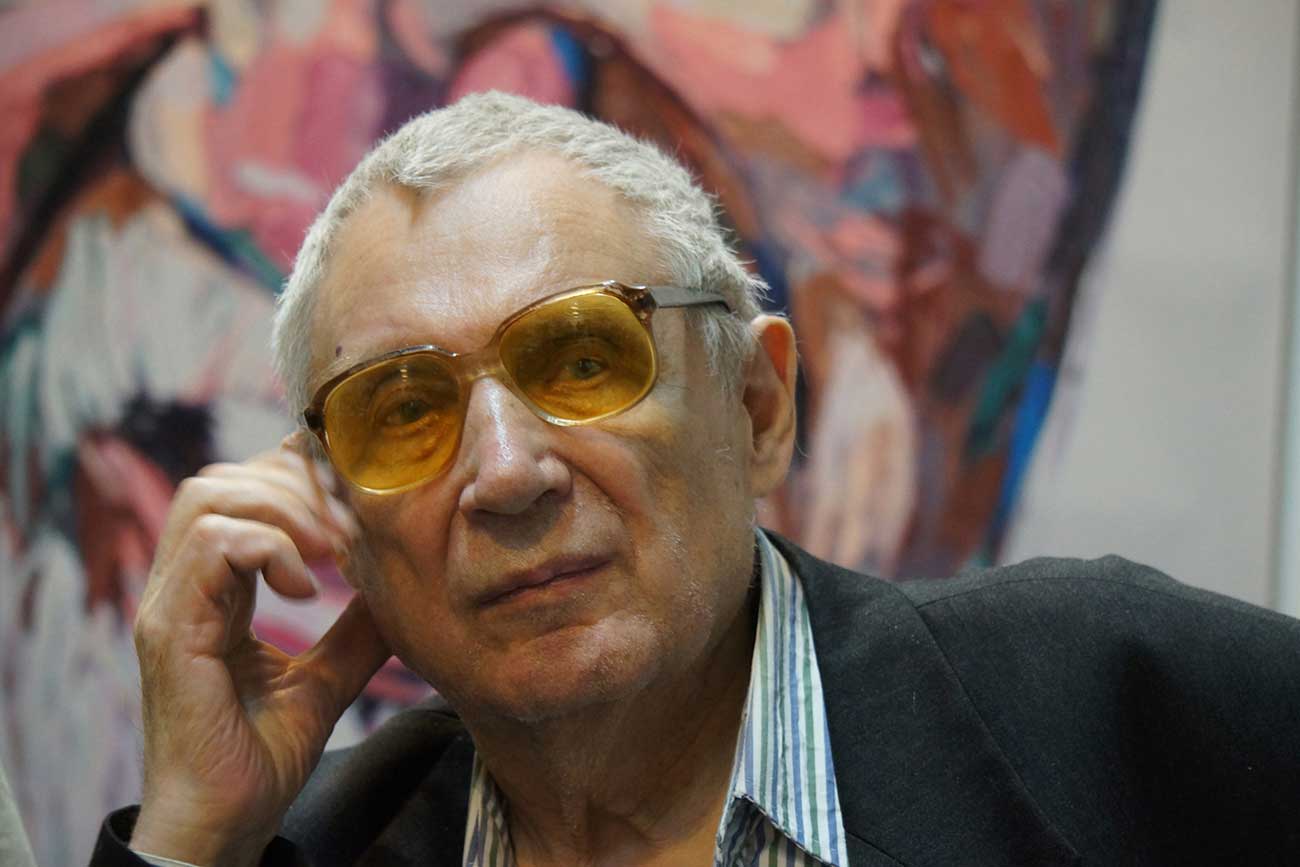 Yuri Mamleev / PhotoXpress
Mamleev is considered to have created a new literary style, metaphysical realism, which finds expression in his philosophical study, "The Fate of Existence." In his book, "Eternal Russia," Mamleev follows the example of Silver Age philosophers in creating his own concept of Russian nationalism.
The author belonged to a group of semi-underground writers not recognized by the Soviet regime and ignored by Soviet publishers. His early works were distributed via the samizdat system. Written in 1966, the mystical novel, "The Sublimes," is one of Mamleev's most famous works. Its protagonist, Fyodor Sonnov, commits a series of murders with the aim of penetrating the mystery of the victim's soul, in order to learn the eternal secret of death by "empirical" means.
69. Ludmilla Petrushevskaya (b.1938)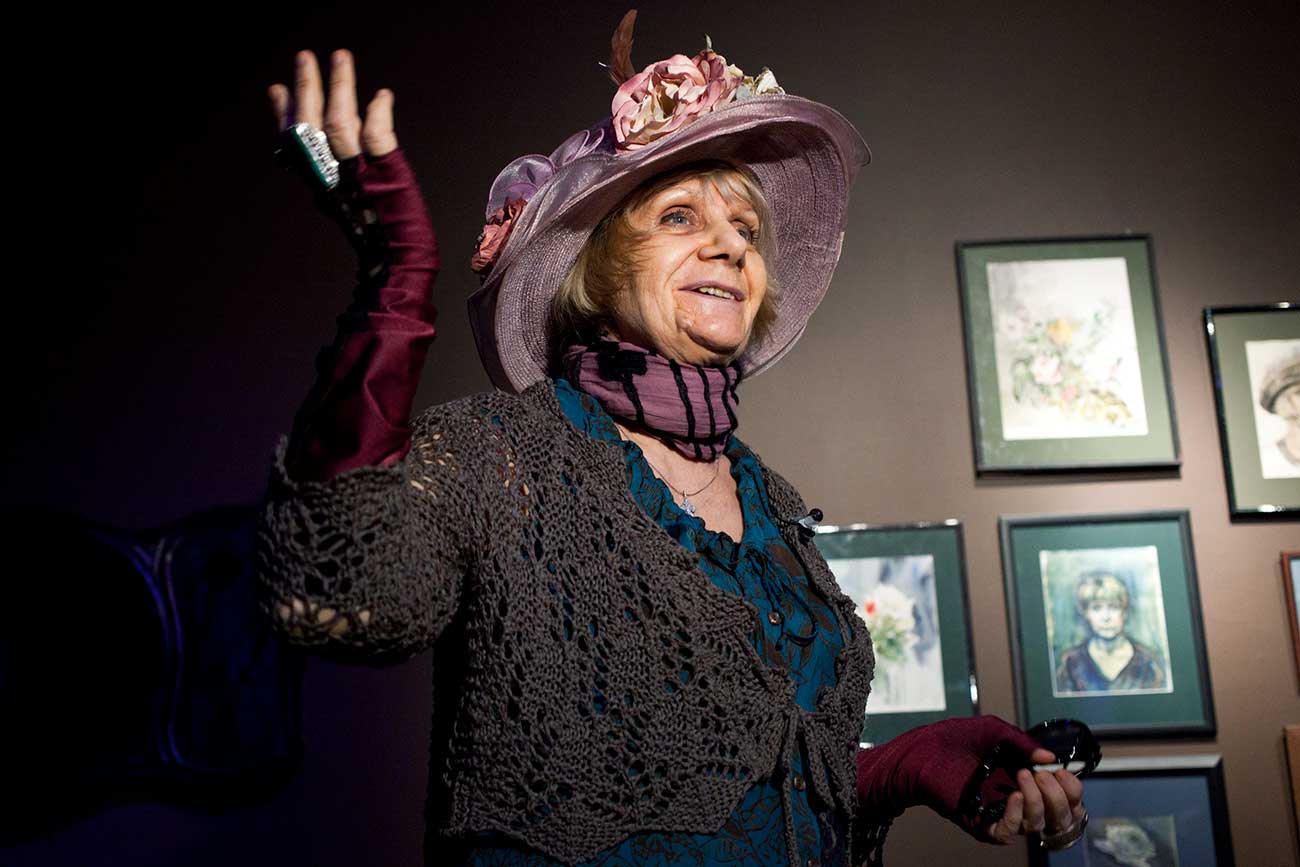 Ludmilla Petrushevskaya / TASS / Pavel Golovkin
Petrushevskaya's poetry and prose elevate people's basest thoughts and emotions – they're often small-town and kitchen-sink, and seemingly insane and sordid. A typical example is "The Time: Night," a novella in which a mother's suffocating care for her adult children stunts them, angers them, and seems needless and at times bestial.
Petrushevskaya is also a singer giving concerts in her 70s, and a playwright. Her plays have been staged in many theaters. She has also collaborated with animation genius Yuri Norsteyn, author of "Hedgehog in the Fog," and she wrote the screenplay for his, "Tale of Tales." She released a trilogy of books about Piglet Pete for toddlers that are naive fables with deeper philosophical meaning. These simple stories were an Internet success, and adults made their own cartoons and fan fiction based on them.
68. Maxim Amelin (b. 1970)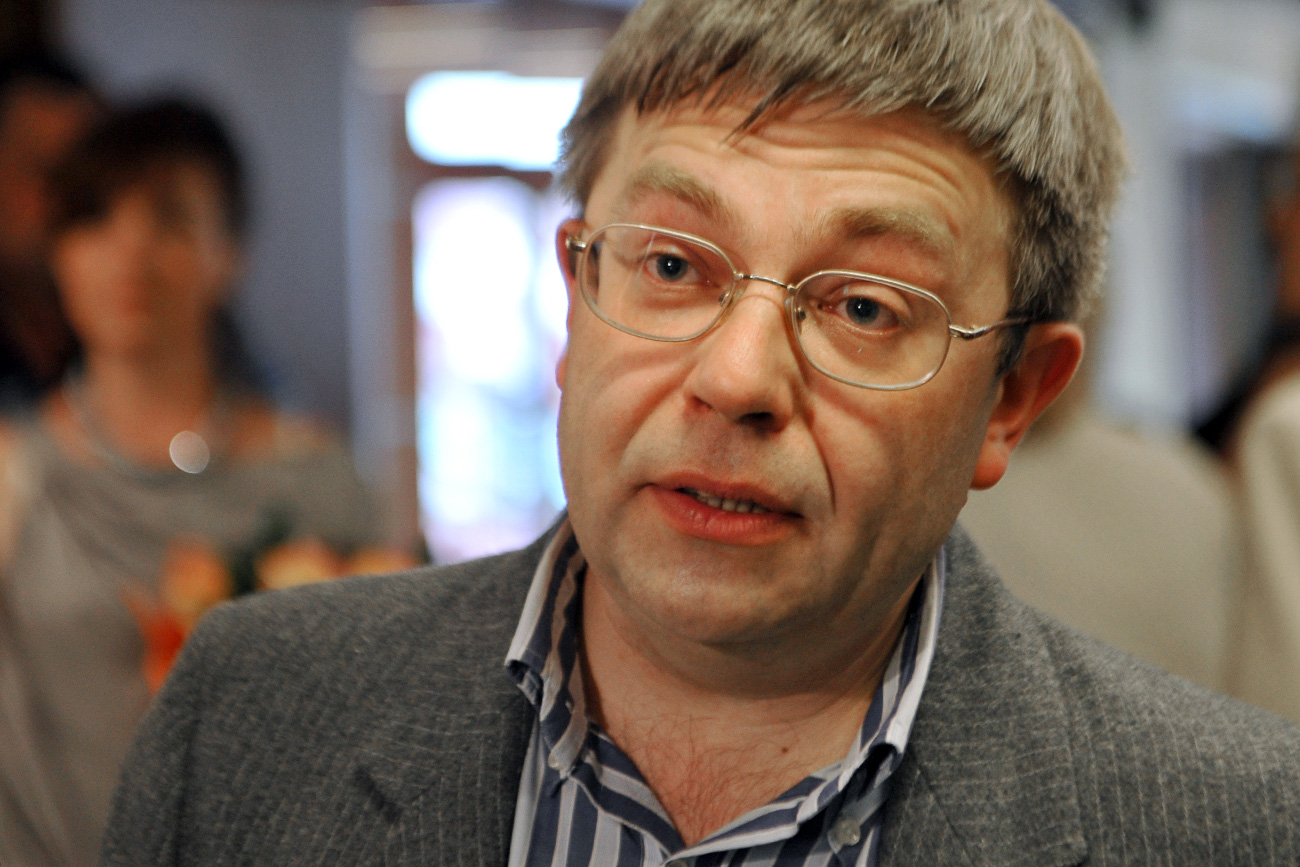 Maxim Amelin / TASS / Anton Novoderezhkin
Maxim Amelin is widely published and probably the leading Russian contemporary poet. He is also a translator of classical authors such as Catullus and Pindar, and since 2008 he has been working as chief editor of OGI, a publishing house that prints rare masterpieces for the Russian book market and sells literary titles in Russian and English.
Amelin is among the last generation of poets raised in the Soviet Union. As a translator and writer, he believes "poetry should be translated by poets." In 2013, he received the Alexander Solzhenitsyn Award for his poetic experiments and role as educator bringing rare modern books and translations from the distant past to today's audiences.
67. Dina Rubina (b. 1953)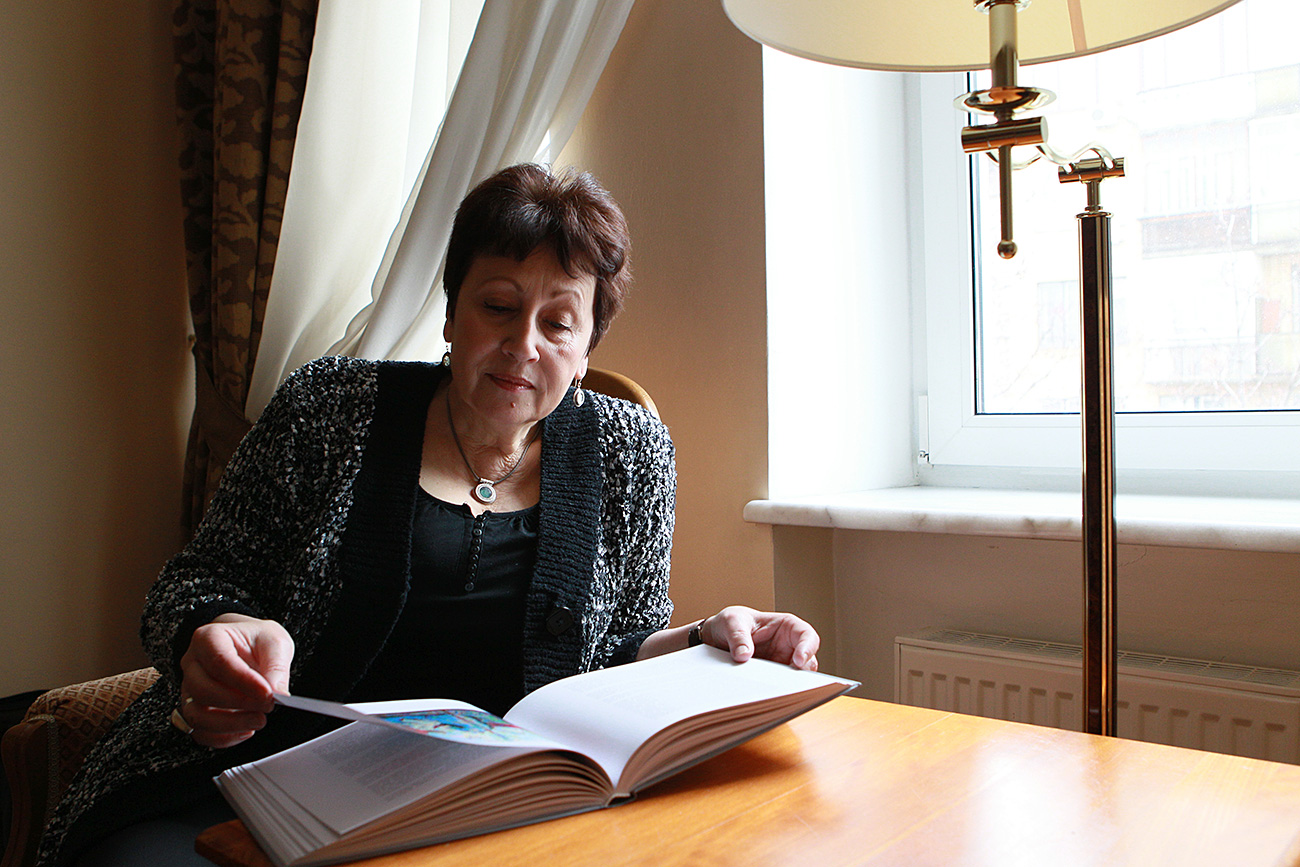 Dina Rubina / RIA Novosti / Anton Denisov
Rubina was born and spent her childhood years in Tashkent, the sun-soaked Central Asian city where representatives of different cultures and ethnicities lived side-by-side during the Soviet period. The scorching sun, the polyphony of an Oriental city, various episodes from her early and teenage years come up again and again in Rubina's novels and short stories.
In her epic and best-selling novel, "On the Sunny Side of the Street," which is set in Tashkent, a fictional plot interweaves with memoirs of real-life Tashkent residents to produce a truly powerful effect. Her protagonists are often artistic and unconventional people: painters, singers, circus artists or just people who have a talent for something. The author lives in Israel now, but she is a frequent guest to Russia, coming to do book presentations, which are always popular, gathering large crowds.
66. Gaito Gazdanov (1903-1971)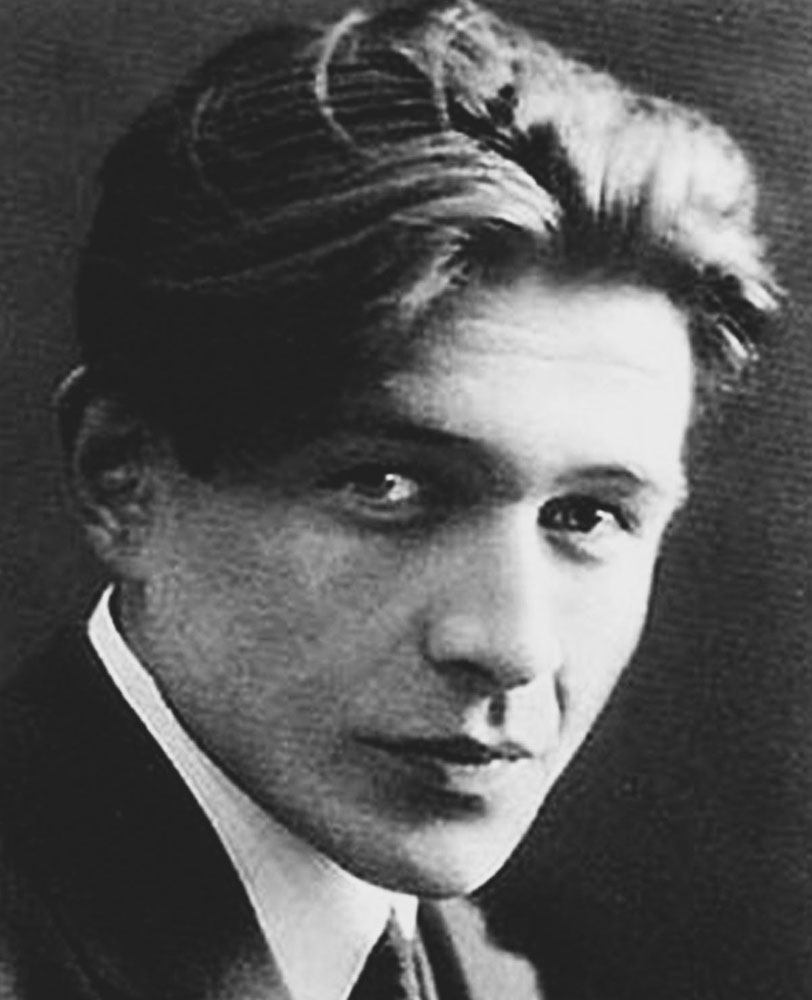 Gaito Gazdanov / Wikipedia
Gazdanov debuted in the literary arena in the late 1920s, first as an author of short stories. The turning point in his young career came in 1929 when his first novel, "An Evening with Claire," was released in Paris. The book was very well received in the Russian émigré community, and critics compared him to Proust and émigré writer Vladimir Nabokov.
Gazdanov left the Soviet Union for Paris in 1923, when he was 20, and had to take whatever jobs came his way: unloading barges on the Seine, cleaning locomotives, working as an operator in the Citroën factory and, for three months working in the publishing house Hachette. He was even forced to live on the street, until he found a job as a night taxi driver in 1928. In the years preceding World War II, the writer published two books: "The History of a Journey" (1938), and "Night Roads" (1939-1941). In the latter, the protagonist is a night taxi driver in Paris (Gazdanov's alter ego, of course).
65. Leonid Yuzefovich (b. 1947)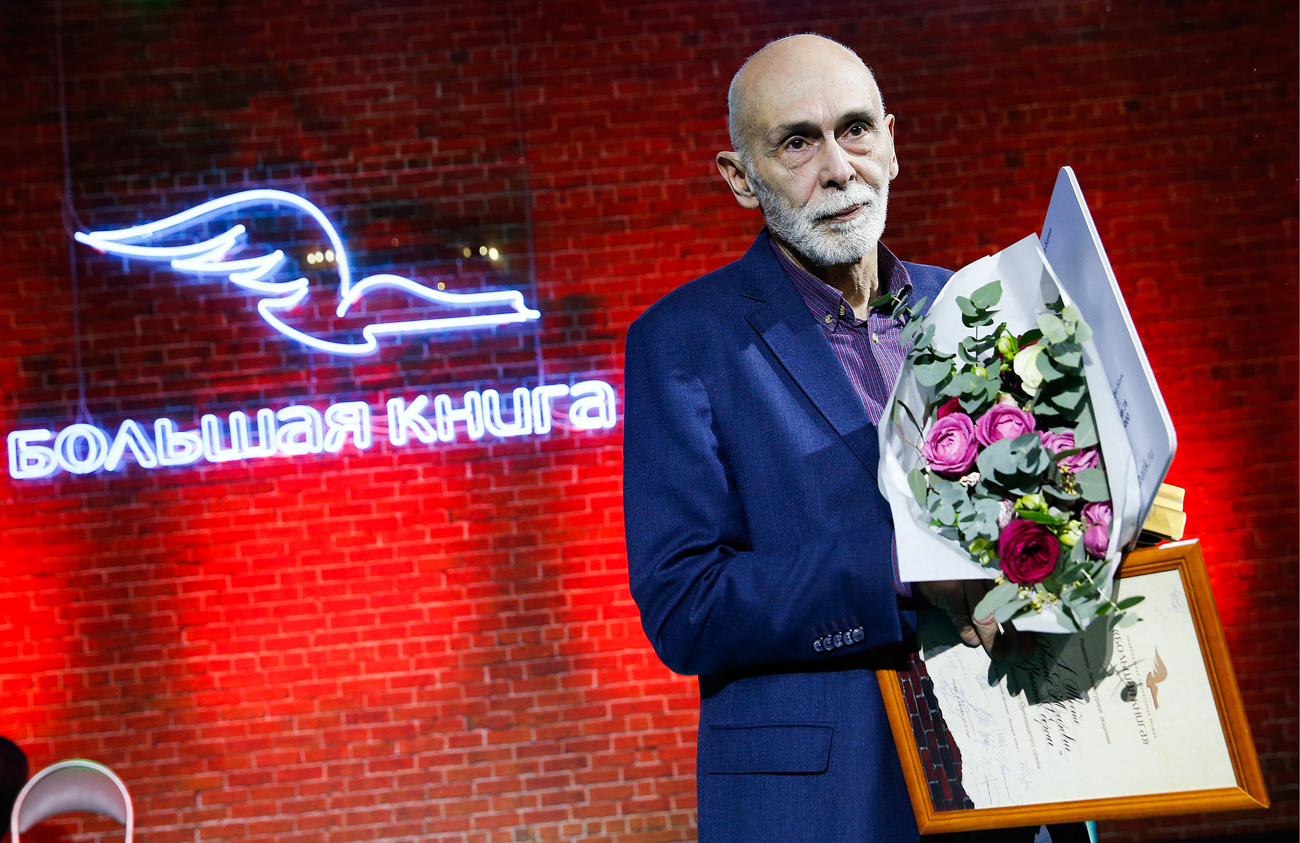 Leonid Yuzefovich / TASS / Mikhail Japaridze
Yuzefovich has tended to focus on historical themes and difficult subject matter. His novel "The Autocrat of the Desert" was about the Russian Civil War, while "Cranes and Dwarfs" depict events surrounding the failed putsch of 1993.
His recent award-winning documentary novel, "The Winter Road," begins towards the end of the Civil War, when the Bolsheviks already claimed victory in European Russia, but fighting continued in the distant Far East. To write this book, the author researched dozens of diaries, memoirs and letters, comparing different versions of the same events.
Yuzefovich's popularity can in part be attributed to his writing style. Rather than presenting his own ideas about the course of history, he presents the events dispassionately in his narrative. Additionally, his protagonists are often members of little known or mostly ignored groups.
64. Viktor Pelevin (b. 1962)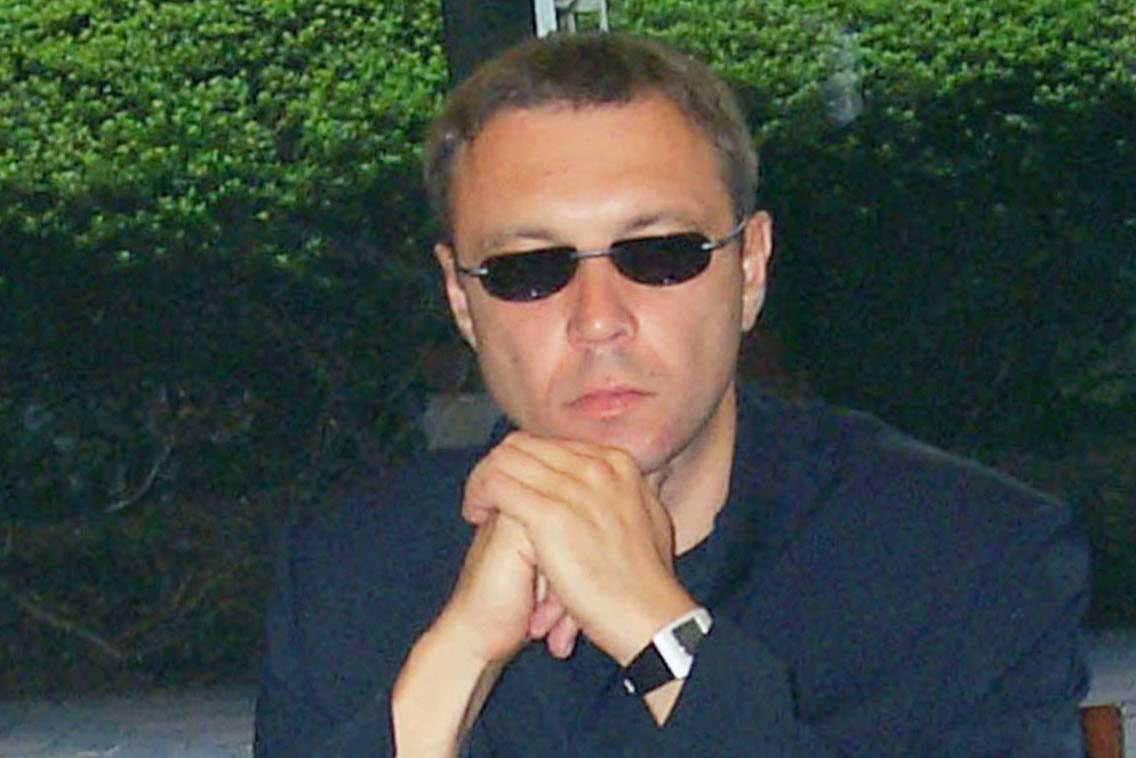 Victor Pelevin / TASS / Vladimir Solntsev
Victor Pelevin used to be a guru of the Russian reading public. With his creation of myths and legends for the new Russia, he was the main writer of the 1990s and a whole generation grew up on his books such as "Omon Ra," "Generation P," and "Life of Insects."
Pelevin's masterpiece, "Chapayev and Pustota," (called "Buddha's Little Finger" in English) is also known as Russia's first Zen-Buddhist novel, and is based on the indivisible nature of authentic and projected reality. Pelevin's novels are still a quick response to what's happening in society, showing its sins and addictions (for example, in "Love to Three Zuckerbrins").
63. Guzel Yakhina (b. 1977)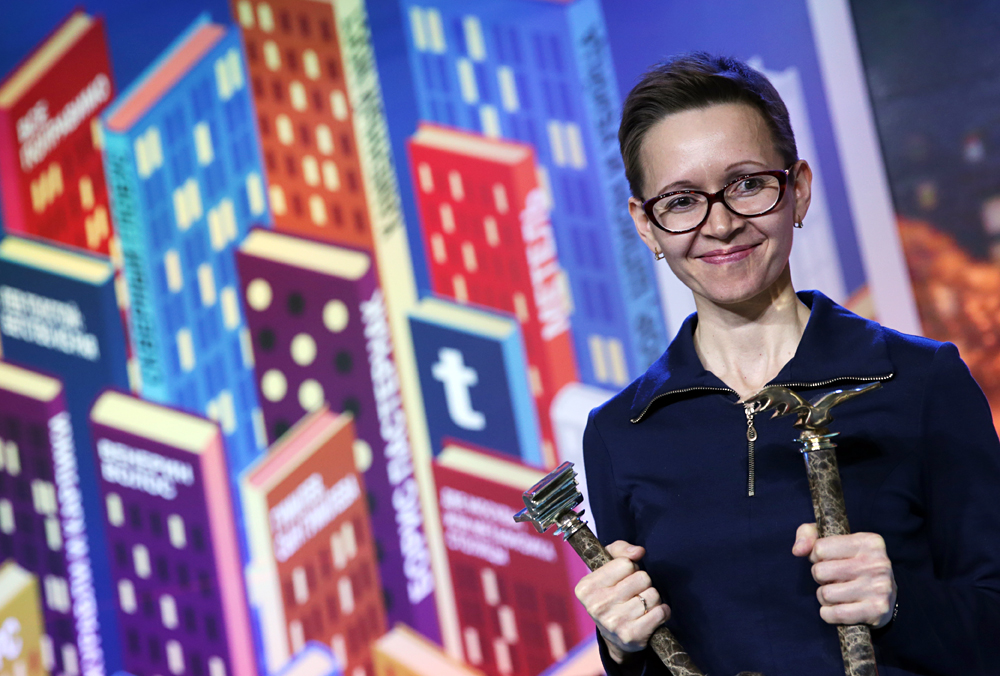 Guzel Yakhina / TASS/ Artyom Geodakyan
In 2015, Yakhina broke onto Russia's literary scene with her first novel, "Zuleikha Opens Her Eyes," which at once won all of Russia's main literary prizes and became the most discussed book of the year. This is a story of a Muslim woman from a Soviet Tatar village who goes from the prison of her home into another prison - the GULAG. Surviving winter in the forest with other prisoners and even giving birth to a son, she finds a new and even better life there and finds love with her guard.
62. Konstantin Paustovsky (1892-1968)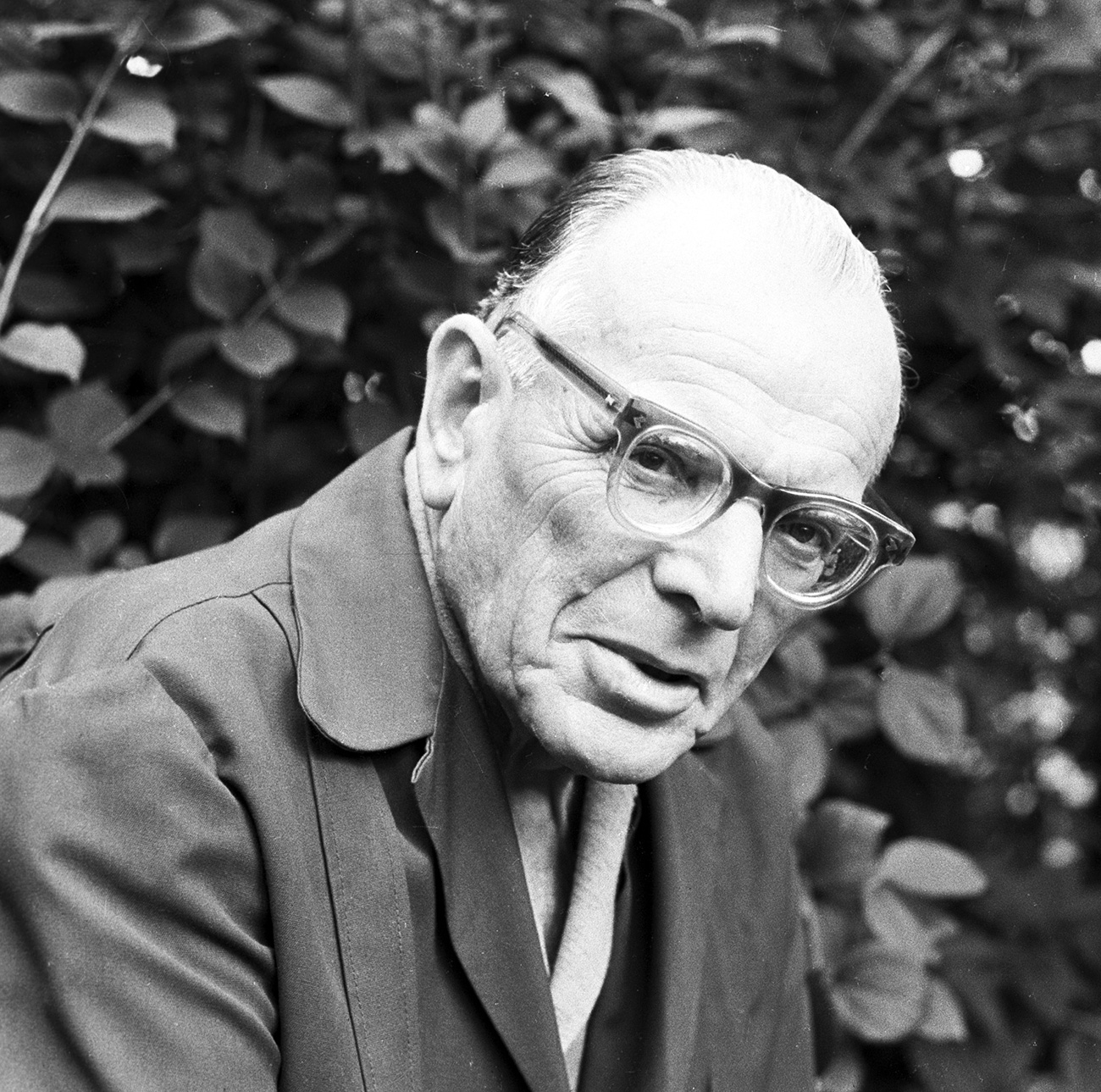 Konstantin Paustovsky / RIA Novosti / Galina Kmit
Paustovsky is Prishvin's fellow traveler as a master of natural descriptions. Like him, Paustovsky traveled a lot, dedicating his books to the places he visited: the Black Sea shore, Georgia and the forests of the Meshchera lowlands in the middle of Russia.
The first book to bring him fame was "Kara-Bogaz," which is named after Garabogazköl Bay. "Golden Rose" is devoted to the deeply personal creative process, and Paustovsky researches the essence of the art of being a writer, recalling his moments of inspiration, as well as the moments of other authors. "The Story of a Life" is a six-volume fundamental autobiographical work.
61. Vladimir Sorokin (b. 1955)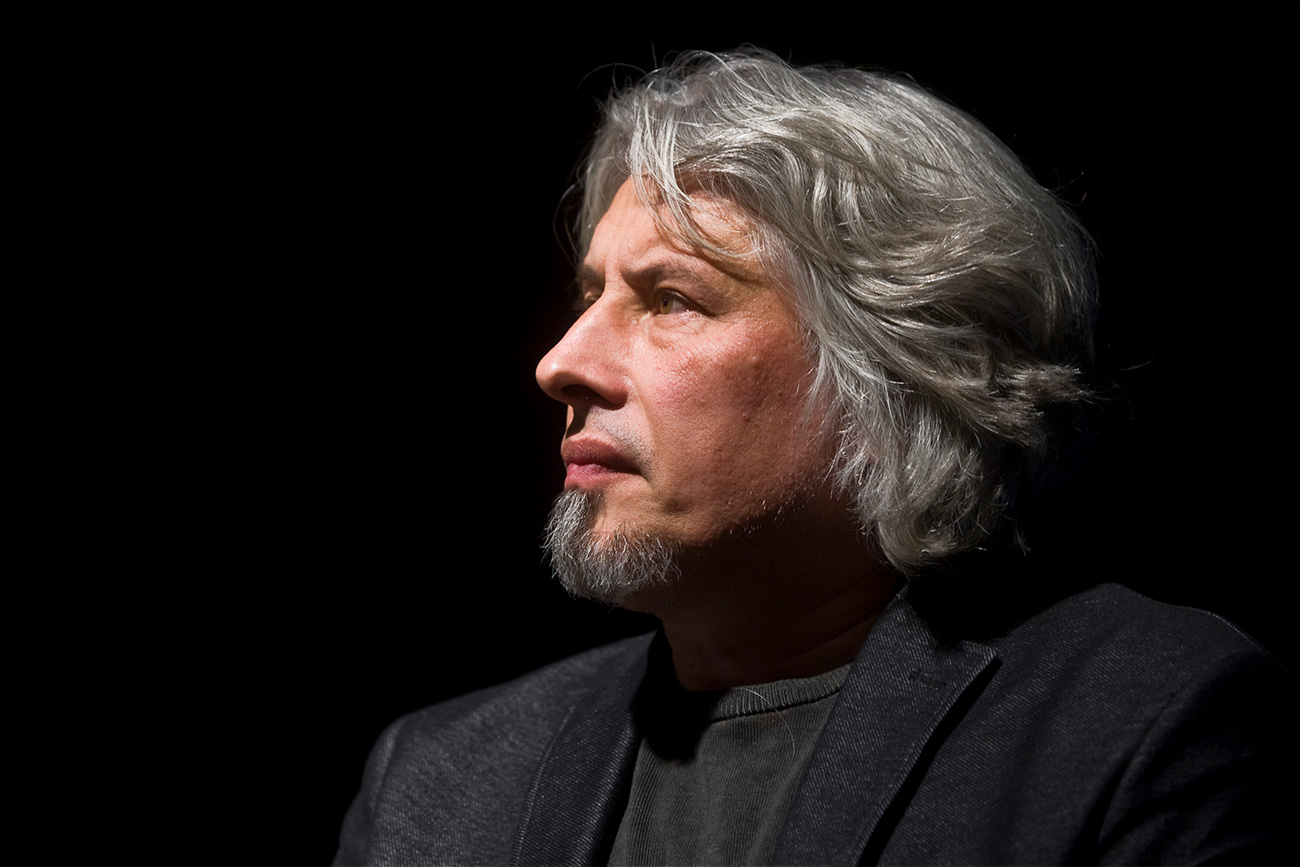 Vladimir Sorokin / TASS / Sergei Fadeichev
Sorokin is one of Russia's most controversial and important contemporary writers. In 1980s he was one of the main figures of the Moscow conceptualist underground. In the 1990s, pro-Kremlin activists arranged several actions against Sorokin, burning his books that they deemed pornography even though the court didn't find anything wrong.
His most popular books are "The Day of the Oprichnik" depicting the times of Ivan the Terrible with clear parallels to contemporary Russia. "Ice Trilogy" talks about mystical space ice on a post-apocalyptic Earth. His latest book, "Manaraga," which suggests a dystopian postmodernist vision of books and readings, is told in the foremat of the diary of a book'n'griller chef who offers food grilled on burning books – the guests choose on which books they want dinner served.
60. Viktor Erofeyev (b. 1947)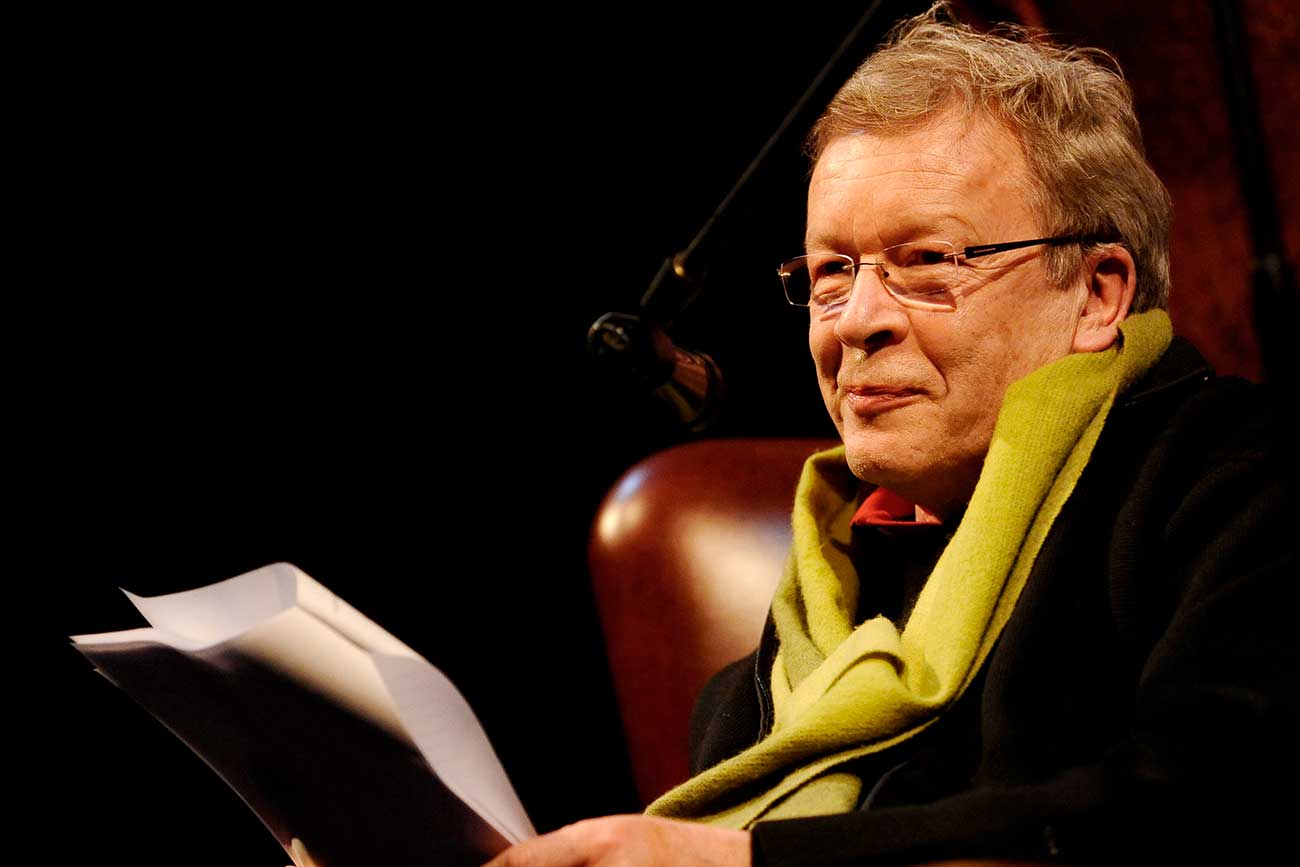 Victor Erofeev / TASS / Zurab Djavakhadze
Even though he was the son of a diplomat and Stalin's personal translator, Victor Erofeyev quickly declared himself a rebel at the start of his writing career. In 1979, he organized publication of the samizdat collection, "Metropol," publishing uncensored works of famous Soviet writers – including Vasily Aksyonov and popular poet Bella Akhmadulina.
His underground publishing work eventually cost his father his diplomatic career – a saga that Erofeyev would later use as the plot for his novel, "The Good Stalin." Erofeyev was not published in the Soviet Union for a decade after this, and his popularity coincided with the collapse of the Soviet Union.
His first novel, "Russian Beauty," was published in 1990, and was a huge international success, translated into several dozen languages. The author is not afraid of shocking and challenging readers with titles like, "The Good Stalin," "The Russian Apocalypse," and "The Light of the Devil." He indefatigably tries to understand the mentality and motivations of the Russian people, something that he has repeatedly referred to in recent works.
59. Alexander Tvardovsky (1910-1971)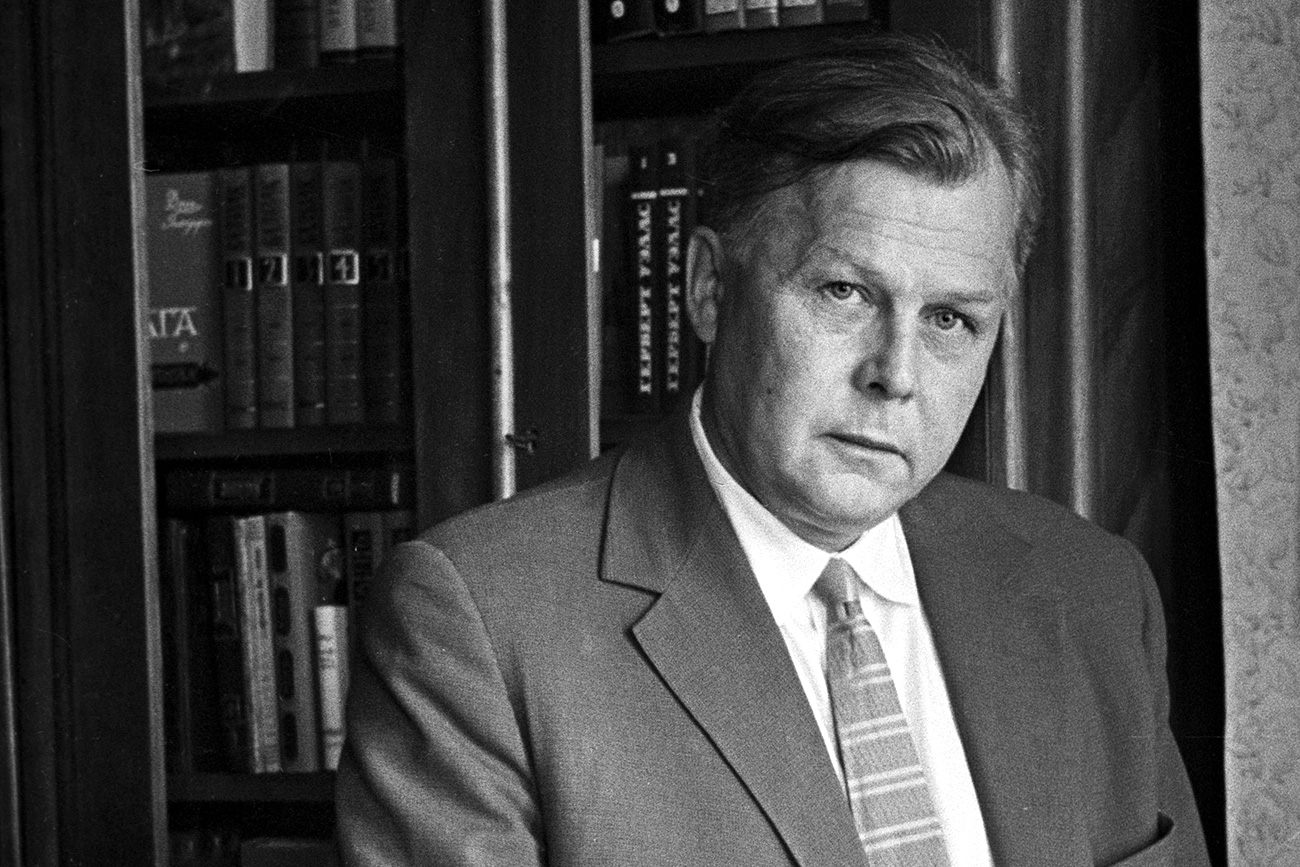 Alexander Tvardovsky / RIA Novosti / Michael Trahman
Tvardovsky is an iconic Soviet poet famous primarily for his epic poem, "Vasily Terkin," in which the main character is a collective image of a World War II soldier, heroic but ordinary. The poem was very popular, especially among those who served and fought against the Nazis. During the War, Tvardovsky worked as a correspondent for the military's official newspaper, Krasnaya Zvezda.
Tvardovsky is also famous for, and in this case he has done even more for Russian literature than as a writer, his role as chief editor of the so-called "thick" literary magazine, Novy Mir (New World), which published critical articles and novels by Soviet writers. With permission from Soviet leader Nikita Khrushchev, Tvardovsky published Alexander Solzhenitsyn's "One Day in the Life of Ivan Denisovich," which was a historic event – the first time when Soviet media touched the GULAG theme. While at Novy Mir, Tvardovsky also published authors of the so-called legal opposition and helped to debunk Stalin's cult.
58. Boris Vasilyev (1924-2013)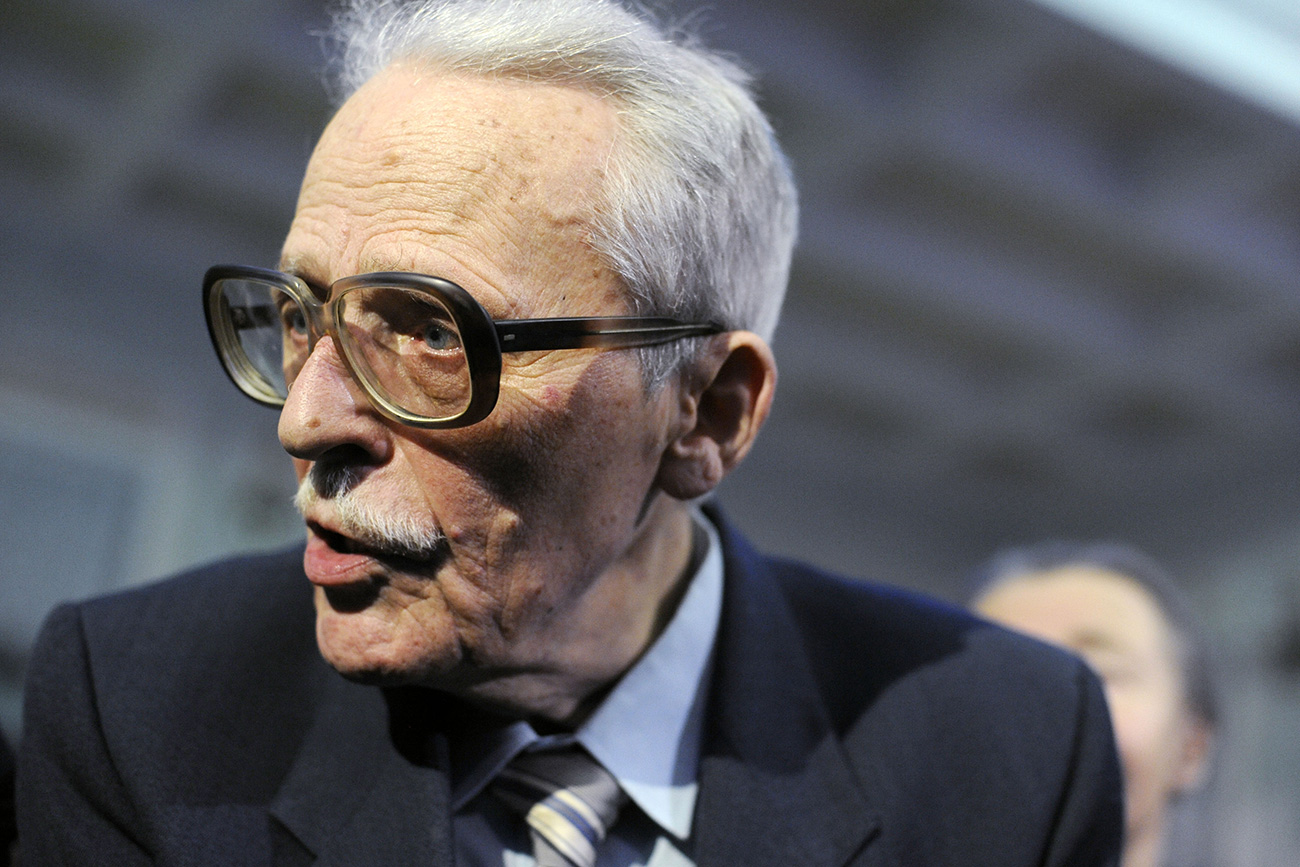 Boris Vasilyev / TASS / Alexei Filippov
Let's jump to writers who brought World War II to the mass audience. Vasilyev volunteered to fight in the War at the age of 17, and it's hard to imagine Russia's war literature without his, "The Dawns Here Are Quiet," a story about four girls and their commander who are fighting Nazis in the forest. The novel, which was staged and screened several times, still brings people to tears.
Thanks to Vasilyev and a generation of writers whose art was born from battle, the war was seen in a new light: not just as an achievement of the Soviet people, not just an event of global scale and significance, but also as a personal drama for each person. Vasilyev made a big name for himself as a scriptwriter. He and Kirill Rapoport wrote the screenplay for Vladimir Rogovoy's iconic film "Officers," an epic tale of two commanders' long service.
57. Olga Bergholz(1910-1975)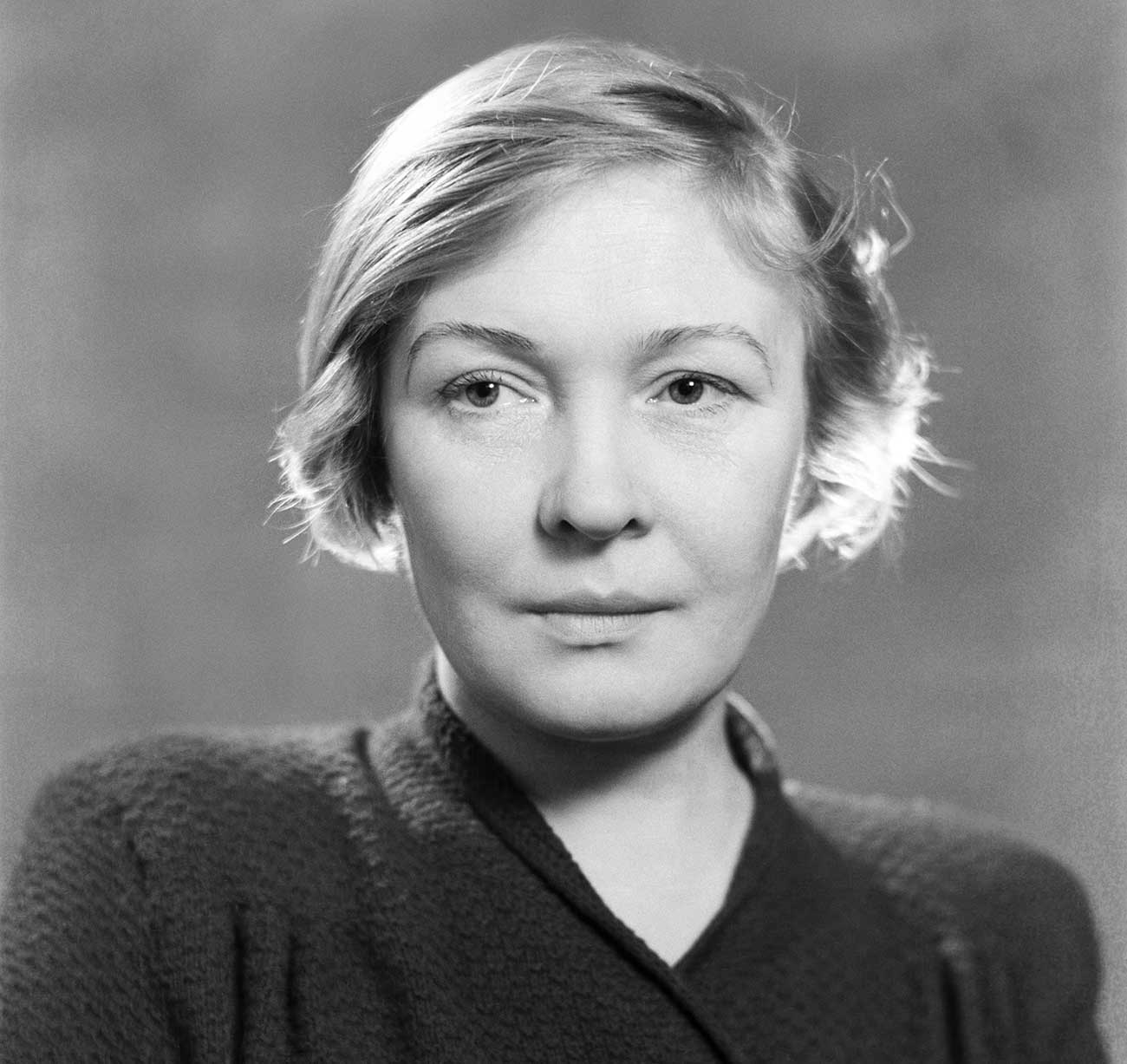 Olga Bergholz / TASS
Born in St. Petersburg, Olga Bergholz became a symbol of the Siege of Leningrad and the efforts to survive in such a terrible situation. During the blockade she broadcast her poems via loudspeakers and radio to bolster the spirit of locals. Aware that she was on the other end of a microphone, barricaded just like them, Leningraders got some sense of hope.
After all, amid shelling and starvation, she was still writing poems and would recite her poems, about suffering, fear, the horror of death, and the unbearable lives they were living. Bergholz was inspired and influenced by the already revered Anna Akhmatova, who also wrote poems from besieged Leningrad and witnessed the first artillery shelling of the city.
56. Alexander Fadeyev (1901-1956)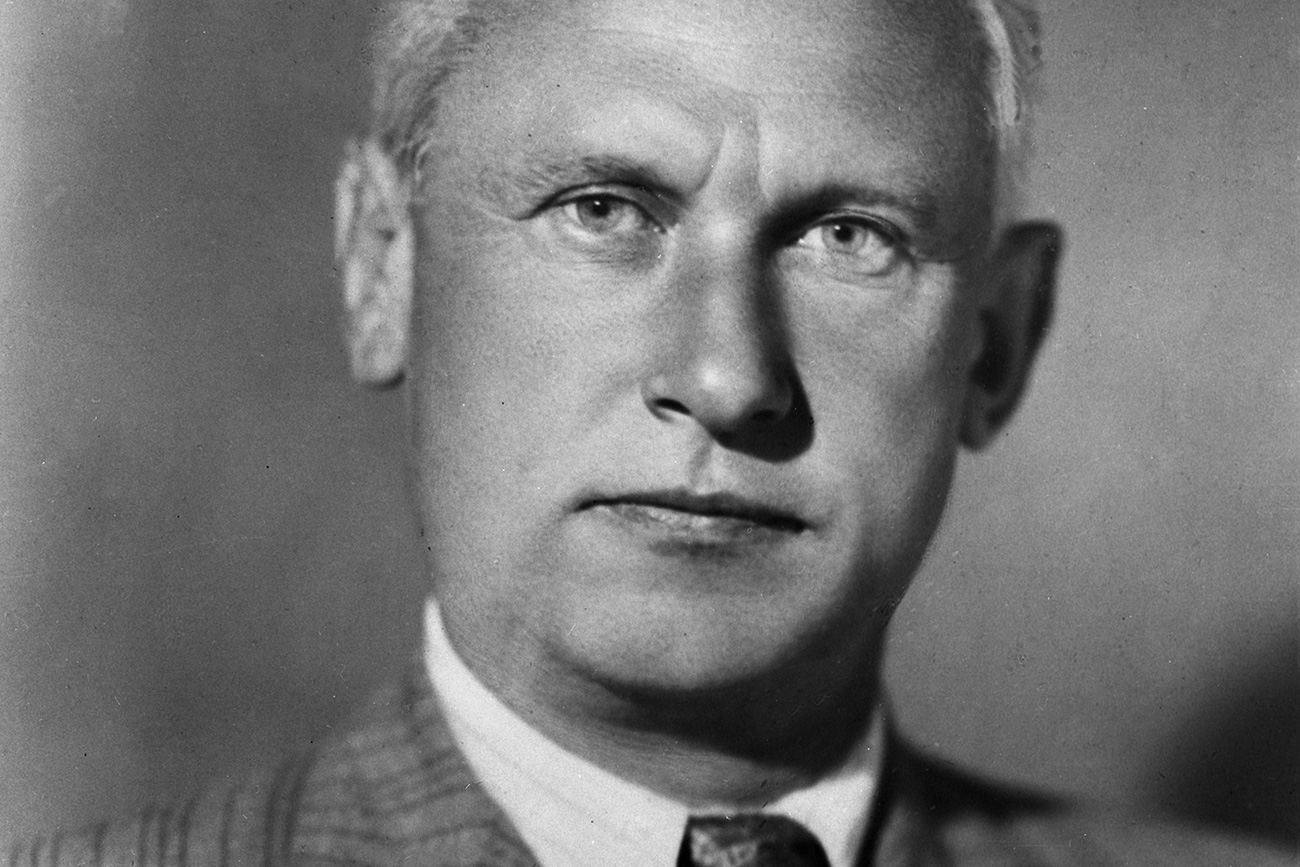 Alexandre Fadeyev / RIA Novosti / Gregory Vail
Alexander Fadeyev is most famous for "The Young Guard," a novel set in occupied Ukraine in 1942, which is among the best-known Soviet books about the War. Fadeyev's novel portrays the courageous battle of about 100 youth in the underground Soviet resistance against the Nazis in the city of Krasnodon.
The end of the Young Guard was tragic, however. Teenage partisans were betrayed, tortured and killed by the Germans. The captivating and heroic book, viewed as historically accurate but fiction nonetheless, was included in the Soviet school program for literature, but only after Fadeyev promised to rewrite portions of the book to satisfy the Communist Party in 1948. Fadeyev was also a head of the state-sponsored Union of Writers, taking part in most persecution against "anti-Soviet" writers.
55. Vassily Grossman (1905-1964)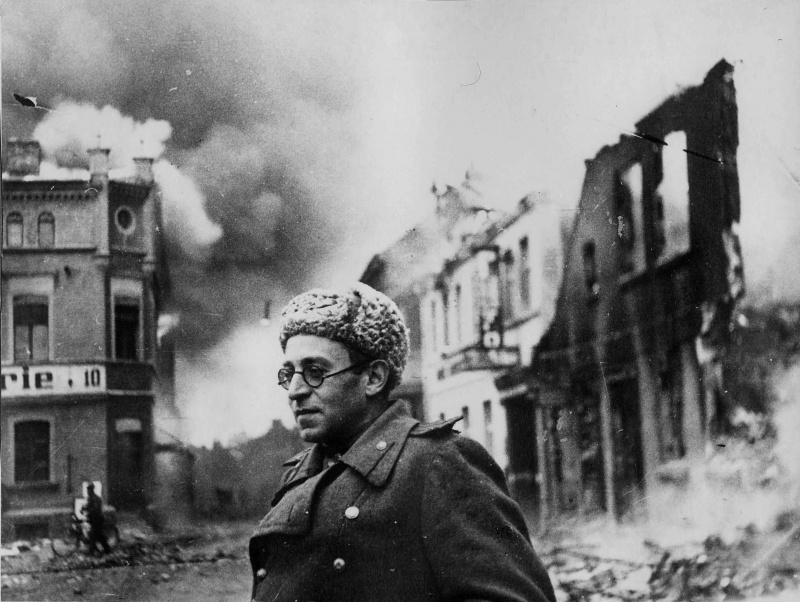 Vassily Grossman / waralbum.ru
After spending more than 1,000 days on the front, Grossman wrote "Life and Fate," which is considered to be one of the greatest novels of the War. Grossman vividly observed and recorded the tragedy of a people living in a totalitarian society and at war. And like so many of his peers, he never saw his own great work published.
This indomitable saga, known as the "War and Peace" of the 20th century, depicts the dramatic story of a family life during the Stalingrad battle. The novel was considered anti-Soviet, however, and the book had to be smuggled out of the country. In 1989, at the end of Perestroika, "Life and Fate" was first published in Russian. But the author became famous during his lifetime for war essays and reports, which are also published in English in a collection, "A Writer At War: A Soviet Journalist With The Red Army, 1941-1945" (Vintage 2007).
54. Daniil Granin (1919-2017)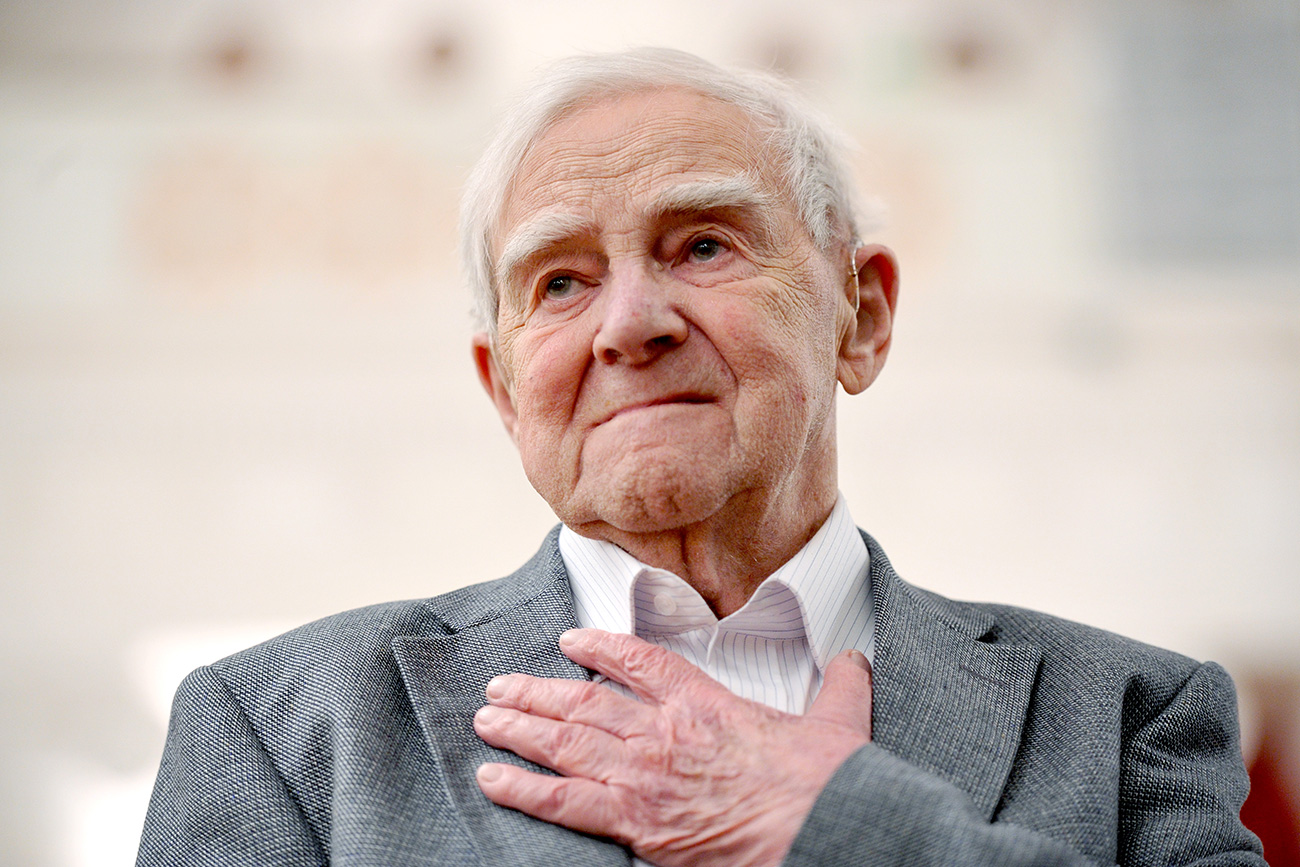 Daniil Granin / TASS / Yuriy Belinskiy
Survivor of the Siege of Leningrad, Daniil Granin together with Belorussian author Ales Adamovich, wrote the non-fiction book, "Leningrad Under Siege," which offers vivid and detailed accounts of the 900 terrible days of the Nazi blockade. Individual portraits of lives held hostage and neighborhoods under attack are impossible to forget. The work chronicles the life and death struggle of a city and its people, who, condemned to hell on earth, never surrendered.
Another topic of his work was writing about the life of scientists and technological progress, and he pioneered a new genre of "documentary fiction" in the Soviet Union.
53. Alexander Radishchev (1749-1802)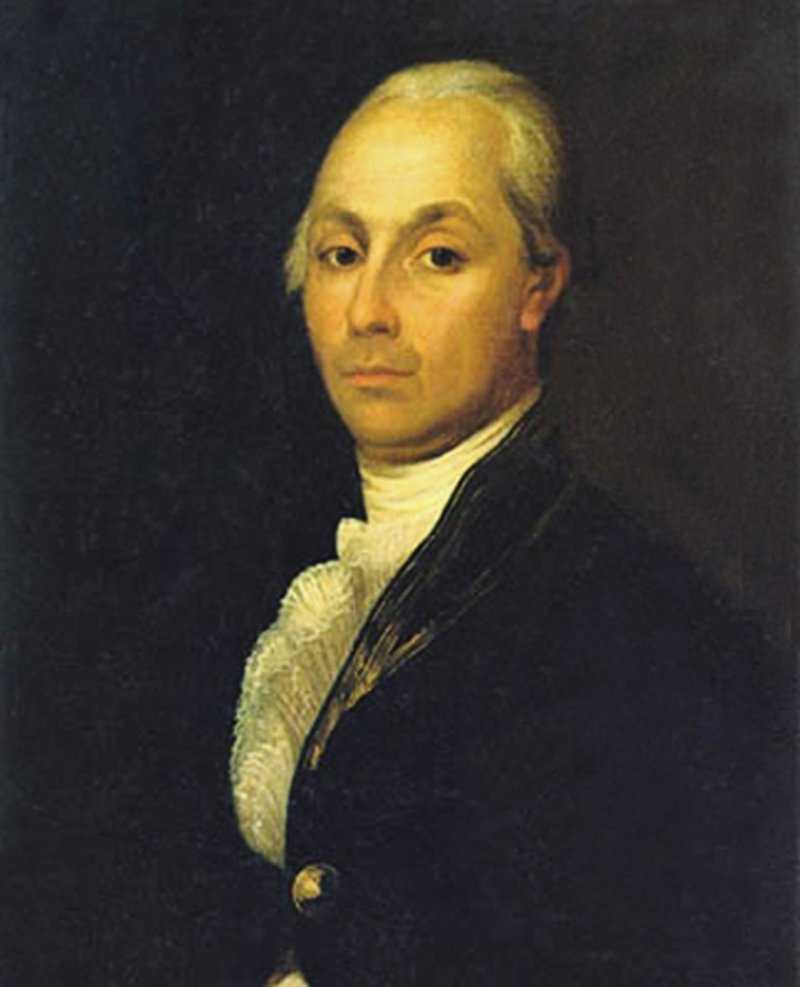 Alexander Radishchev / wikipedia
One of the rare 18th century writers in our list was very important and was one of the first Russian writers who was persecuted and exiled because of his work. His most famous book, "Journey from St. Petersburg to Moscow," shows the unofficial side of Russian life, depicting problems of the peasants, and contains courageous reflections about serfdom. Written following the wave of socio-political upheavals after the American War of Independence and just as the French Revolution was getting started, Radishchev hoped to change something in Russia by exposing the dire situation of the peasants.
The book, however, appeared on the table of Empress Catherine the Great who covered it with comments, and called the author "a rebel worse than Pugachev" [Yemelyan Pugachev raised a massive peasants uprising in Russia]. Radishchev was arrested and put into the dread prison of the Peter and Paul Fortress. The Empress at first wanted the death penalty for the writer, but decided to show mercy and exiled him to Siberia. Her son, Emperor Pavel I, canceled most of his mother's orders upon taking the throne, and let Radishchev return home.
52. Alexander Herzen (1812-1870)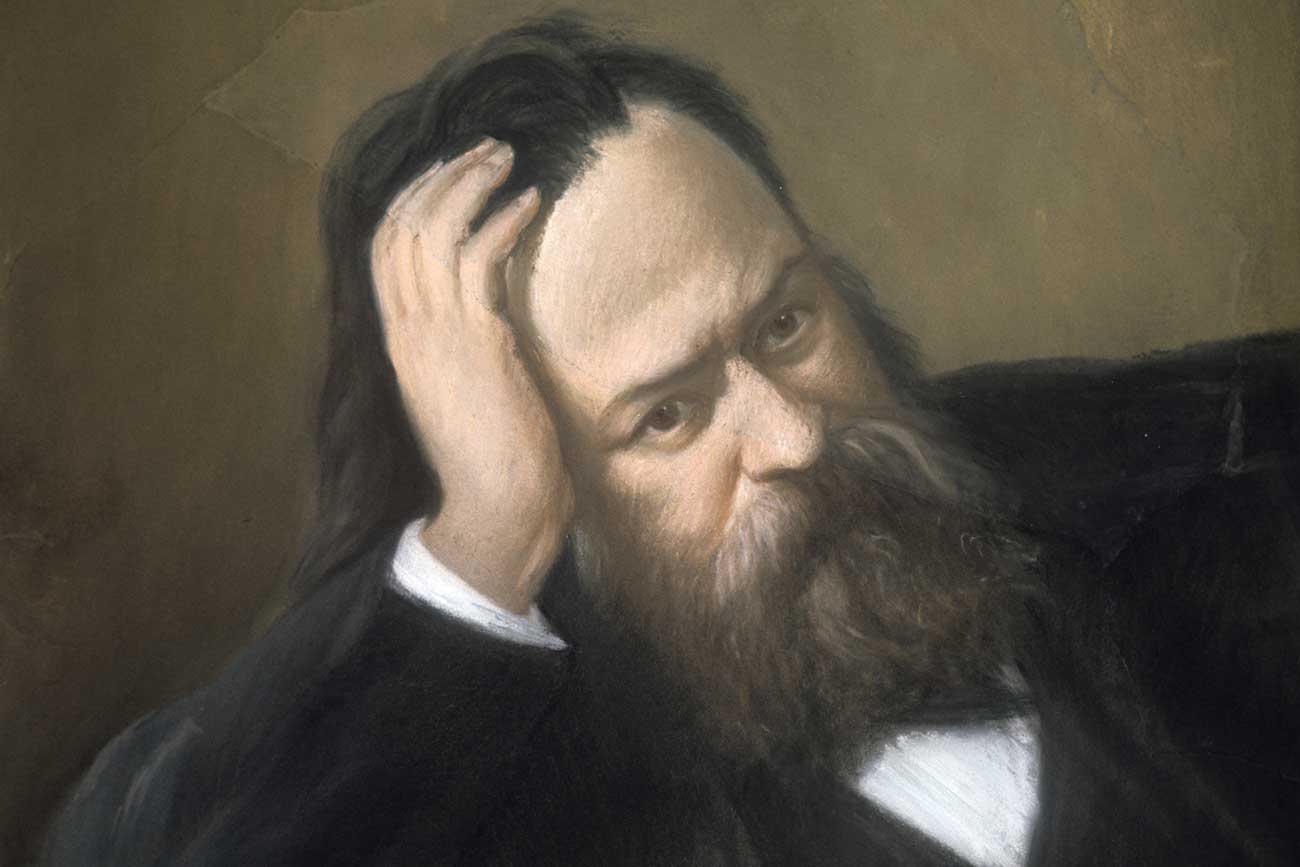 Alexander Herzen / RIA Novosti
Writer and political thinker Alexander Herzen is considered to be a revolutionary, and tends to be thought of the way Vladimir Lenin interpreted him: "The Decembrists awoke Herzen. Herzen launched revolutionary agitation." But in reality, the 19th century writer wanted no revolution at all, and wrote that the execution of the Decembrists "awoke his soul from a childish dream."
He is author of a novel asking one of the main questions for Russians even today, "Who is guilty?" In 1852, Herzen moved to London where he established his Free Russian Press and published the famous newspaper, Kolokol (Bell).
51. Nikolai Chernyshevsky (1828-1889)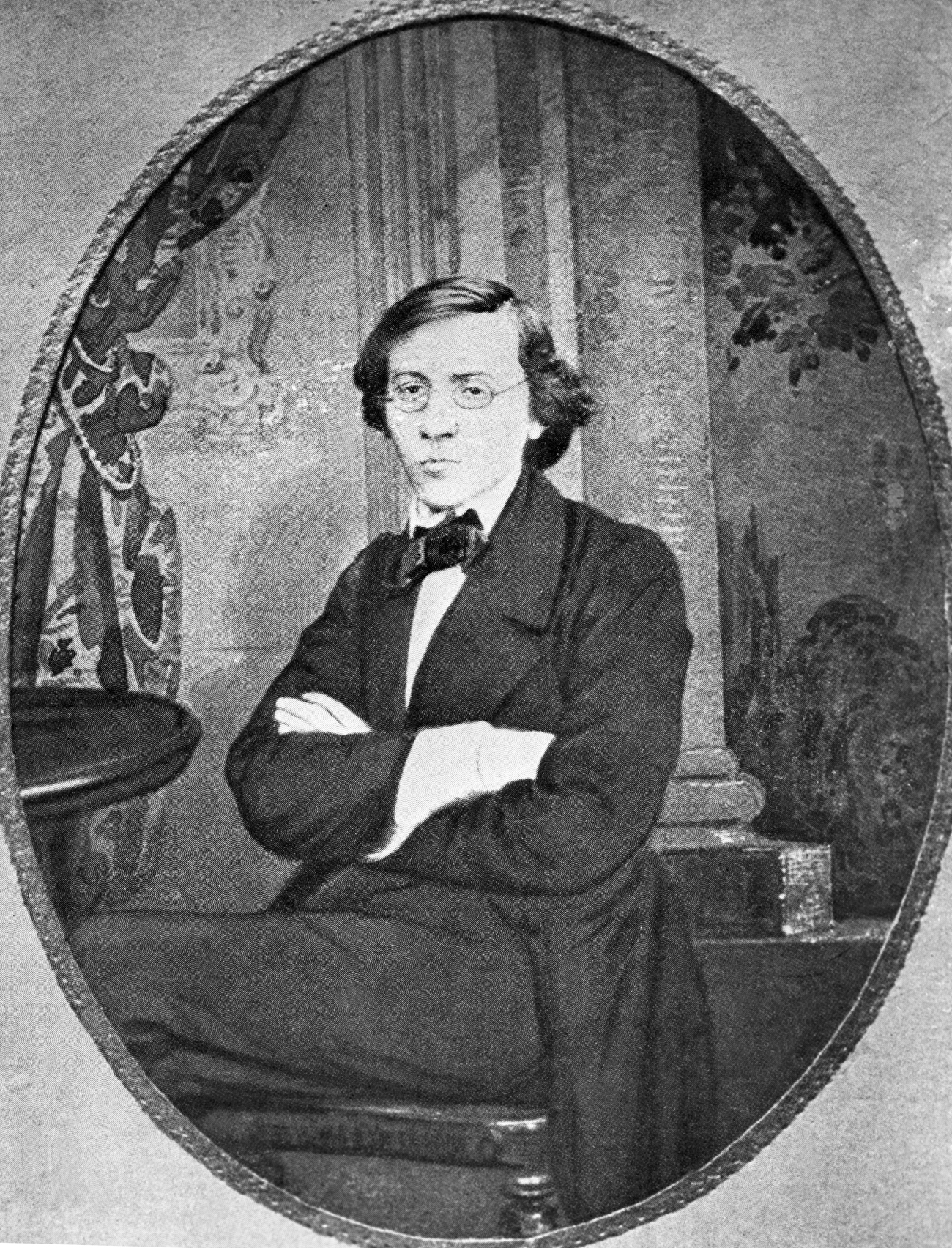 Nikolai Chernyshevsky / TASS
Nikolai Chernyshevsky is a 19th-century Russian revolutionary democrat and philosopher who set out a utopian vision of a socialist society that was "beyond" capitalism. He is first of all famous for his novel, "What Is To Be Done?" – the question considered to be the main Russian question (together with Herzen's "Who is guilty?").
This is the story of Vera Pavlovna, a young woman struggling to escape a passionless life that her scheming and greedy mother tries to impose by marrying her off to their landlord. Seeking independence, she enters into a marriage of her own arrangement with a revolutionary-minded medical student, Lopukhov, and starts a successful business as a seamstress.
50. Svetlana Alexievich (b.1948)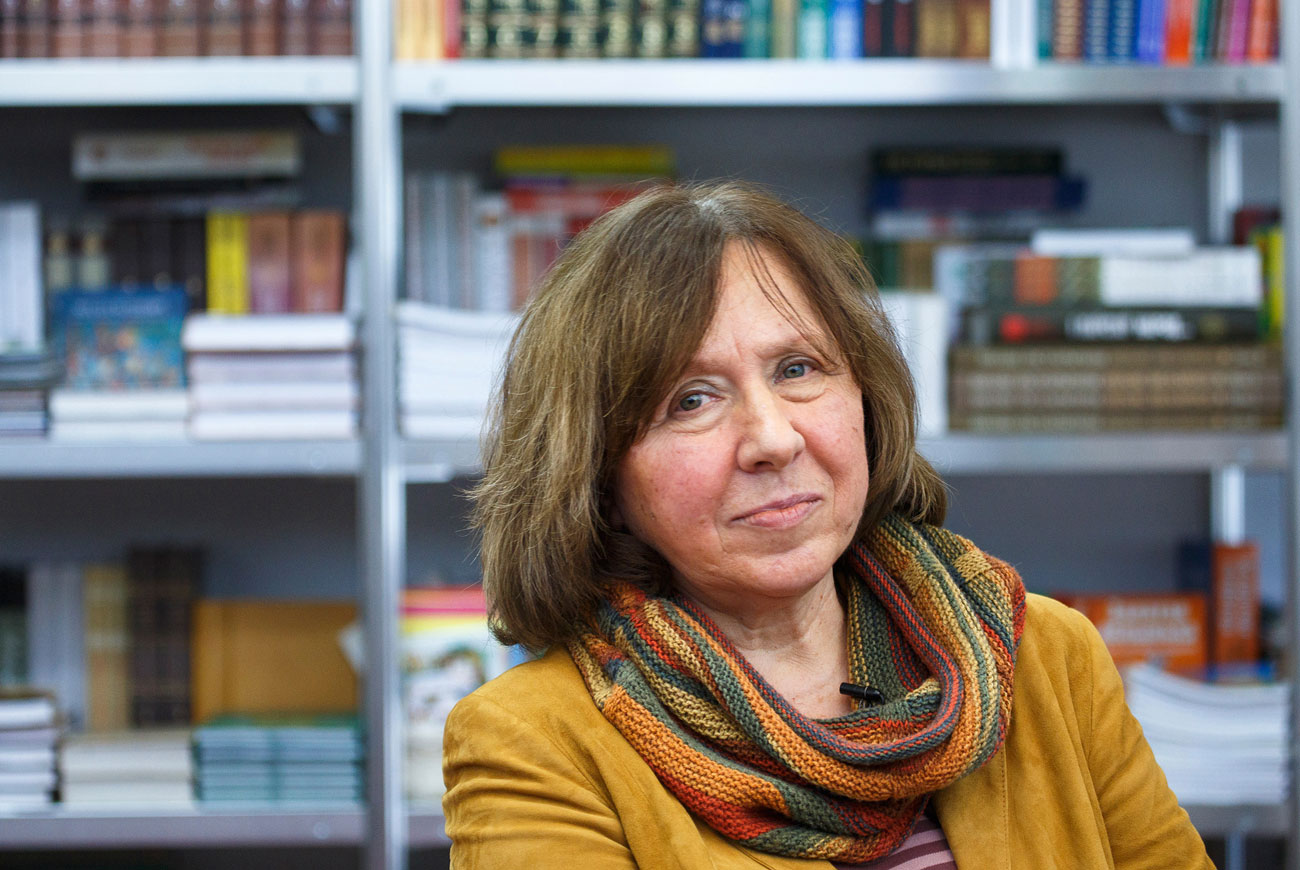 Svetlana Alexievich / Reuters
Let's jump from revolutionaries to modern days oppositionists. Alexievich didn't witness the Second World War, but she completed a powerful non-fiction book, "War's Unwomanly Face," that was screened and staged. In 2015, Alexievich was awarded the Nobel Prize for literature. Her main books also include "Zinky Boys," "Charmed Death," "Chernobyl Prayer," "Last Witnesses," and "Second-Hand Time."
Alexievich was born in the Ukrainian town of Ivano-Frankivsk, grew up in Belarus and had her first works published in the USSR. Today her books are translated into dozens of languages. Alexievich makes her living as an investigative journalist rather than a writer. Her literature is diverse, and is not always elegant. Alexievich has strong anti-Russian political views.
49. Zakhar Prilepin (b. 1975)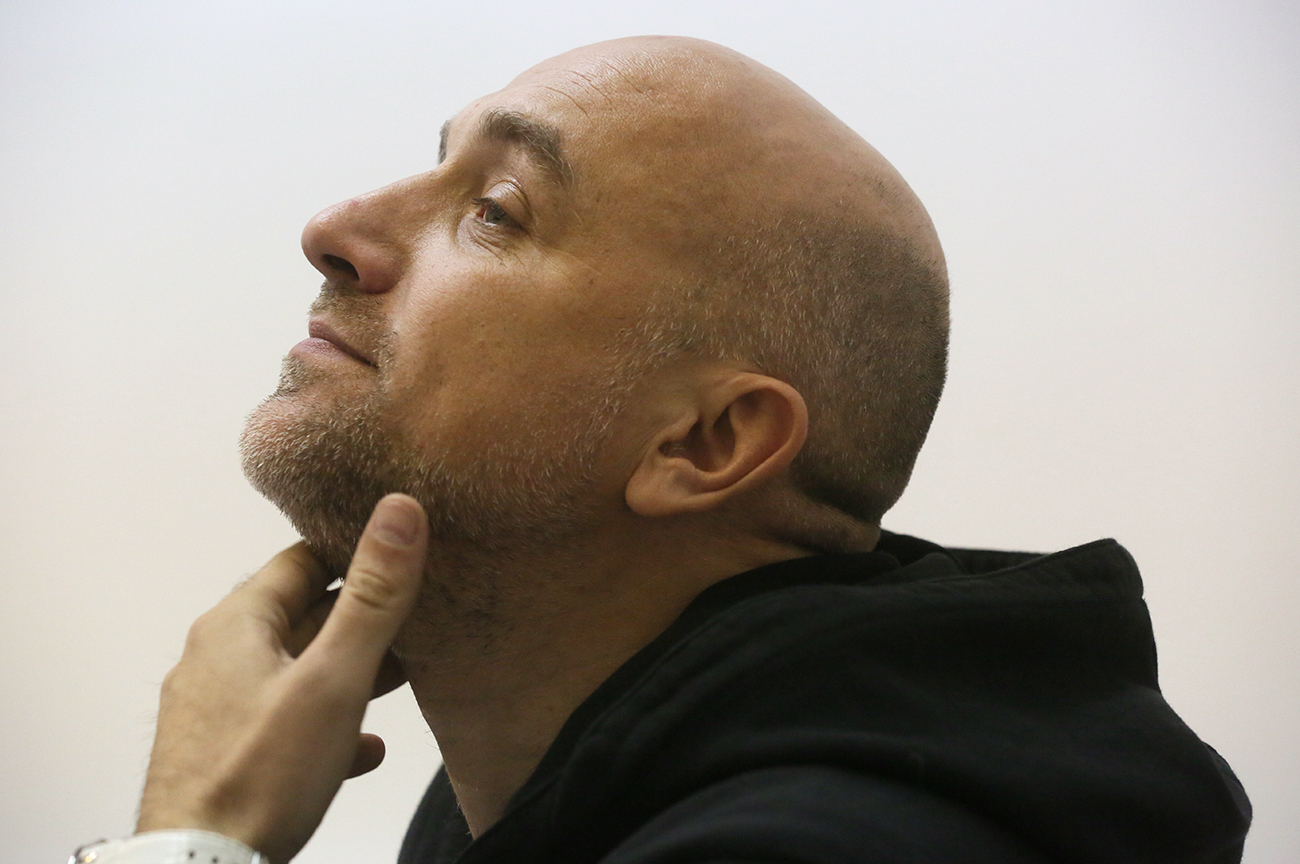 Zakhar Prilepin / TASS / Pavel Smertin
Prilepin is definitely the leading contemporary war writer. He first gained fame with his novel, "The Pathologies," in which he described how he fought in Chechnya in the 1990s. Another novel, "Sankya," tells the story of a young opposition activist and member of a banned organization who participates in demonstrations, flees from the police and hides out with the underground. In real life, Prilepin was a member of the banned National Bolshevik Party in 1996 and later of a similar party called the Other Russia. He participated in demonstrations together with his former comrade, Eduard Limonov.
Prilepin's works have received various awards. In 2014, his bestselling "The Cloister," which is about the 1920s Solovki prison camp, won Russia's main literary prize, the Big Book Prize, and it still tops sales at bookstores.
His recent nonfiction book, "Platoon - The Officers and Militia of Russian Literature," features Russian writers who took part in different wars. After publishing this book Prilepin announced taking a break in literature to become the leader of a battalion in the Donetsk People's Republic (DPR) fight for independence from Kiev.
48. Yevgeny Yevtushenko (1932-2017)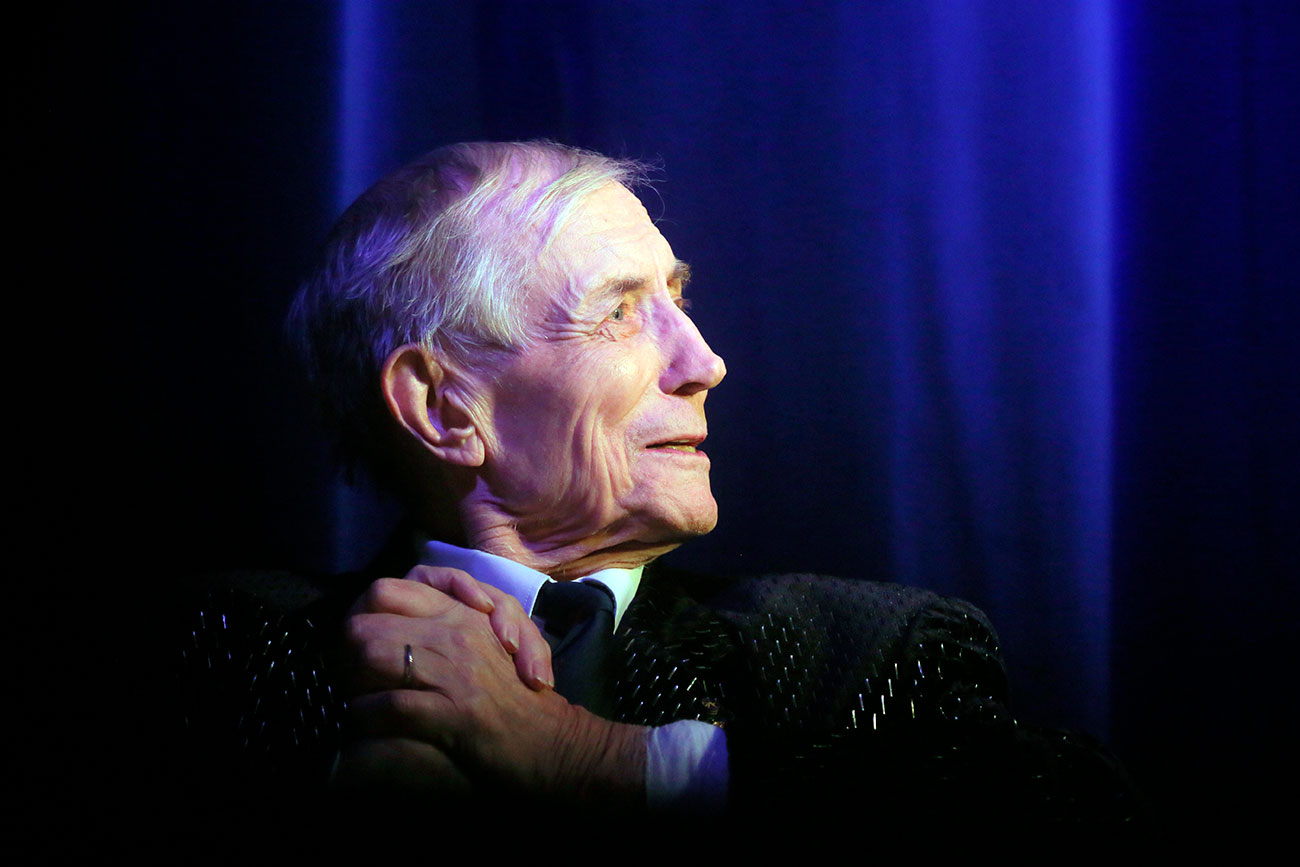 Yevgeny Yevtushenko / TASS / Pavel Smertin
Yevtushenko is representative of the post-War generation of writers, and is one of those rare poets whose lines have become part of the fabric of modern language, and have turned into popular sayings: "A poet in Russia is more than a poet;" and "Do Russians want war?" Native speakers of Russian utter these phrases without thinking where they come from.
As one of the 1960s poets together with Voznesensky and Rozhdestvensky, he was very popular and packed stadiums where he read poems. His most famous poems include "Bratsk Hydroelectric Power Station," and "Babyi Yar."
47. Varlam Shalamov (1907-1982)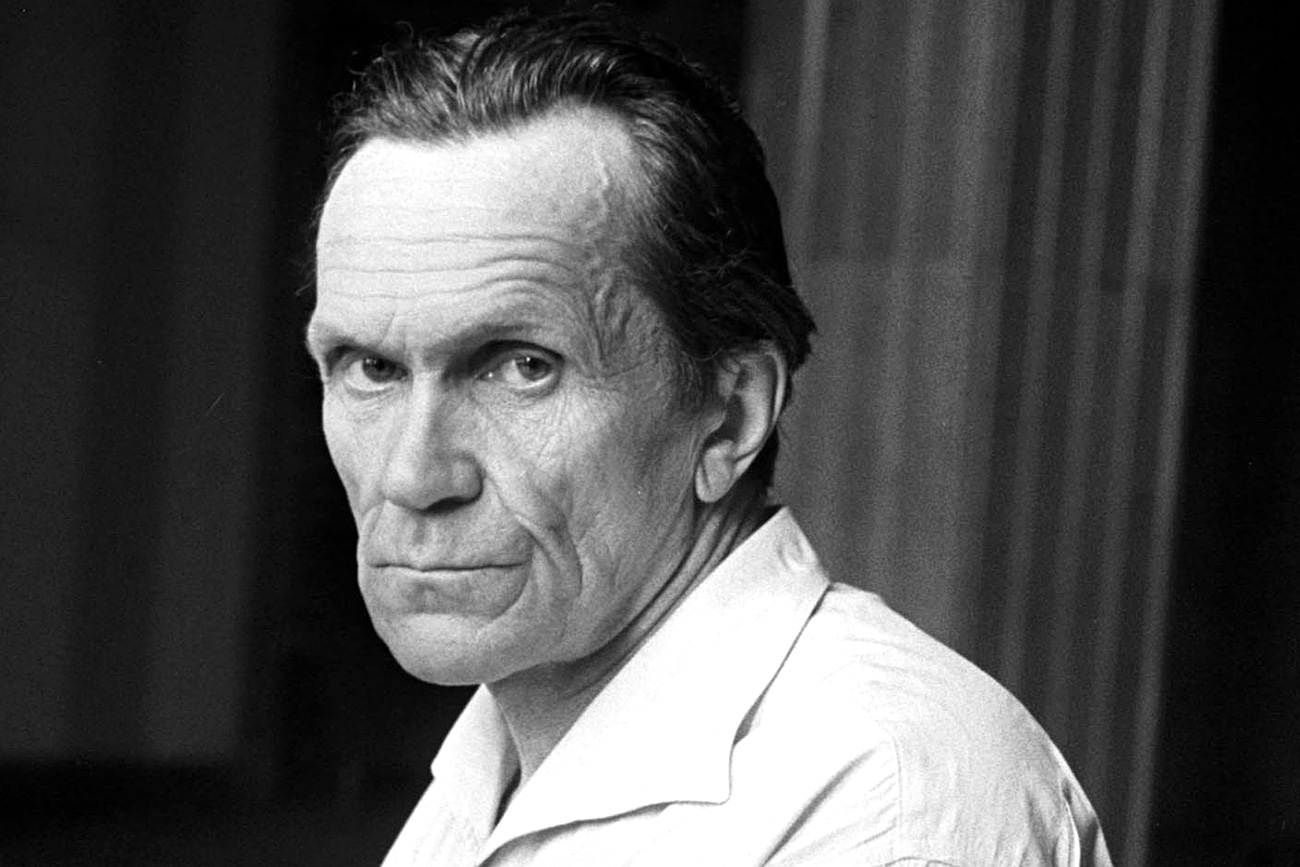 Varlam Shalamov / TASS / A.Less
Another writer who suffered from Soviet authorities, Shalamov survived in a scarier place than the War because these were not Nazis but Soviet citizens who killed Soviet citizens. Shalamov survived 17 years in the GULAG and wrote "Kolyma Tales," which was a "powerful book" as Solzhenitsyn once commented. It depicts the unemotional brutality of power and the range of human suffering. Shalamov wrote that "a writer must be a stranger in the subjects he describes," and his work is defined by his direct and objective presentation of suffering.
Thematically, each story is self-contained, focusing on a different element of GULAG life, a specific event or a personality. However, this thematic division masks a deeper artistic unity. Shalamov's central question is what sustains and drives humans, giving us the capability to survive experiences such as the Kolyma camps.
46. Nikolai Gumilev (1886-1921)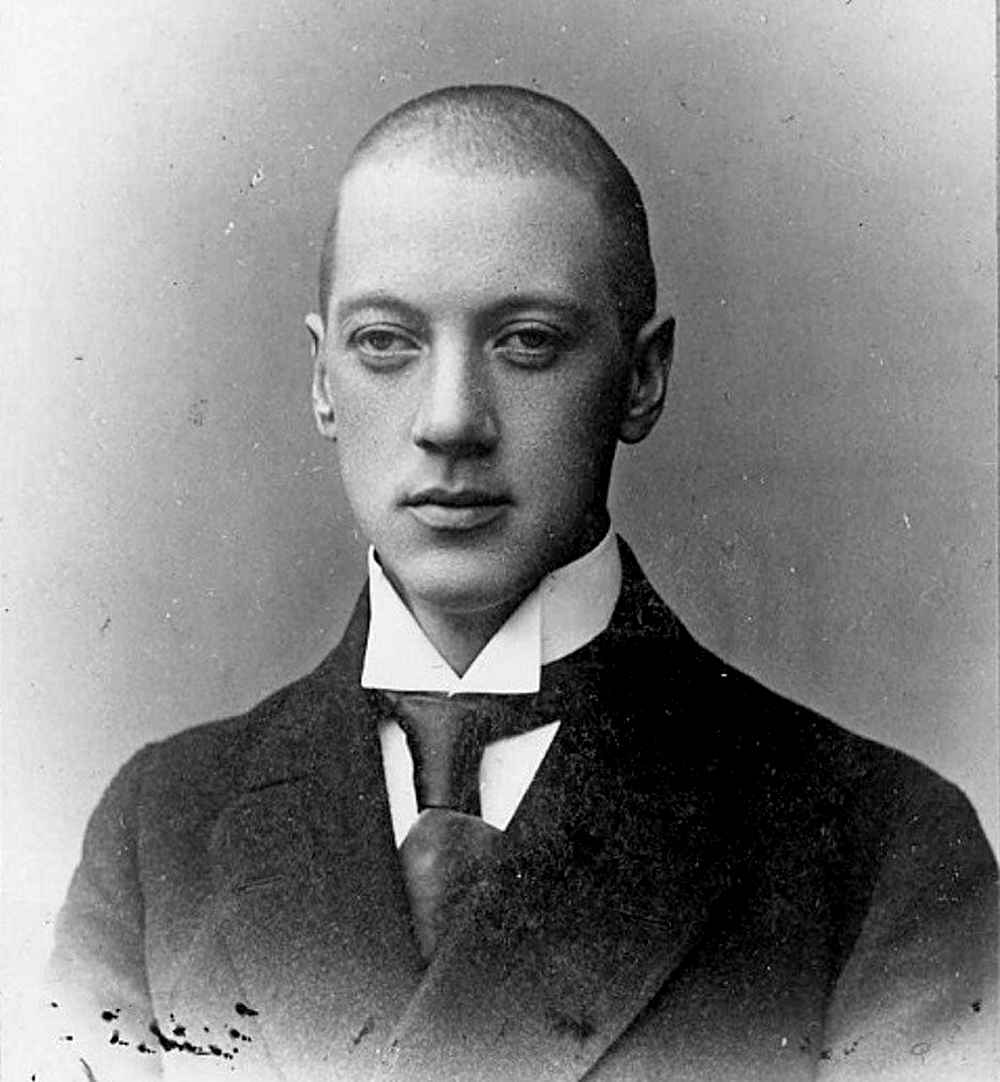 Nikolay Gumilyov / Karl Bulla
Famous Russian poet Anna Akhmatova had a tragic life. Her husband, poet Nikolai Gumilev, was executed and their son Lev Gumilev was arrested. Nikolai was a Silver Age poet who created a new literary movement – acmeism - which depicted direct expression through clear images and which was in confrontation with abstract symbolism.
Akhmatova, also an acmeist, dedicated numerous lyrical poems to him, as well as he to her. The marriage lasted eight stormy years before finally breaking down. After he was declared an enemy of the people and executed by Soviet authorities for opposition to the Bolsheviks, Akhmatova refused to denounce him and helped preserve his poetic legacy.
45. Mikhail Zoshchenko (1894-1958)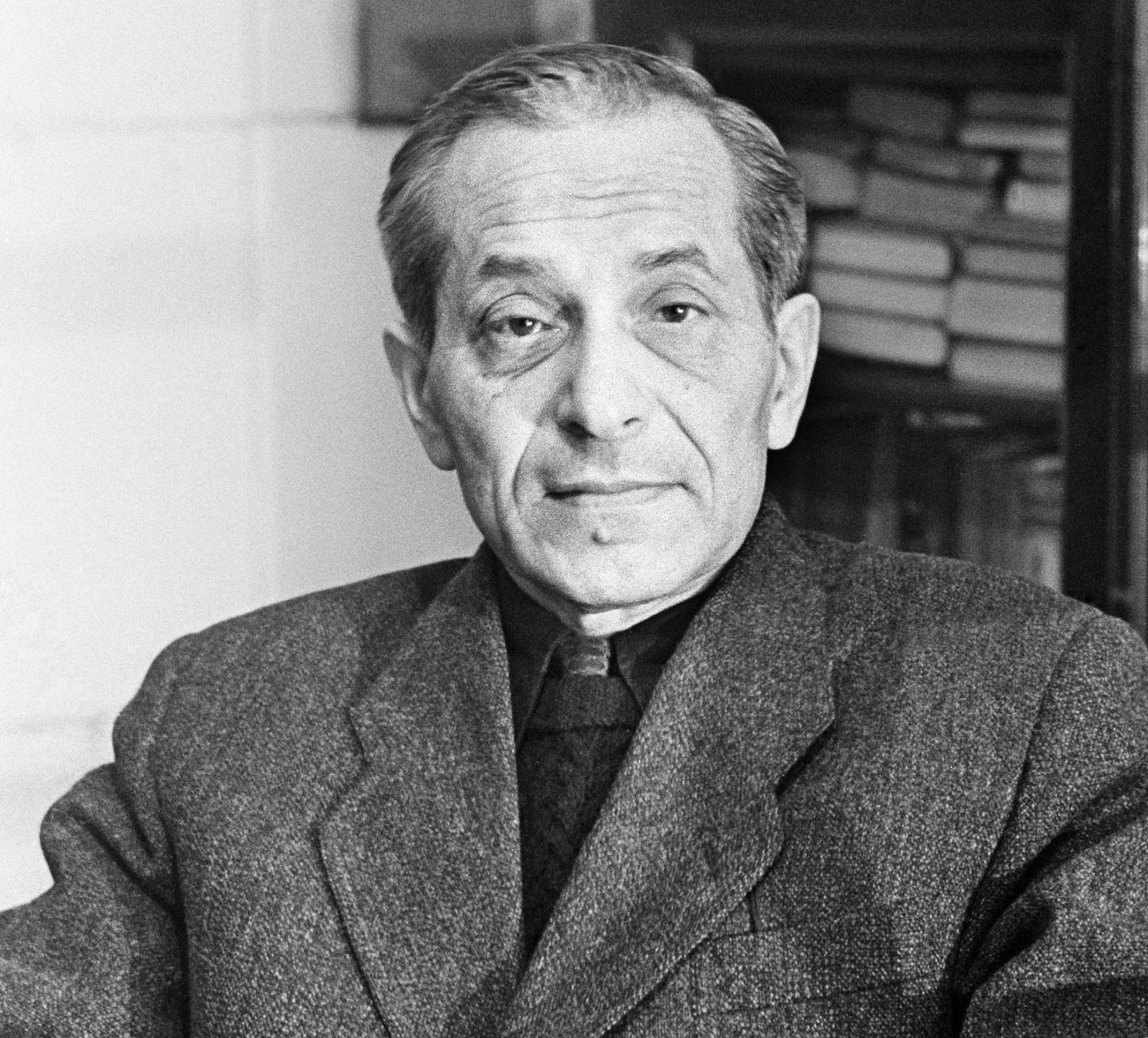 Mikhail Zoshchenko / TASS / Alexander Less
While one of the most famous successors to the Gogolian tradition in Soviet literature, Mikhail Zoshchenko is not well known to foreign readers. He wrote most of his best stories in the 1920s showing how the ideals of the revolution were replaced by petit bourgeois values. Zoshchenko's stories are vignettes or anecdotes: short, in simple language, often paradoxical and always very funny.
Even so, Zoshchenko was somewhat a favorite of the Soviet elite who viewed his satire in ideological terms - as a denunciation of "Philistinism" and the "birthmarks of the old world." However, Stalin saw in Zoshchenko's fiction not only rank-and-file "positive heroes," but Lenin who assumed the features of an amusing marionette. Stalin signaled a crackdown, and in 1946 Zoshchenko was labelled a vulgar and loathsome proponent of non-progressive and apolitical ideas.
Along with poet Anna Akhmatova, Zoshchenko was expelled by special decree from the Union of Writers and deprived of his "worker's" ration card. Publishers, journals and theaters began canceling their contracts and demanding that advances be returned.
44. Daniil Kharms (1905-1942)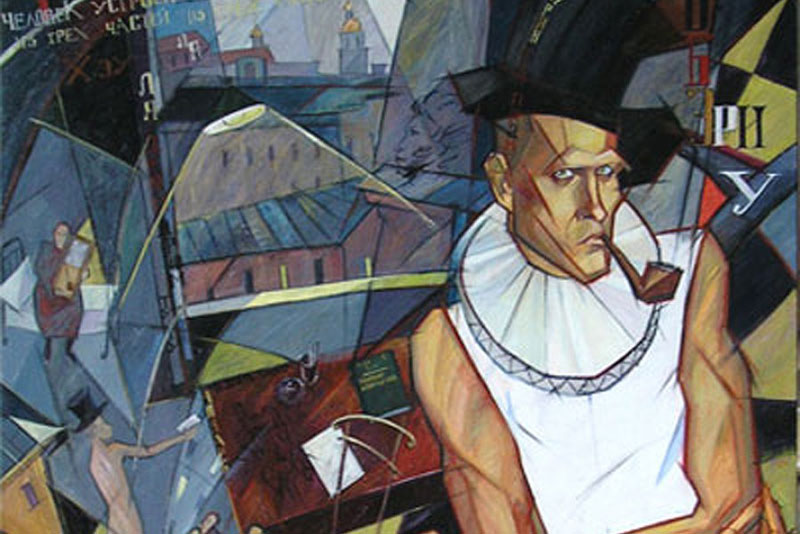 Daniil Kharms / Tatyana Druchinina
Another humorist, Kharms, whose original surname was Yuvachev, formed the absurdist OBERIU movement, together with poet Alexander Vvedensky. Censored, arrested and sent to a psychiatric hospital, Kharms starved during the siege of Leningrad in 1942, and his writings survived mostly in secret manuscripts, passed from hand to hand. Bathos (the effect of anticlimax and disappointment) is one of Kharms' chief satirical tools. The deliberate undermining of heroic images is in stark contrast with the officially sanctioned grandeur of socialist realist art in the Soviet era.
In his early "manifestos," Kharms proclaims: "Our work is about to begin and it consists of registering the world…" Some of his writing evokes everyday trials: waiting for the communal bathroom, running out of cigarettes, being bitten by fleas, and etc.
43. Ilya Ilf (1897-1937) and Yevgeny Petrov (1902-1942)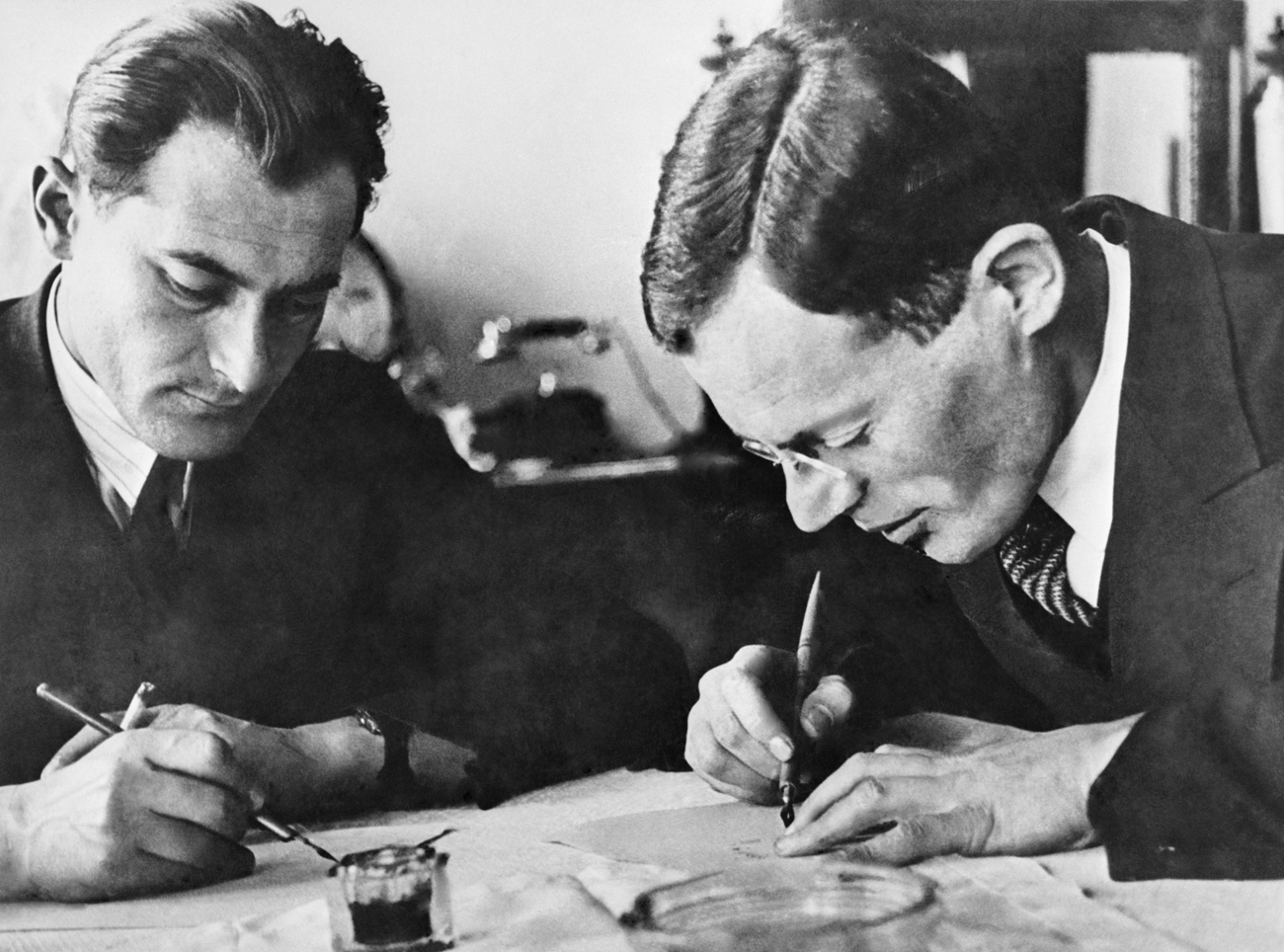 Ilya Ilf (R) and Yevgeny Petrov / TASS
We put these two writers in one entry because they were coauthors and wrote all their most famous books in collaboration. Born in Odessa, the capital of humor in the Russian Empire and Soviet Union, they became famous as Soviet kings of irony and adventurous plots. Their most famous books, screened several times, are "The Twelve Chairs" – about a man called Ostap Bender lying and having fake marriages in order to find a treasure box sewn in a covering of one of 12 chairs located in different parts of the country. The novel "The Little Golden Calf" is the sequel of Bender's adventures.
Together, Ilf and Petrov made a big trip across United States, from New York to the West coast, and even saw the building of the Golden Gate. In 1936, they published "American Road Trip," a nonfiction book based on their notes. It's interesting to read how these Soviet citizens were surprised by common items in the U.S., such as automatic circuit breakers or vending machines where you can buy a coke. And Coke was another thing they were surprised by.
42. Zinaida Gippius (1869-1945)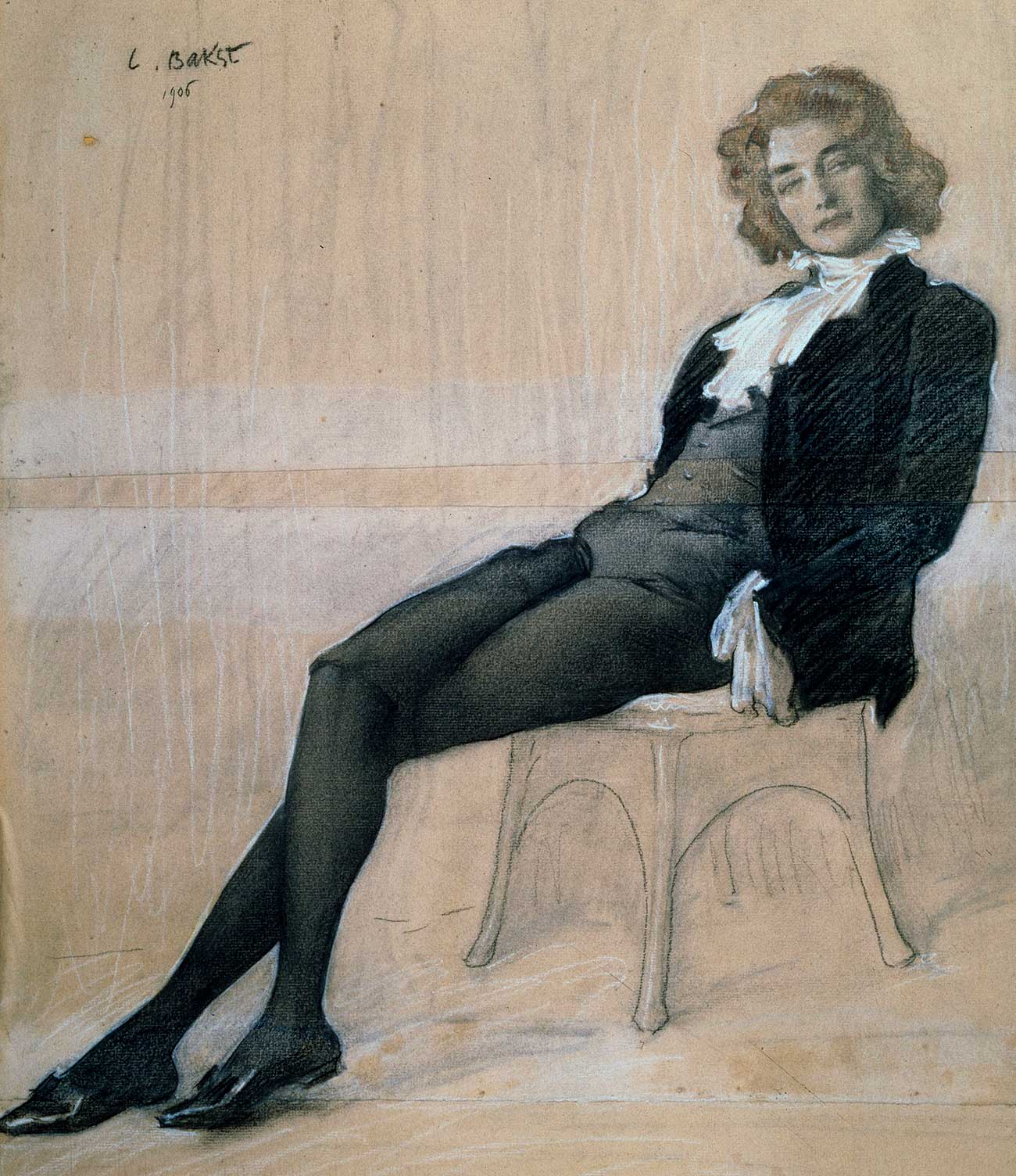 Portrait of Zinaida Gippius by Leon Bakst / AFP/East News
Zinaida Gippius was a prominent and significant Russian poet, prose writer and critic. Her poetic and cultural influence went hand in hand with her refusal to conform to prescribed notions of femininity. In 1889, after marrying Dmitry Merezhkovsky, who was a significant poet, writer and literary critic, she moved to St. Petersburg from her native Tula.
The pair soon became key figures in St. Petersburg's literary elite, hosting illustrious salon gatherings and becoming acquainted with leading figures such as Maxim Gorky, Anton Chekhov and Leo Tolstoy. Following the October Revolution in 1917 and the subsequent civil war, Gippius and Merezhkovsky joined the exodus of many prominent writers, philosophers and statesmen from Russia, moving to Paris in 1919.
41. Dmitry Merezhkovsky (1865-1941)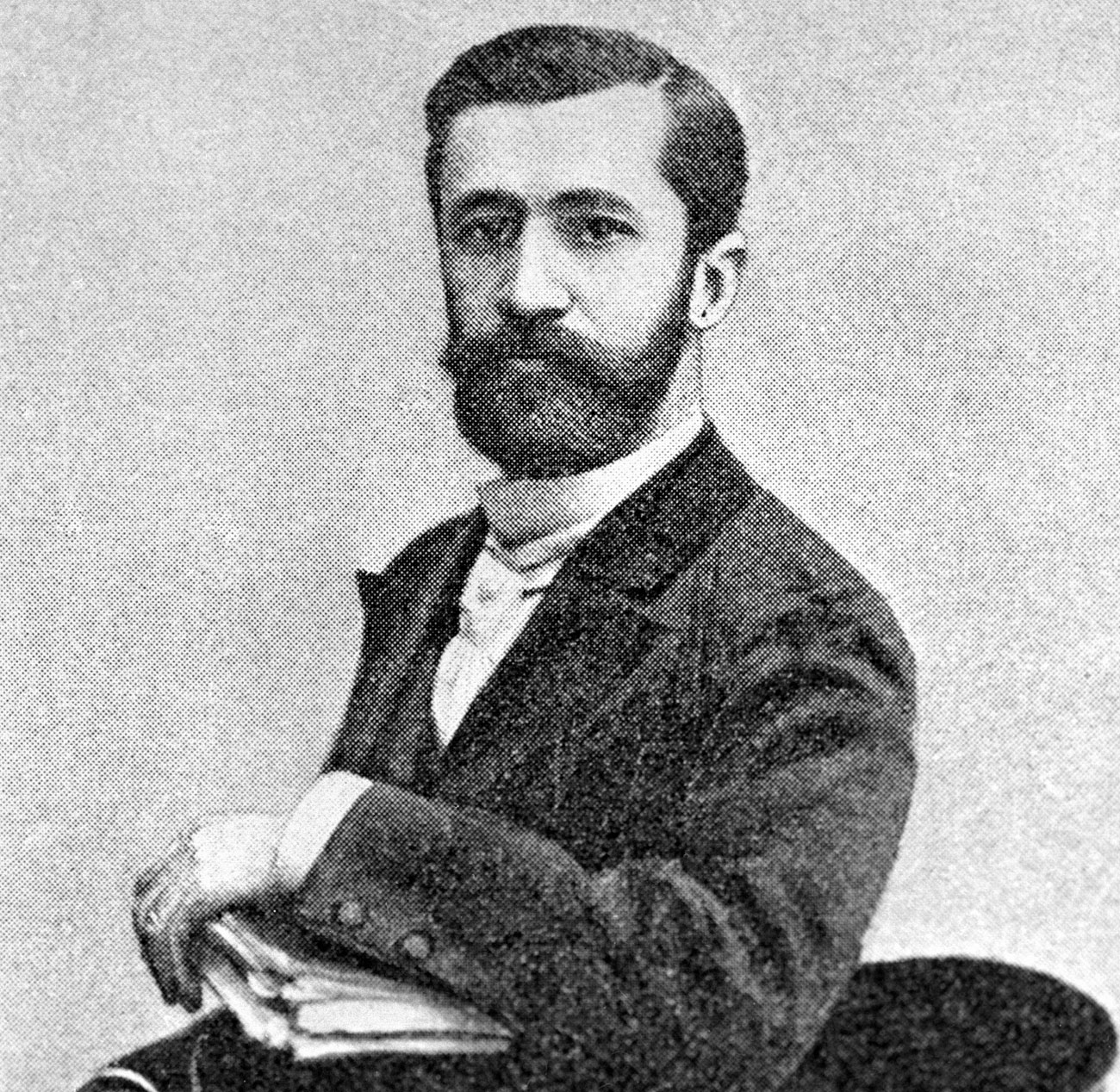 Dmitry Merezhkovsky / RIA Novosti
Merezhkovsky was a son of a privy councilor of Czar Alexander II. His childhood homes, a palatial dacha on St. Petersburg's Yelagin Island and a classical-style Crimean estate between mountains and the sea, fed Merezhkovsky's imagination picturesque source material.
Merezhovsky and his wife Zinaida Gippius became increasingly interested in esoteric religion, attempting to create their own church. They were an influential couple, gathering in their Petersburg house many talented poets and writers. Merezhkovsky was an author of several historical fiction novels, saying he used the past in "searching for the future." He became an increasingly controversial author, and in December 1919 he fled Russia and launched The New Ship magazine in France as a focus for dissident émigré literature. He became friends with another exiled writer, Ivan Bunin.
40. Andrei Voznesensky (1933-2010)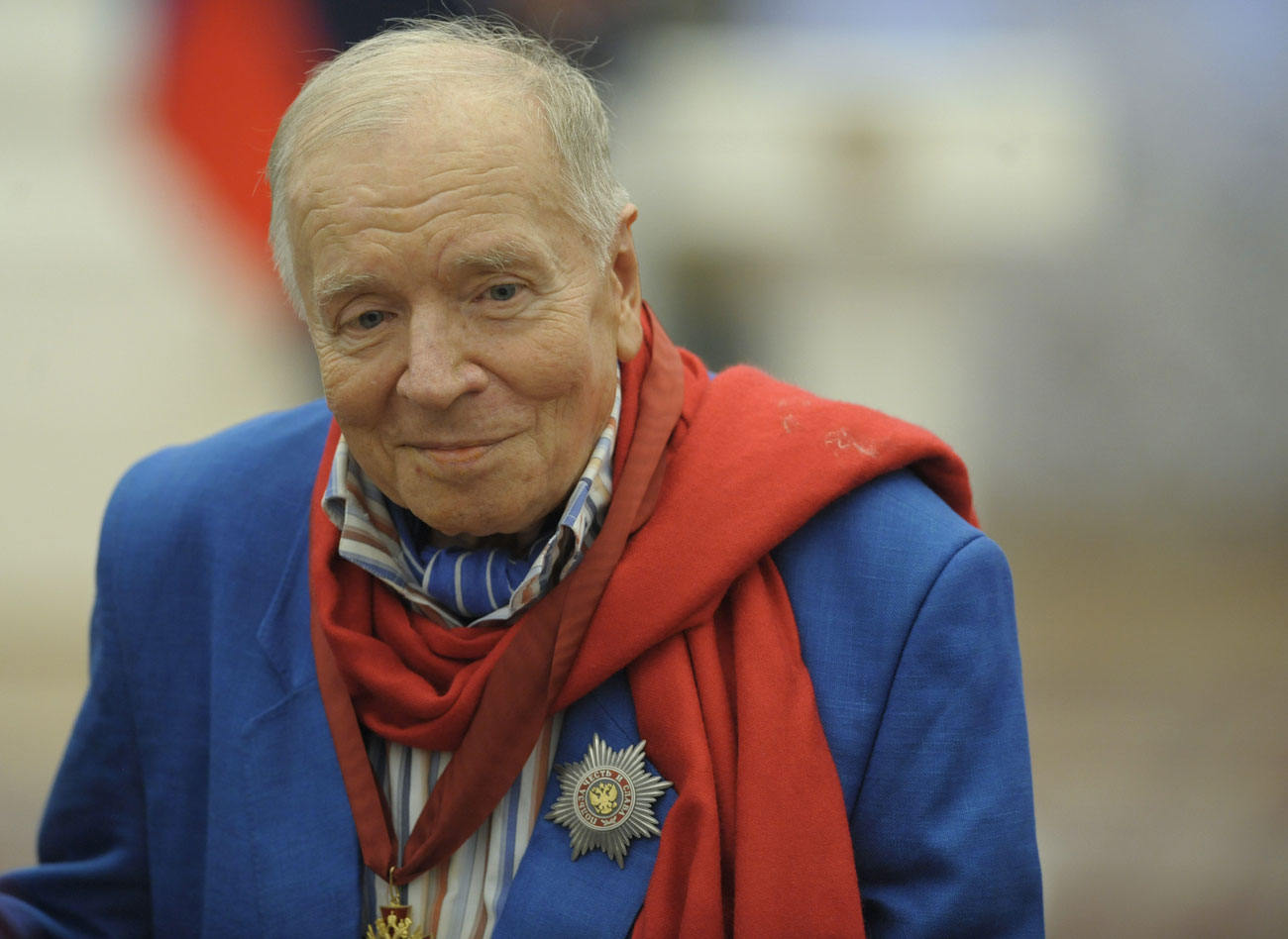 Andrei Voznesensky / RIA Novosti / Sergei Guneev
Voznesensky is one of the most famous poets of the generation of the 1960s, the so-called Sixtiers. Together with Yevtushenko and Akhmadulina they packed huge halls as people flocked to listen to them read their poetry. Most popular were evenings in the Moscow Polytechnical Museum. He considered himself a follower of Pasternak's tradition, and his work angered Soviet leader Nikita Khrushchev, who openly criticized the poet and suggested that he leave the country. Since the 1970s Voznesensky was more conformist and was published more frequently. His poems were interpreted into pop-songs in the 2000s.
39. Afanasy Fet (1820-1892)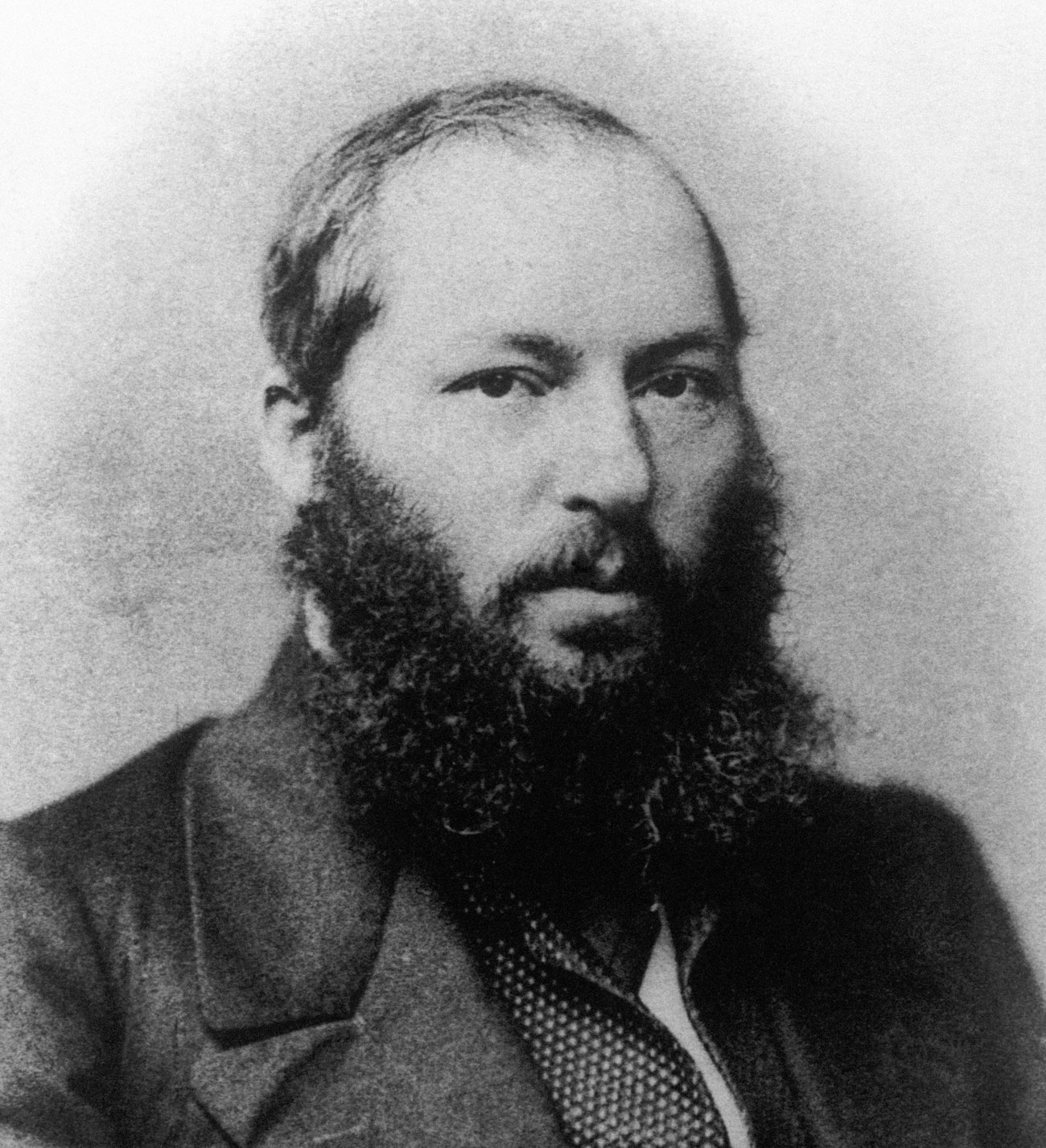 Afanasy Fet / TASS
Fet and Tyutchev are frequently studied together in Russian schools. So probably these two poets could have a battle for a place in our rating. But we give a higher rank to Tyutchev (find out below why) and put Fet at the honorable 39th place. He is a romantic poet, and the main themes of his lyrics are nature, love, beauty and art. He was also a translator of Goethe's "Faust," Ovid's "Metamorphoses," Catullus's poems and many other antique works. He even planned to complete a new translation of the Bible.
38. Fyodor Tyutchev (1803-1873)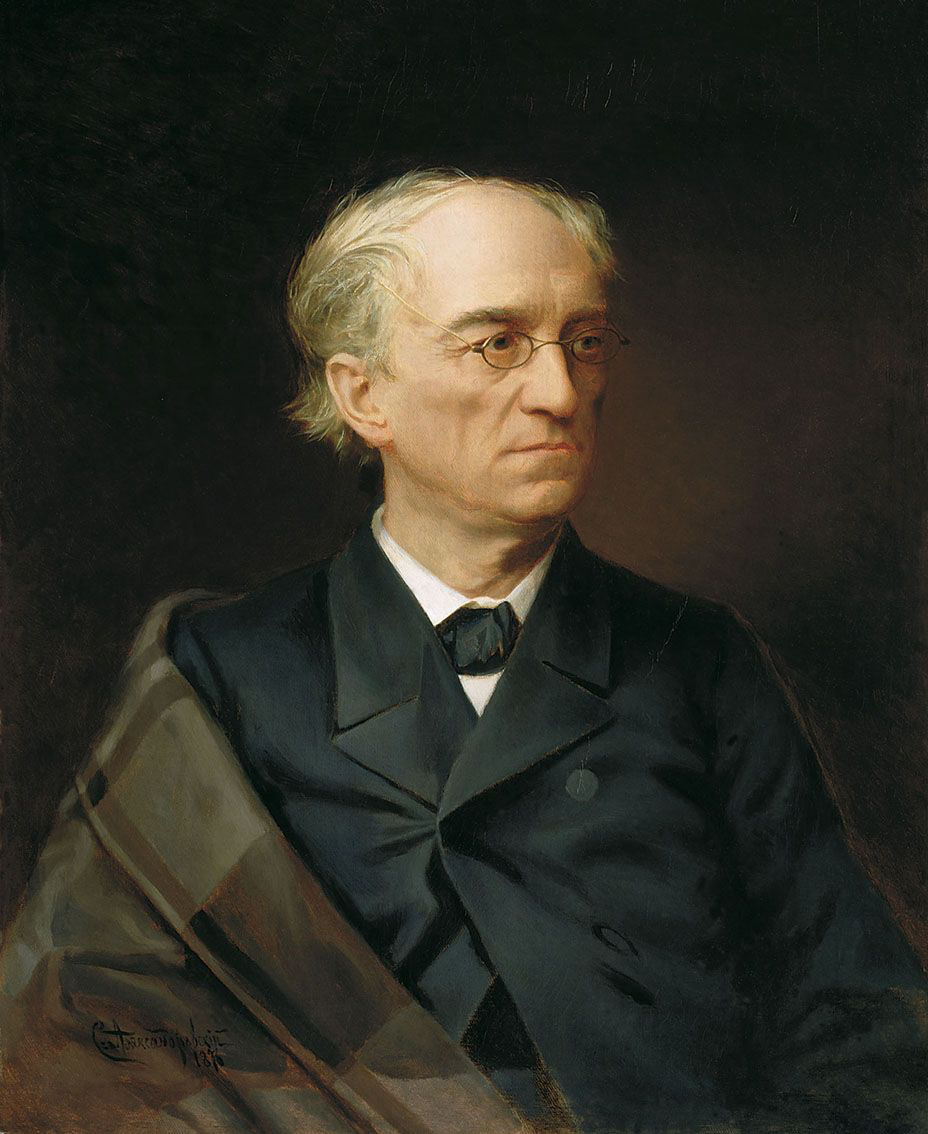 Fyodor Tyutchev by S. Aleksandrovsky / State Tretyakov Gallery
Russia can't be understood with the mind alone,
No ordinary yardstick can span her greatness:
She stands alone, unique –
In Russia, one can only believe.
That is one of the most renowned poems about Russia's essence, and the author of this verse was romantic poet Fyodor Tyutchev. He wrote so-called 'fragments' – poetic reflections and contemplations of nature. Admiring the sky is one of his main leitmotifs, while another part of his lyrics was devoted to love.
37. Yevgeny Zamyatin (1884-1937)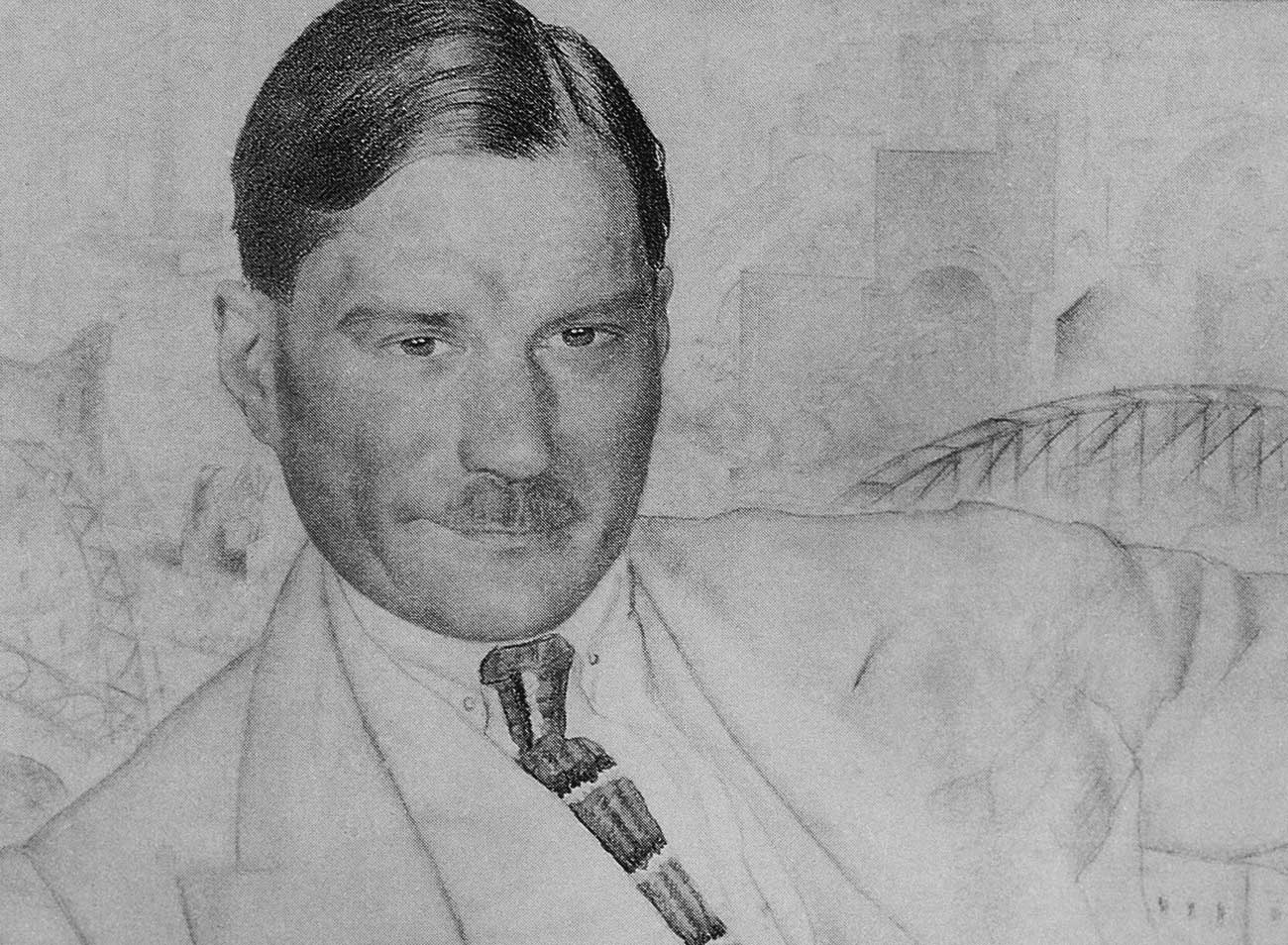 Yevgeny Zamyatin / TASS
Can you imagine that both George Orwell and Aldous Huxley wrote their "1984" and "Brave New World" after this author wrote his dystopia, "We"? Zamyatin was actually Russia's first dystopian writer, and "We" depicts an apparently ideal world where the Single State has suppressed freedom in the name of happiness.
In 1921, the manuscript for "We" was rejected by the censor. That same year – perhaps as a reaction to his novel being banned – Zamyatin published "I Fear," an essay that marked the end to any semblance of an official writing career he might have had in Russia. He wrote that, "true literature can exist only where it is created, not by diligent and trustworthy functionaries, but by madmen, hermits, heretics, dreamers, rebels, and skeptics."
Considering that the revolution was only four years old at this point, Zamyatin was certainly amongst the very first dissidents.
36. Alexey Ivanov (b. 1969)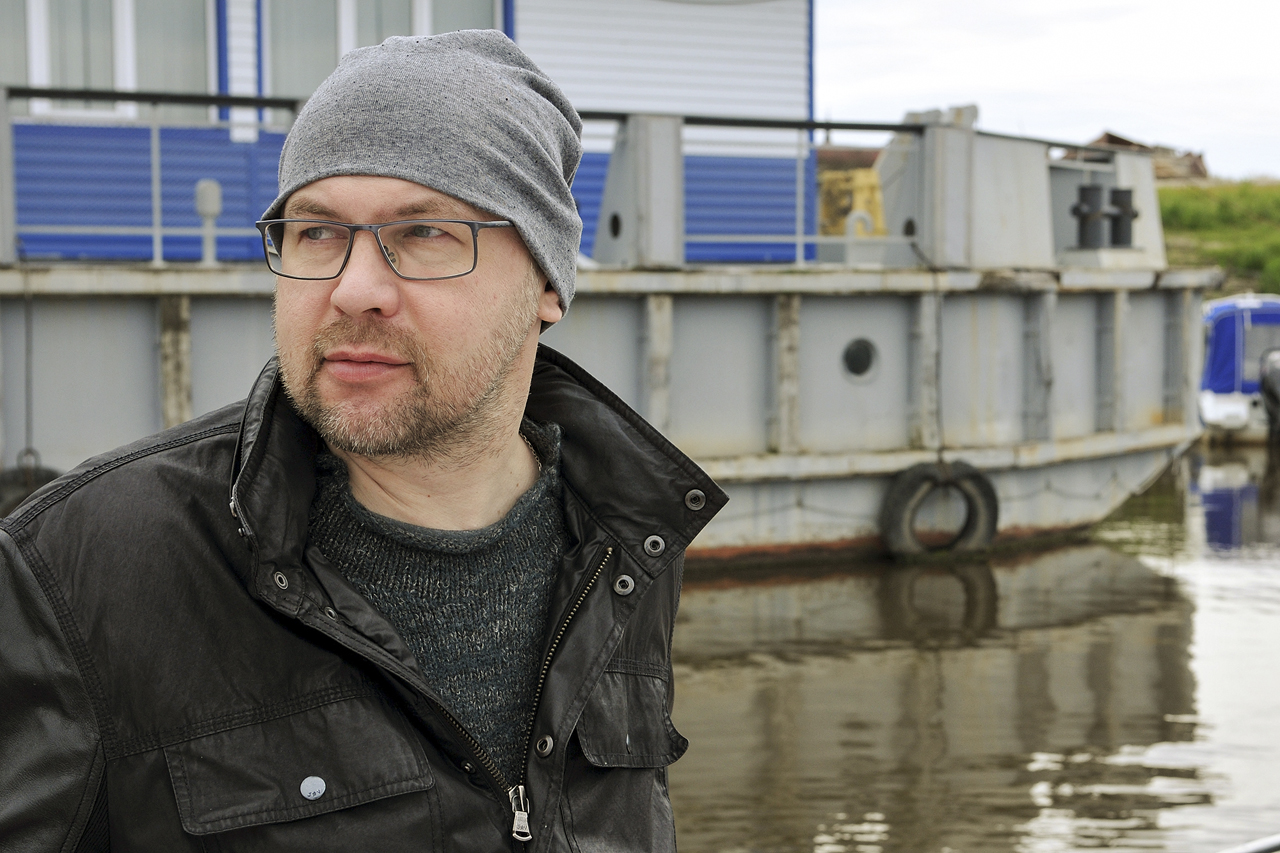 Alexey Ivanov / ivanproduction.com
Alexey Ivanov from Perm, is one of the most popular and prolific authors in Russia today. He has written over 20 titles, including bestsellers "Dorm on the Blood," "The Geographer Who Drank His Globe Away," "Treasure of the Rebellion," and "Heart of the Taiga." Ivanov's writing explores a variety of literary genres, including urban fiction, intellectual thriller, historical novel and historical nonfiction about Russia's provinces.
In 2010, award-winning director Pavel Lungin's film, "Tsar," based on Ivanov's script, represented Russia at the Cannes Film Festival. Ivanov's work became even more popular after the release of a film in 2013 by Alexander Veledinskiy based on the novel, "The Geographer Who Drank His Globe Away." Ivanov is the author, screenwriter and producer of the TV documentary, "The Backbone of Russia," which was featured on Russia's Channel 1.
35. Ludmila Ulitskaya (b. 1943)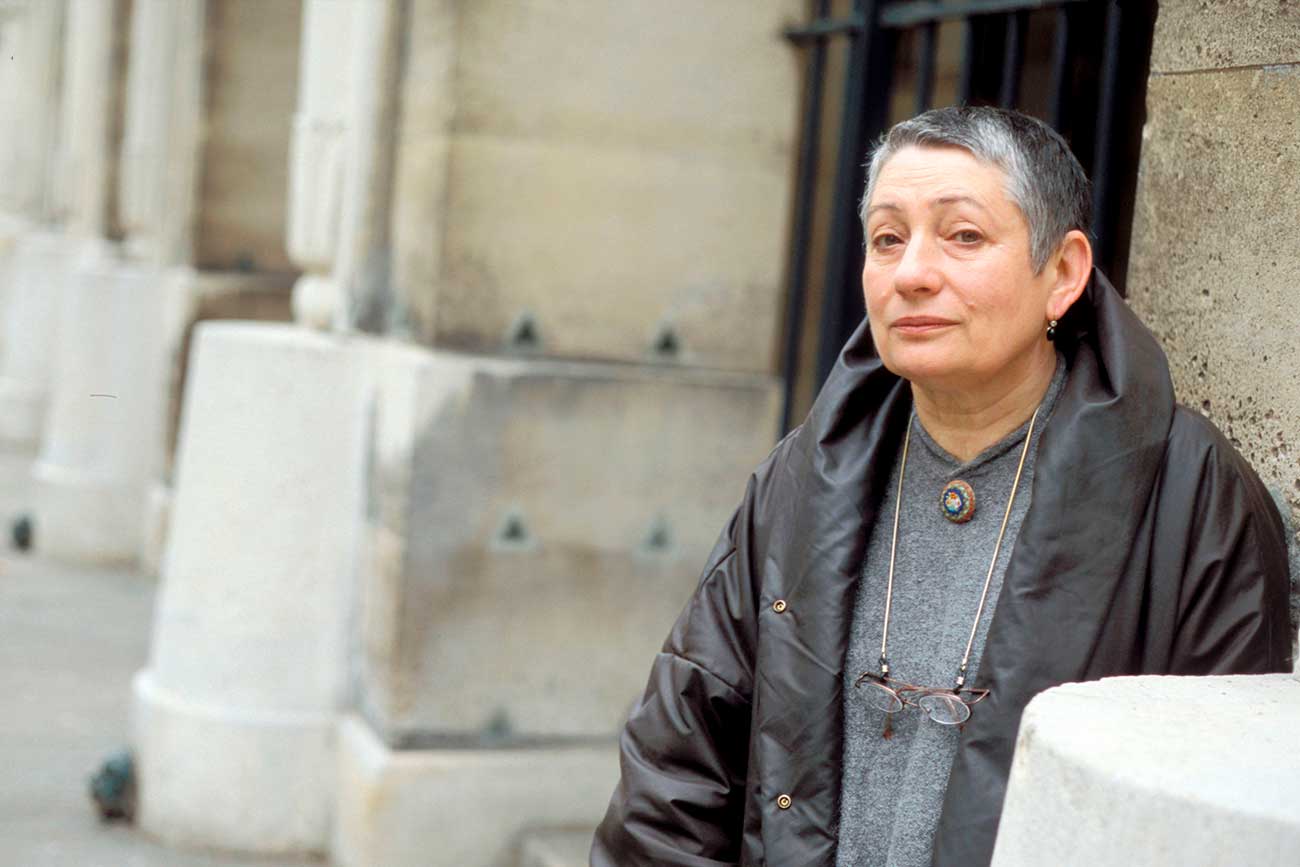 Ludmila Ulitskaya / East News
Ulitskaya is one of Russia's most influential, intellectual and major contemporary writers. Each of her novels is a long-awaiting event by dozens of critical works. Her most famous novels are "The Kukotsky Enigma," which is about an obstetrician who has a mystical gift; and "Daniel Stein, Interpreter" about a Jew who became a Catholic priest, and which was a bestseller that won Russia's main literary prize, The Big Book.
In her last novel, "Yakov's Ladder," she investigates the story of her grandfather who was exiled in Stalin's times. Ulitskaya is a contemporary liberal dissident who criticizes powerful elites. Because of her activity she was even doused with green dye.
34. Nikolai Karamzin (1766-1826)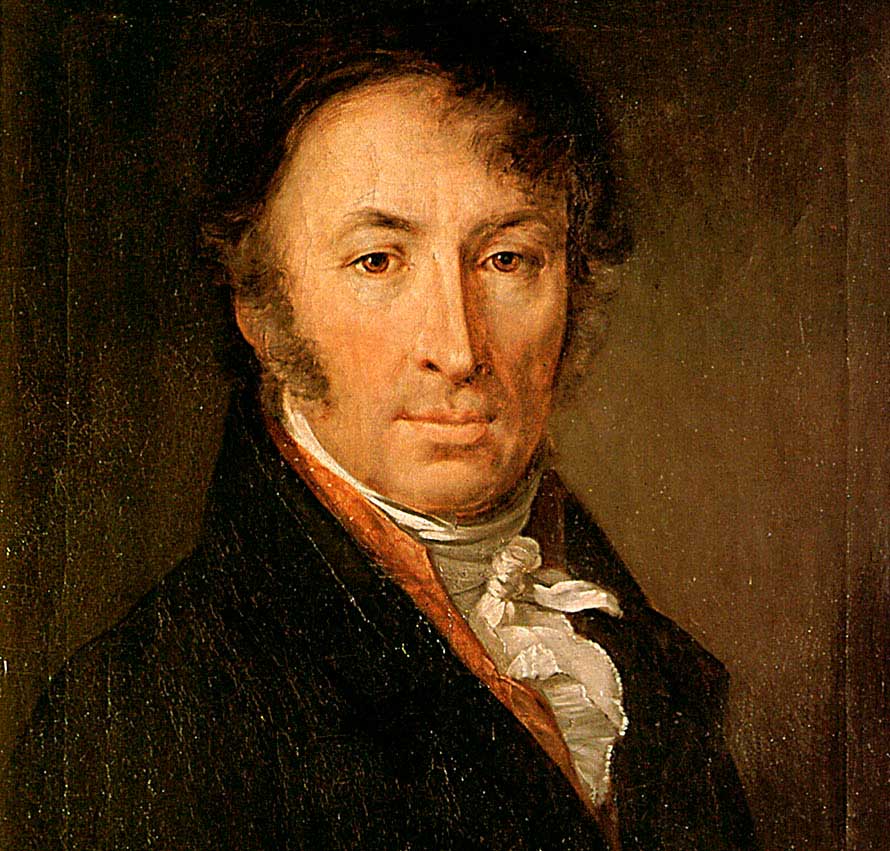 Portrait of Nikolai Karamzin by Vasily Tropinin / State Tretyakov Gallery
Another brave jump backwards to the past and we meet the founder of Russian Sentimentalism, Karamzin, and his story, "Poor Liza," which will make you cry. A girl from a peasant family falls in love with the nobleman, Erast, who turns out to be engaged to another woman. After a love affair he leaves Liza and she … Sorry, no spoilers here! Another thing that Karamzin is famous for is his massive work, "A History of the Russian State," the first written history of Russia, which previously was only known through religious literature and oral tradition.
33. Alexander Griboyedov (1795-1829)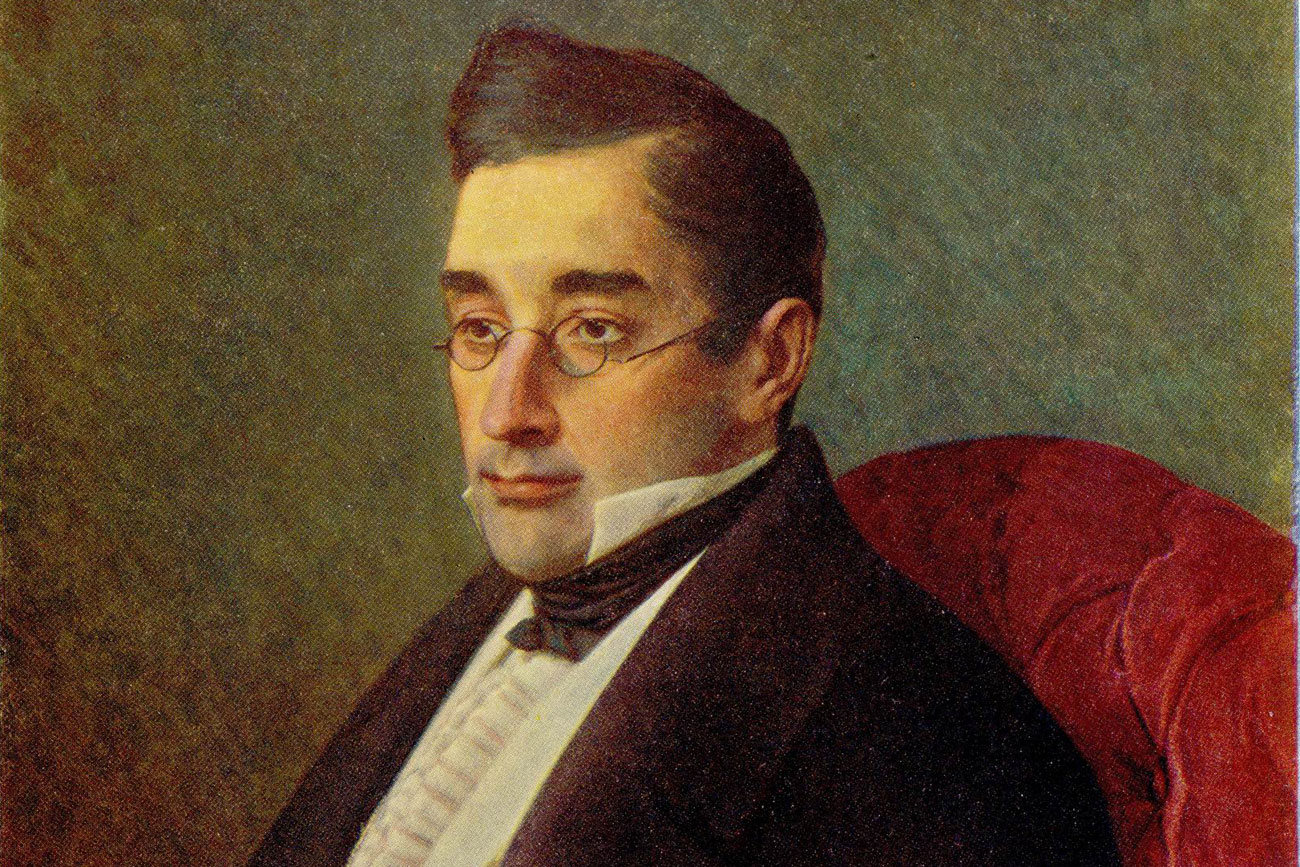 Portrait of Alexander Griboyedov by Ivan Kramskoi / wikipedia
A successful diplomat, talented composer and pianist, Alexander Griboyedov is most known for his play in verse, "Woe from Wit." The play is about Alexander Chatsky, a young man with progressive views who comes to Moscow after years of traveling. He heads to the home of his beloved Sophia, only to learn that she has preferred another suitor. Besides his misfortune in love, Chatsky also comes into conflict with Sophia's father and his friends.
It is a conflict between progressive views and rigid, conservative views whose proponents are concentrated in Moscow. Starting with Griboyedov's portrayal, the eternal contradiction between old and new is almost always the main conflict in all of Russian literature.
32. Sergei Dovlatov (1941-1990)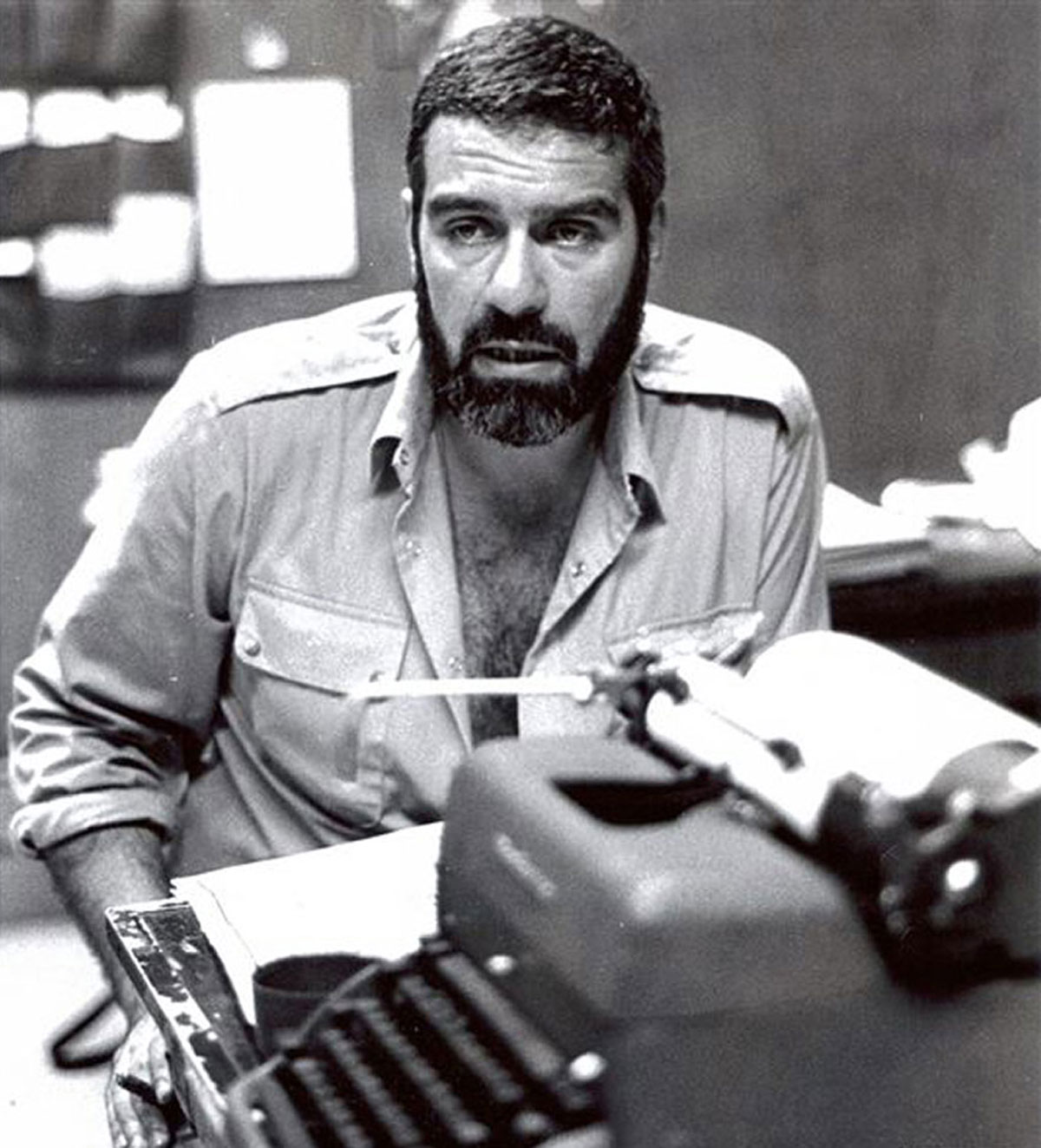 Sergei Dovlatov / Archive photo
The name of Sergei Dovlatov is a synonym for the ridiculous absurdities of Soviet life. He depicts workdays as a journalist facing numerous funny situations and drinking lots of alcohol. As the years passed these stories came to be seen as a brilliant chronicle of Soviet days, arousing laughter to the point of crying.
"The Compromise," "Pushkin Hills," and "The Suitcase" are what we highly recommend to read. In 1979, Dovlatov left the USSR for the U.S., settling in New York, which recently named a street in his honor. He was published in The New Yorker and was an editor at the Russian émigré magazine, "The New American."
31. Mikhail Saltykov-Shchedrin (1826-1889)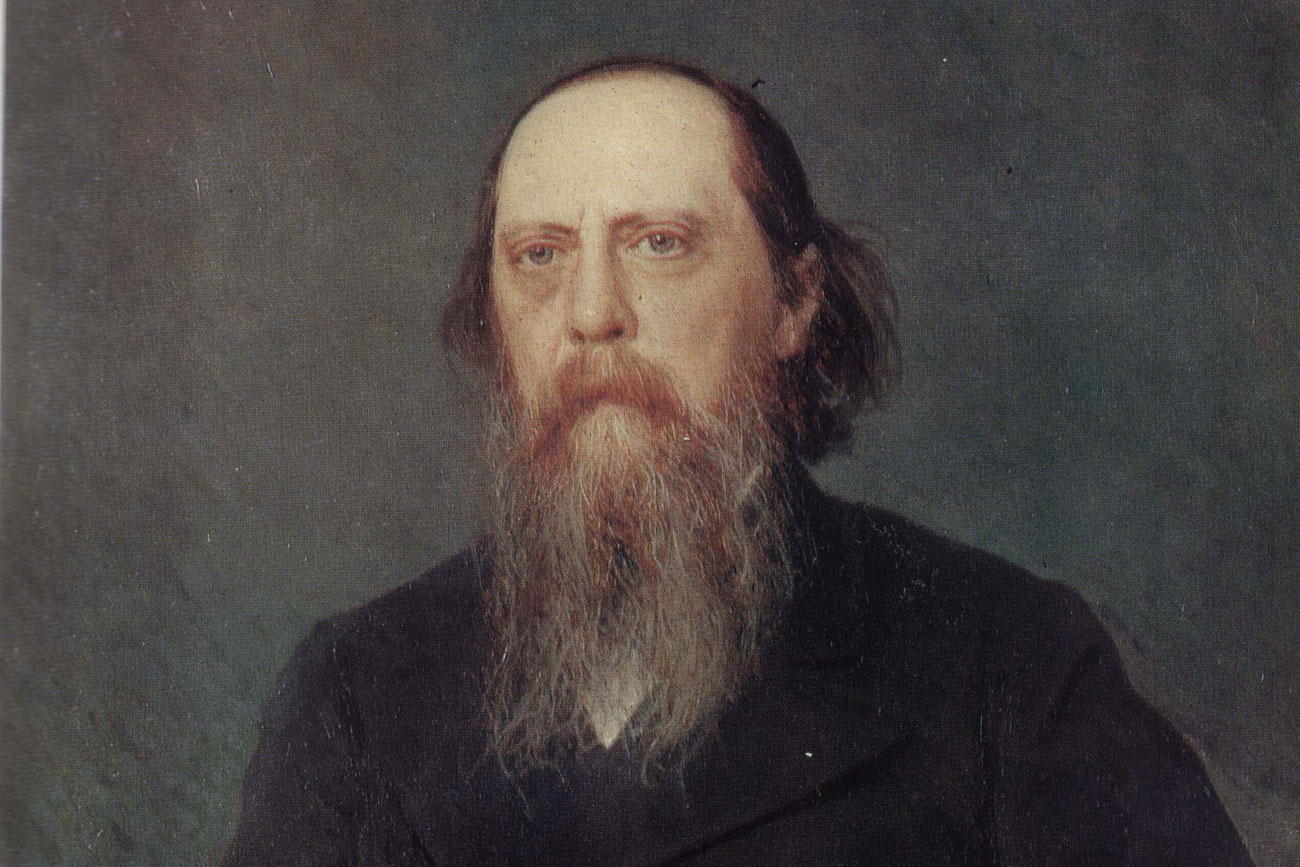 Portrait of Mikhail Saltykov-Schedrin by Ivan Kramskoi / State Tretyakov Gallery
Since he is still relevant, Saltykov-Shchedrin deserves prominent mention. As one of the most controversial writers of his day, and described by his contemporaries as a "writer of sarcasm and corrosive analysis," he was uncompromising in his biting satirical attacks on society and the state.
Although Russia has changed political systems twice since Saltykov-Shchedrin, his words are as relevant now as then - official corruption remains the scourge of modern Russia. In 1870, he published a satirical novel called "The History of a Town," which turned his mocking gaze away from the provinces and onto government circles. The Czar and his ministers were shown as city mayors, and the imagined town in question, Glupov, became a symbol for the regime. "Glupiy" means "stupid" in Russian, so the name implies "city of fools." He's also author of several tales where animals symbolize human vice.
30. Venedikt Erofeyev (1938-1990)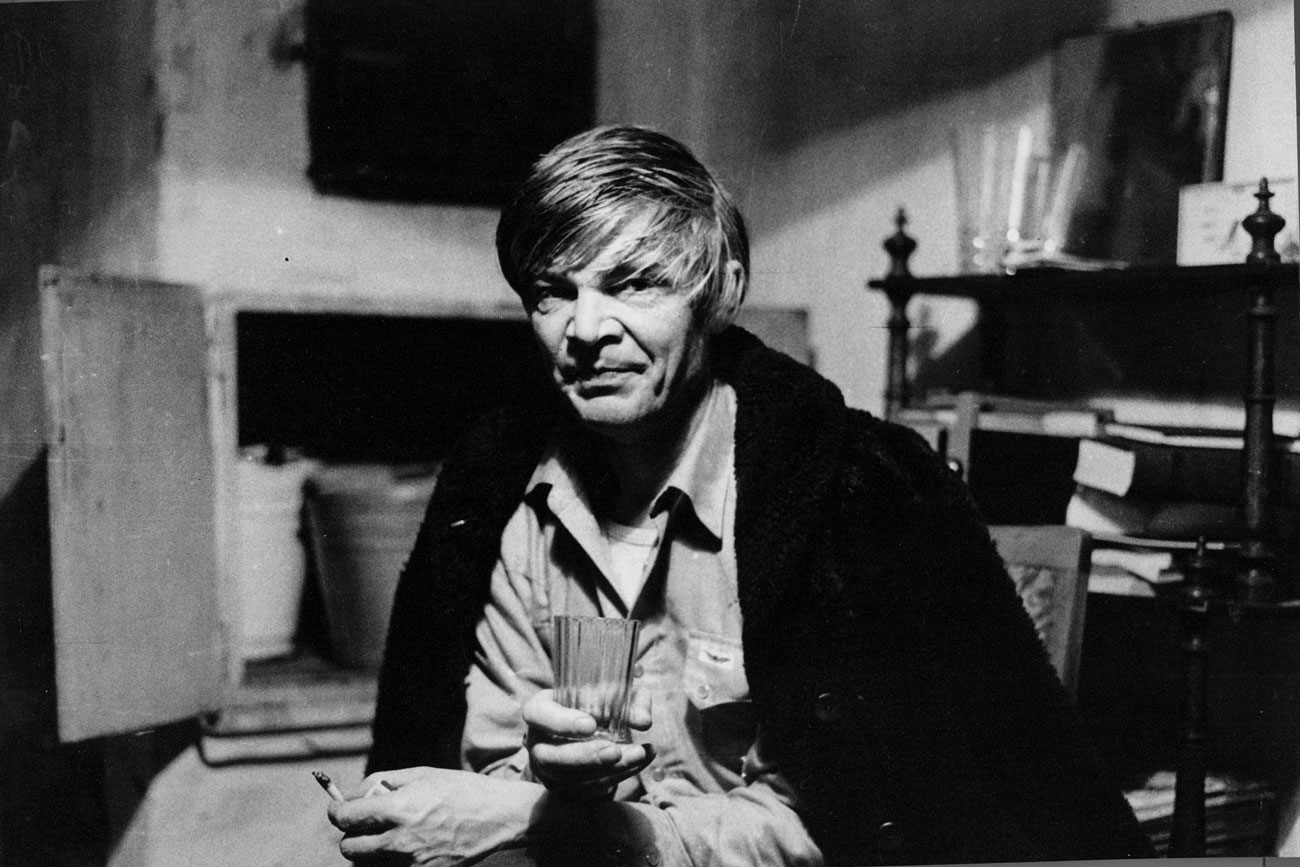 Venedikt Erofeyev / PhotoXpress
The mystery of Erofeyev's main work, "Moscow-Petushki," is a riddle without an answer. The storyline seems simple. In 1969, a drunken man boards a commuter train on his way to see his beloved. He has a bit more to drink while on the train; he raves, he jokes, and he talks to fellow passengers. But then he is stabbed. That, essentially, is the whole story.
Erofeev lived another 30 years after finishing his masterpiece, but he wrote very little during all that time. "Moscow-Petushki" was enough to win him global recognition, but interpretations of the book have always varied. To the man in the street, it is little more than the foul-mouthed ravings of an alcoholic. To outcasts and nonconformists, it is an ode to their creed. To critics, it is the first example of Russian postmodernism.
To people in the middle of a spiritual journey, it is an important religious text. Some even saw "Moscow-Petushki" as a protest against the Soviet system. To them, the moral of the story was that it is better to end up drunk in a ditch than to lead a false Soviet lifestyle that is imbued with the ideology of slavery and lacking any freedom.
29. Nikolai Nekrasov (1821-1877)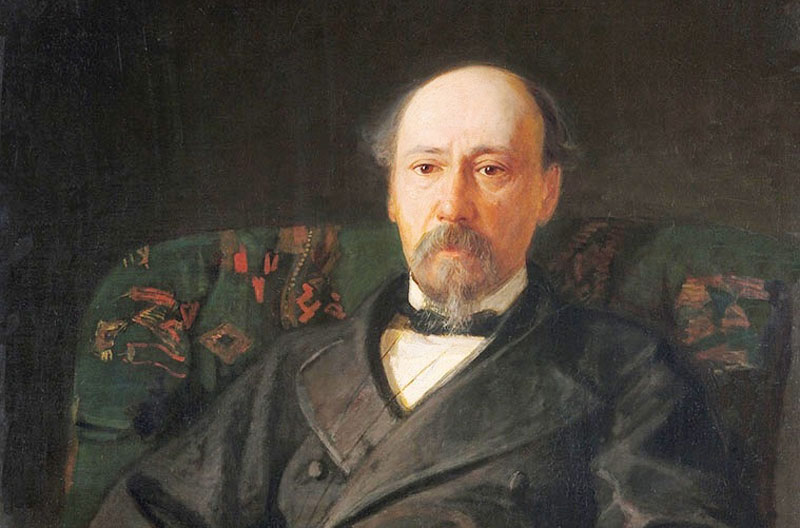 Portrait of Nikolai Nekrasov by Nikolai Ge / wikipedia
This is one of those writers whose soul suffered over Russia's fate. He authored the epic poem, "Who Is Happy in Russia?", where seven men travel and search for happy people and find none… Another epic poem, "Russian Women," tells the stories of wives that follow their husbands to exile in Siberia, men famous as Russia's first failed revolutionaries, the Decembrists. In fact, the phrase, "a Decembrist's wife," became an idiom in Russian meaning a very faithful woman ready to follow her husband through any trouble. Nekrasov was also famous as chief editor and publisher of two influential magazines – "Sovremennik" (Contemporary), founded by Alexander Pushkin, and then "Otechestvennye Zapiski" (Patriotic Notes).
28. Nikolai Leskov (1831-1895)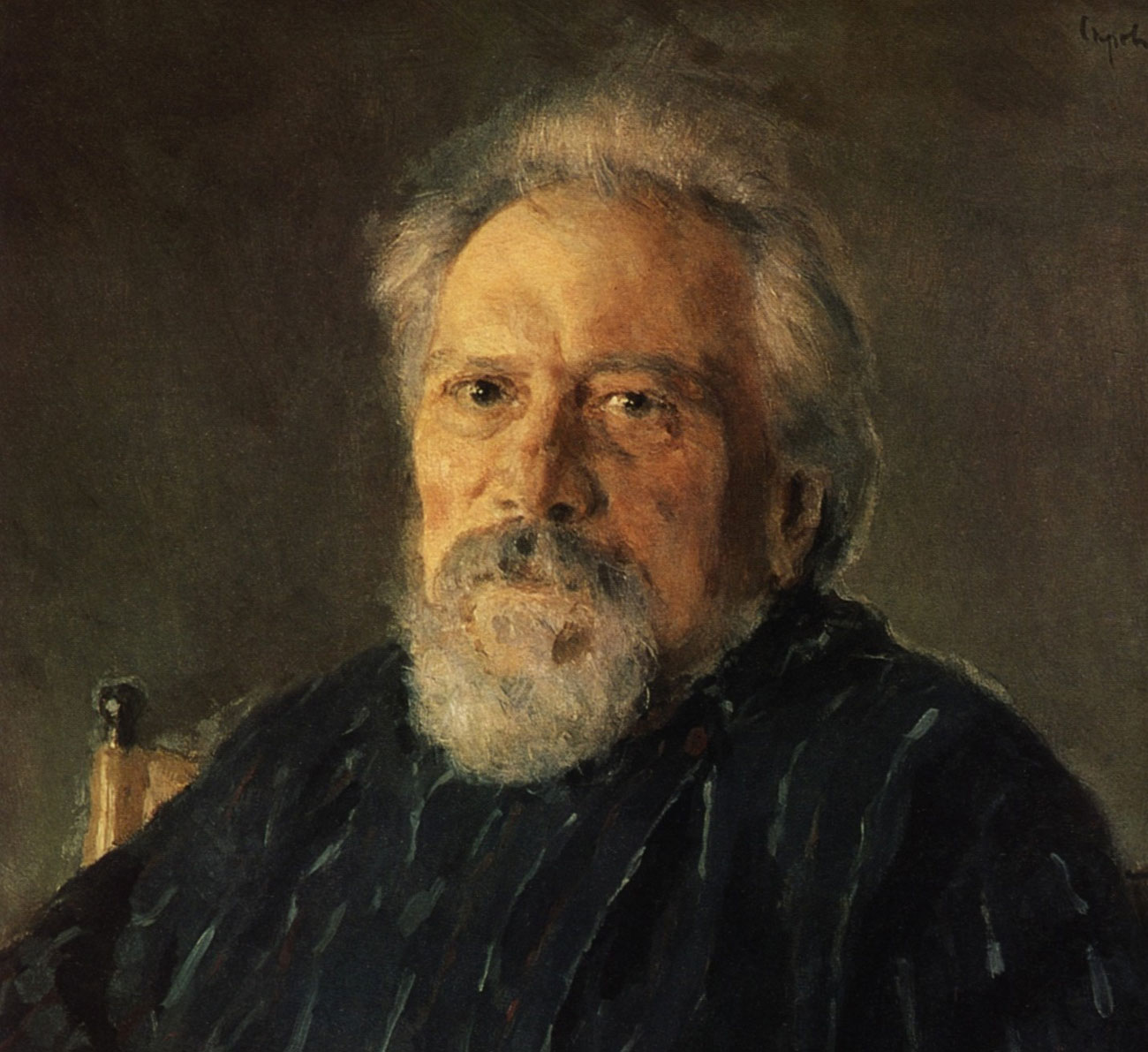 Portrait of Nikolai Leskov by Valentin Serov / wikipedia
Though listed among the great classic 19th century authors, Leskov has somehow been lost in translation. He was Chekhov's favorite author, and Maxim Gorky described him as the equal of Gogol, Turgenev and Tolstoy. Most foreigners who know Leskov's name usually hear of him only because Shostakovich based an opera on one of his short stories, "Lady Macbeth of Mtsensk."
He is also author of "The Enchanted Wanderer," a picturesque novella about the serf-born Ivan Flyagin, a connoisseur of horses who recounts his many near-death experiences. He works as coachman, soldier, actor, or nanny ("Russians can manage anything," said the man who gives him this job); and he meets alcoholic aristocrats with supernatural powers, or yurt-dwelling, Tatar horse-traders, as well as with feckless princes and fiery-eyed Gypsy girls. Another of his great works, "Left-Hander," depicts the mysterious Russian soul and a readiness to serve and make records.
27. Ivan Goncharov (1812-1891)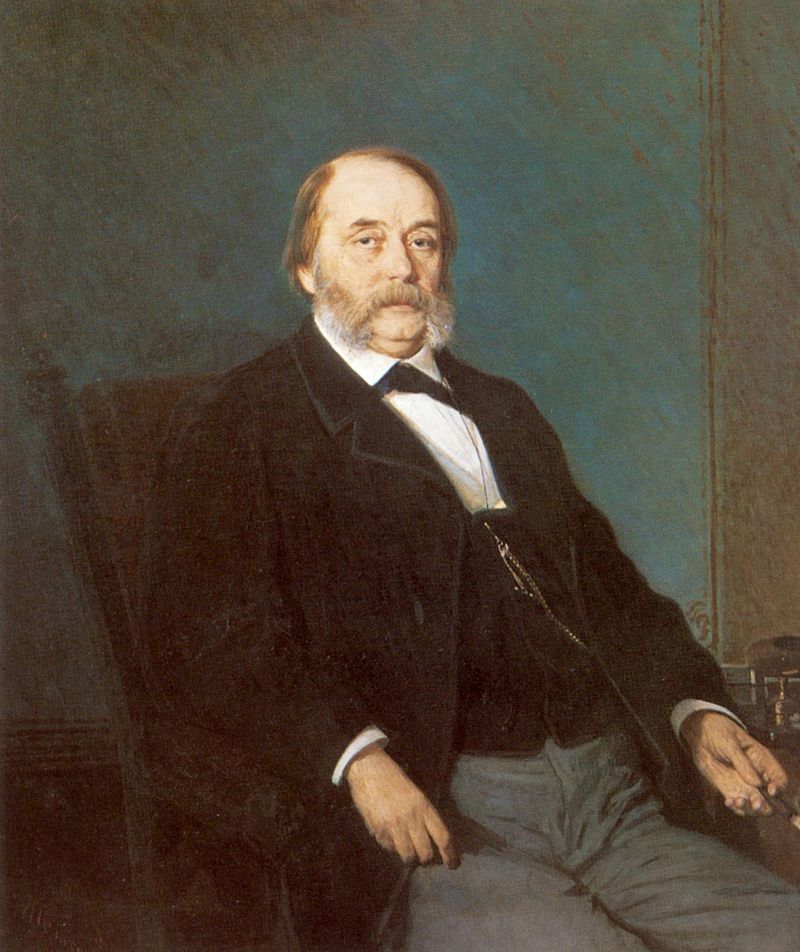 Ivan Goncharov / Open sources
This writer gave a birth to what Russia now considers its national symbol of laziness – Ilya Oblomov. The hero who lies on the coach during one third of the novel, "Oblomov," a man who doesn't know how to manage his money and property and entirely relies on his servant, Zakhar. Even after Ilya falls in love with a wonderful woman he is too amorphous for any action. After it was published, critics talked about the phenomenon of the 'oblomovshchina' - total laziness and procrastination sometimes found in the Russian spirit.
Another two novels that brought fame to Goncharov are "A Common Story," and "The Precipice" that also depicts everyday life and the mores of the Russian people.
26. Vasily Zhukovsky (1783-1852)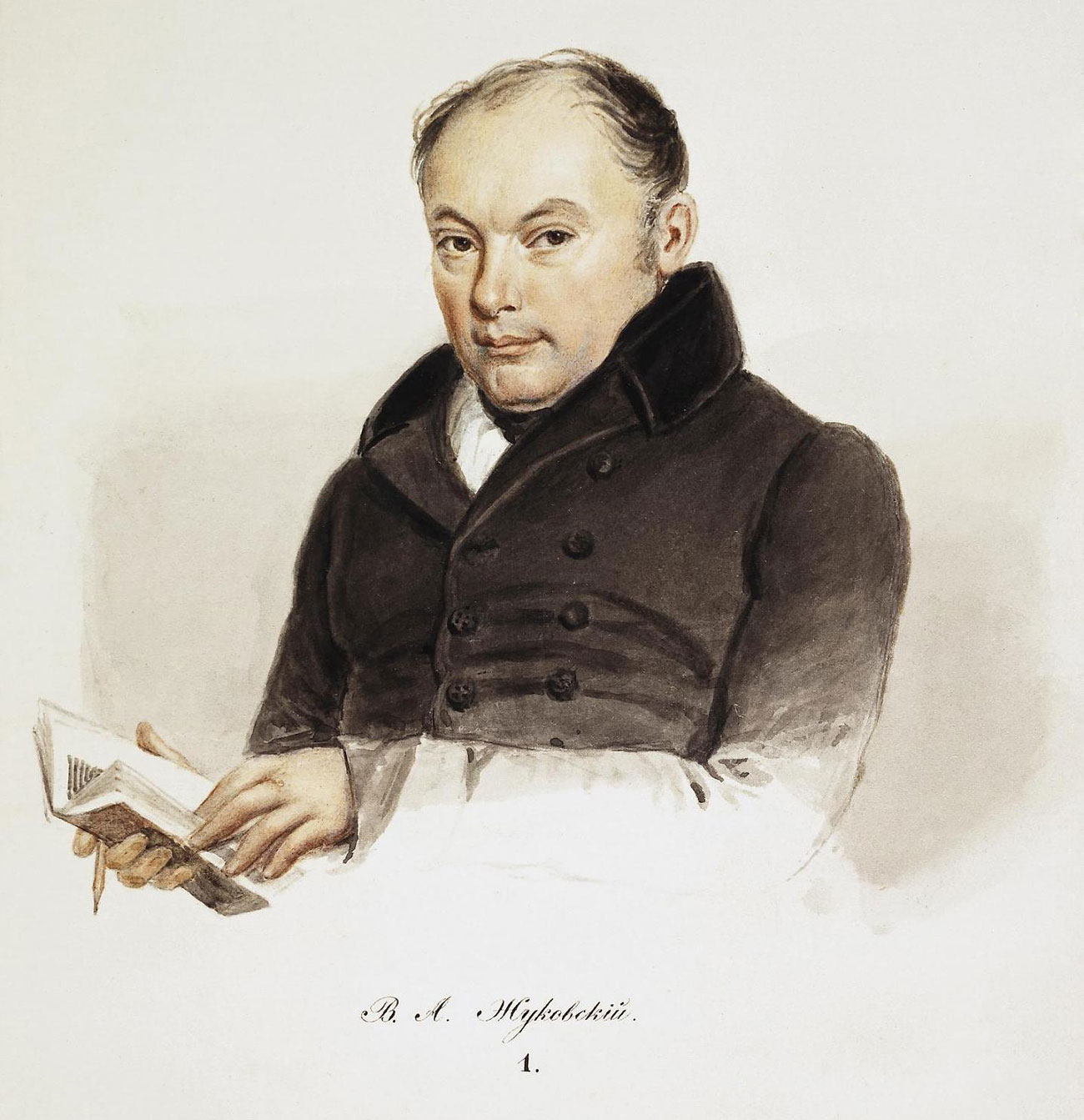 Portrait of Vasily Zhukovsky by I.Reimers / Hermitage
Zhukovsky could be called the father of Romanticism in Russian poetry. He wrote numerous elegies, songs, romances, ballads (most iconic are "Svetlana" and "Lyudmila") and epic poems. He was also a literary patron of Alexander Pushkin (as well as his defender before the Czar), and he was also a mentor of the Czarevich, the future Emperor Alexander II, and he also taught Russian to Alexander's mother, a German princess who became Russia's Czarina. One of his major achievements is the translation into Russian of Homer's "Odyssey," now considered a classic.
25. Eugene Vodolazkin (b. 1964)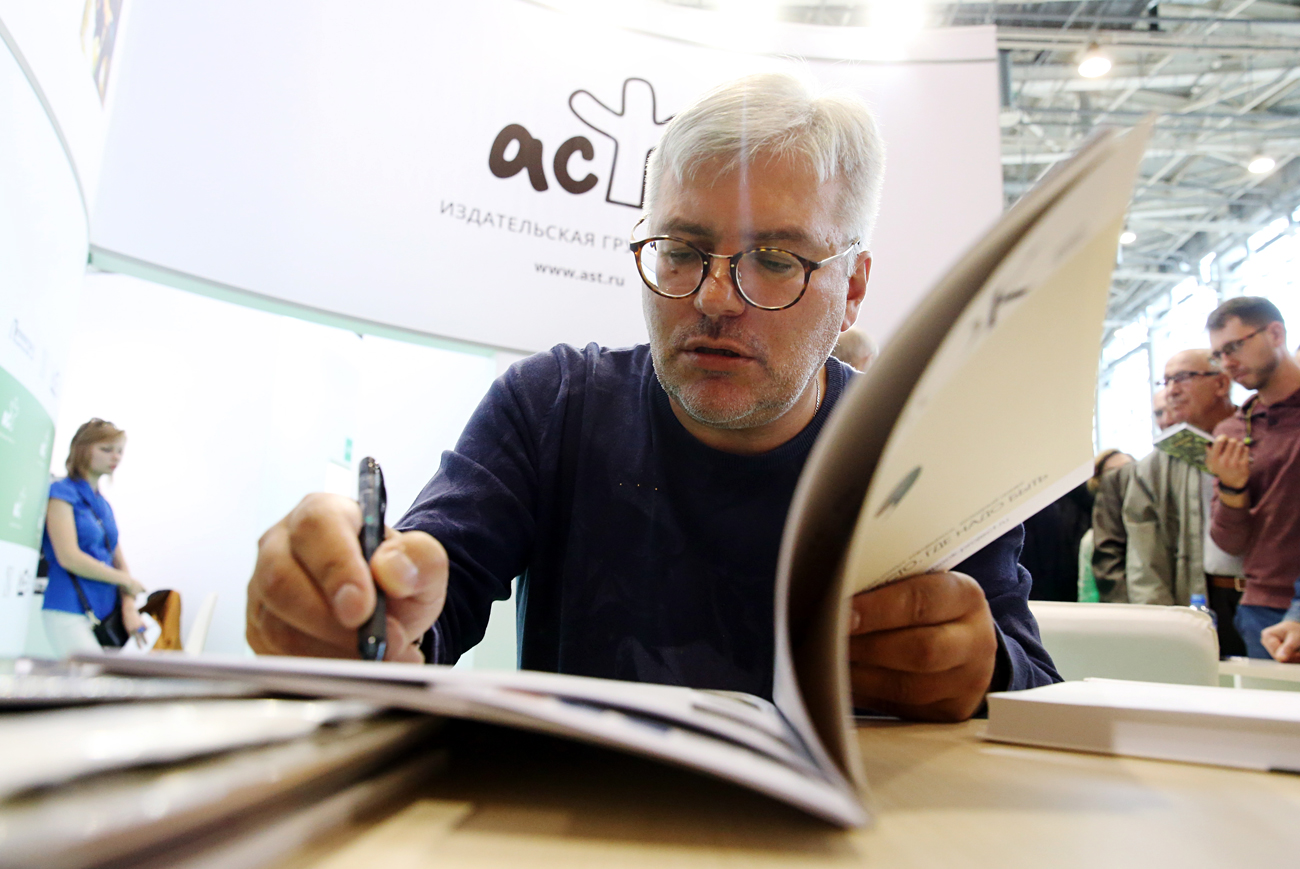 Eugene Vodolazkin / TASS / Vyacheslav Prokofyev
We'll take a risk and put this contemporary writer in the middle of classical giants, but we believe he won't disappoint you. A scholar specializing in medieval Russian history and literature, Vodolazkin is one of the top-selling authors today. He was also a student of the legendary academic, Dmitry Likhachov, and was interested in the refraction of time and space.
His most popular novel, "Laurus," tells the story of a medieval saint traveling around ancient Rus. Another novel, "Aviator," depicts a man who was frozen in the Solovki GULAG camp in the 1930s, and only thawed in the 2010s. He remembers the previous era and sees the differences between modern St. Petersburg and life in the past.
24. Alexander Ostrovsky (1823-1886)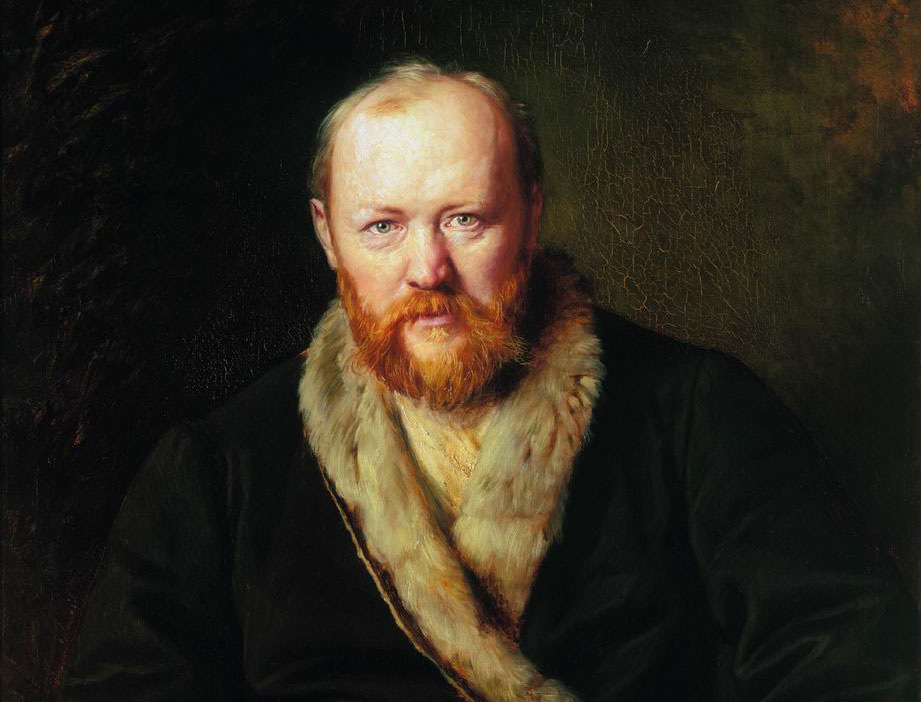 Portrait of Alexander Ostrovsky by Vasily Perov / State Tretyakov Gallery
As Russia's most important playwright (after Chekhov), Ostrovsky exerted a major influence on the development of Russian theater. He wrote more than 50 plays that in the 20th century were screened more than 40 times, and have been staged in drama theaters all over Russia.
Ostrovsky's plays draw portraits of the lives of the merchant class, petty officials and bourgeoisie. His most famous plays are "The Storm," and "Without a Dowry". "The Storm," which takes place in a small town on the Volga River, is the tragic story of Katerina who is unhappy in marriage, commits adultery and then commits suicide by throwing herself into the Volga.
23. Ivan Krylov (1769—1844)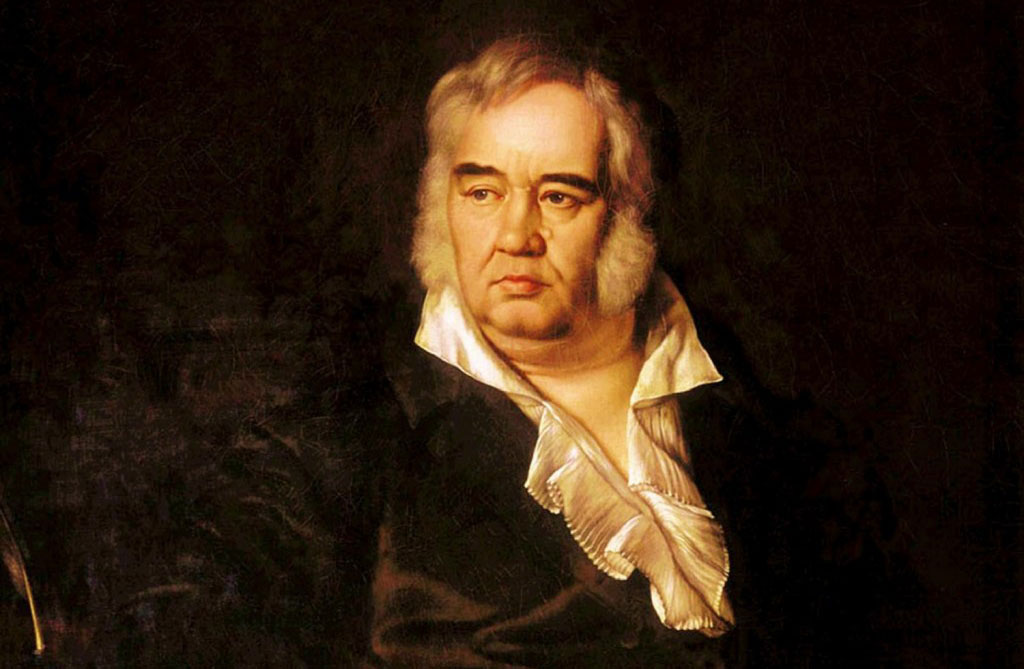 Portrait of Ivan Krylov by Ivan Eggink / open sources
Russia's Aesop and La Fontaine in one, Ivan Krylov is author of more than 200 fables, and was so thorough in this genre that no one else in Russian literature made a serious attempt at writing fables. Many of his verse and phrases are now idioms, and he also created a system of using animals to symbolize human characteristics. The most famous of Krylov's fables are: "The Crow and the Fox," "Swan, Pike and Crayfish," and "Dragonfly and ant".
22. Ivan Bunin (1870-1953)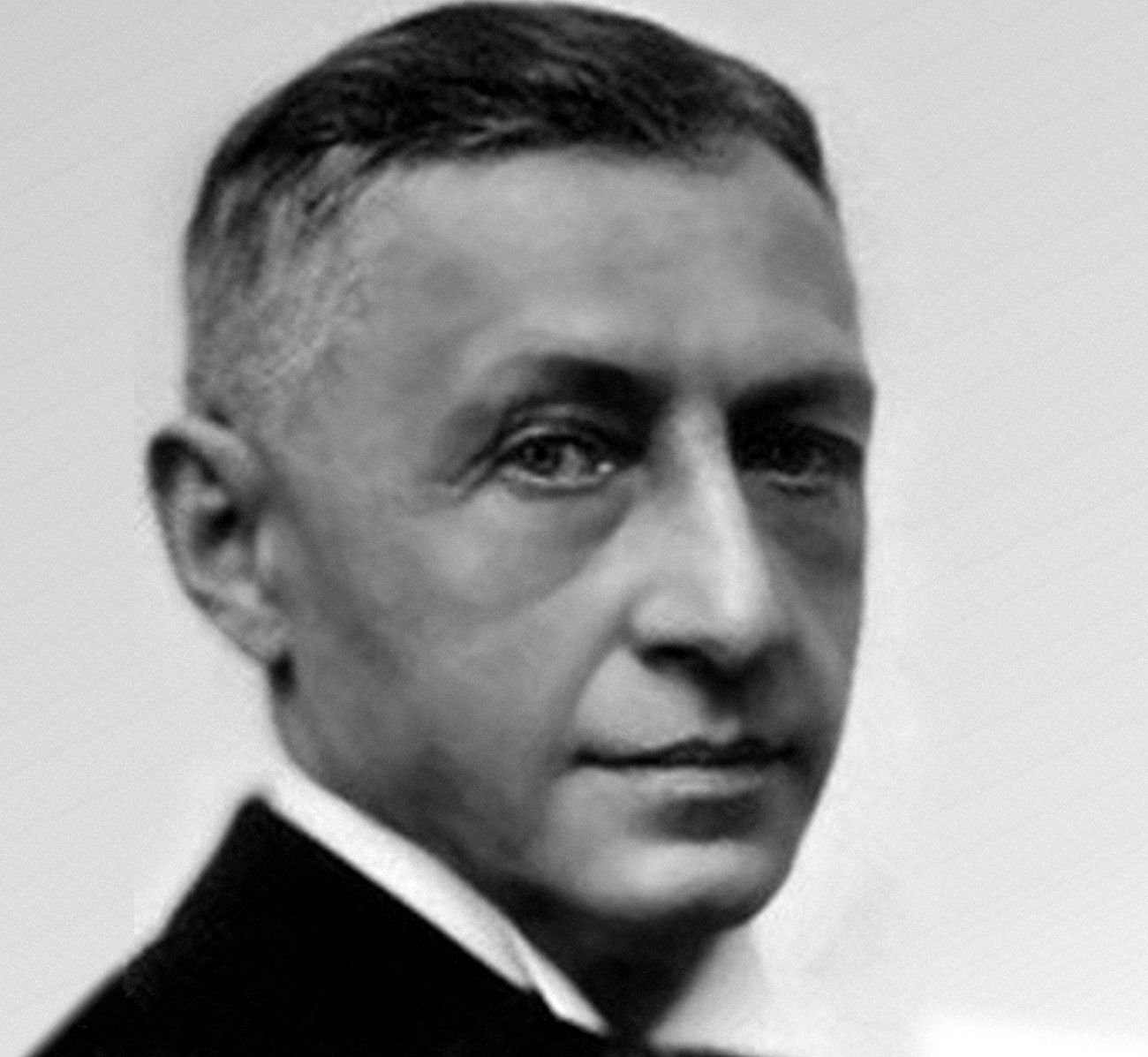 Ivan Bunin / wikipedia
Bunin is another Russian Nobel Prize winner for literature, awarded in 1933 "for the strict artistry with which he has carried on the classical Russian traditions in prose writing." He could be considered the last Russian writer of the 19th century, and did not accept Bolshevism and supported the Whites in the Civil War.
He emigrated from Russia to France in 1920, and his diaries, "Cursed Days," which reflect this turbulent and complicated period, were partially published in a Russian émigré newspaper in Paris. The work was not published in the USSR until perestroika because it was filled with hatred towards the Bolsheviks and disillusionment with the revolution. Bunin himself considered his short story anthology, "Dark Avenues," to be one of his best works.
21. Mikhail Bulgakov (1891-1940)
Mikhail Bulgakov / TASS
Mikhail Bulgakov is one of the most popular Russian writers ever, and his "Master and Margarita" is one of the most favorite novels among Russians. This work has two parallel plots: 1) Satan and his retinue comes to Moscow in the 1920s and have fun with their devilish hijinx; and 2) Yeshua (Jesus) is tried and executed in Jerusalem 2,000 years ago. Bulgakov is full of humor and satire, and another of his popular works is "The Dog's Heart." The Soviet screening of this story is a must-see. Bulgakov worked as a scriptwriter for the Moscow Art Theater, but when he got on Stalin's bad side his novels weren't published.
20. Marina Tsvetaeva (1892-1941)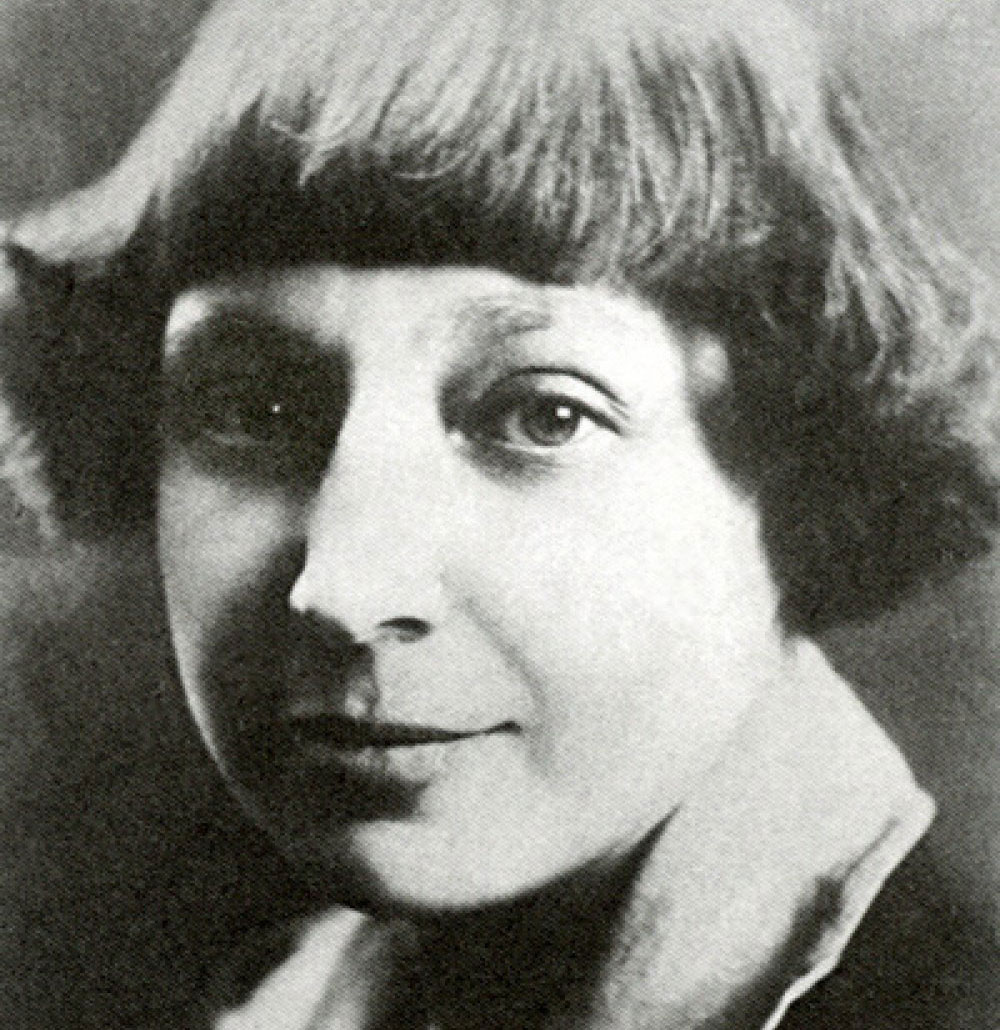 Marina Tsvetaeva / wikipedia
Marina Tsvetaeva's sensitive poems are filled with anguish of a conquered people who are in love or suffered from unrequited love. She was one of the brightest poets of the Russian Silver Age, whose life straddles two very different worlds: the late-Tsarist period of her childhood, and the turbulent early Soviet period. She had to flee Russia after the Revolution because she was disillusioned and alienated by the brutal new reality.
"It is not about politics but about the new man – inhuman, semi-machine, half-ape and half-sheep." Because of starvation in revolutionary times, Tsvetaeva lost her three-year old daughter. Tsvetaeva married Sergei Efron but had a love affair with Sofiya Parnok, and an epistolary affair with Pasternak and Rilke. She committed suicide just as the Second World War began and when her husband and other daughter were arrested.
19. Osip Mandelstam (1891-1938)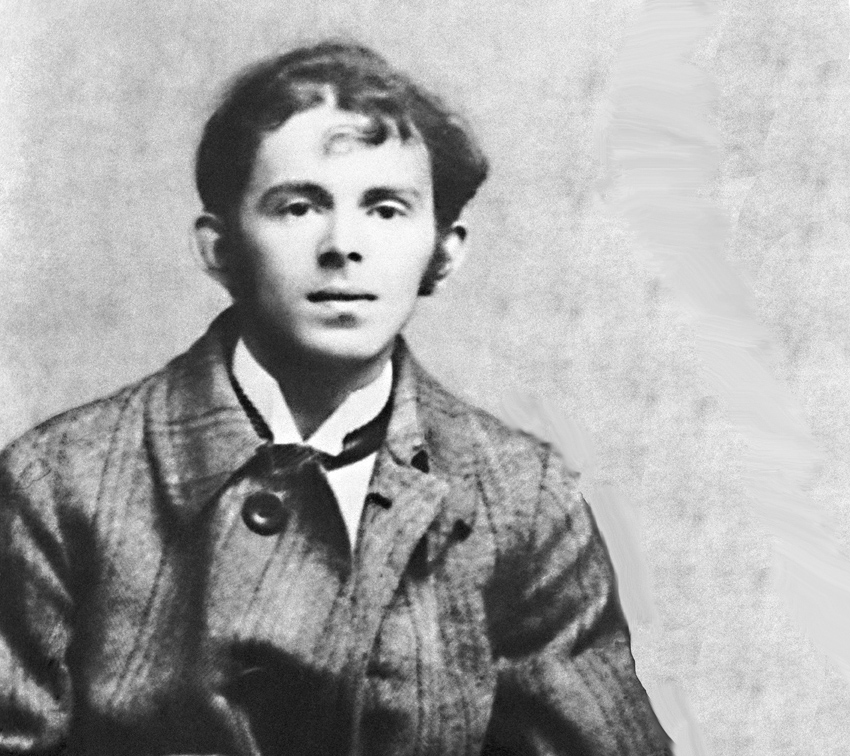 Osip Mandelstam / TASS
Here is a poet who suffered much under Soviet rule - banned, then exiled and then killed somewhere on the way to Sakhalin. Mandelstam made his poetic debut with "Stone," a collection of poems. He was a part of the literary community of acmeists, which included Akhmatova and Gumilev. He studied in the Sorbonne and Heidelberg University, and his poems were full of European spirit and allusions to Ancient Greece.
In the 1930s, Mandelstam's anti-Soviet position became too blatant and he was almost totally banned from publishing. In 1933, he wrote an anti-Stalinist epigram, which contains the famous line, "We live, not feeling the country beneath us." As a result, he was arrested and sent to exile outside of Moscow. In 1938, he was sentenced to five years in a labor camp. Somewhere on the way to the Russian Far East, he died. The exact burial place and the circumstances of his death are still unknown.
Contemporary director Roman Liberov made an animated movie about Mandelstam - "Save My Speech Forever."
18. Sergei Yesenin (1895-1925)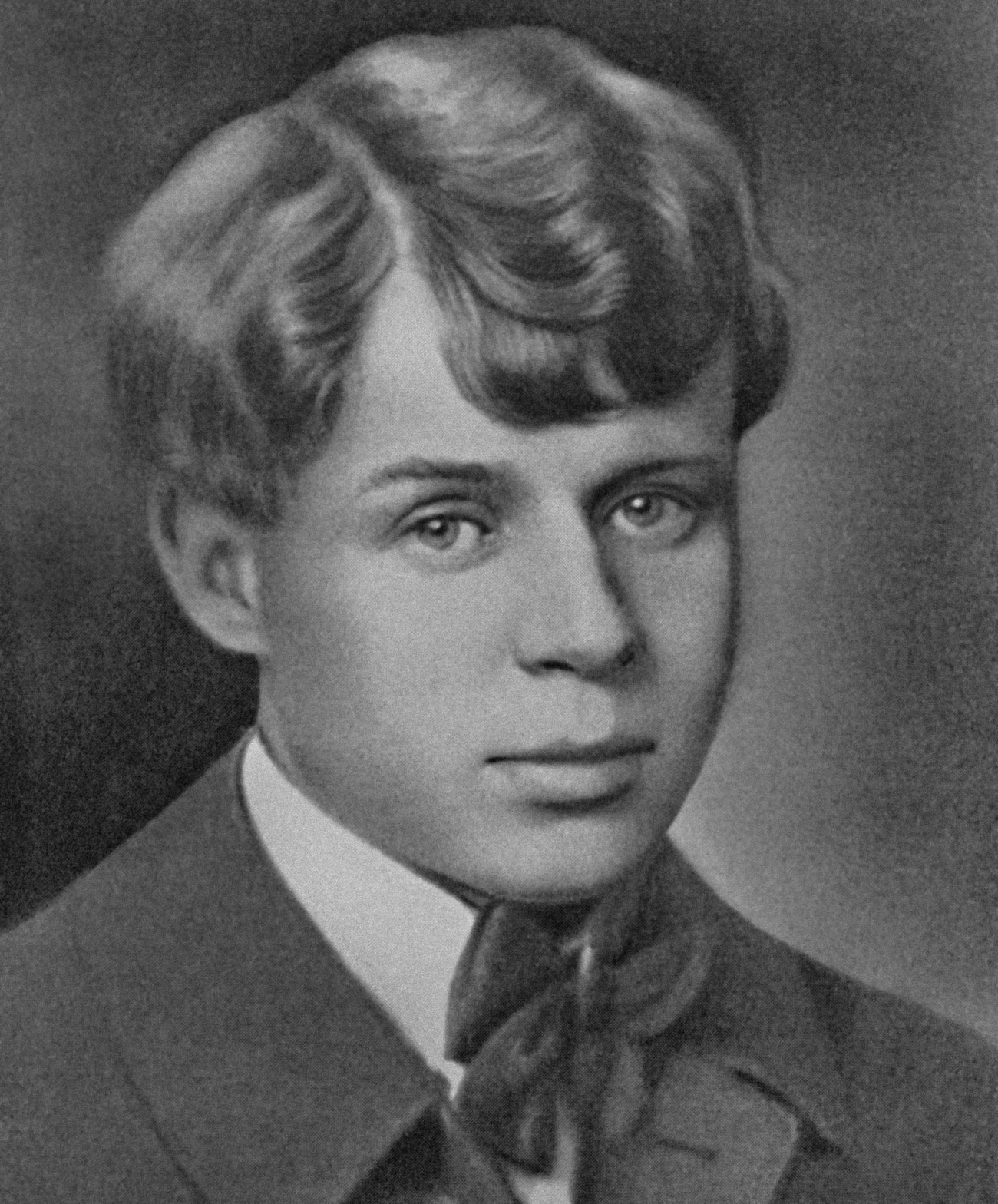 Sergei Yesenin / TASS
As the ultimate Russian poet who conquered the capital's audiences - this guy deserves this position. "My Russia, wooden Russia! I am your only singer and herald," he wrote.
Yesenin praised in his poetry the picturesque landscapes of his Motherland, with its fields, birch trees, golden rye and endless spaces. He personified the image of a peasant poet, and became a dandy, living in St. Petersburg. Still, he missed his native village in the Ryazan Region, considered himself an heir to Pushkin, and was also a poet of love with numerous women to whom he dedicated his poems.
Yesenin also earned notoriety as a troublemaker. He was closely involved with the literary scene and often teased other poets. His best-known literary duels were with another famous poet, Vladimir Mayakovsky.
17. Vladimir Mayakovsky (1893-1930)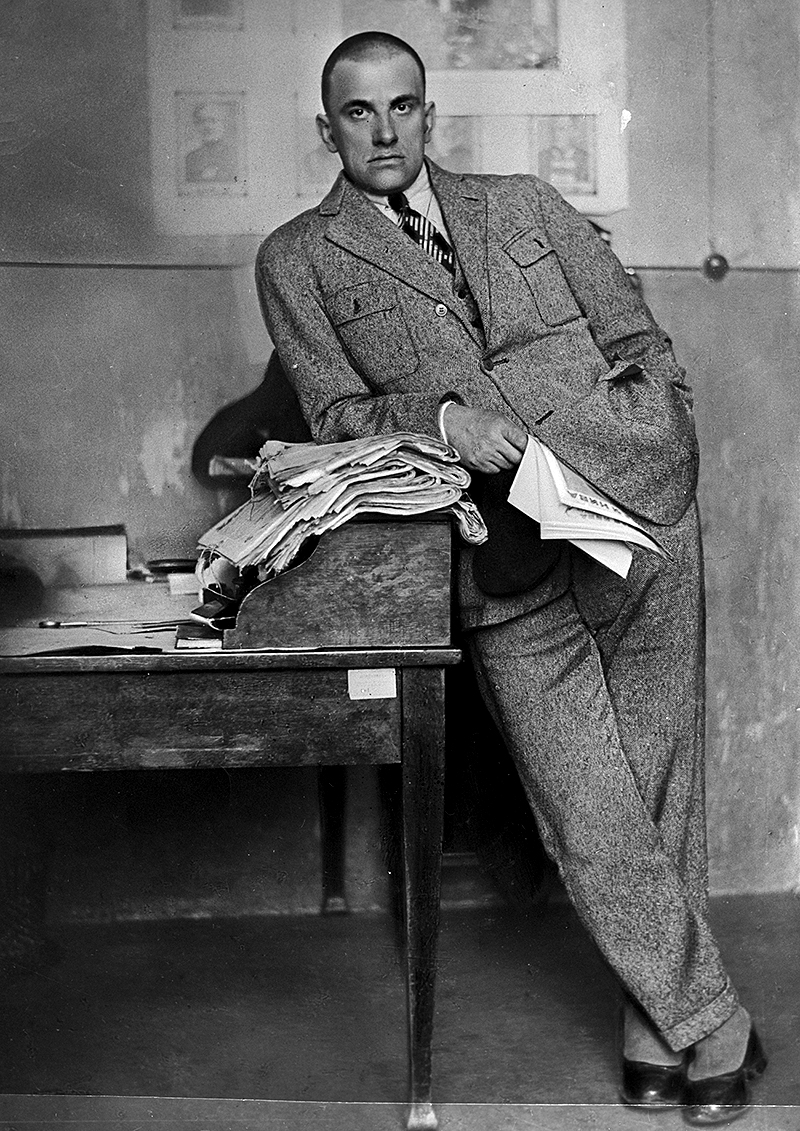 Vladimir Mayakovsky / RIA Novosti / Nikolay Petrov
Mayakovsky was one of the major Russian poets of the first half of the 20th century and a leading member of the futurist movement. He praised the Revolution and Soviet regime, and his poems, which are marked by their rebellious spirit and unconventional broken rhythm, are still popular.
He invented new words, randomly placing them within sentences, while the lines of his poems form symbolic visual representations in their own right. He was also unconventional in his private life– starting in 1918, he lived in a ménage à trois with his lover Lilya Brik and her husband Osip Brik.
16. Joseph Brodsky (1940-1996)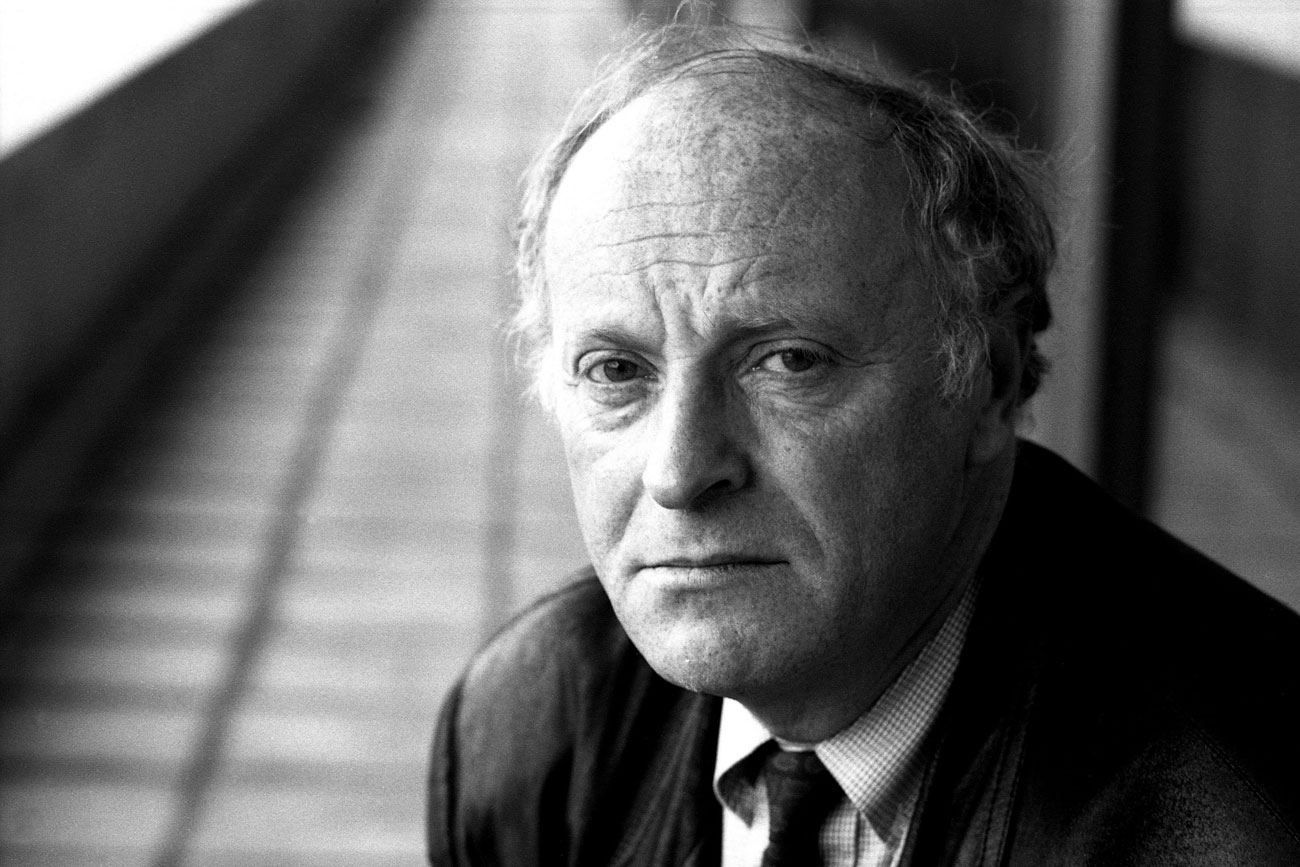 Joseph Brodsky / AP
Joseph Brodsky was a Russian and American poet, essayist, translator and the 1987 Nobel Prize Laureate for Literature. In 1972, he left the Soviet Union and went to the U.S. with the help of his American publisher, Carl Proffer. In the U.S. he became a poet-in-residence at Michigan University in Ann Arbor.
He continued writing poems in Russian and in English, but in the U.S. he became famous with his essays, such as "Less than one." Brodsky remained practically unpublished in the USSR until 1987, but now in Russia his poems are much admired.
15. Vladimir Nabokov (1899-1977)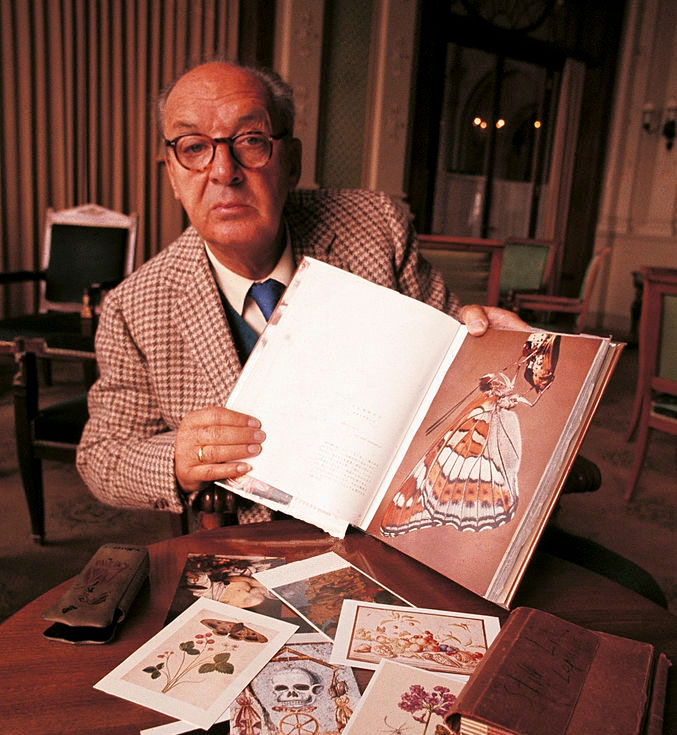 Vladimir Nabokov / wikipedia
Born into an upper class St. Petersburg family, Nabokov would be mad if he knew that we put him so low, not even in the top ten. But he is the one to blame - he shouldn't have left us for the U.S. and written in English!))
At the age of 20, Nabokov left Russia with his family because his father was a politician who stood against the Bolsheviks. Nabokov later studied in Cambridge, where he wrote poems and translated "Alice in Wonderland" into Russian. When living in Berlin he published eight novels in Russian. While they were not published in Russia, he was extremely popular among Russian émigrés.
Today, his works are considered masterpieces in Russia, especially "The Defense," "The Gift," and "Invitation to a Beheading." In 1940, Nabokov fled Europe because of the Nazis and found safe haven in America, where he taught Russian literature in universities. In the U.S. he only wrote novels in English, but he translated into Russia "Lolita," the novel that brought him global success. Nabokov is also famous for his obsession for collecting butterflies, and he made several discoveries in entomology.
14. Andrey Platonov (1899-1951)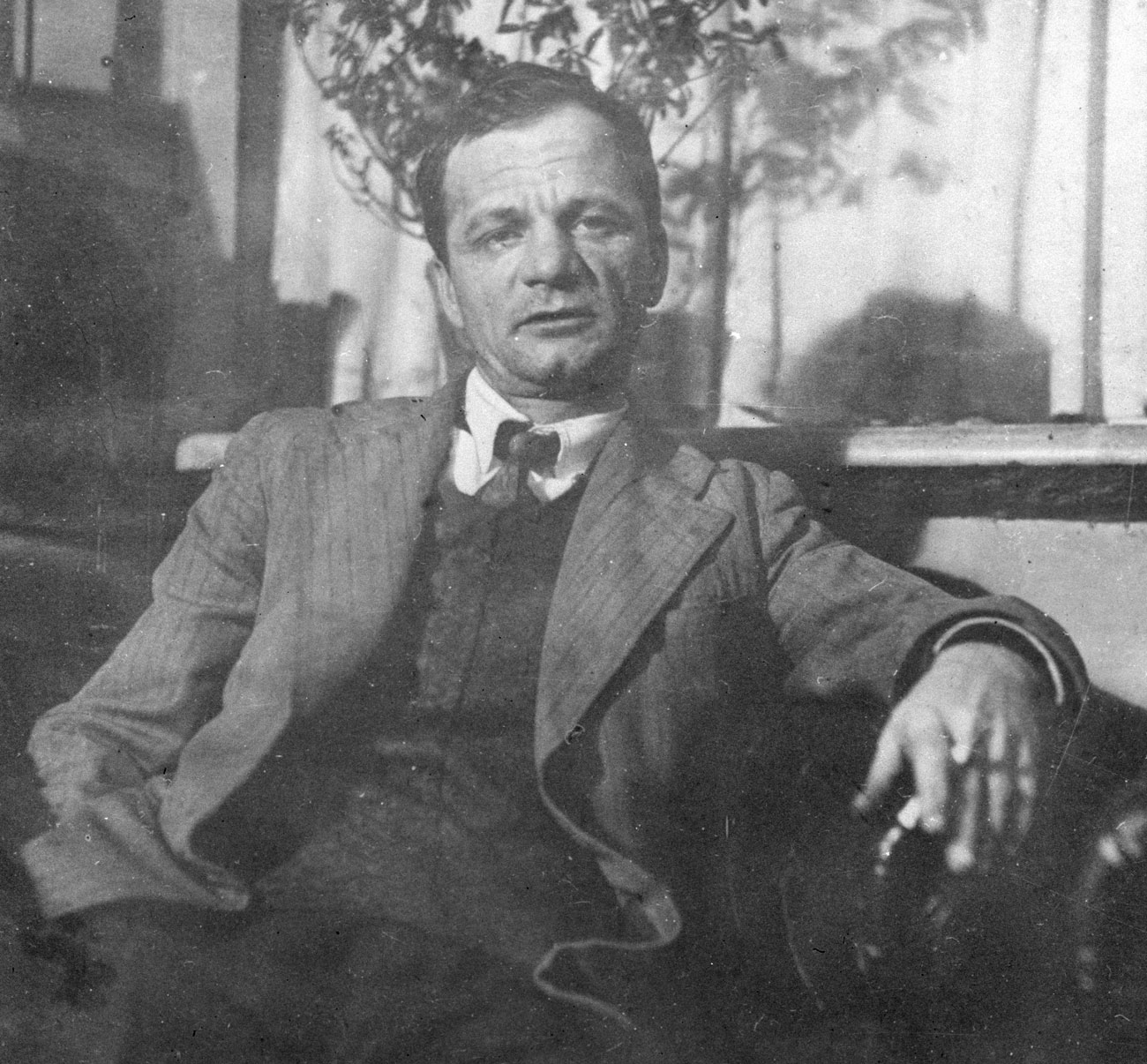 Andrei Platonov / RIA Novosti
This author is so complicated that we just kneel and put him in 14th place. Censored and suppressed during his lifetime, Platonov is now seen as a creative beacon of Soviet literature. Critics consider him one of Russia's greatest prose writers, and in his early works of the 1920s, such as "Chevengur," Platonov dreamed of a utopian future where electricity transforms human nature.
"The Foundation Pit" is Platonov's best-known novel, written in 1929 but unpublished in Russia until 1988. The bleak satirical story describes a group of early Soviet workers trying to dig the foundation for a grand building that will never be built. Platonov worked enthusiastically on land reclamation projects, and also became a war reporter and a publisher of children's literature. He died from tuberculosis, infected by his son who had returned home from a prison camp.
13. Alexander Blok (1880-1921)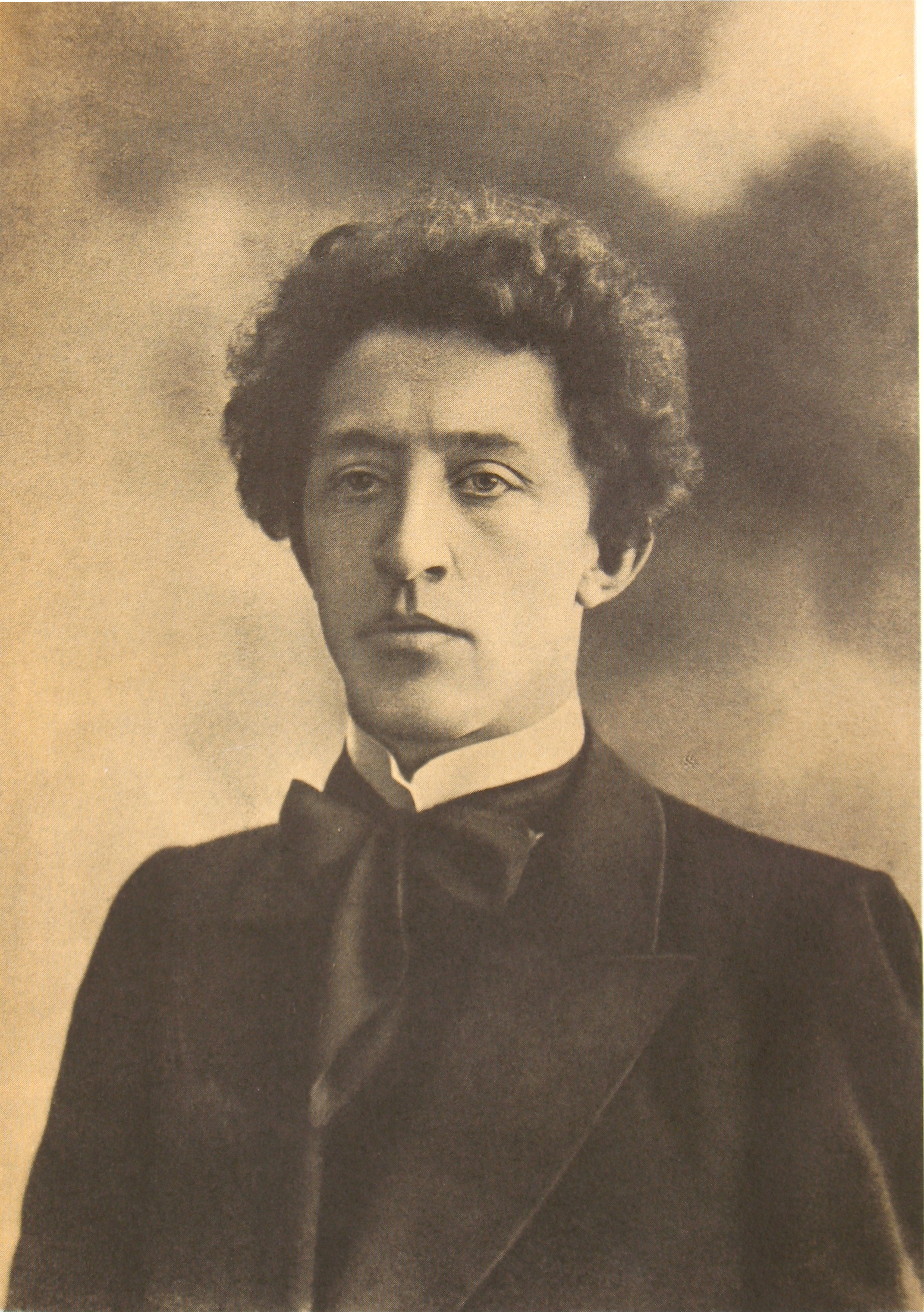 Alexander Blok / wikipedia
Can you imagine a pop star of the early 20th century who all youth obsessed over? That was Alexander Blok, the first and main Russian poet of his time. His influence was incredible, and knowing or meeting him was everyone's dream.
His "Verses about the Beautiful Lady" is the quintessence of Russian Symbolism, of which he was one of the main creators and followers. In the early years of the Revolution, Blok actively supported the new rulers, and he praised the new regime in his poem, "The Twelve," but then he became disappointed in the Bolsheviks, and started drinking alcohol and stopped writing poems.
12. Anna Akhmatova (1889-1966)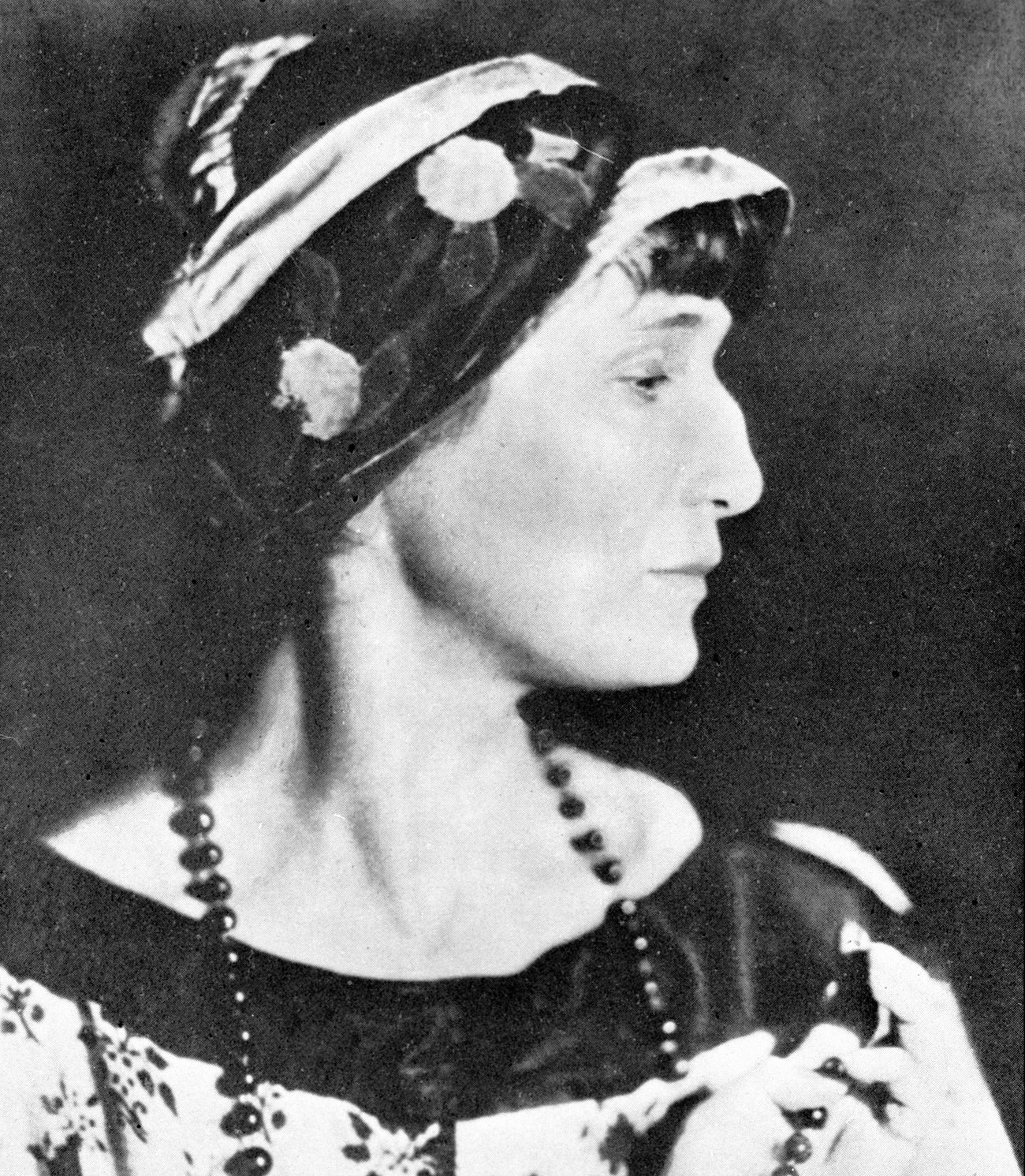 Anna Akhmatova / RIA Novosti / Moisei Nappelbaum
She managed to write a lyrical anthem for all those Soviet women who awaited their jailed men in long and hopeless lines. Between 1935 and 1940, she composed her famous poem "Requiem" devoted to the people's resistance to Stalin's rule; and one of her most powerful passages was "Instead of a Preface."
This elegant muse of Modigliani, was even nominated for the Nobel Prize. She is also a symbol of Leningrad, where she spent the hard days of the Siege writing poems that weren't published. During Stalin's era her first husband poet Nikolai Gumilev was killed, her third husband Nikolai Punin was arrested and her son Lev Gumilev was imprisoned.
"An entire generation has passed through me as if through a shadow," she wrote. Despite her poverty and delicate health, Akhmatova's generosity and solidarity with her family and friends remained a part of her character.
11. Alexander Solzhenitsyn (1918-2008)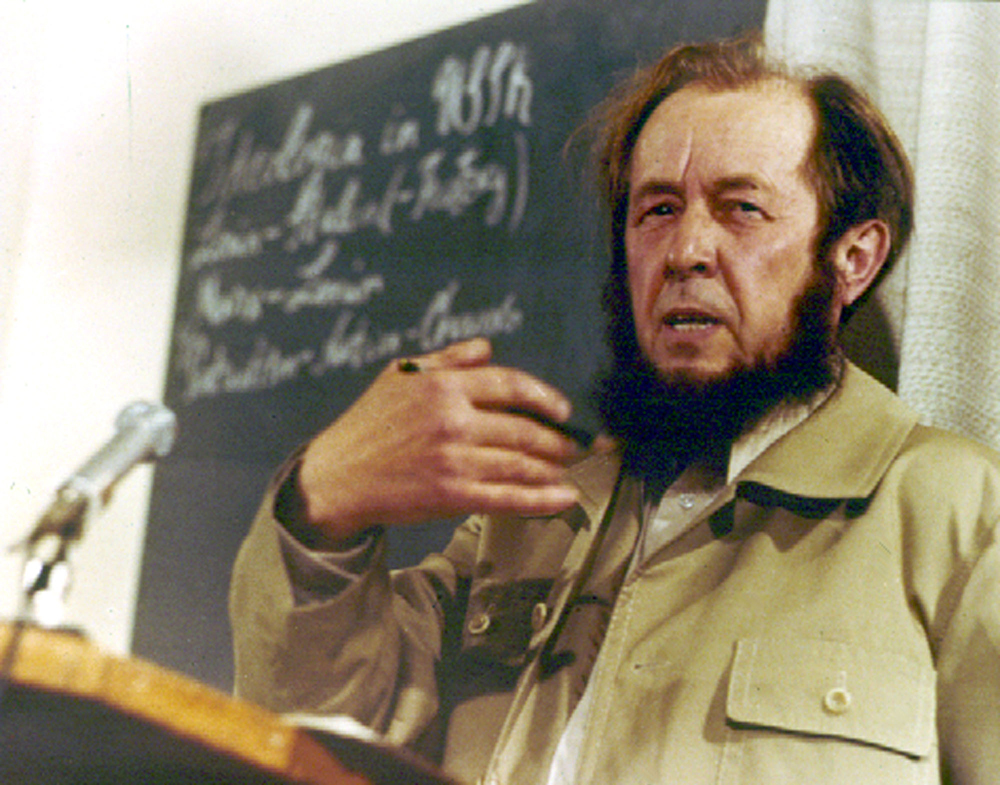 Alexander Solzhenitsyn / AP
Literary giant, legendary dissident and GULAG survivor. After the Second World War, where the writer fought as an artillery commander, the NKVD arrested him for "anti-Soviet agitation." He was sentenced to eight years in prison – considered a mild sentence at the time.
His most famous works were devoted to prison camps, and his "One Day in the Life of Ivan Denisovich" brought him fame, and was miraculously published with Khrushchev's personal approval.
While his monumental documentary masterpiece, "Archipelago Gulag," describes the Soviet camps as a system, the publishing of that great work led to his forced exile from the Soviet Union, to which he only returned after the country's collapse.
10. Boris Pasternak (1890-1960)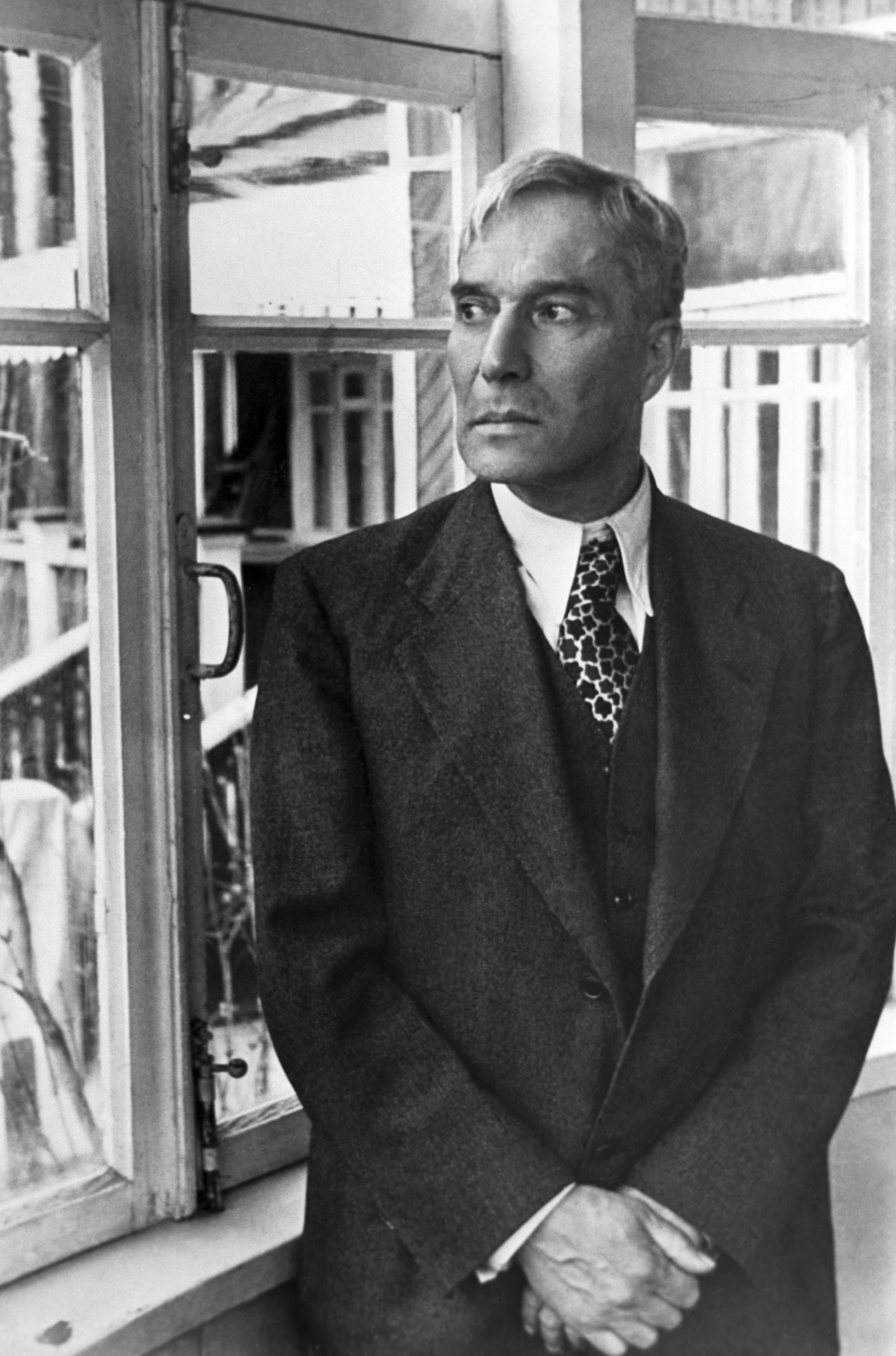 Boris Pasternak / TASS
Opening our top-ten of the absolutely freaking greatest writers, Pasternak is one of the few Russian Nobel Prize literature winners recognized "for his important achievement both in contemporary lyrical poetry and in the field of the great Russian epic tradition."
He was a poet, but first of all he was famous for his novel, "Doctor Zhivago," (1955) an epic novel about the Revolution and Civil War, and which was banned in the USSR for more than 30 years. The novel had to be smuggled out of the country to the West and was first published in Italy in 1957. Archival material recently declassified by the CIA confirms its role in publishing this anti-Soviet novel.
In 1958, Pasternak was awarded a Nobel Prize in Literature, which he was forced to decline under pressure from the authorities. Pasternak was also a translator, and his translations of Schiller, Shakespeare and Goethe's "Faust" are considered masterpieces.
9. Mikhail Sholokhov (1905-1984)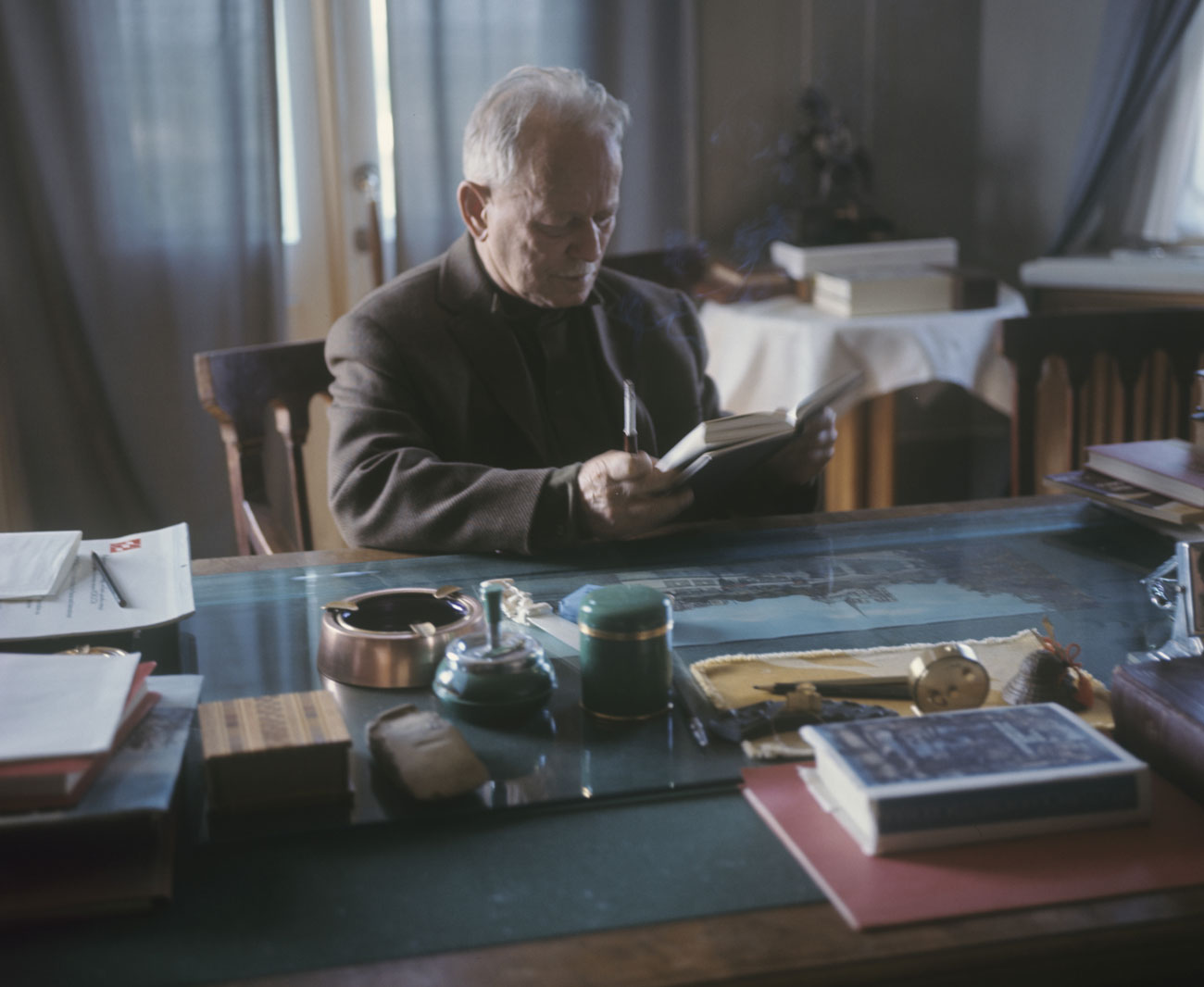 Mikhail Sholokhov / RIA Novosti / Ivan Denisenko
This author's greatest achievement is "And Quiet Flows the Don," which was the equivalent of "War and Peace" for the 20th century, an epic four-volume novel, a must-read classic of Russian literature about Don Cossacks during World War I and the subsequent Civil War. That's why he deserves a place in our top ten absolutely greatest Russian writers.
Sholokhov received a Nobel Prize in Literature "for the artistic power and integrity with which, in his epic of the Don, he has given expression to a historic phase in the life of the Russian people." It is believed that the Nobel Committee was influenced by Jean-Paul Sartre who rejected the prize the previous year, expressing regret that it had not been awarded to Sholokhov.
8. Maxim Gorky (1868-1936)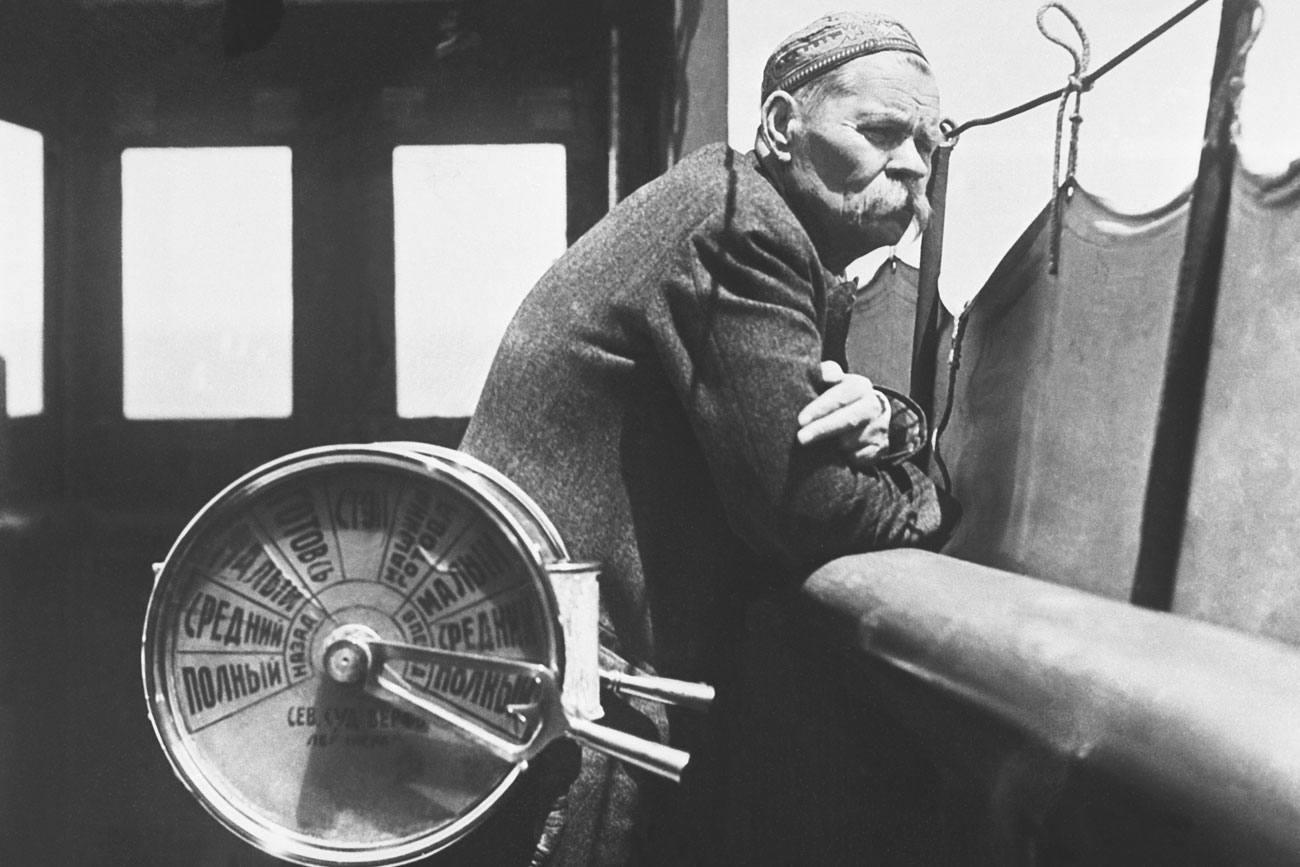 Maxim Gorky / TASS
Controversially putting Maxim Gorky higher than some of 19th century's classic writers, we admit that he is a huge, almost giant figure for the 20th century. He was the main writer of the early Soviet Union, and despite the fact that the Nobel Prize committee made a political decision to give the prize for literature to Bunin, we put Gorky higher. He praised the first Russian revolution of 1905. His 1906 novel, "The Mother," became a staple of Soviet literature and is often considered the first work of socialist realism.
After the Revolution of 1917, Gorky left to Europe, but returned to the Soviet Union in 1932 at the government's invitation. He endorsed Stalin's policies and wrote enthusiastically about the achievements of the Soviet system, while mentioning nothing about the purges. Gorky's private life and work are full of contradictions and still provoke much debate. He is also an author of such plays as "The Lower Depths," "Vassa Zheleznova," "Children of the Sun" and dozens of short stories.
7. Anton Chekhov (1860-1904)
Anton Chekhov / TASS
For bringing Russian literature to all the world's theatrical stages, we put Chekhov on seventh position. "The Cherry Orchard," "Three Sisters," "Uncle Vanya" and others are among the most staged works ever. But Chekhov is also the author of brilliant short but comprehensive stories. In his concise works he reflects many of humanity's problems, and in 1889 Chekhov visited Sakhalin Island and wrote a non-fiction book about its prison and the life of the locals. By the way, during his entire life Chekhov was a practicing doctor.
6. Mikhail Lermontov (1814-1841)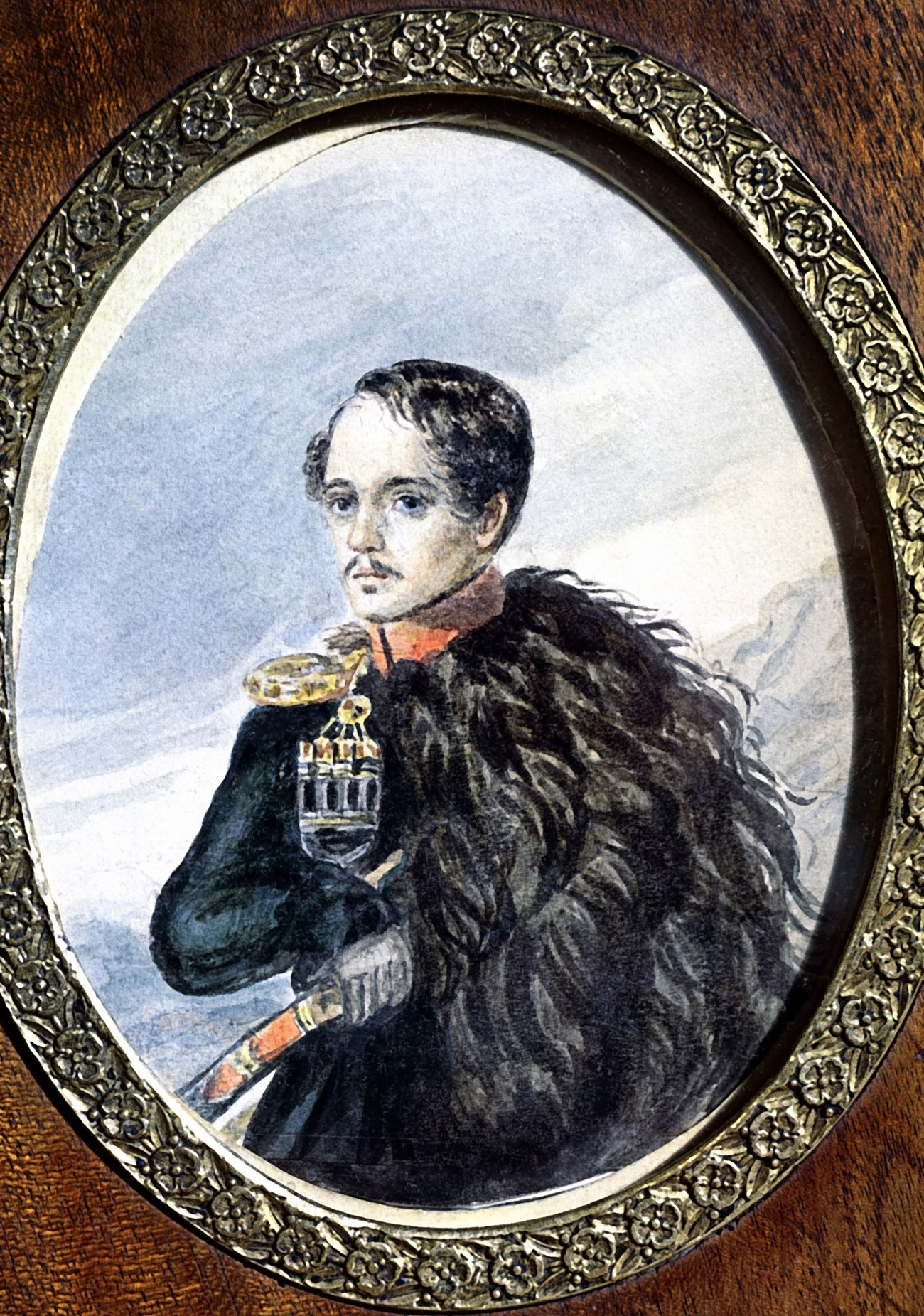 Mikhail Lermontov,. Self-portrait / State Literary Museum, Moscow / RIA Novosti
For being romantically killed in a duel, we put this poet in sixth place. He is one of the main Russian classical verse composers, second to Alexander Pushkin. Many of Lermontov's contemporaries noted that he was not exactly handsome. Nevertheless, he learned how to win the hearts of women with his brilliant erudition, imaginative thinking and eloquence.
His poetic fame and the rumors of Lermontov's courage on the battlefield added to his romantic image, and he became a womanizer who broke plenty of hearts. He created hundreds of brilliant poems, whose main topics are the aspiration to freedom, a tiredness of life and a lack of pure love. He is also author of the great novel, "A Hero of Our Time," many great poems such as "Borodino," "Demon" and "Mtsyri."
5. Ivan Turgenev (1818-1883)
Portrait of Ivan Turgenev by Ilya Repin / open sources
While not as well known internationally as Dostoyevsky or Tolstoy, Ivan Turgenev nevertheless ends up in the same group with them as a classic novelist of the 19th century, and actually the scale of his tragism is about equal. His most famous novel, "Fathers and Sons," is about new waves of political philosophy, such as nihilism and emancipation.
He was the first to highlight the eternal problem of misunderstanding between parents and their children. His other novels depict the life of noble families, "The Noble Nest," "Asya," and "Rudin." Each of his works features strong women and weak men pretending to embrace progress.
4. Nikolai Gogol (1809-1852)
Portrait of Nikolai Gogol by Fyodor Moller / open sources
This writer probably deserves even a higher ranking because he is a rare example of wit and satire, a writer with a brilliant sense of humor! Included in all school and university literary programs, he is one of the greatest Russian classical writers. He was born on the territory of modern-day Ukraine, and according to legend his family originates from Cossacks. That's why he devoted two collections of stories ("Evenings on a Farm near Dikanka," and "Mirgorod") to Ukraine and Cossacks. Three of these stories - "Night before Christmas," "Viy" and "Taras Bulba" are among his most famous.
Another period of Gogol's art is devoted to St. Petersburg - such as "Nevsky Prospekt," "The Overcoat," "Nose," and "Portrait," which depict the lives of ordinary citizens who face mystic troubles. These helped create Petersburg's myths, and there is even a monument to Major Kovalev's Nose. Gogol is also author of the brilliant play, "The Government Inspector," a comedy about Russia, its corruption and human nature.
The quintessence of Gogol's work is a poem (in prose) - "Dead Souls" – which is about a man who travels around a small city and buys serfs that are dead but whose death hasn't yet been registered by the authorities. Apparently owning many serfs, (on paper only), he wanted to pretend to be more important than he really was.
3. Fyodor Dostoyevsky (1821-1881)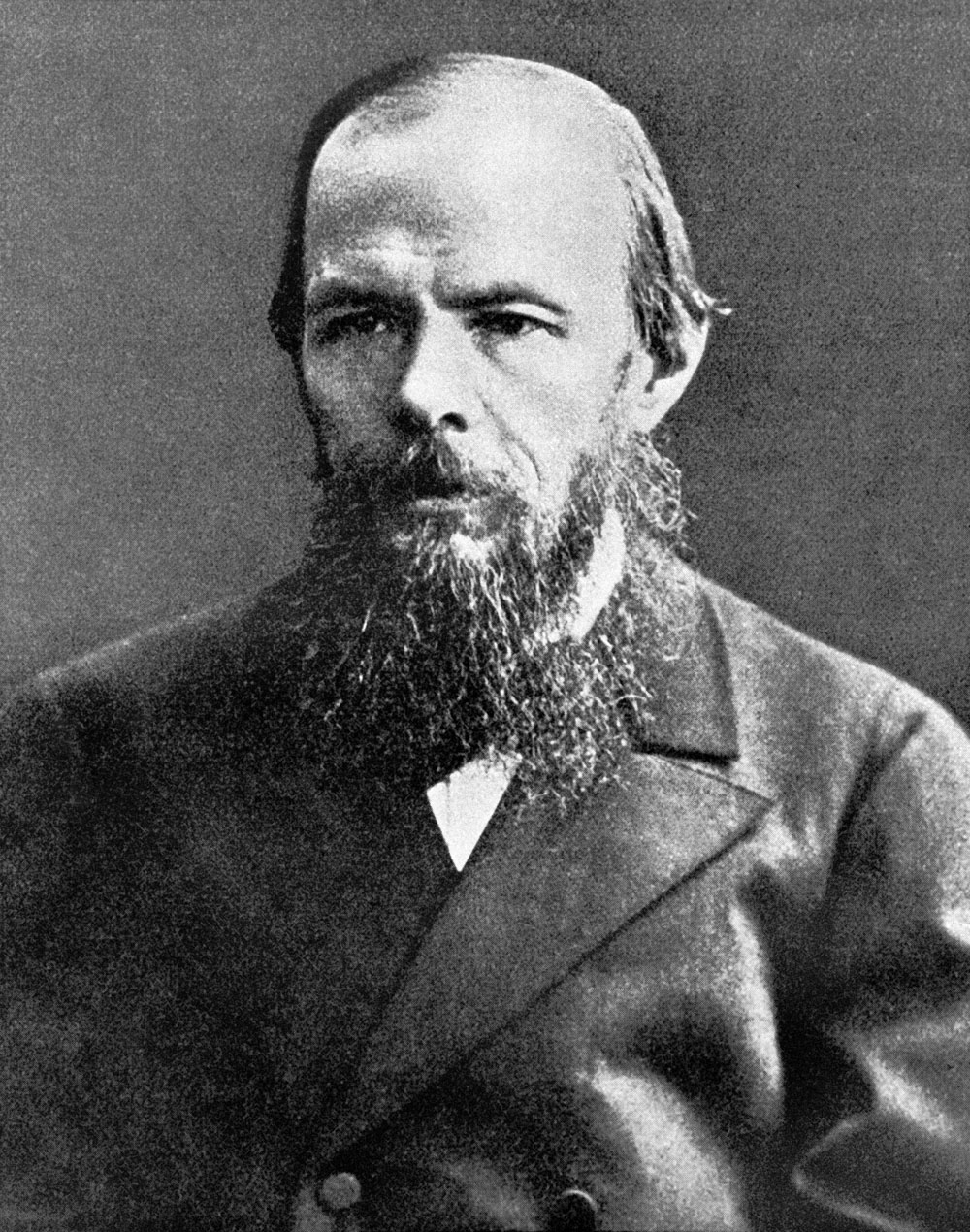 Fyodor Dostoyevsky / TASS
We know that all people are divided into those who love Tolstoy and those who love Dostoyevsky. But we put him in third place because he lived less than Tolstoy and managed to write less than Tolstoy (and didn't have such an army of fans during his lifetime). Dostoyevsky is one of the most renowned Russian authors worldwide alongside Tolstoy.
His novel "Crime and Punishment" is probably something that everyone has heard of and maybe even read part of. But he is also author of several other great novels such as "The Devils," "The Karamazov Brothers," "The White Nights," "Humiliated and Insulted," and much more. He is a chronicler of St. Petersburg, which in his vision is a dark city of poor people.
For his role in a banned letter by the Russian critic Vissarion Belinsky to the writer Nikolai Gogol, Dostoevsky was sentenced to exile in Siberia. With this experience he wrote a non-fiction book, "Notes from a Dead House."
2. Leo Tolstoy (1828-1910)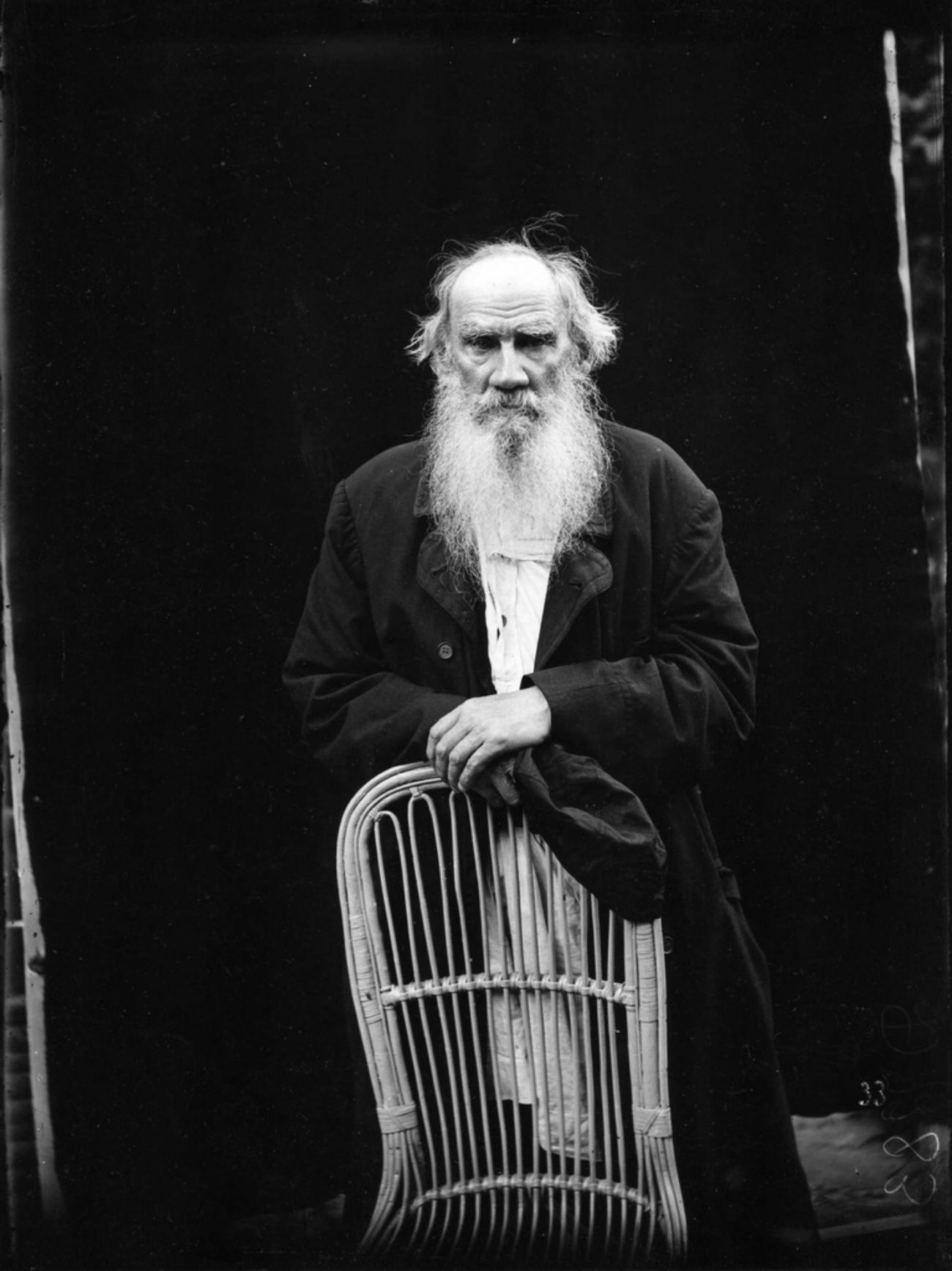 Leo Tolstoy / Carl Bulla
You might think Tolstoy should be in first place, because during the 82 years of his life he wrote 90 volumes of novels, diaries, letters and more... So because of all the suffering that he caused Russia's school children, we denied him first place. One of his most important works is the epic novel, "War and Peace," which depicts the life of ordinary families during Russia's war with Napoleon in 1812.
Another great work is "Anna Karenina," the tragedy of a woman who was not happy in her marriage. This novel has had a record number of screenings all around the world.
Russian critics consider Tolstoy's last novel, "Resurrection" one of the best ever written in Russian. Besides literature, Tolstoy promoted education for peasant children, and was a philosopher, founder of the Tolstoyan movement (one of its followers was Mahatma Gandhi) and espoused the idea of non-violent resistance to evil.
1. Alexander Pushkin (1799-1837)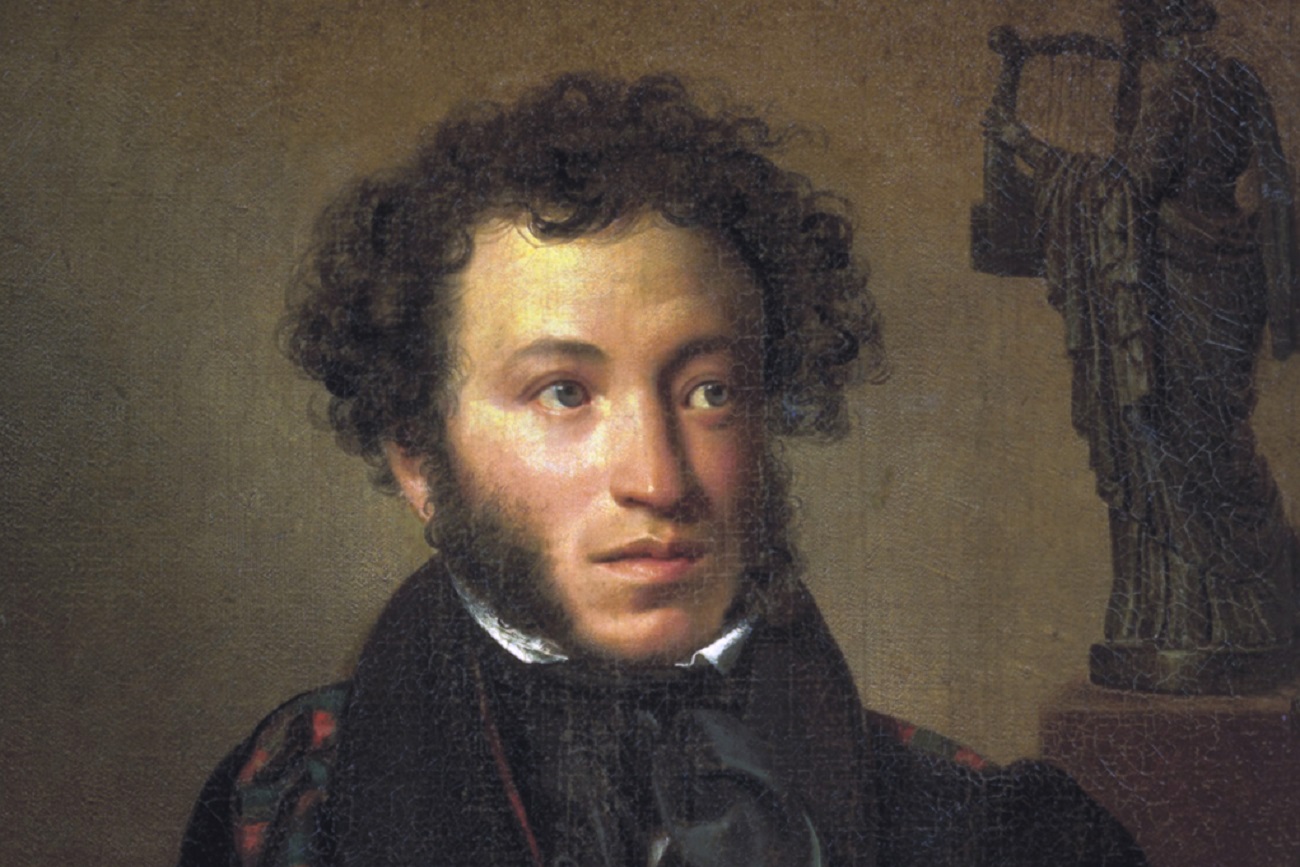 Portrait of Alexander Pushkin by Orest Kiprensky / State Tretyakov Gallery
And the winner is.... Pushkin! He is absolutely huge in terms of rhymes and rhythms. Russians often say, "Pushkin is our everything." Why is he greater than Tolstoy? Because he didn't live so long, but his star burned the brightest... and he is a founding father of the modern Russian language that Tolstoy wrote in.
Pushkin rejected the high-brow style of classical Russian poetry, breaking down the barrier between colloquial speech and the elevated odes of the past. He mastered a wide range of genres, was a poet, playwright, and prose writer. He was exiled because his poems praised freedom, and he was considered dangerous by the czarist police.
One of Pushkin's key works, the verse novel "Eugene Onegin," critics called an "encyclopedia of Russian life," reflecting its comprehensive coverage of the country's life and culture at the time. Pushkin had the ability to create vivid images with just two or three words, imprinting them in the reader's mind.
There is an illusion of spontaneity to his precise use of language, yet his notes show that he meticulously crafted every line. He composed so many poems on so wide range of issues that even now you can say - ah, Pushkin wrote about it!
Editor's note: The opinion of the author and the order of writers are subjective and might differ from the opinion of Russian literary scholars, critics and writers.
If using any of Russia Beyond's content, partly or in full, always provide an active hyperlink to the original material.