Dmitry Merezhkovsky: Rediscovering a controversial early symbolist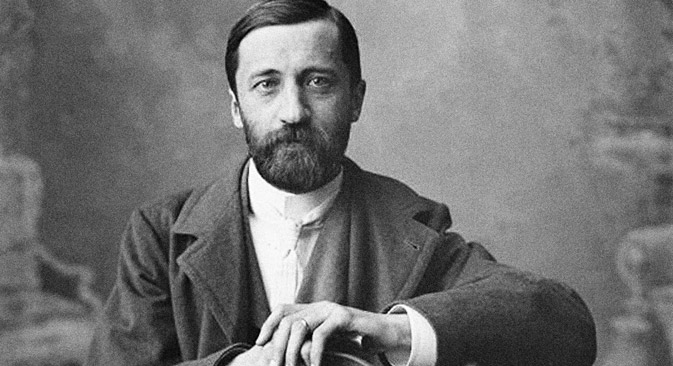 Portrait of Dmitry Merezhkovsky found in the collection of Museum of Photography History, Nizhni Novgorod. Source: Getty Images
This year, Anglophone readers can finally judge Merezhkovsky's most popular novel "Leonardo da Vinci: The Resurrection of the Gods" in full. RBTH investigates why Merezhkovsky's star, nine-time Nobel Prize nominee, has waned, while younger writers from the early 20th-century Silver Age are still celebrated.
As Russia marks 150 years since the birth of Symbolist writer Dmitry Merezhkovsky, Alma Classics are publishing the first unabridged English translation of Leonardo da Vinci: The Resurrection of the Gods, the story of the painter's life.
Ignat Avsey, who died in 2013, translated several novels by Dostoevsky and specialized in unearthing forgotten literary gems. He regarded this posthumously published Leonardo as his most important translation, and it could be a spark that helps reignite Merezhkovsky's reputation.
At nearly 700 pages, Merezhkovsky traveled in the artist's footsteps, and his landscapes are vivid. This novel, first published in 1900, was the second part of a Christ and Antichrist trilogy, dealing, as much of Merezhkovsky's work does, with the nature of religion. Like Bulgakov's The Master and Margarita, Leonardo is full of devils, bacchants and naked, flying witches.
Symbols and saints
Merezhkovsky, one of 10 children, was born on Aug. 2, 1865. His father served as a privy councilor under Alexander II. His childhood homes, a palatial dacha on St. Petersburg's Yelagin Island and a classical-style Crimean estate between mountains and sea, gave Merezhkovsky's imagination some picturesque source material. Hearing bible stories and saints' lives from the housekeeper, he developed a lifelong religious devotion. Merezhkovsky's poetry was first published while he was very young, despite the scorn of Fyodor Dostoevsky, who told him he would have to suffer to write well.
In 1892 he published a second book of poems, Symbols, and his lecture On the causes of decline in contemporary Russian Literature, which glorifies individual creativity, and is now seen as an early manifesto for the new literary age.
Searching for the future
Sergei Diaghilev and the World of Art magazine welcomed him and published his literary essays. Merezhovsky and his flame-haired wife Zinaida Gippius, who was also a poet, became increasingly interested in esoteric religion, attempting to create their own church. After the 1905 revolution Merezhkovsky prophesied: "The church will be torn down and the monarchy too," and argued that a spiritual revolution was needed before a physical one.
A second trilogy of historical novels ended with December the Fourteenth, the story of the Decembrist revolution of 1825. Merezhkovsky said he wrote historical fiction to use the past in "searching for the future." He was becoming an increasingly controversial author. Critics mocked Merezhkovsky's idea of himself as a "great philosopher and a prophet," calling his books "bad literature."
He was accused of having terrorist connections, and his gloomy prognostications about Bolshevik tyranny soon came true. He described the new government as "the Antichrist's Kingdom Come." The couple sold all their belongings and fled in December 1919, never coming back.
Exile, controversy and inspiration

In 1925 Merezhkovsky launched The New Ship magazine in France as a focus for dissident, émigré literature. He became friends with another exiled writer, Ivan Bunin, who won the Nobel Prize in Literature in 1933. Merezhkovsky continued to write prolifically and is said to have died with a pen in his hand.
His final years continued to be controversial; he praised first Mussolini and later Hitler because he hoped they would liberate Europe from communism. In June 1941, shortly before he died, he made a now notorious speech on German radio, comparing Hitler to Joan of Arc. The content and timing of this speech have since been widely contested; many things he said before and after contradicted it. The short story writer Teffi, who heard him give an earlier speech, wrote: "Merezhkovsky pronounced a lengthy tirade … targeting both Bolsheviks and fascists."
Hated by both tsarists and communists, Merezhkovsky was true to his own ideas. Chekhov called him "a believer," and the children's writer Kornei Chukovsky described him as a "mysterious, unfathomable, almost mythical creature." At the end of Leonardo, Merezhkovsky introduces the figure of a Russian icon painter, gilding a winged portrait of John the "Forerunner" (John the Baptist). The idea of artistic inspiration takes on a mystic force in these final pages. The icon painter has devoted years to a manual of his craft, and as he writes, "the sun, like a red hot ember, rose over the dark forest, and something akin to music swept over land and sky."
All rights reserved by Rossiyskaya Gazeta.