On Oct. 15, Russian hip-hop superstar Oxxxymiron (real name Miron Fyodorov) went head-to-head with battle rap royalty Dizaster (real name Bachir Yagami), the star of Eminem's new underground movie Bodied. Much like Conor McGregor in August, Oxxxy headed stateside with an overwhelming homegrown support and certainly held his own in a promotional battle far outside his comfort zone.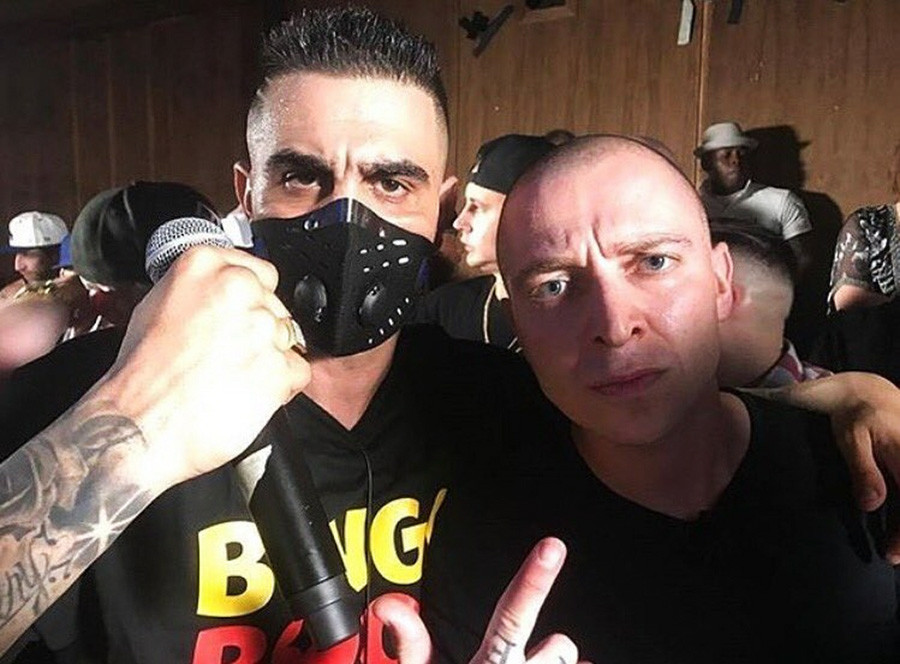 1. When Oxxxy set the crowd alight with his opening bar
Taking heed from Dizaster's Syrian roots, Oxxxymiron wasted no time in comparing the clash to the violence of the Syrian War, in which Russia is heavily involved. The St. Petersburg native also took a sly dig at controversial female rapper Azealia Banks, who sparked a fierce online backlash when she labeled UK grime as "trash." This cheeky opener even got a cheer from Dizaster himself:
You're about to witness a Russian airstrike on Syrian ranks
What you've got is inferior to Siberian tanks
You're nothing but a civilian with silly old blanks
Who's up his own ass like Azealia Banks
2. When he used Dizaster's Eminem co-sign against him
Although Dizaster has a distinguished battle rap career behind him, Oxxxy's declaration that he's only where he is because of his ties to Eminem must have hurt a little.
Hey, wanna know what else rhymes with Dizaster?
Featuring Eminem on your Twitter handle to get checks after
3. When Oxxxy got personal
In battle rap, anything goes. Seriously - anything. So when Oxxxy brought up Dizaster's troubled reconciliation between his Arab race and American patriotism, onlookers could only pity him:
Two million Muslims killed in 15 years, s**t, who cares?
You'll still rep the flag like you're Britney Spears
You're out here right now battling me in LA,
And at the same time, the G.I.'s are blowing your cousins away
4. When Oxxxy used his own stereotypes in his favor
While a rap battle between an Arab-American and a Russian Jew is bound to be littered with racial slurs, it was the Russian who showed better understanding of his opponent's culture and a better re-working of the clichés.
I'm X-rated, next thing you'll be getting your face caved in
I'll show you the damage when you're in a basement
I'm a Russian Jew, this is what happens when we get a late payment
5. When he mocked Dizaster's metrosexual look
Young Arab-Americans often carry the stereotype of being overly well groomed, and Dizaster is no exception, sporting a combed quiff and neatly trimmed beard. It would have been a waste for Oxxxy not to make use of this, and the St. Petersburg rapper skillfully suggested that Dizaster's success ("blowing up") is just an illusion in his own mind, whereas in reality he's more like rocker Manson who famously opened up about performing a questionable act of self-love:
Go and blow yourself a kiss, baby you're so handsome
You're not blowing up, you're blowing yourself, you're Marilyn Manson
6. When he questioned Dizaster's example to Muslims
Perhaps the most devastatingly humiliating swipe of the lot was Oxxxy picking apart the minority persona that Dizaster has built for himself. As Oxxxy declared later in the battle: "In Russia we don't understand political correctness – the sh*t you say in battle rap, we say in real life.." His fearlessness in taking down his opponent's portrayal of his own race is testament to that:
All you ever talk about is terrorism and catching a body
So the Muslim that you portray is a Wahhabi Jihadi
But I respect you brother… pshych!
If you don't respect your own culture, then why should I?
7. When he showed off his knowledge of American culture
While Dizaster's put-downs of Russian culture were largely limited to jokes and poorly researched stereotypes, Oxxxy used his familiarity with both black and white American culture to highlight his Arab-American opponent's lack of access to either sphere. Referencing Donald Trump, right wing conspiracy nut Alex Jones, and hip-hop talk show Sway in the Morning, Oxxxy exquisitely took down Dizaster's divided loyalties and even framed his adversary's confusion within the American political system:
As soon as Em disses Trump, he changes opinion; I call this behavior whoring
He listens to Alex Jones at night and Sway in the Morning
Pick a side… It's as if you reside in a swing state of mind
8. And again…
Oxxxy's American culture references just kept coming. This time, taunting Dizaster for trying too hard to fit into white American culture, he flipped the chorus of Kendrick Lamar's classic single "Alright":
Don't be contrite, he's still loving Trump alright
If it was Kendrick, he'd sing "we gon' be alt-right"
9. When hememe'd his way to a punchline
Having mocked Dizaster's stagnant music career outside of battle rapping, Oxxxy proceeded to demonstrate who's the more versatile rapper by using the popular online meme "ladies, get you a man who can do both".
I battle and I'm in the charts, that's my personal oath
So any ladies looking for a man with personal growth
Don't go for battle rappers, get yourself a man that can do both!
10. When he ended it on a positive note
Despite all the hostility between the two rappers, it's important to remember that this was above all a promotional event looking to give international exposure to Russia's burgeoning rap scene. Oxxxy acknowledged this in his closing bars, calling for battle rap to be used as a platform to bring cultures together, precipitating approval from both sides of the crowd.
Verbal dispute may have the potential to cure this patient
The slowly dying Arab-Jewish, Russian-American relations
The battle had no official judges, but if we are to go by the buzz of the crowd, we can safely say that the Russian certainly made more of an impact. As Dizaster himself even complained after one of Oxxxy's disses: "Why does everyone always have the best bars of the battle against me?"
If using any of Russia Beyond's content, partly or in full, always provide an active hyperlink to the original material.