Russian art park torches wooden 'cathedral' and suffers ire of Orthodox church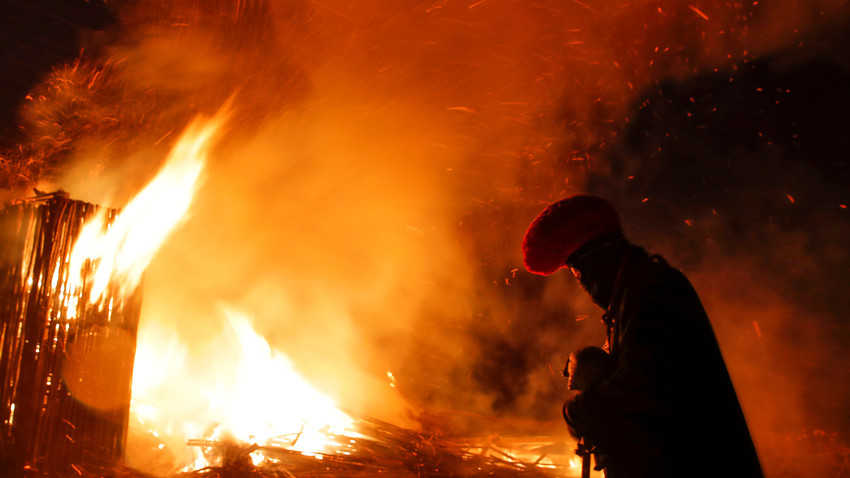 Artist German Vinogradov acts in the performance of the burning of installation, devoted to Maslenitsa in the village of Nikola-Lenivets, Kaluga region, Russia
Maxim Shemetov/Reuters
Yearly Maslenitsa tradition hasn't gone down too well in some circles.
This weekend marked the end of Maslenitsa in Russia – a folk holiday celebrating the end of winter. Apart from eating tons of blini (Russian pancakes), there's another Maslenitsa tradition in Russia – burning a scarecrow symbolizing the winter. Nevertheless, some people prefer to indulge in a more large-scale event.
At Nikola Lenivets, a village and a picturesque art park in the Kaluga Region (217 km southwest of Moscow), each year a group of artists build a huge artwork... and torch it. The structure is always impressive and reminiscent of something out of The Wicker Man film.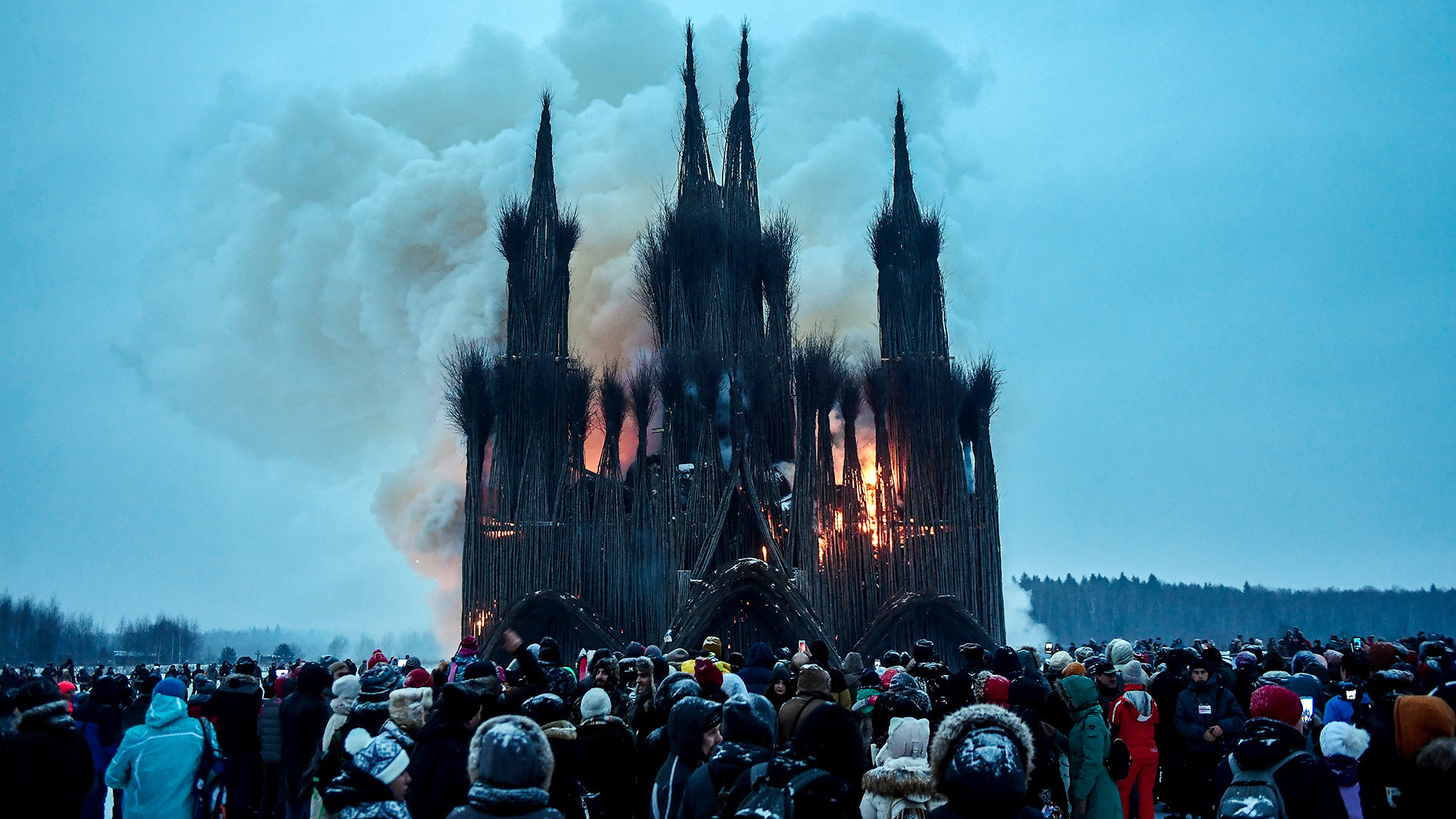 This year, Nikolay Polissky, the creator of the park – with the help of locals – created a giant 30-meter tall art object made of wood in the form of a Catholic cathedral. It was then set on fire.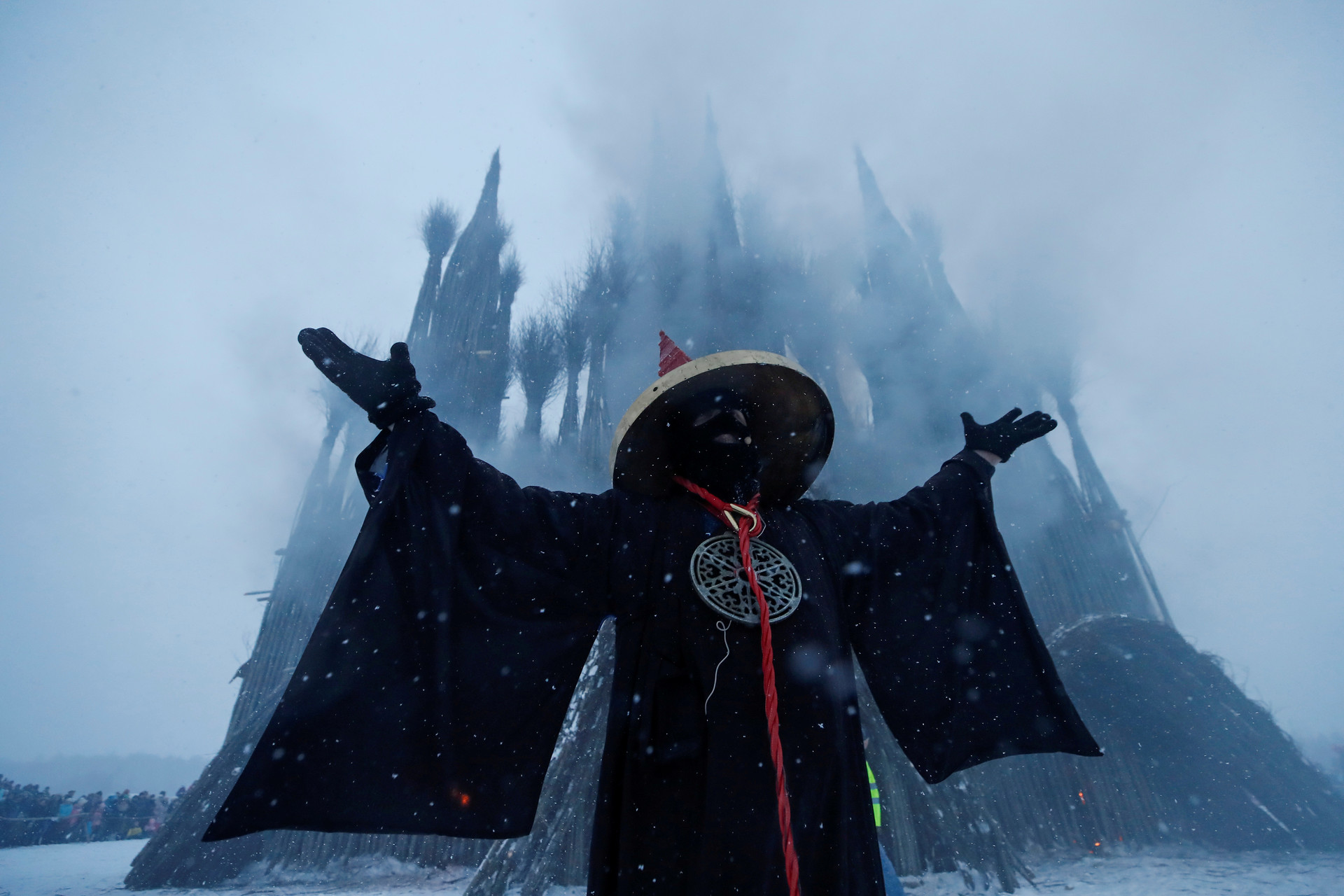 Artist German Vinogradov, seconds before he sets the installation on fire.
Maxim Shemetov/Reuters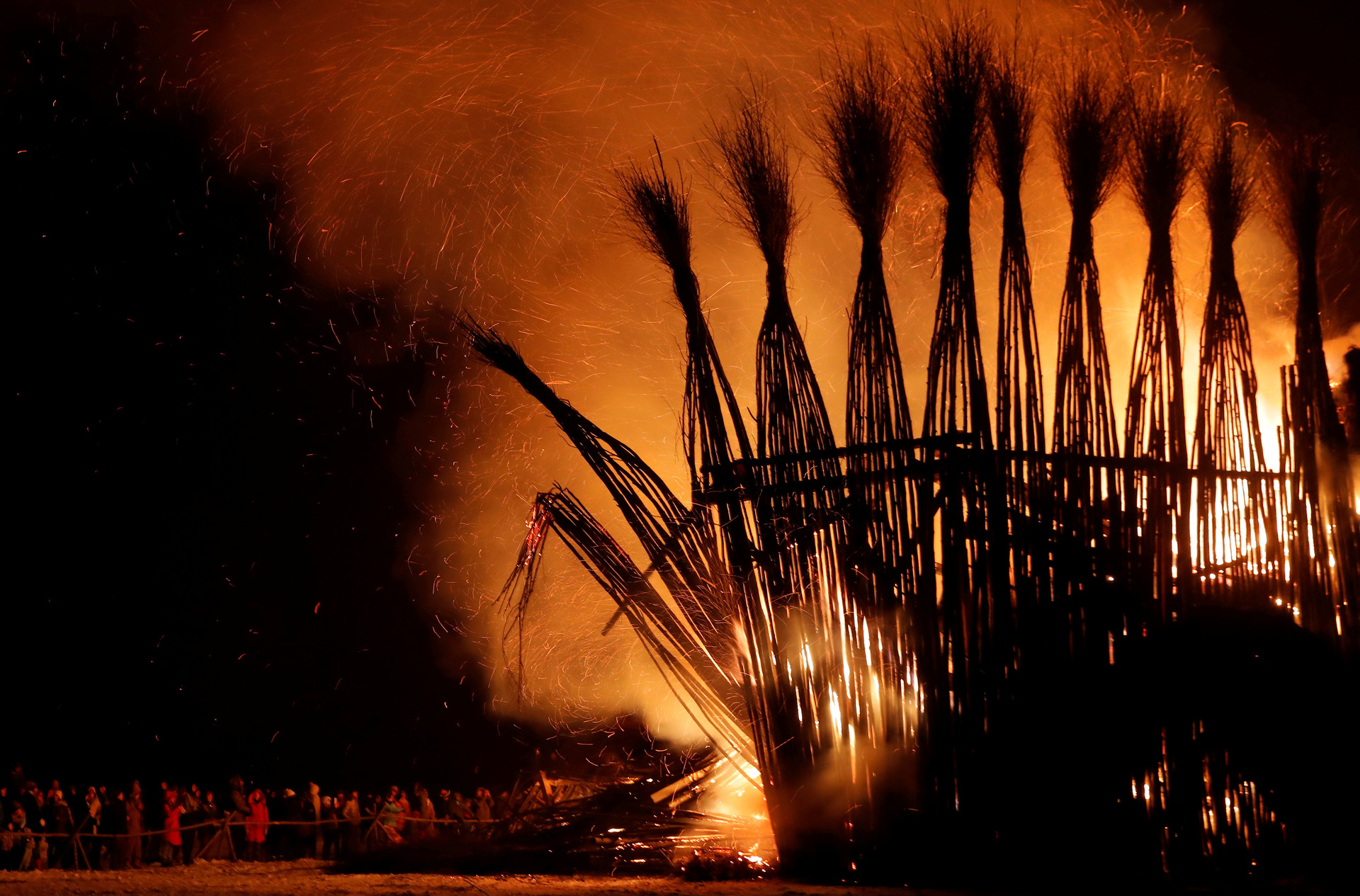 Spectators, stunned, look at the burning installation.
Maxim Shemetov/Reuters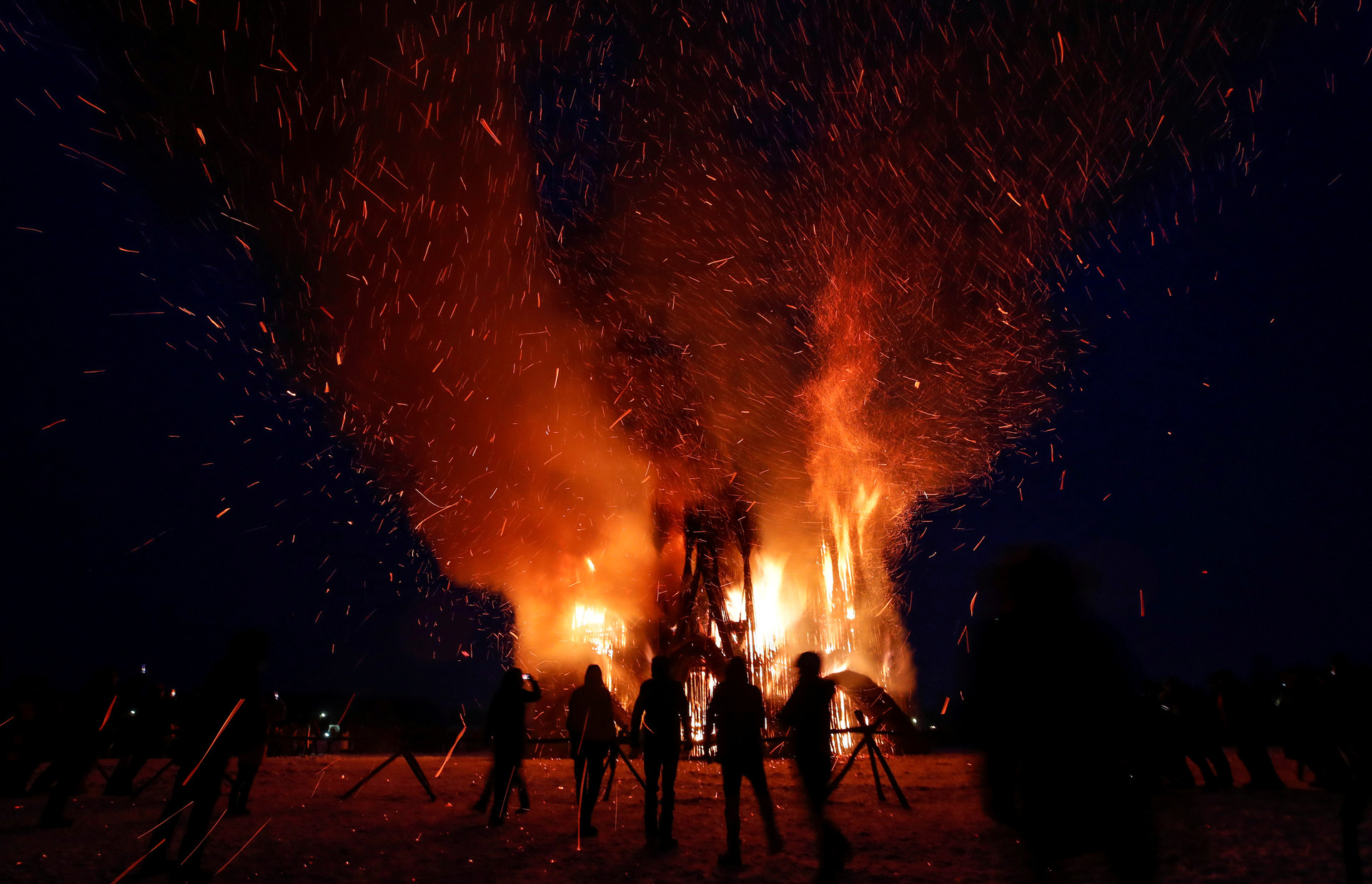 It took just seconds to set ablaze the whole object.
Maxim Shemetov/Reuters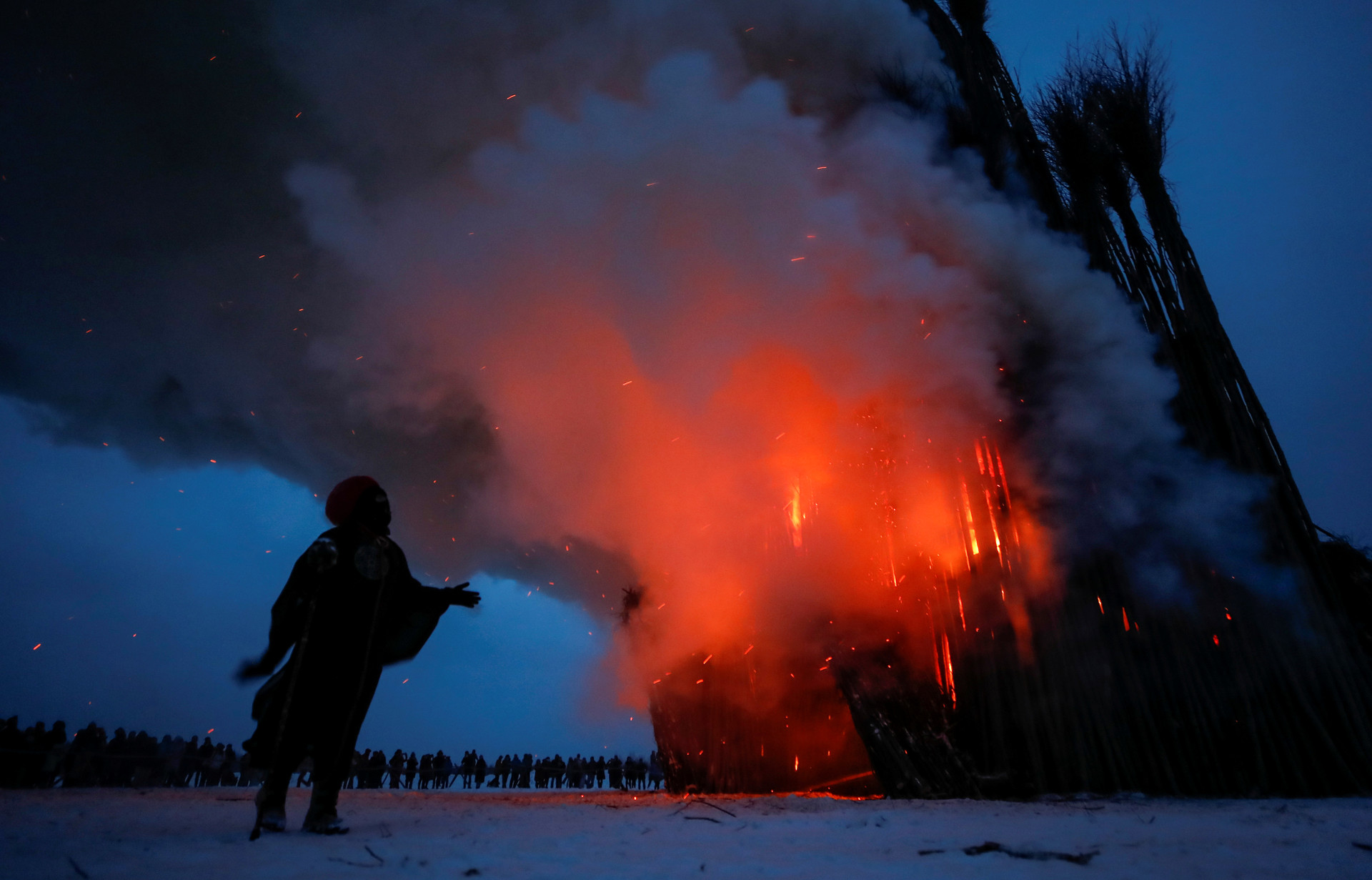 The burning "cathedral".
Maxim Shemetov/Reuters
"A cathedral being born out of the flame. It was interesting to look at the fire as a creative power, drawing pictures before your eyes," Polissky said. The project was named "The Flaming Gothic"
Not everyone was a fan of the performance, though – the Russian Orthodox Church condemned the act. A representative of the Moscow patriarchy Vakhtang Kipshidze spoke to Govorit Moskva radio station: "To my mind, there's no positive message behind such an action. The act of burning down a church, a Christian church, raises lots of questions."
UPDATE:
After the story attracted public attention, on Feb. 19, 2017, Nikolay Polissky stated that he was misunderstood: the flaming sculpture was not a cathedral. "The performance had nothing to do with religion or something anti-clerical whatsoever. It was not a cathedral, there were no crosses there and no altar as well – just a giant fire," he explained.
Polissky also noted that people witnessing the performance didn't associate it with burning a church; they were calling the structure "a castle". The artist said that he had already spoken to the representatives of the Russian Orthodox Church and they understood his arguments.
If you want to know more about Nikola-Lenivets, here's a special video.
If using any of Russia Beyond's content, partly or in full, always provide an active hyperlink to the original material.