3 Soviet cartoons that'll send shivers down your spine (PHOTOS)
R. Strautmane, B. Akulinichev/Soyuzmultfilm
Ever wondered why most Russians look gloomy, sad or strung out? There is a possible answer - and it lies in their childhood. Soviet TV aired really creepy cartoons on rather existentialist topics such as death, loss and trying in vain. Here's our top picks of some of the heavier ones.
Soviet cartoons were a vast industry, which spit out not only children's entertainment, but also so-called "cartoons for adults". However, very few of them contained sex, profanity or alcohol abuse, as one might have expected of such a label. No, these was an entirely different beast: many would start out with child-oriented themes, including talking animals, but would then descend into heavy storytelling and depressive conclusions. And because these "adult" cartoons had no set peak time, they could be shown virtually at any point in the day, scarring little Soviet children forever with their grim philosophical outlooks on life. We start, however, with a "normal" children's cartoon… that turns out to be nothing less than a psychological thriller.
1. 'The Adventures of Lolo the Penguin', 1986
Co-production between Japan and Soviet Union. Directed by G. Sokolsky and Kinjiro Yoshida, written by Victor Merezhko.
The cartoon begins as a merry animal fairy tale, but in minutes, it turns into massacre. No "adult" rating, of course!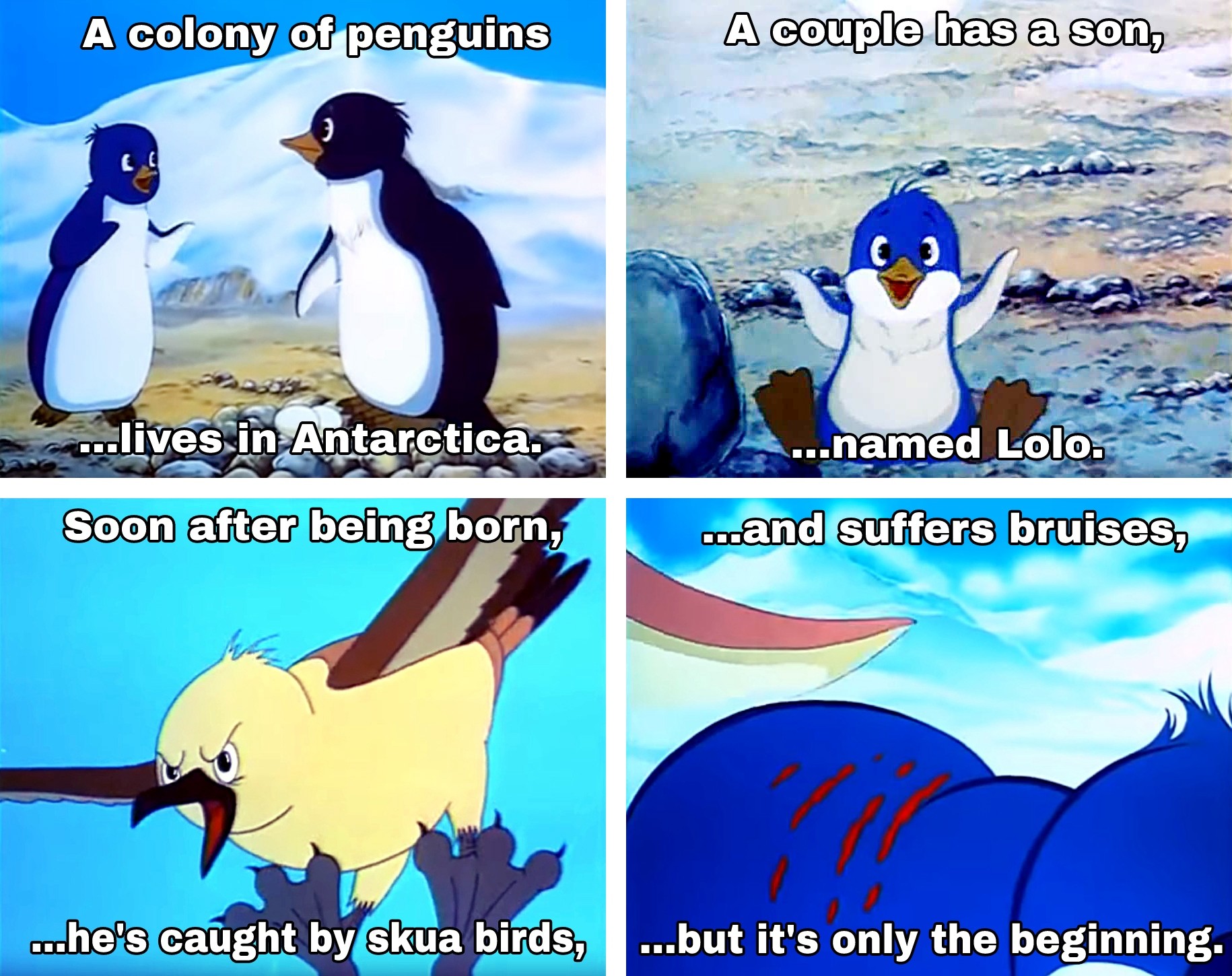 This co-produced feature length cartoon came in three episodes and has been heavily edited before release in countries except the USSR. In the North American version, almost all stills showing blood and murder were cut.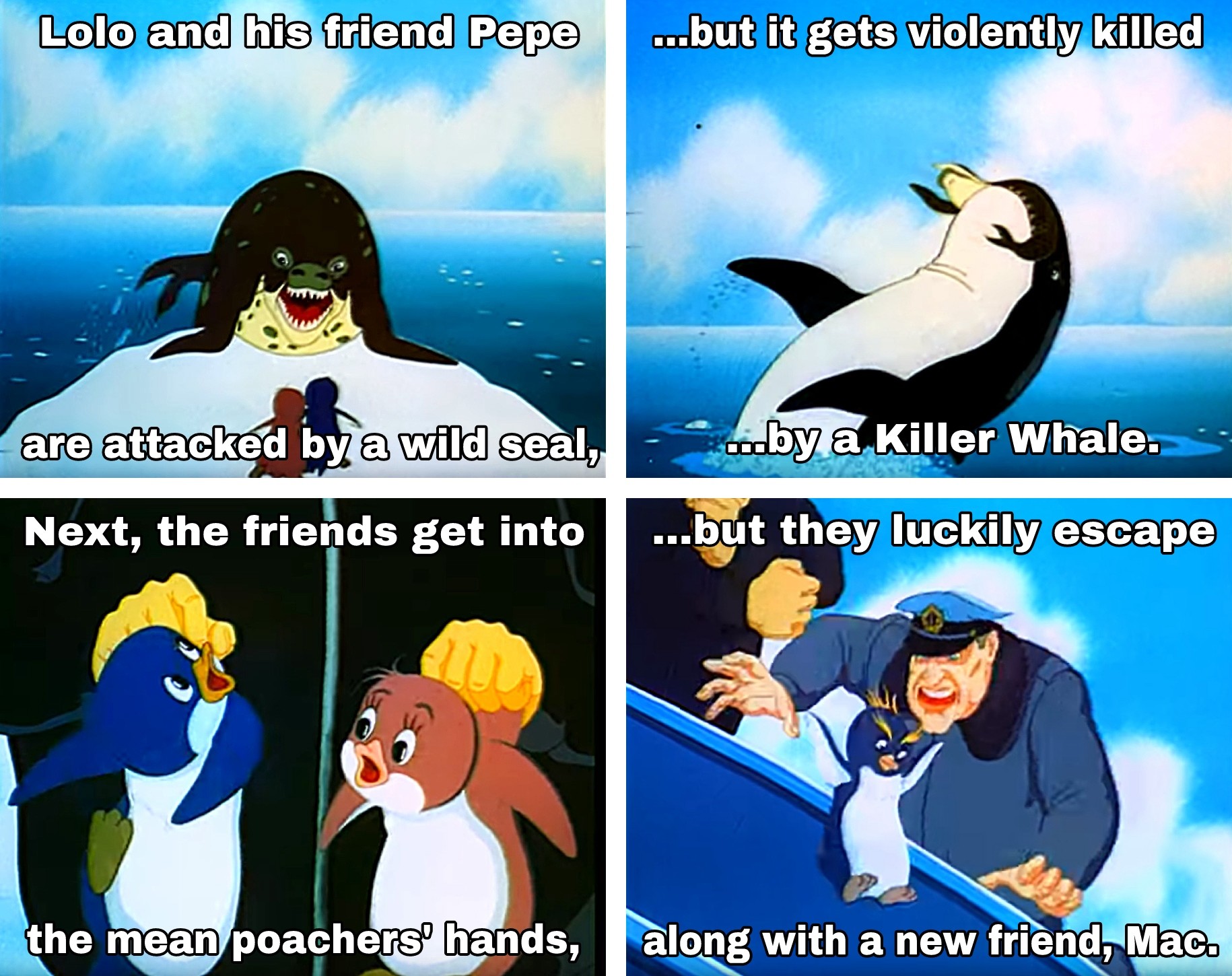 The children watching the cartoon suffered an emotional rollercoaster, with every episode beginning peacefully, before morphing into a grim, hopeless mood.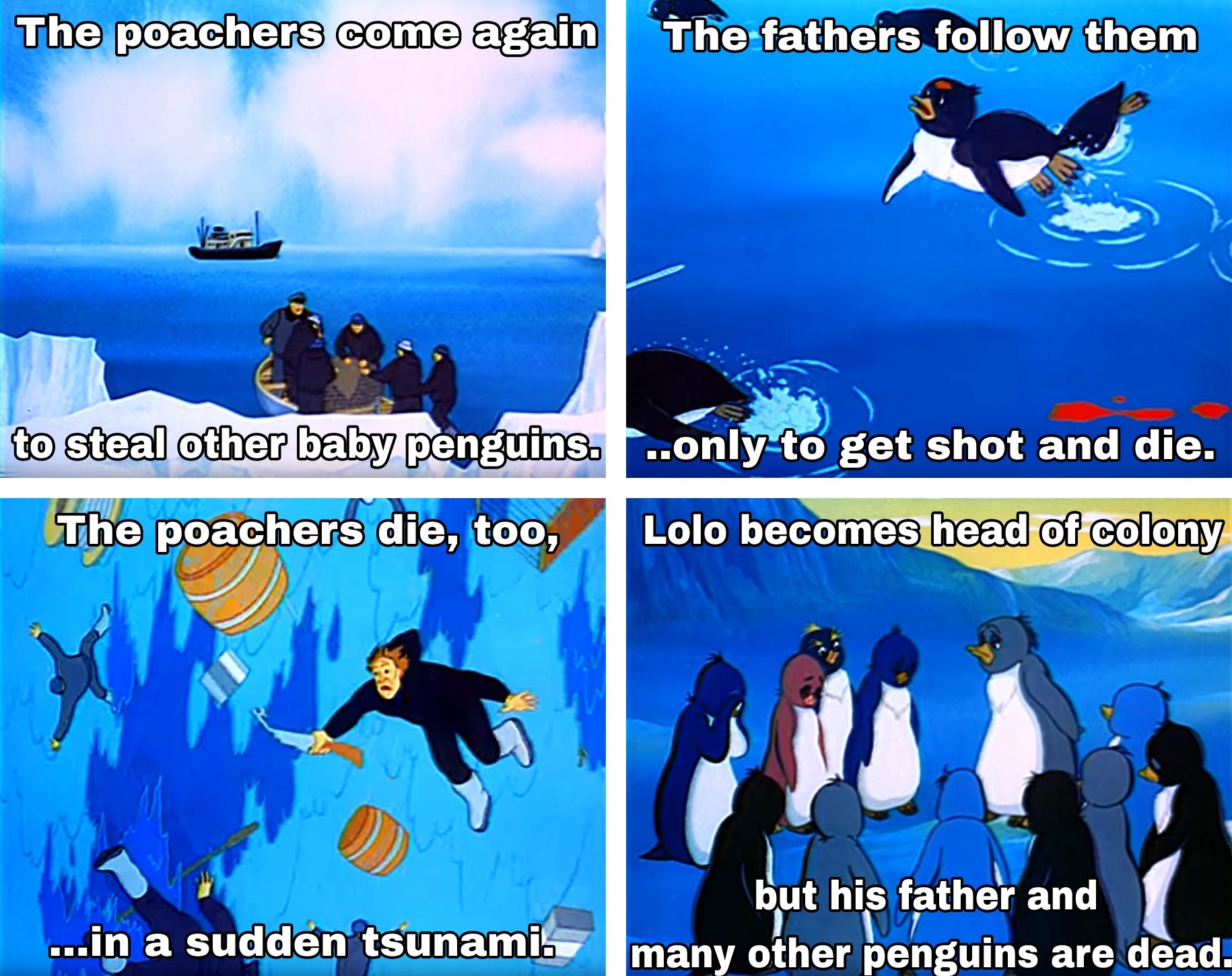 The American edit didn't feature the scene with the poachers killing the penguins, Lolo's father among them; they are said to have escaped, although they don't appear in the ending.
Nevertheless, some American viewers expressed disdain even at the edited version: "We got this for our 3 year old daughter after looking at the cute box cover. She loves penguins and penguin stories. This movie was horrible and shocking! ...At one point you see a penguin with bloody scratches along its back, the evil (and I do mean evil) sailors kidnap the penguin children, they shoot the old penguin... Do not buy this please!' - a reviewer on Amazon says.
2. 'The Dinosaur Mountain,' 1967.
Directed by R. Strautmane, artist B. Akulinichev.
The cartoon begins as a cute, happy children's story, although it's marked as an "adult" one. We'll soon see why.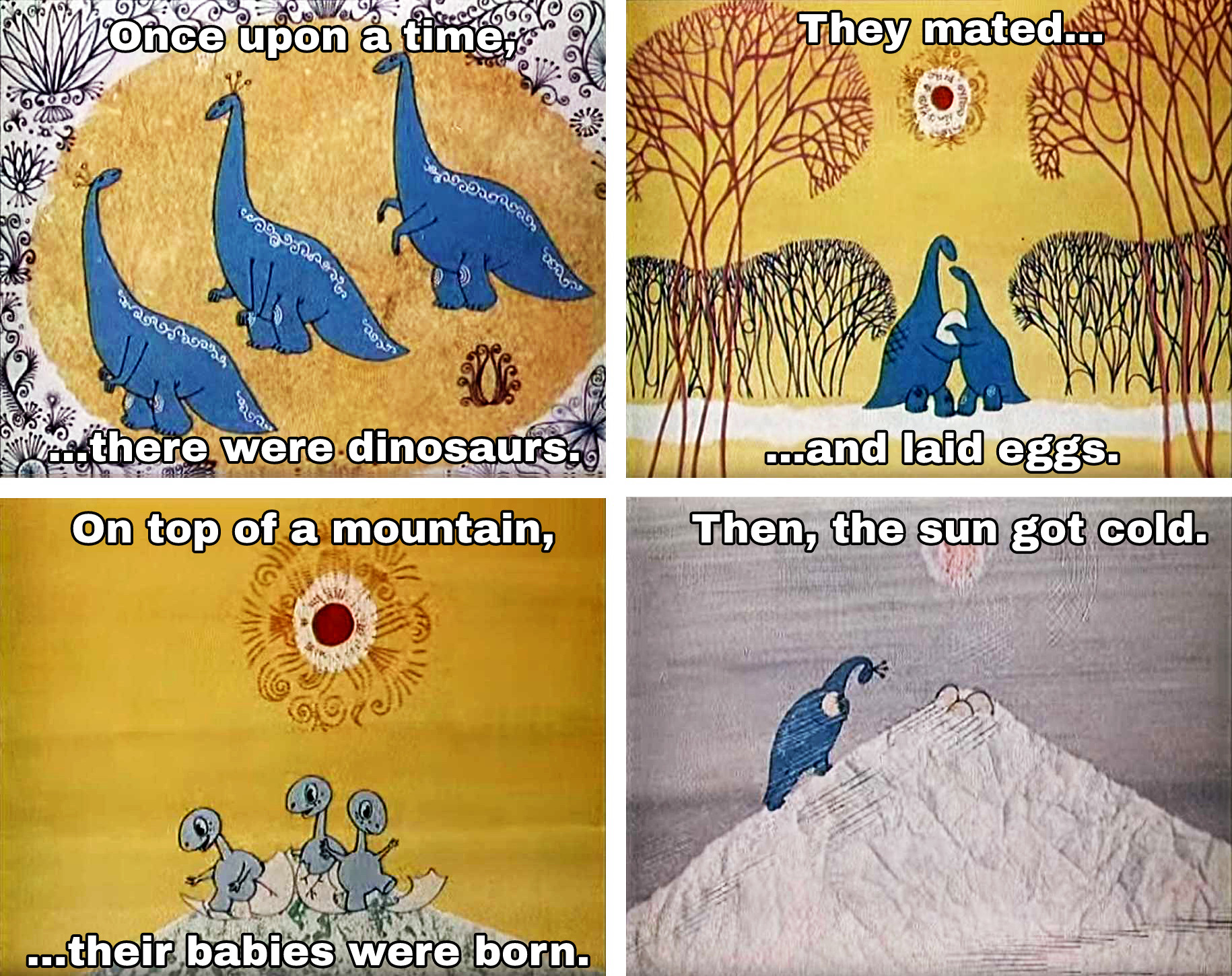 Soon, the cute story turns into a '127 Hours'-like edge-of-your-seat psychological drama.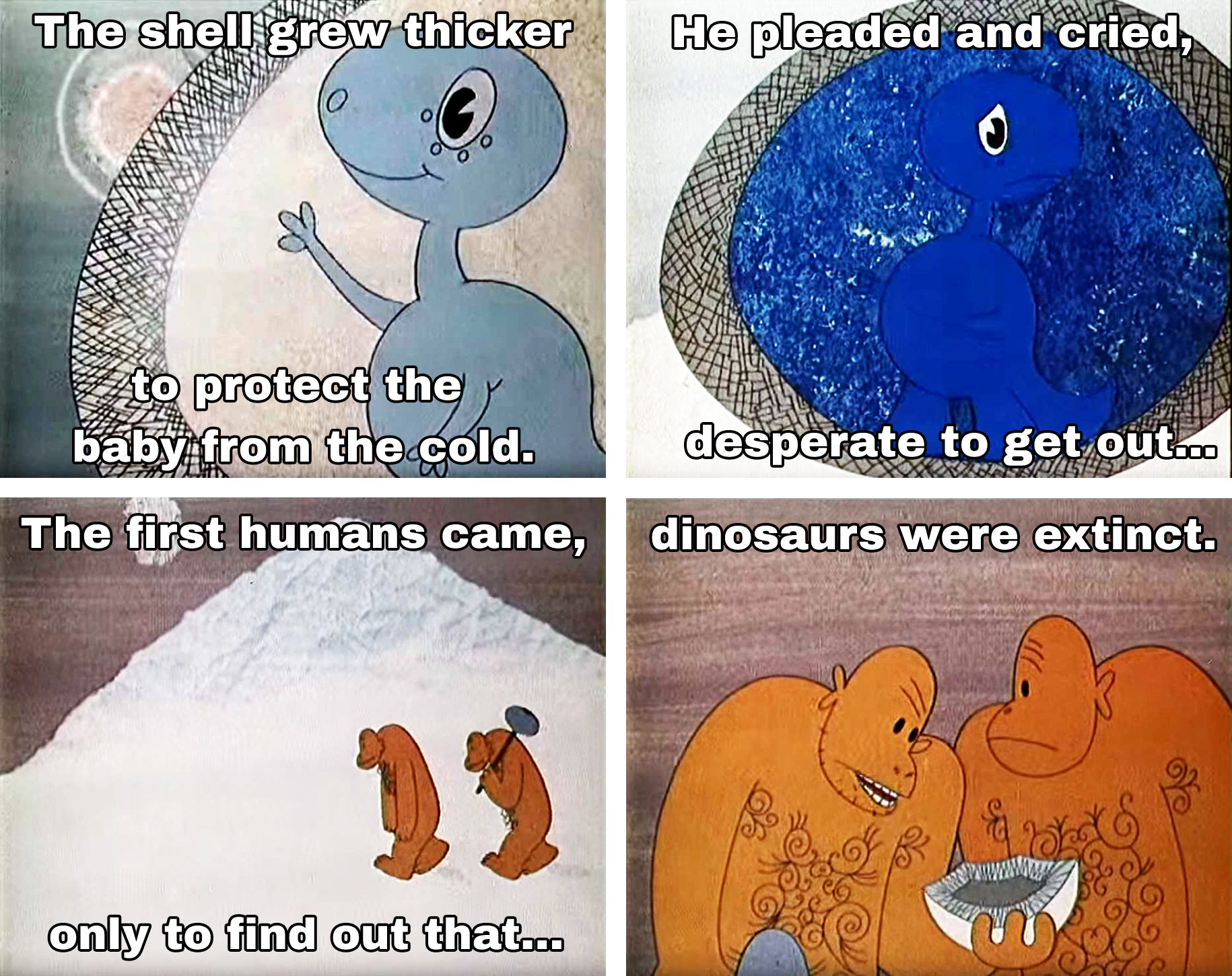 The sequence where the baby dinosaur pleads for the shell to crack open is devastating to watch. "I need to come out! I need to see the sun", the baby cries before slowly freezing to death. You can imagine this to be difficult to watch even for adults. You can check it out for yourself and watch the version with English subtitles here.
3. 'Icarus and The Wise Men', 1976.
Directed by F. Hitruk, artists E. Nazarov, V, Zuykov.
This cartoon is strangely gloomy-looking for something that was intended to entertain a child. The subject matter isn't much better.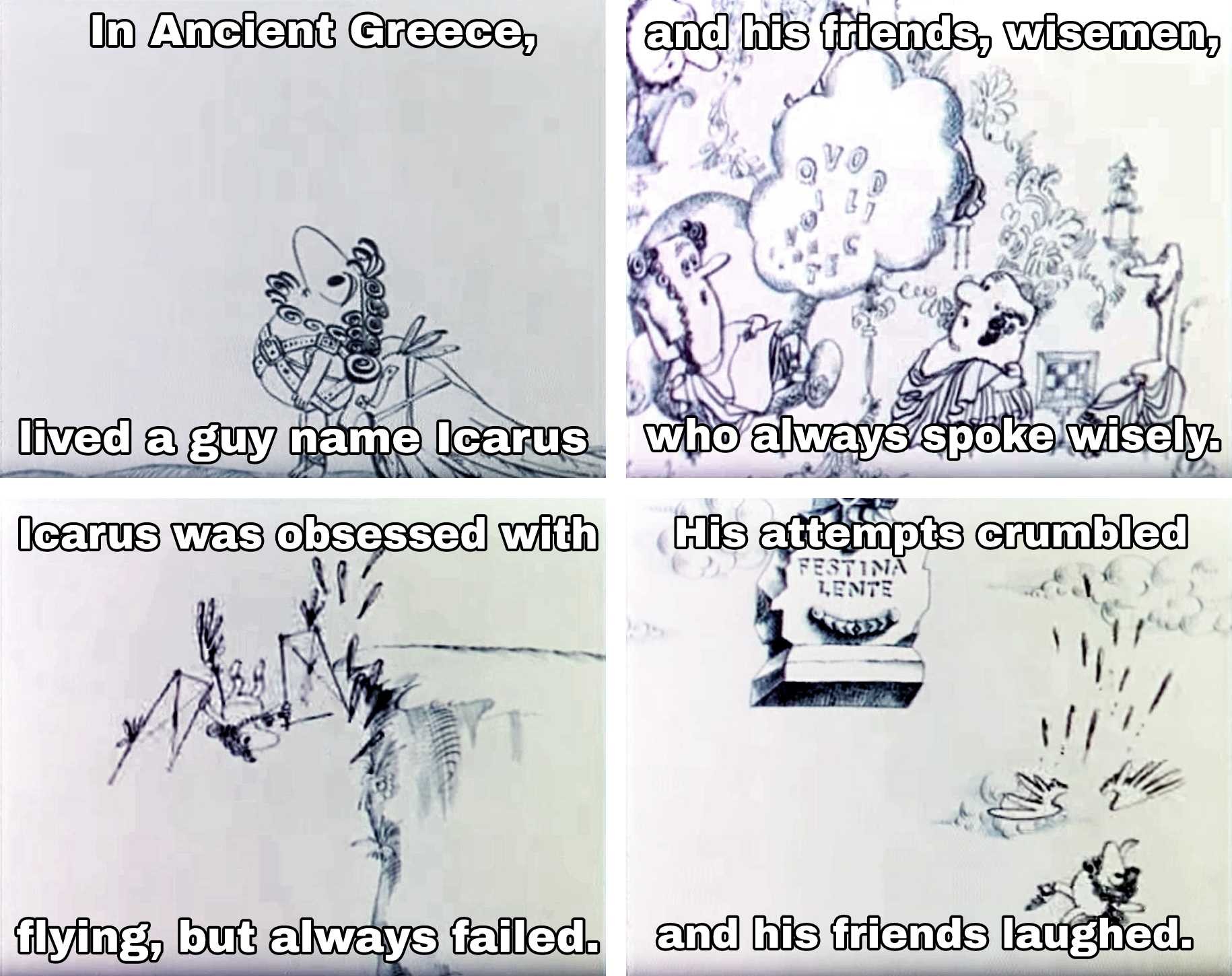 It's strange that Ancient Greece is shown, while the wise men are cracking Latin proverbs the entire time, but, moving on...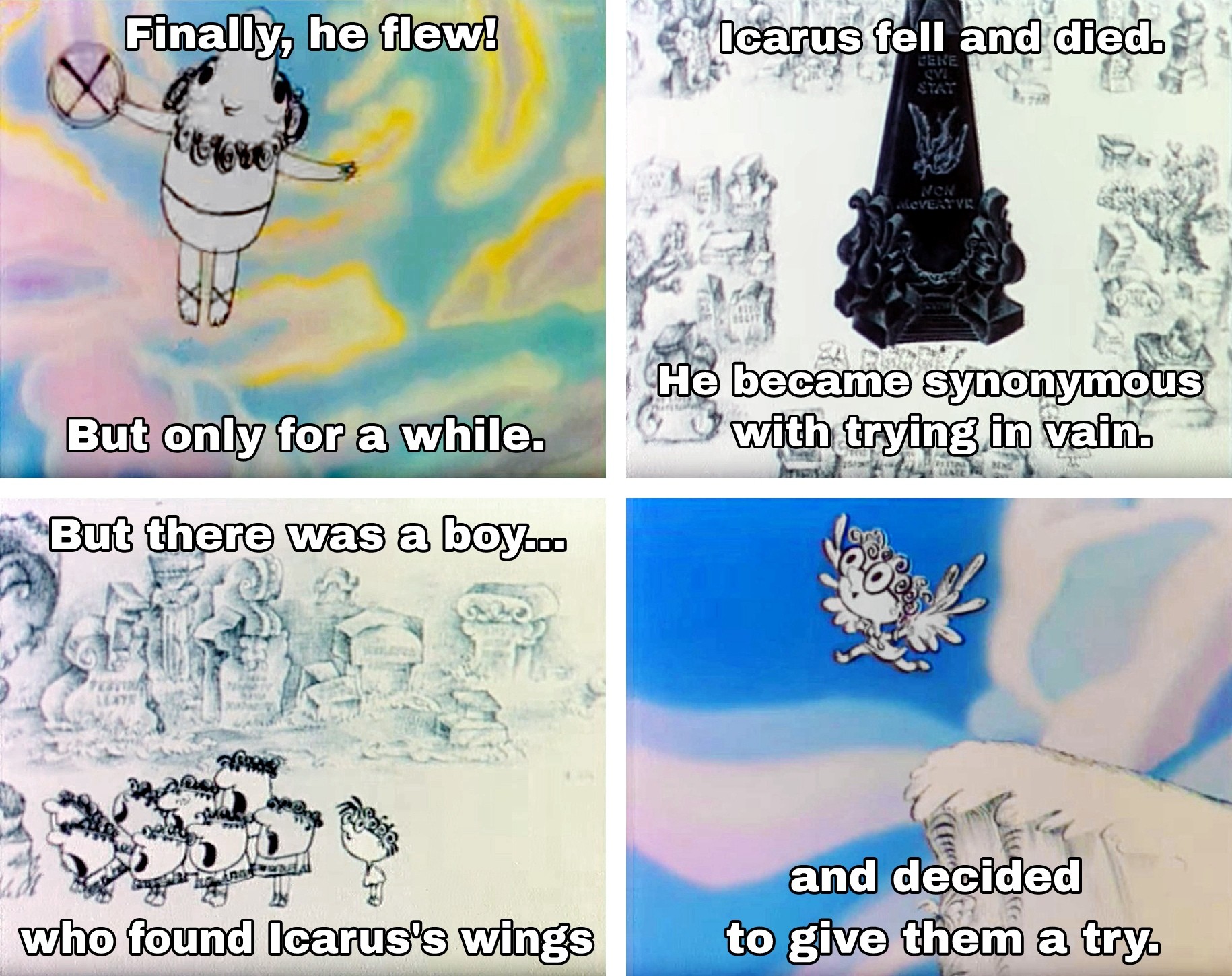 It is clear from the ending that the boy will go down the same way Icarus had - this is implied. So we end up with a kind of "motivational" cartoon, which teaches us that we shouldn't try anything new and risky, or go against the society we live in, otherwise we might die. We bet you'd never have imagined 'Icarus and The Wise Men' securing a 0+ rating!
If using any of Russia Beyond's content, partly or in full, always provide an active hyperlink to the original material.