The film industry that has evolved in Yakutia is a very real one with all the standard attributes, albeit in a scaled-down version: competing private film studios, a film school, a private foundation supporting film making and an annual film festival. The republic has even launched its own Netflix - the SAKHAMOVIE.RU video service. But, most importantly, local films are genuinely popular with regional audiences and regularly outperform Moscow and Hollywood at the box office. And, lately, Yakutian film directors have been bringing home awards from leading Russian and Western film festivals.
So, what's the secret behind this "Yakutian phenomenon"?
The actual Wall from 'Game of Thrones'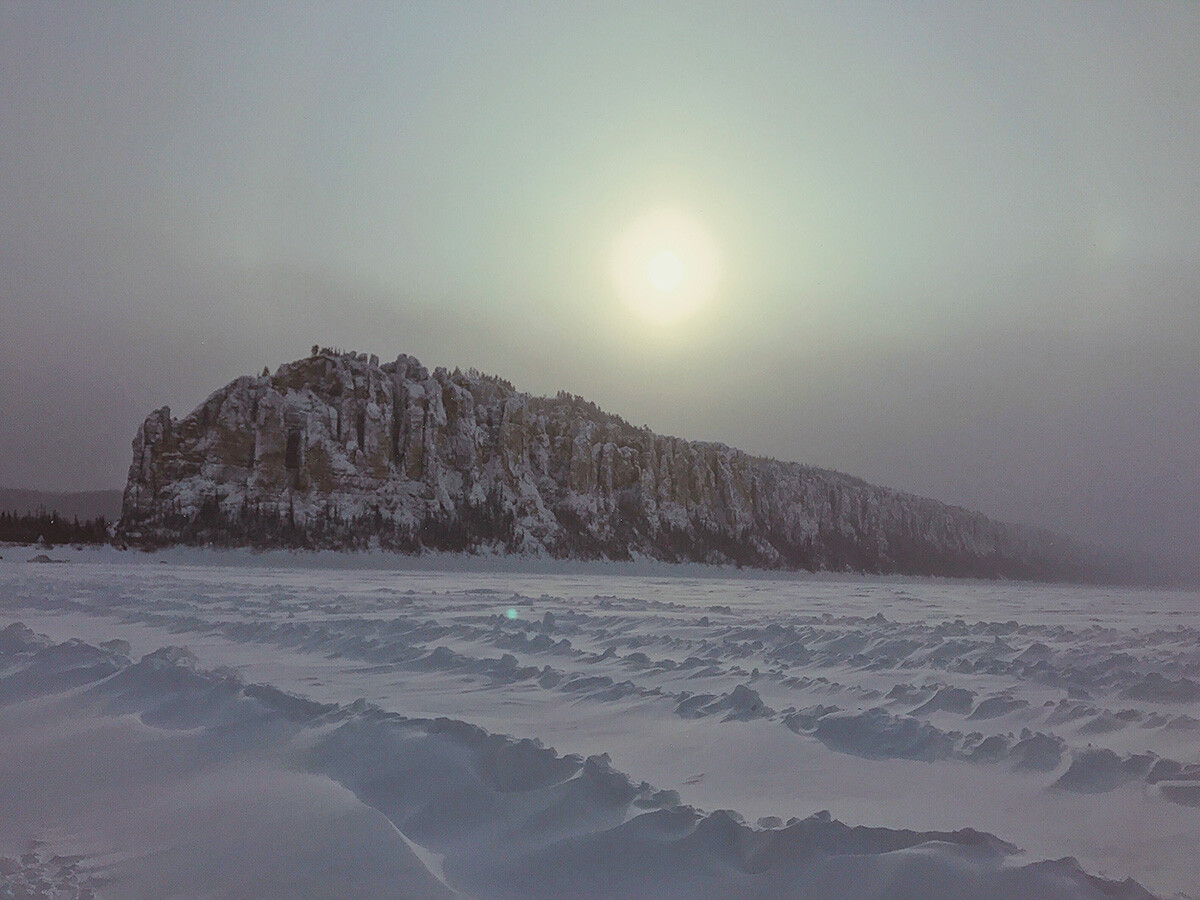 It would seem there is nothing surprising in Yakutia's success - after all, it is Russia's biggest region! Being so, it is part of legendary Siberia. The Republic of Sakha (as the Yakuts call themselves) occupies almost 20 percent of the country's territory and, in total area (over three million square kilometers, or about 1.2 million square miles), it is only slightly smaller than India. But, there is one major difference - if India has a population of over one billion, you won't find more than a million inhabitants in the whole of Yakutia.
Almost four-fifths of its territory is covered in forest and it has very short summers and extremely low temperatures in winter. The village of Oymyakon is one of the world's "Poles of Cold". A 30-year record for the republic's coldest temperature has only just been beaten this January - when meteorologists recorded minus 62.4 degrees Celsius!
In other words, it is one of the harshest places on Earth, with no obvious prerequisites for a film-making boom. The traditional centers of film production - Moscow and St. Petersburg - are very far away. Yes, the scenery here is very cinematic (enthusiasts have even shot a spoof video claiming that the Wall in 'Game of Thrones' really does exist and is, in fact, the Lena Pillars, a natural rock formation in Yakutia).
The visual character of the republic just begs to be put on the screen. It is a multiethnic region with many traditional cultures: It is inhabited not just by the pagan Yakuts (who are Turkic) and Russians, but also by numerous northern ethnic groups (the Evenks, Evens, Dolgans, Yukaghirs and Chukchi), who all keep up their own traditions. But, the republic lacks the infrastructure required for film making. A few films can be shot, but an industry cannot be created with sheer enthusiasm alone.
Yet, that is exactly what has happened. Literally overnight, the whole region got "hooked" on film making.
Everyone shoots movies and everyone watches them
Yakutia has been involved in the movie-making process since the distant 1930s. Studios from other regions shot documentaries there and also recruited actors from local drama theaters. Republican movie companies, including state studio 'Sakhafilm', only started emerging in the early 1990s, after the collapse of the USSR. A real boom came later when cinemas began to put their faith in local films and started including them in their repertoire. An early sign of things to come - the 2004 thriller 'My Love' directed by Sergei Potapov - caused an uproar: It recouped its budget four times over, but many viewers, who had clearly been expecting to see a melodrama (given the title), were outraged by its bloody scenes and black humor. Still, the process had started. In recent years, at least one or two Yakutian movies have been going on release locally every month.
Audiences keenly watch all sorts of genres - from historical thrillers ('Cold Gold', 2021) to comedies about disco dance-offs ('Cheeke', 2018). One of the most successful genres in Yakut cinema is horror. There is even a local equivalent of a "zombie apocalypse" - it's called 'Republic Z' (2018). But, the most common subject is ghosts. Visually, it's all very similar to Japanese horror movies, but, if there, as a rule, the ghostly emissaries are out for vengeance, Yakutian spine-chillers are about the love between the living and the dead.
Local filmmakers are well acquainted with the international movie scene and know not just Hollywood, but also Asian cinema (which clearly serves as a model for them), but even when dealing with universal subjects, they seek their own voice. In stories of the supernatural, they use motifs from local folklore, in historical dramas they address crucial moments in the history of their nation and, literally, all movies are shot in their native Yakut language. This, naturally, narrows the audience substantially, since only half the republic's population (less than 500,000) actually speaks Yakut. But, it is a matter of principle for them. Cinema in Yakutia is not just entertainment, but also a way of preserving and maintaining national identity.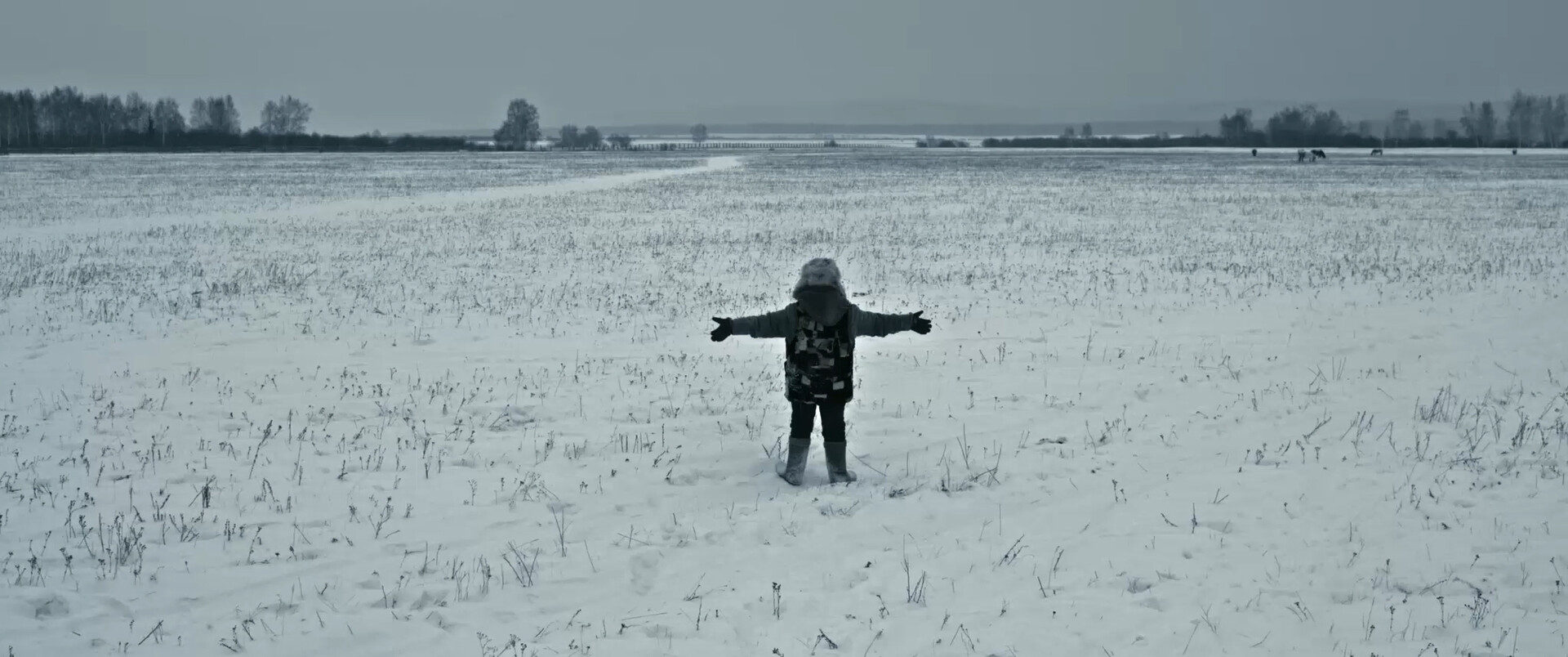 A still from 'Scarecrow'
Dmitry Davydov/Bonfire Productions, 2020
Many enthusiastic movie makers haven't even been to film school - and they have shot (and shoot) movies in their free time away from their day job, which is frequently far removed from cinema. For instance, Dmitry Davydov, considered the most famous Yakutian director, was a teacher in a village school. It was only after his third film 'Scarecrow' sensationally took the top prize at Russia's premier movie awards festival, 'Kinotavr' in 2020 that Davydov finally quit his job to concentrate entirely on film making.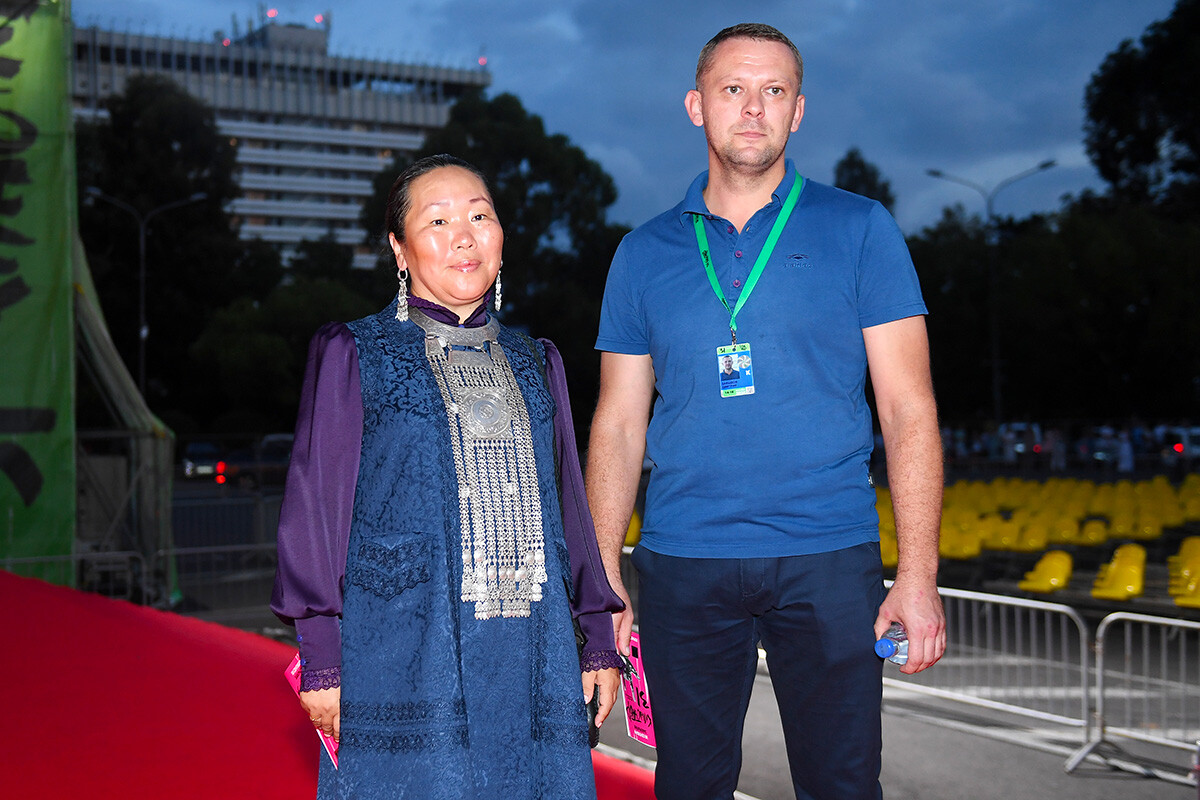 'Scarecrow' director Dmitry Davydov and Yakut actress Valentina Romanova-Chyskyrai at the Kinotavr film festival in Sochi
Yekaterina Chesnokova/Sputnik
It is a telling fact that the director was not afraid of taking a bank loan to make his debut movie. His forthcoming plans include a musical about his native village of Amga. Davydov has promised to donate part of the proceeds for the construction of a new square.
Yakutsk-Moscow-Yakutsk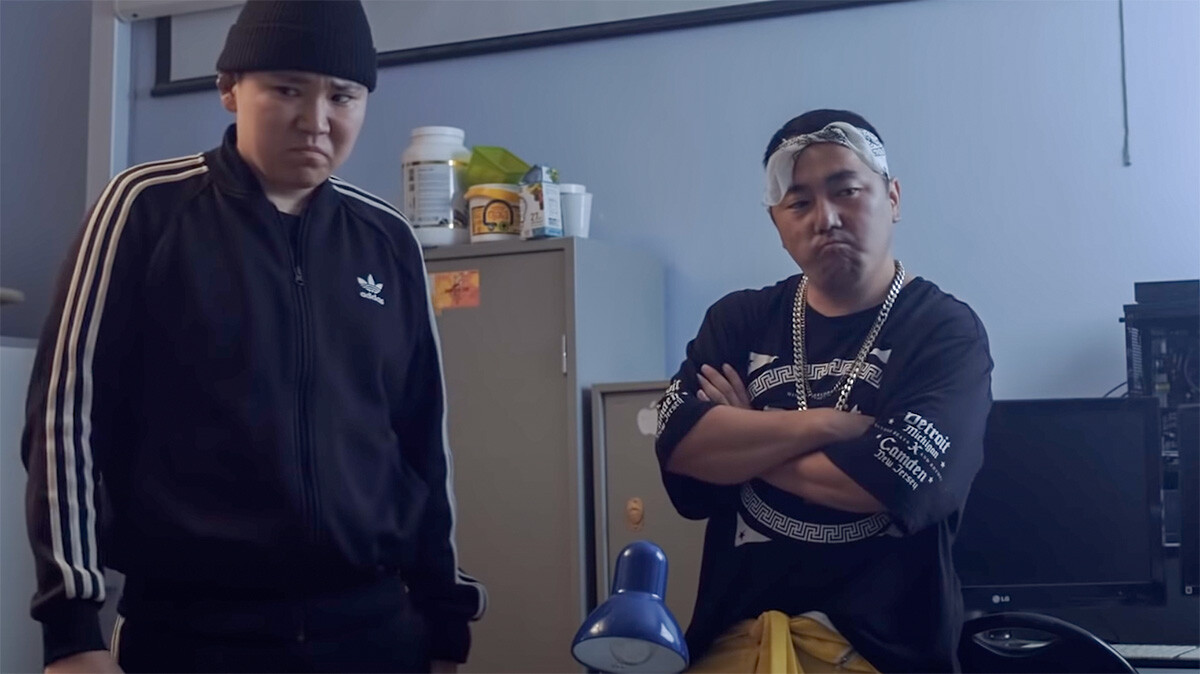 A still from 'Agent Mambo' movie
Alexey Ambrosyev/Suoratt, 2019
The highest grossing Yakutian release was the crime comedy 'Agent Mambo' (2019) about a useless policeman who infiltrates a criminal gang. With a budget of less than two million rubles (approx. $30,000), the movie took almost 16 million rubles at the box office (more than $200,000). This was standard for a Yakutian movie budget, which typically falls within the 1-3 million-ruble range (approx. $10,000-$40,000) - the production crews are slimmed-down, they shoot rapidly and the salaries are small.
Of course, higher-budget films are also being made. For instance, the first Yakutian film to go on a Russia-wide national release - Kostas Marsaan's thriller 'My Killer' (2016) - cost five million rubles ($70,000) to make.
Marsaan's next movie, the ethno-horror movie 'Ich-chi' (2020), cost much more - 26 million rubles (360,000 dollars). The lead was played by the nationally-famous actress Marina Vasilyeva, celebrated for her role in Andrey Zvyagintsev's Oscar-nominated drama 'Loveless'. 'Ich-chi' had successful outings on the international genre festival circuit - it was taken to Lisbon, Vienna and Sitges.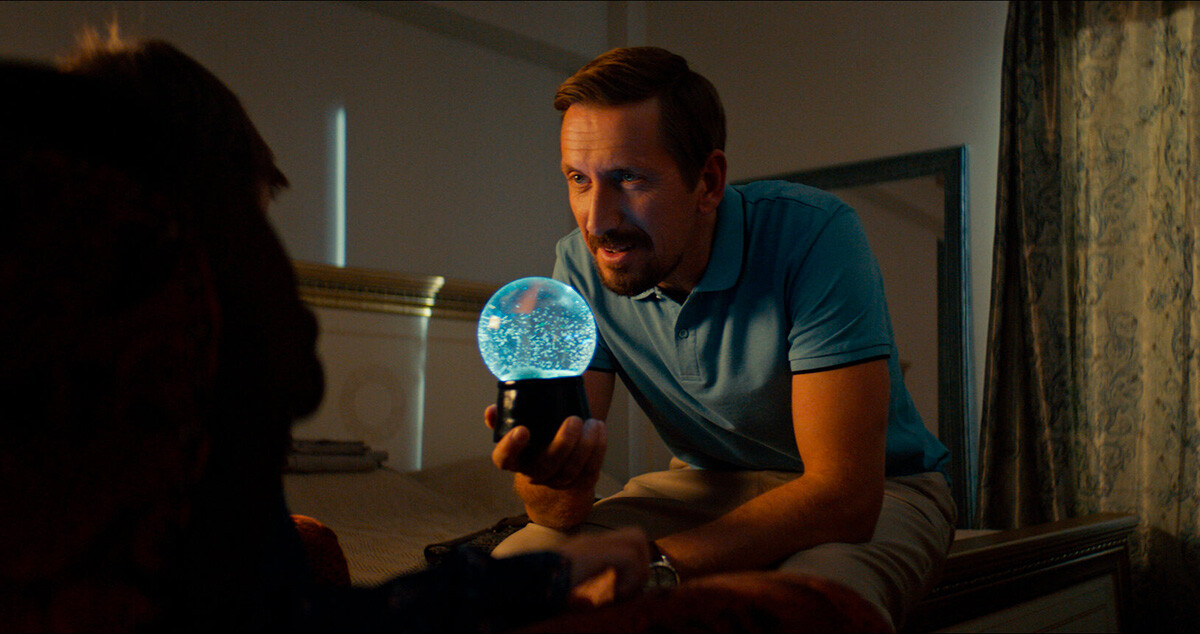 A still from 'Detector'
Kostas Marsaan/Gorky Film Studio, 2022
A new work by Marsaan is to go on general release in the spring - the thriller 'Detector' with Kirill Käro ('To the Lake', 2020), shot for Moscow's Gorky Film Studio. It has to be said that this kind of career trajectory - from Yakutsk to Moscow - remains fairly exceptional. Many go to study in the capital's film schools, but then return to work at home.
The "Yakutian phenomenon" has, in reality, acquired national and international acclaim thanks to auteur movies, rather than genre cinema. Local directors have notched up top awards from leading Russian film festivals - 'Kinotavr', 'Window to Europe' and the 'Moscow International Film Festival', as well as a multitude of international prizes and nominations.
For instance, Dmitry Davydov's debut movie 'Bonfire' (2016) won the prize for best drama at 'imagineNATIVE' in Toronto, had a competition screening at the 'Busan Film Festival' and was nominated for an "Asian Oscar" by the Asia Pacific Screen Academy. Vladimir Munkuyev's period drama 'Nuuchcha' (2021) won the main prize at the Karlovy Vary festival in its 'East of the West' category.
Dear readers,
Our website and social media accounts are under threat of being restricted or banned, due to the current circumstances. So, to keep up with our latest content, simply do the following:
Subscribe to our Telegram channel
Subscribe to our weekly email newsletter
Enable push notifications on our website
Install a VPN service on your computer and/or phone to have access to our website, even if it is blocked in your country
If using any of Russia Beyond's content, partly or in full, always provide an active hyperlink to the original material.