How to eat caviar the Soviet way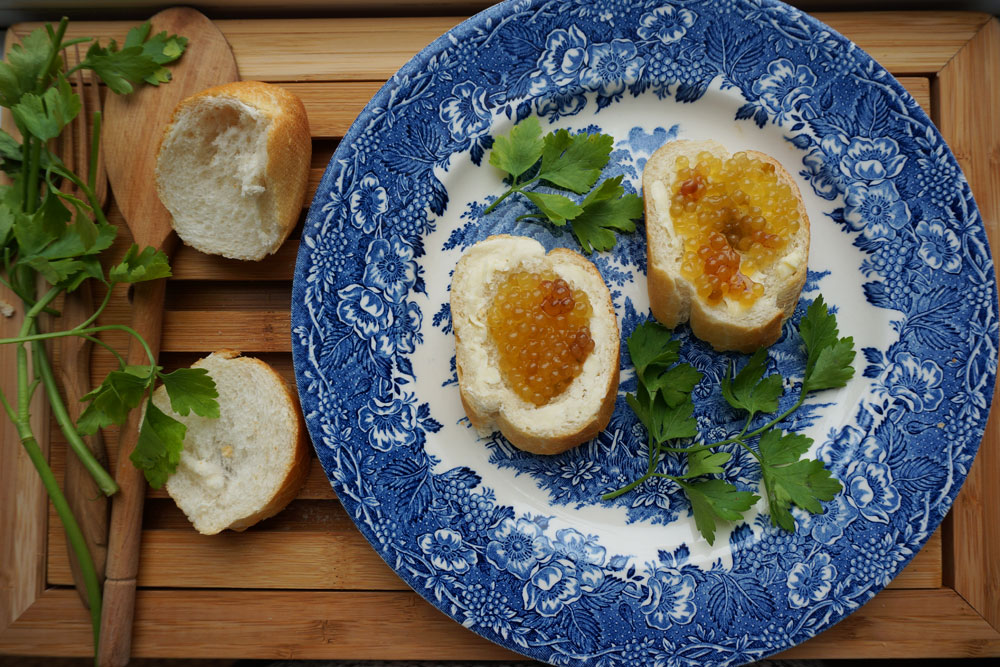 During the Soviet times, people would travel to the seaside to gather the fish.
Anna Kharzeeva
In the Soviet era, caviar was a requirement for any special occasion, and one way to get it cheaply was to help catch spawning fish.
This piece is part of the Soviet Diet Cookbook, a blog about a modern Russian girl cooking Soviet food. To read more of the series, click here.
If you're going over to a Russian house and aren't sure what to bring, a jar of red caviar is always a good idea. In Moscow you can get one for around $10, but it's still considered a treat.
Red caviar is often on the table at our family gatherings, especially for special occasions. I'm not a big fan of it, but my mother and brother can finish a small jar before I can take my coat off. Granny doesn't eat red caviar, smoked salmon or red fish soup, as it brings back childhood memories of drinking fish fat, yet she cooks and serves them regularly, just for us.
She also has a few memories about red caviar from the Soviet times: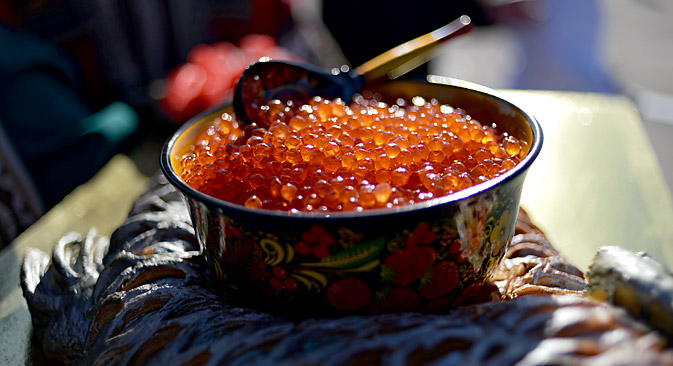 "Red caviar came in and out of shops, and when there wasn't any to buy, it would be given out in food gift bags at work – cod caviar for the less important people, and salmon caviar for the more important ones," she remembers. "It was a must for any good dinner table. There were two ways of serving it. One was slices of white bread with some butter and caviar on top – this option was considered the best, as there was quite a lot of caviar on each slice of bread. The other version was called 'ekonom' – it was halves of boiled eggs topped with caviar. Egg halves allowed you to use less of the precious stuff, so you could save some."
Granny also said that going to the shops or getting the food "gift bag" at work wasn't the only way to get enough red caviar to spread on your white bread. During the time of year that fish laid eggs, people would travel to the seaside to gather the fish and would either be paid in caviar for their services, or be able to buy it very cheaply. They would then come home and sell it to friends of friends. At some point, though, traveling around the country became too expensive and caviar hunting in that way ceased to be lucrative.
Although caviar was well known in the cities, Granny remembers that when she was in the maternity ward in 1963, a woman next to her was having tea with a red caviar "sandwich." Another young woman in the same ward, who came from a small town, wondered what that red stuff was and whether it was sweet. When she tried some all she said was "yuck! It's salty!"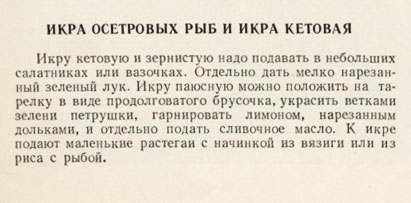 The recipe from the Soviet Cook Book, page 55
When I was about to make the very complicated meal of putting butter and caviar on slices of bread, I found out that my friend had recently acquired some from the seaside in Georgia. I invited myself over for some caviar and was surprised by its color – it looked more yellow than red, although it was definitely salmon caviar. My friend had boiled it in salty water and put it in a jar, as instructed by the seller.
Caviar can be bought even now from fishmongers in a "raw" form still attached to part of the fish. To process it for eating, you have to separate it from the skein and boil it with salt for a couple of minutes. I've never actually done this myself, and the Book doesn't give any instructions as to how to do it, but my friend and I agreed that the caviar she prepared tasted like the caviar we had in our childhood – the homemade variety.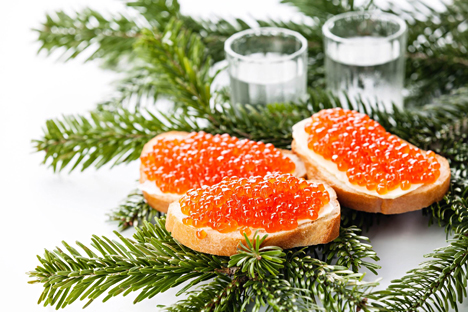 The top 10 requirements for a stereotypical Russian New Year
The Book also says that caviar, which "has lots of protein, fat and vitamins," comes in many varieties. It notes that one of the best types comes from the river Kura in the republic of Azerbaijan, a river that also flows into Georgia. The Book adds that the more yellow type is actually very good – my friend was right on the money with this one!
Since there were no instructions on how to serve caviar, I got some fresh baguette, topped it with butter and spooned caviar on the top.
Granny's friend Valentina Mikhaylovna says her mother used to buy strips of caviar, take it off and prepare it herself. Since it was cheap, they ate a lot of it with boiled potatoes. In fact, they ate so much she can't stand it to this day.
Despite my usual indifference towards caviar, I find myself craving it now – maybe it's the taste of this Georgian variety, or the different color of it. My mom and brother might have some caviar-consuming competition at our next family dinner!
All rights reserved by Rossiyskaya Gazeta.