Mushroom-stuffed aubergines from the Russian Kitchen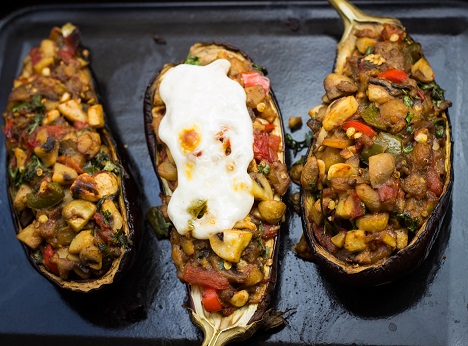 Eggplant stuffed with mushrooms. Source: Divya Shirodkar
For vegetarians and those tired of eating meat, this delicious vegetarian dish is easy to prepare and is a good accompaniment to both rice and bread.
Eggplant (or brinjal or aubergine) is widely used in vegetarian cooking not only in India but also in Russia. Because the summer is short and fresh vegetables are not available throughout the year, it is common in Russia to preserve eggplant for the winter. A lot can be done with this vegetable including frying, adding to curries, baking or steaming. It also requires a bit of technique to work with. One, because it soaks too much oil, and second, because it gets dark when exposed to the air.
There are some very interesting facts about this vegetable, which is actually not a vegetable, but a berry, like tomatoes!
1. Eggplant belongs to the 'nightshade family' of plants, which have acquired a bad reputation of not only contributing to arthritis and migraine, but also of being poisonous. The last fact is a myth about eggplant - it is not toxic, especially when eaten in normal amounts.
2. A study published in 1993 in the New England Journal of Medicine showed that eggplant has by far the highest level of nicotine of any vegetable. But it's such a small amount that there's really no need for concern. You would have to eat between 10 to 20 kg of eggplant to consume the amount of nicotine you would get by smoking one cigarette. (Source: indianapublicmedia.org).
3. In Renaissance Italy, it was called 'mala insana' or crazy apple.
4. Japan has a proverb about eggplant: The happiest omen for a New Year is, first Mount Fuji, then the falcon, and lastly eggplant.
5. One cup of cooked eggplant has only nearly 28 calories, and almost 10 percent of your daily fiber, which makes this spongy, delicately bitter vegetable a great and filling treat. Eggplants are also high in copper and potassium, making them a great energy boost when you need one, or to just experiment with healthier vegetable options.
Eggplant stuffed with mushrooms
Ingredients
(4 portions)
Large eggplant 2 pc
Capsicum 1 large pc
Onion 1 pc
Tomatoes 2 pc
Mushrooms 200g
Garlic 3 cloves
Cashew nuts 100 g
Vegetable oil
Salt, pepper, fresh coriander.
Mayonnaise or cheese (optional)
1. Clean eggplants, cut into halves and scoop out from inside with spoon or knife to make it look like a boat. The eggplant will immediately get dark by oxidizing. If you are not comfortable with the colour you could squeeze a lemon over it to prevent it from getting dark. Apply oil on the inside portion with a brush. The recipe recommends baking the scooped halves in the oven at 230 degrees Celsius for 10-15 minutes. It takes actually longer and I would advise the microwavable option which works just as well or maybe even better. It takes 3-6 minutes on high in the microwave to make eggplant boats soft. It makes liquid come out of the eggplant which is still no problem,
2. Peel onion and chop into small pieces, fry for 2 minutes. Cut into cubes scooped middle part of the eggplant and add it to the onion. Fry for another 7 minutes. Add chopped mushrooms, tomatoes, capsicum, salt, pepper and any other seasoning of your choice. When everything is cooked, add chopped garlic, crushed cashews and coriander.
3. Put mixture into eggplant boats, add a table spoon of mayonnaise on top or scrape cheese. Bake it in the oven at 200 degrees Celsius for 10 minutes or put in the microwave on high for 5-6 minutes.
4. While serving, sprinkle with chopped coriander. You could serve it with rice or bread.
Priyatnogo appetita! Enjoy!
The article was first published in 2013.
All rights reserved by Rossiyskaya Gazeta.