Igor Butman to perform in India with blind musicians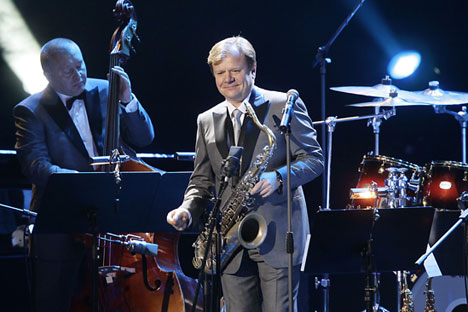 Igor Butman. Source: Ruslan Krivobok / RIA Novosti
The famed Russian Jazz maestro Igor Butman will perform with his band in India this October. The jazzman will take part in an international jazz festival 'Jus' Jazz 2015' across Goa, Mumbai and Delhi with his quartet, featuring the visually challenged Oleg Akkuratov, from October 4.
After mesmerizing audiences with an 18 member band (the Igor Butman Big Band) last year, Igor Butman is back in India, this time with his quartet comprising Saxophone, Drums, Double Bass and Piano. The Russian jazz maestro, a virtuoso saxophonist and skilled band leader, is set to perform a unique presentation.
Butman is due to stage an amazing blind pianist and vocalist, Oleg Akkuratov. A visually challenged boy from a small Russian town, Armavir, Akkuratov is an exceptionally talented pianist and vocalist, a unique jazz and classical musician, who participated in UNESCO's International Choir. He has won numerous international contests and has been awarded the World Health Organization's "Health" award, entitled "For the will to live". At the age of nineteen Oleg outplayed many others to win the International Piano Competition in Novosibirsk.
He has performed in the Olympic Games and Para-Olympic Games, inspiring many handicapped people.
Saxophone in hand, Butman who has enthralled audiences all over the world, needs no introduction. Bill Clinton called him "the greatest living jazz saxophone player, who happens to be a Russian." Butman popularized jazz in Russia, which earlier had only known the Western Classics. Strongly influenced by Miles Davis, Charlie Parker, John Coltrane and Sony Rollins, Butman combines the heart and soul of Russia with Jazz, which he will bring all the way to India.
The organizers will facilitate an interactive workshop between the Igor Butman Quartet and the visually impaired students from the National Association of Blind at Little theatre, NCPA, Mumbai on 5th October 2015.
"We will have the performance in Mumbai with the National Association of the Blind. It will be a sort of a charity event, so blind students could learn more," said Apurva Agarwal, co-founder of Jazz Addicts, which is organizing Butman's concerts in India.
The concert schedule will be bigger this year, with Butman set to shake a leg with his fans in the musical capital, Goa, along with the annual Mumbai and Delhi concert schedules.
Starting with Goa on October 4 at Justa Bay 15, the multi city tour will captivate Jazz lovers in Mumbai at the National Centre for Performing Arts (NCPA) on October 5 and 6, followed by Delhi at Q-la on October 7, and at the Oberoi Hotel (Gurgaon) on the 8th of October, 2015.
Igor Butman. Nostalgia. Source: YouTube
All rights reserved by Rossiyskaya Gazeta.