Siberian choir, dances and artisans at the crafts fair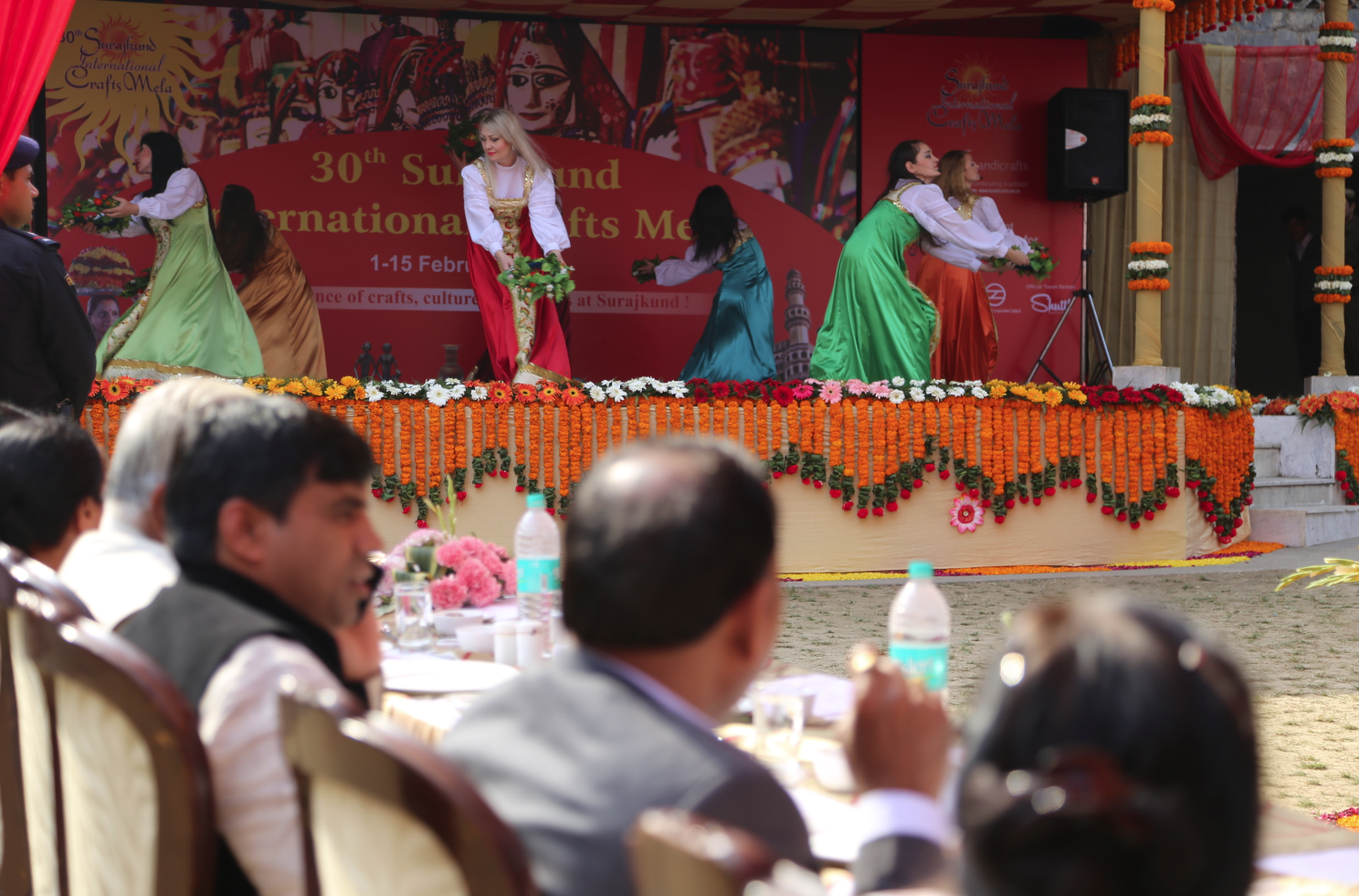 KrasA (Beauty) Ensemble of Folk Song at the international Crafts Mela at Surajkund.
Alessandro Belli
Russia is taking part in the international Crafts Mela (fair) at Surajkund, held consecutively for the 30th time. The Krasnoyarsk State Ensemble of Folk Song KrasA sang folk songs and performed dances, while craftswomen from Siberia showed their crafts.
The Krasnoyarsk State Ensemble of Folk Song KrasA (Beauty) was founded in 2001 as a repertory ensemble of Russian songs Sibirskiye Zori (Siberian Dawns) and, in 2007, became part of the Krasnoyarsk Philharmonic. This collective's creative activities are multifaceted, with the artists working in various genres, playing many musical instruments; button accordion, concertina, balalaika, bass, guitar, violin, drums, synths, zhaleyka, ocarinas, flutes, horns, kugikly, treshchotka, rubel, spoons, and tambourines; and sing and perform complicated choreography.
The ensemble has won numerous awards at Russian and international folk art festivals, and at an all-Russia competition "100 Best Products of Russia," in the "Culture"nomination segment.
Source: Alessandro Belli
Anatoly Ivanovich Khlopkov, artistic director of the ensemble, is an Honoured Worker of Culture, Honoured Worker of the All-Russia Musical Society, Chairman of the Krasnoyarsk Branch of the Russian Musical Society, and winner of the Krasnoyarsk Region Award in the field of traditional folk culture.
"This is our first time in India," he told RIR. "The Surajkund Mela is a great event. A big celebration. The masters here have a great opportunity to display their products to vast audiences."
Indian and Russian fairs are very similar. "Both here, just like in Russia, the main thing is not to sell products, but make sure that everyone has fun," he said.
The ensemble's artists, along with colleagues from Kyrgyzstan, Japan and Egypt performed for Manohar Lal Khattar, Chief Minister of Haryana state, where the annual 'Mela' is held, and several concerts for visitors to Surajkund Mela.
"The Russians are very curious people. I am sure that my fellow countrymen would find it very interesting and useful to see how people live in India," said Khlopkov.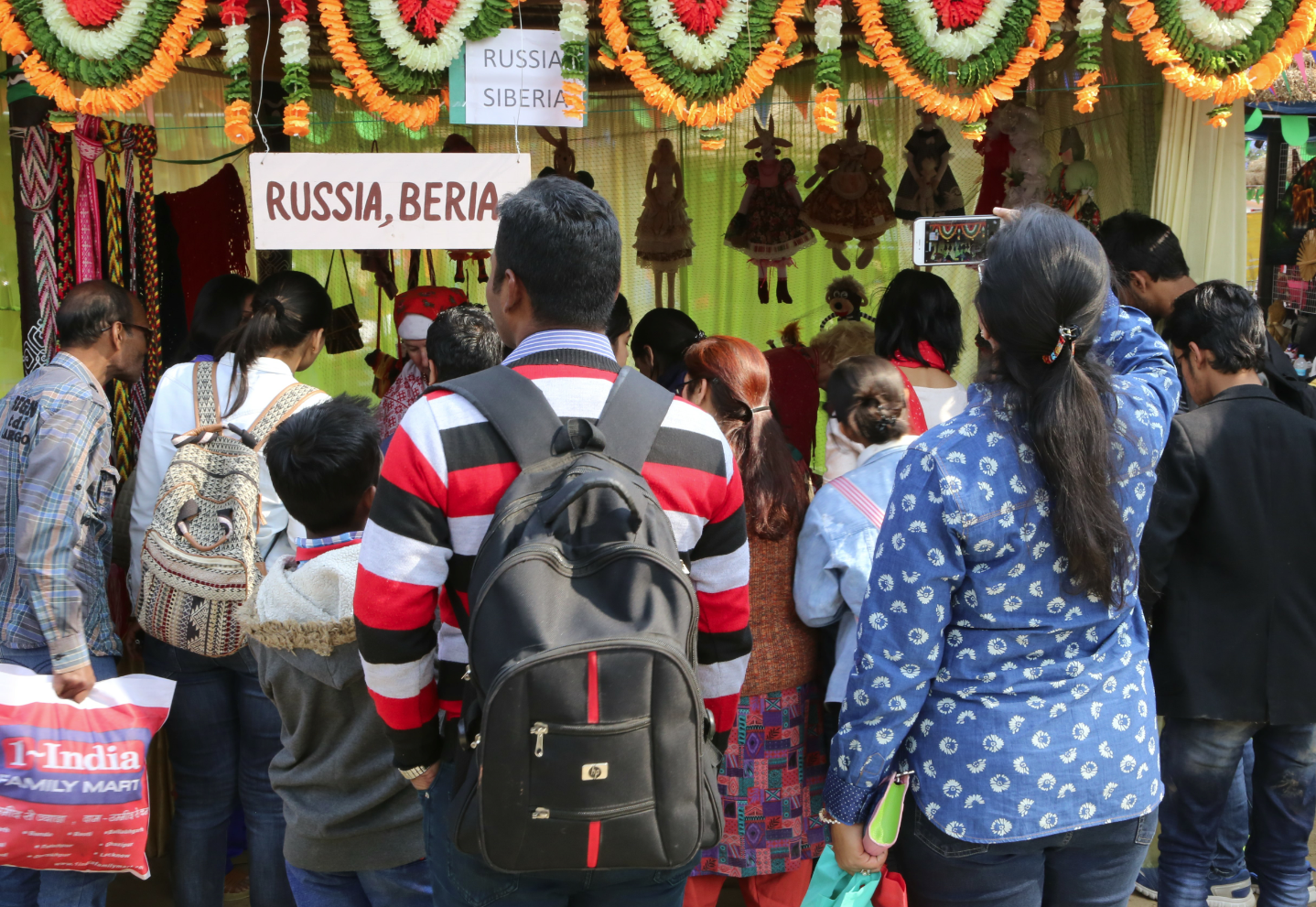 Source: Alessandro Belli
Trade was brisk at the Russian stall. Many students were curious to know why Russian "dolls are not only beautiful, but scary." They saw Baba Yaga; a character from Slavic mythology; originally a deity of death: a woman with a snake tail, keeping watch over the entrance to the underworld, and accompanying the souls of deceased to the realm of the dead. In Russian folk tales, she usually lives in a dense forest, which has long inspired fear in people, being perceived as the boundary between the worlds of the dead and the living, living in a hut on chicken legs with a palisade of human bones and skulls.
"Sales are brisk," says Elena Vopilova, one of the craftswomen. During the first four days we have sold two-thirds of all the goods we brought here."
Besides dolls, wooden kitchen utensils, rag amulets, scarves and shawls, and jewelry made of semiprecious stones are sold in the Russian stall.
"Jewelry is the absolute bestseller. On the second day, a group of Indians came up to us and bought it all."
Krasnoyarsk Krai, in Siberia, is the second largest region of Russia, with 2,366,800 square kilometres (or almost 14% of the country's land mass).
All rights reserved by Rossiyskaya Gazeta.