Science Film Seminar at RCSC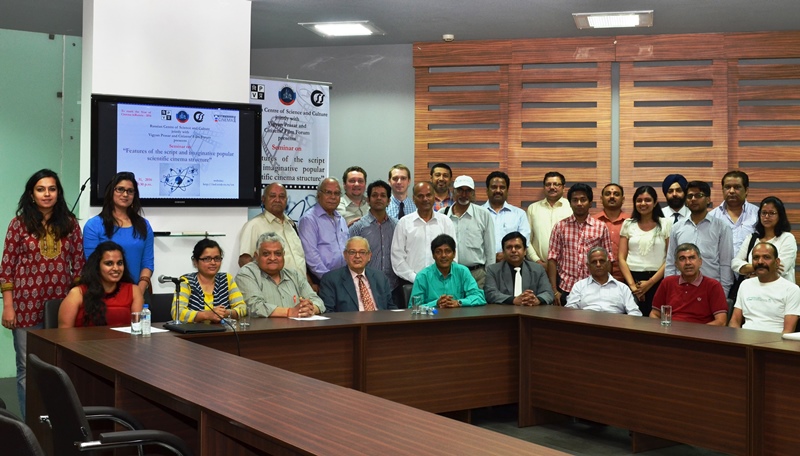 The seminar marked the Year of Cinema in Russia-2016.
RCSC
A seminar on the tenor of scientific cinema, was jointly organised by the Russian Centre of Science and Culture in New Delhi, Vigyan Prasar and Citizens' Film Forum, as part of the Year of Cinema in Russia 2016. It aimed to popularise the scientific temper among youth.
Different aspects of science films and scientific cinema were discussed at a seminar organised under the joint auspices of New Delhi's Russian Centre of Science and Culture (RCSC), Vigyan Prasar and Citizens' Film Forum on March 31. Deliberations focused on different aspects of this art form, like its salient features, prospects, problems, essential requisites and relevance in the seminar, "Features of the Script and Imaginative Popular Scientific Cinema Structure." The seminar marked the Year of Cinema in Russia-2016.
Chaired by chief guest Gautam Kaul, President, Federation of Film Societies of India, participants in the seminar included Matiur Rahman, Science Film-Maker, Vigyan Prasar, S. Sharma, Noted film maker, Vimal Mehta, Hon. Secretary, Citizens' Film Forum, and others. The enthusiastic audience comprised short-film-makers, script-writers, professionals, scholars, film critics and students, who interacted with the speakers.
Alexander Zhmyrev, Consultant, Science & Technology, RCSC, said that the joint venture of contemplating on scientific cinema was an attempt with a difference, obviously with the novel idea of creating the awareness on the salient features of the topic. The RCSC, he said, had been organising seminars, workshops and film festivals with close associates to better benefit people of both countries.
Kaul, in his address, underscored the relevance and importance of science cinema, speaking of Russian advances in and support of this art form to popularise a scientific temper. He urged young talents to come forward to create scientific awareness among youth.
Citing personal experience, Rahman dwelt on hardships in the process of film-making, particularly scientific films, which demanded much more initiative, scientific perception and research work. He made a fervent plea for study, observation and effort in the endeavour of presenting scientific innovations to the world, to benefit humanity.
Sharma laid stress on developing a scientific temper as a pre-requisite for the research-oriented mission of producing scientific cinema, away from the regular genres of romantic, commercial productions.
Qazi M. Reghib, advertising film-maker, lamented on lack of professionalism in young film-makers faced with lack of funds and time, leaving a negative impact on the scientific cinema form. Perseverance, he stressed, was important.
All rights reserved by Rossiyskaya Gazeta.