New dimensions of BRICS youths tie-up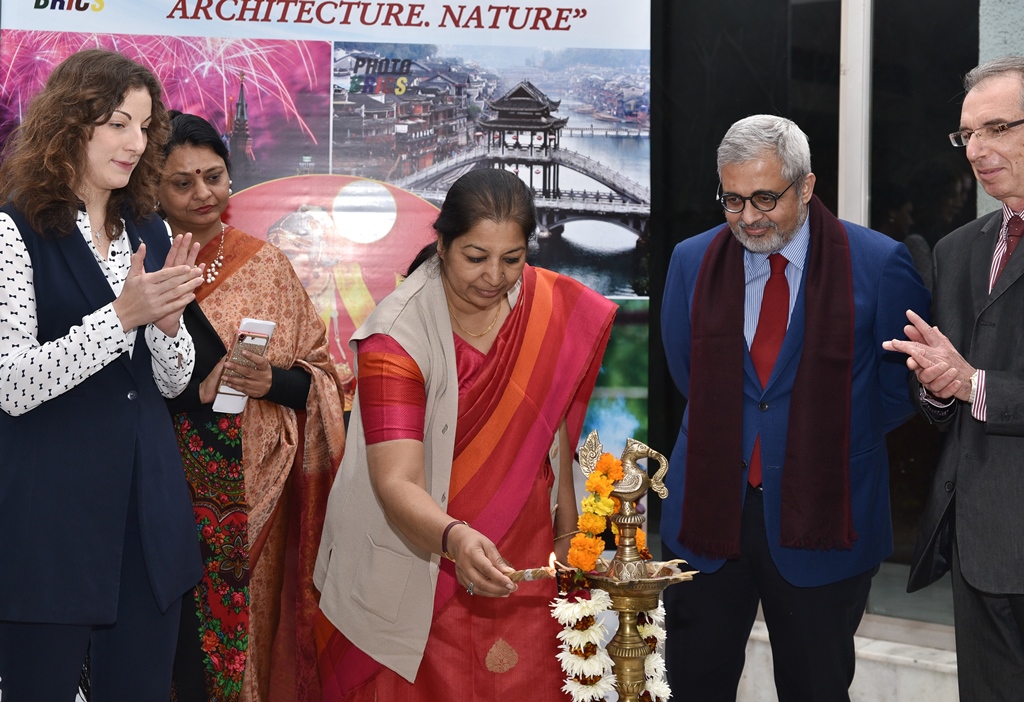 The inauguration of the Photo Exhibition of the works of winners of the International Contest "Photo BRICS" took place in New Delhi.
An exhibition of photographs taken for the international contest, 'Photo-BRICS,' was inaugurated at the Russian Centre of Science and Culture, with speakers lauding the Russian initiative.
Speakers highlighted the way ahead and prospects for new dimensions to continue strengthening multilateral cultural cooperation between people, particularly the youth of BRICS nations at a colourful function organised at the Russian Centre of Science and Culture (RCSC) in New Delhi on December 16, 2016. The occasion was the inauguration of the Photo Exhibition of the works of winners of the International Contest "Photo BRICS"-- National Symbols of BRICS: Architecture, Nature, organised jointly with the Russian Union of Youth and "PROLAB" Company, Russia.
Kiran Soni Gupta and Purnima Anand / RCSC
Among those participating in the event were Kiran Soni Gupta, Additional Secretary and Financial Advisor, Indian Ministry of Youth & Sports & Ministry of Skill Development and Entrepreneurship, Nandan Unnikrishnan, Vice President & Senior Fellow, Observer Research Foundation, Sergey Karmalito, Senior Counsellor, Russian Embassy, Fedor Rozovskiy, Director, RCSC, Tatiana Seliverstova, Deputy Chairman, All-Russian Public Organisation "Russian Union of Youth" Central Committee, Nikolay Kanavin, Chairman of the Board of the Holding, PROLAB, and Purnima Anand, a founder of BRICS International Forum and Chairman, International Federation of Indo-Russian Youth Clubs, BRICS Youth International Forum.
Gupta visualised new vistas and dimensions in all spheres of life through consistent dialogue, interaction and cooperation between youths of BRICS countries. She referred to the commendable youthful imagination expressed through the paintings, and promised support to promote youth activities through events and exchange programmes.
/ RCSC
Reiterating the imprint left by youth through their artistic perception, Unnikrishnan hoped that BRICS youths could show enviable progress and make an exceptional mark as role models in the developmental process of countries by virtue of their vast potential, hard work and will power. He commended the remarkable photo exhibition, imbibing inspiration and enthusiasm among youths at large. He underscored the relevance of youth's participation in bringing in a positive impact on the decisive objectives of institutions like BRICS (Brazil, Russia, India, China, South Africa) and SCO (Shanghai Cooperation Organisation).
Rozovskiy laid emphasis on the bright future of multilateral cultural cooperation between BRICS nations, particularly between the youth. Seliverstova praised the unique dynamism of Indian youth, their initiative, attitude and perseverance, which helped successfully organise such events. She said that Photo BRICS would be an annual event. The next one will be in China, followed by Brazil and South Africa.
The winners of photo exhibition received certificates and souvenirs from the distinguished dignitaries.
/ RCSC
'Photo-BRICS' is a project launched this year for young BRICS photographers. It has sought to facilitate international cultural dialogue between BRICS countries through photography and other visual aids.
The project has been organised by the Russian Union of Youth, National Committee for BRICS Research (Russia), ROSSOTRUDNICHESTO, International Forum (India), Forum of Indian Photographers & Artists (India), All-China Youth Federation (China), Generation Next Institute (South Africa), and PROLAB Photography Production Centre (Russia).
The theme of the 2016 Photo Contest is National Symbols of the BRICS, Architecture, Nature. Each country presented 10 best photos (48 works in total), capturing nature and architecture of the BRICS countries, symbolising the values and heritage of the nations. A total of 308 young participants from Brazil, India, Russia, China and South Africa had sent more than 1000 photos.
All rights reserved by Rossiyskaya Gazeta.