BRICS, SCO and small business can help Russia emerge from economic crisis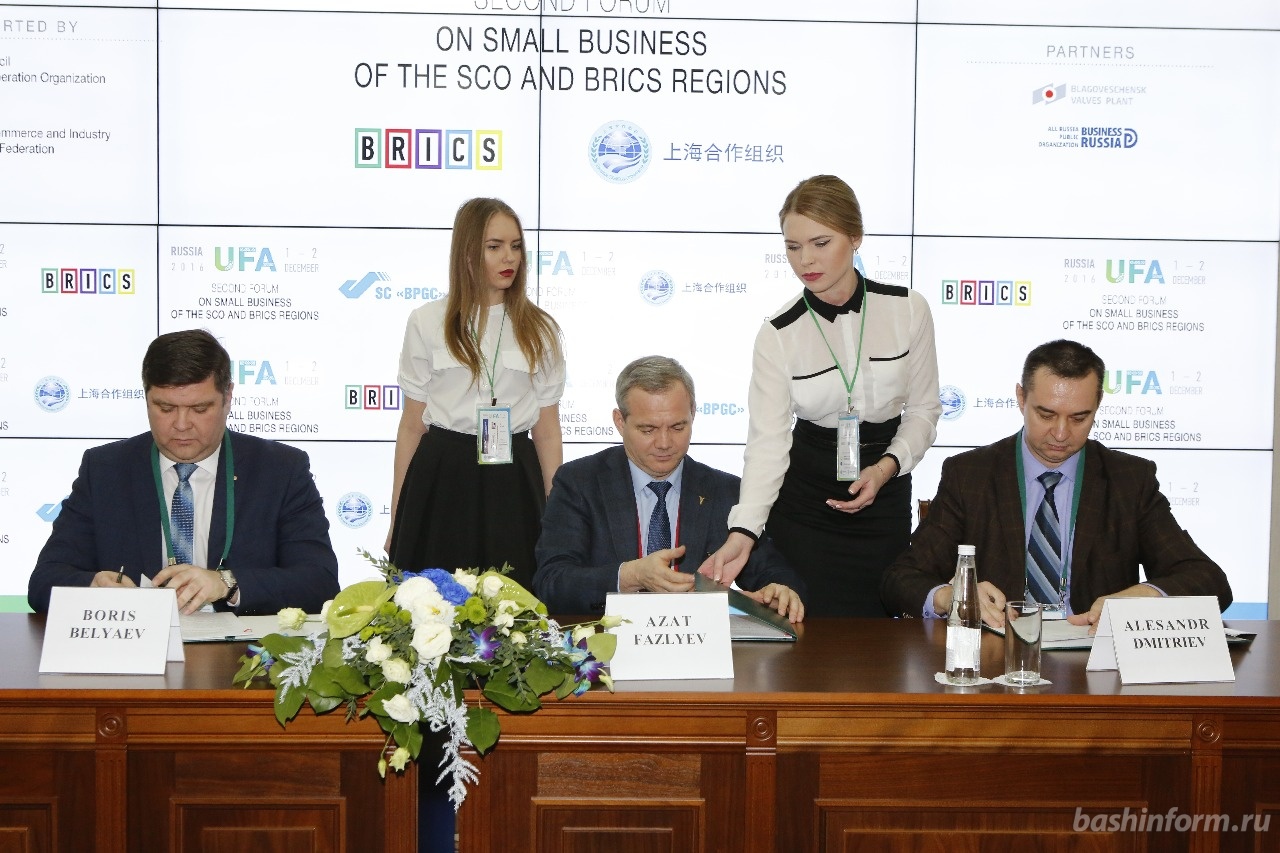 Regional representatives of SCO and BRICS member countries attended the Forum held in Ufa on December 1 and 2.
Andrey Starostin/ IA Bashinform
Russian officials said at a forum of small businesses that they are planning to double the share of small businesses in the domestic economy by exporting goods produced by small farms and businesses to the BRICS and SCO countries.
Officials from Russia, India and China, meeting for the Small Business Forum, said Russia lacks a market for the goods produced by small businesses because of the crisis in domestic demand. Russian entrepreneurs should, therefore, sell their products to the SCO and BRICS markets.
Regional representatives of SCO (Shanghai Cooperation Organisation) and BRICS (Brazil, Russia, India, China, South Africa) member countries attended the Forum held in Ufa on December 1 and 2. Ufa is located 1,300 km east of Moscow.
Russian President Vladimir Putin set the government the task at the beginning of 2016 of raising the share of small businesses in the country's GDP from 20% to 40% by 2020.
Ice cream against the crisis
During the G20 Summit in September 2016, the Russian President presented Chinese President Xi Jinping with Russian ice cream, leading to sales of the product breaking all records in China. Exports of Russian ice cream to China increased fivefold, to $4.2 million in the first nine months of 2016, according to data of the Federal Customs Service.
Large scale purchases of Russian ice cream by the Chinese represent the most successful example of export promotion of products made by Russian small businesses, said Andrey Zhigalov, spokesperson for the Russian Export Centre during a briefing at the forum.
Earlier, ice cream was being shipped to China only from the Khabarovsk Krai. However, after the G20 Summit, this dessert was being transported through half of Eurasia from central Russia, said Zhigalov. He said, in addition to ice cream, the Chinese are also buying the Alyonka chocolates and Russian-made jewellery.
The problem with export of Russian small business products is the lack of synergies. For example, after the personal promotion of ice cream by Putin in China, the product did not spread to the markets of other BRICS countries.
"In India, Italian and Swedish ice cream is well known, being sold everywhere, but Russian ice cream cannot be found even in expensive restaurants," said Amit Telang, Head of the Economic Department at the Indian Embassy in Moscow, during a panel discussion at the forum.
Why is it difficult to find goods from Russia in the BRICS?
According to KPMG, the share of small businesses in Russian exports is less than 1%. In comparison, in India, the share is more than 5%, and in France and Canada – more than 3%, said Alexey Nazarov, Director of Strategic and Operational Consulting at KPMG. He saidRussian businessmen, who today want to become exporters, face difficulties during the pre-export stage – when searching for partners and markets.
According to Telang, Russia makes the world's best honey cake, which can easily compete in the global markets with tiramisu and other popular desserts. "Yet Russian honey cake cannot be found in restaurants, or in stores," he said. "For Russian products to enter the Indian market, not only must Indian audiences be informed about them, but Russian entrepreneurs need to create a system for bringing awareness about requirements for imported products," said Telang.
Wang Xu, representative of the Union of Chinese entrepreneurs, proposed the creation of integration courses in the BRICS countries to resolve this problem.
"When Russian companies start entering our market, they often face administrative barriers, rules and traditions, which they do not understand, because of their lack of knowledge about local culture and customs," explained Wang.
"To overcome these barriers, we need a multilingual platform, which contains not only the description of the requirements, but also supports the real time exchange of data", said Telang. "Until such a platform is developed in the BRICS, I doubt we will be able to achieve good indicators of business activity," concluded Telang.
All rights reserved by Rossiyskaya Gazeta.