18th century Russia welcomed & cherished Indian merchants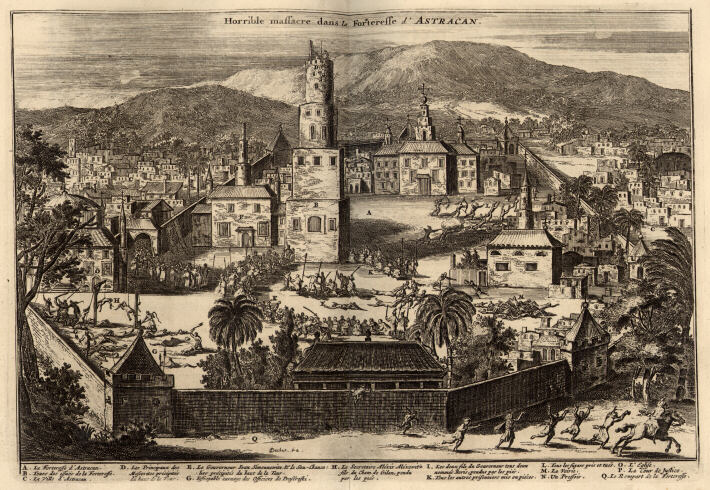 Astrakhan of XVII c. Engraving from book published in Amsterdam, 1681
2017 marks the 70th anniversary of diplomatic relations between India and Russia. In anticipation of the significant milestone, RIR is publishing a series of articles on the history of relations between the two countries. The early 18th century was the heyday of Indian trade in Russia. The centre of this trade was a colony of 400 Indian merchants in Astrakhan.
Trading expeditions to India led by Afanasiya Nikitin, Semen Malenky and other Russian merchants had opened the way for the expansion of Russian-Indian trade relations.
By the beginning of the 18th century, an entire colony of Indian merchants had formed in Astrakhan. An English traveler, John Bell, in his book "Journey from St. Petersburg to the Front Part of Asia," published in 1716, noted: "Astrakhan is carrying out great trade with Persia, Khiva, Bukhara and India. The merchants of these nations have a common yard here, where they live and sell their goods. In Astrakhan, there are some Indian or Banyan people, who colour their foreheads with saffron juice or some other plant. They are very good people, simple and humane and almost exclusively eat fruit."
The extensive expansion of Indian trade in Russia was assisted by the patronizing policy of the Russian authorities in relation to the Indian merchants. Senate Regulations of 1720 ordered the Astrakhan Governor, Alexey Volyn, to provide the Eastern merchants, settled in Astrakhan, all the necessary assistance in their trade businesses, to protect their property, "to show kindness and goodwill ... and take care that no one would offend them."
A delegation of Indian merchants, led by Anbu-Ram, in October 1722 visited Peter the Great, who was then staying in Astrakhan. They received an edict from him granting Indian merchants in Astrakhan the right to resolve property rights disputes "by the Indians among themselves, according to their custom and law". This decree became the general legislative norm and, as such, was in use until the late 19th century.
With the support of the Russian authorities and a patronizing customs policy, Indian traders traveled freely from Astrakhan with their goods to Nizhny Novgorod and the Macarius Fair, to Saratov, to Moscow and to St. Petersburg. The Indians even traveled as far as Arkhangelsk, where they purchased European goods!
The Indian merchants much appreciated the support they received from the Russian state, and used to say they enjoyed such privileges in trade in Russia, which they never had in Persia and other Eastern countries. Proof of this lay in the high trade turnover of Indian merchants: the value of goods exported by them from Astrakhan into the interior cities of Russia in 1724 exceeded 104,000 rubles, amounting to nearly a quarter of all Astrakhan trade in that era.
The Indians attached great importance to the religious freedom they enjoyed in Russia. In the Indian Gostiny Dvor in Astrakhan in the 18th century, three rooms were reserved for a temple. Rich Indians even travelled with personal clergy members to Moscow and St. Petersburg.
Dutch explorer Johann Gottlieb Georgi wrote a book in 1777 called, "Description of all people living in the Russian state and their everyday rites, customs, clothing, housing, faiths and other memorability" which described, in detail, the life of Indian merchants at the time in Astrakhan.
"Indian merchants, from the time that Peter the Great granted them privileges, have always lived in Astrakhan and a few families even live in Kizlyar on the Terek River. They moved there from various western parts of India and have a community that numbers about 400 people," he wrote.
"The Indians are tall and lean, their hair and eyes are black, they sport small beards, their teeth are very white, they have a yellowish-pale complexion and an important bearing. In their gait and their actions, they demonstrate an air of importance, and their speech is quiet, deliberate, and thoroughly thought-out. They are honest, courteous, patient and careful," Georgi wrote.
The Indians brought in caravans their linen fabrics, which they called mungra, and also cottons, silks and semi-silks, Indian, Persian and Bukharan cloth.
"They have all the qualities of good moneylenders. The interest they charge is no higher than that permitted by law, and they do not oppress their debtors. The people who have fallen into poverty due to no fault of their own, they not only treat with respect, but often also assist them; and they try to do this in secret, as such good deeds, according to their faith, is of great value. They are all prosperous and some are rich in capital," the Dutch explorer wrote.
All rights reserved by Rossiyskaya Gazeta.