Not all the wives of leading Soviet government figures were "first ladies" in the generally accepted use of the term; far from it. The diplomatic protocol that a country's leader should be accompanied by their spouse on official visits did not apply to Soviet leaders. Their wives generally stayed out of the limelight and the general public would often not know them by sight.
Modesty was the order of the day; open-cut dresses were a definite no-no. Soviet first ladies dressed in the same way as millions of other Soviet women: Dressing elegantly or provocatively would clearly distract the workers from the task of building socialism. Everything changed, however, with Nina Khrushcheva – and there begins our tale.
Nina Khrushcheva and the dressing-gown dress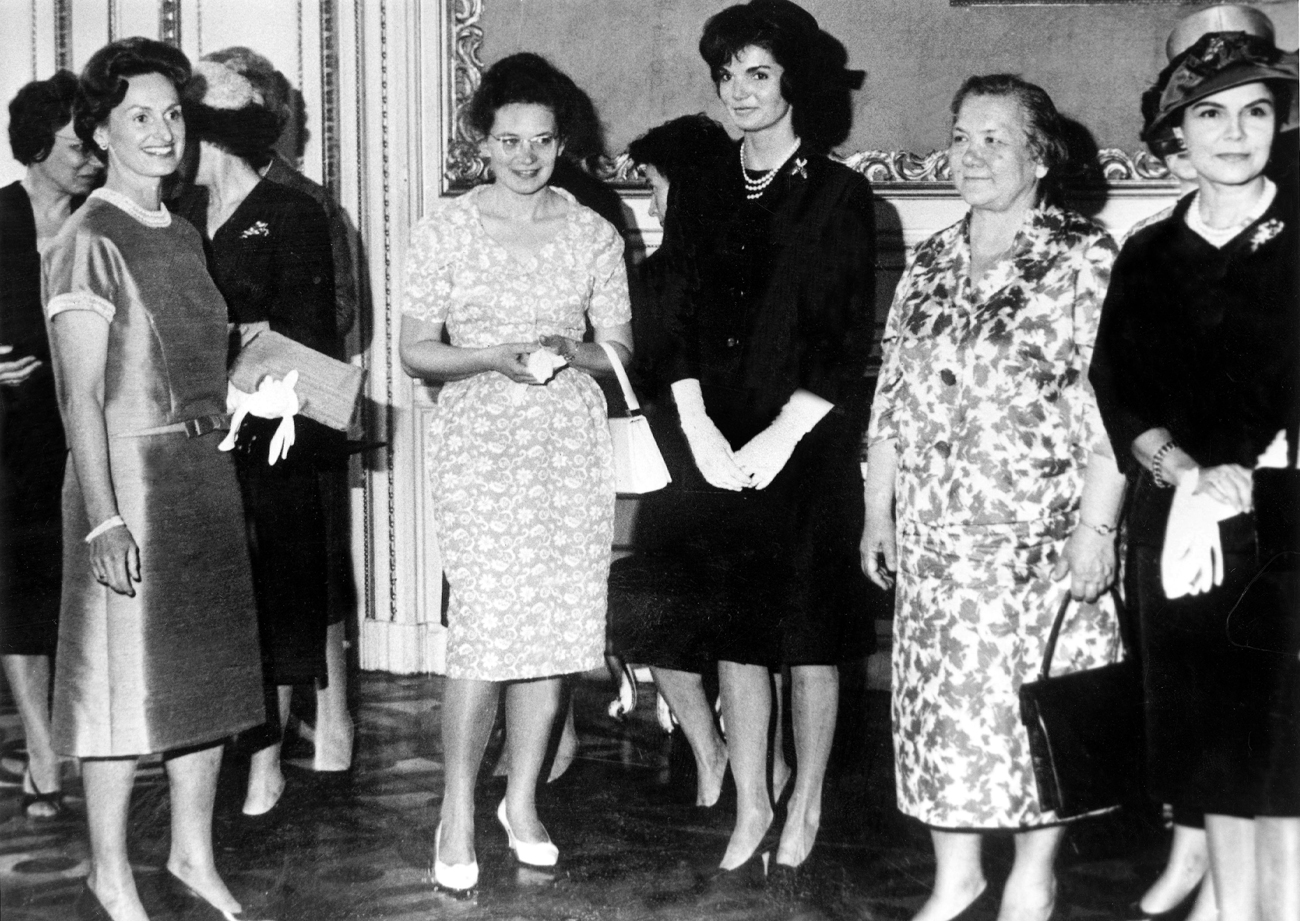 Nina Khrushcheva, 2nd right, and Jacqueline Kennedy, 3rd right. Source: RDA / Vostock-photo
Nikita Khrushchev's wife might be considered a "first lady" if only because she was the first spouse to accompany a party leader on an official overseas trip. She was also the first to be widely ridiculed for her taste in fashion. Nina Khrushcheva was a "woman of the people" through and through and a fan of folksy "country dress": garish flower-prints and loosely hanging, sack-shaped cuts. Her taste in fashion would let her down badly.
While on a historic visit to the U.S., Khrushcheva chose to wear a long flower-covered summer jacket that was immediately christened in the USSR as the "dressing-gown dress." The situation was made worse by the fact that in the photo shoot Khrushcheva happened to be standing next to Jacqueline Kennedy, a true American style icon. In comparison, Khrushcheva, in her simple, almost domestic get-up, did not stand a chance. The photograph became known all around the world, and Khrushcheva went down in history as the epitome of the toiling kolkhoz laborer.
The story is all the more incredible given that the piece was sewn by Moscow tailor Nina Gupalo, a celebrated designer of the time, who dressed Stalin's daughter along with well-known actresses and who certainly could not be reproached for a lack of taste.
Incidentally, it was under Khrushchev that the first fashion show featuring Western designers was held in Moscow, in 1959. Yves Saint-Laurent, at that time the head of the Dior fashion house, made an appearance at the event, which only members of the political elite were allowed to attend.
Viktoria Brezhneva and her uninspiring outfits
Jovanka Broz, the Yugoslav President's wife, 2nd left, and Viktoria, Leonid Brezhnev's wife, 2nd right, at the Leo Tolstoy museum estate during Josip Broz Tito's visit to Moscow. Source: Vladimir Akimov / RIA Novosti
Viktoria Brezhneva, the following first lady, continued her predecessor's tradition of blending in with the Soviet masses. She never tried to achieve public status, and on the occasions that she appeared in public, she would wear well matching, unshowy and, as many people commented, frankly dull outfits.
She was dressed, as were all the members of the Soviet elite, by the famous House of Models on Moscow's Kuznetsky Most Street – the same studio that designed the clothes to be mass-produced in Soviet factories.
By this time it was possible to find imported goods in the USSR – in GUM, for example, Moscow's main shopping center situated on Red Square, or in Beryozka, a special shop reserved for diplomats, where goods were sold in foreign currency (officially foreign currency was forbidden).
If Brezhneva wasn't fussed about these elite goods, then the same can't be said of her husband, Leonid Brezhnev. He was, in a way, a real dandy – he would buy shirts and ties abroad, and even the craze for jeans didn't pass him by – he bought himself a denim jacket.
Raisa Gorbacheva, the Russian Jacqueline Kennedy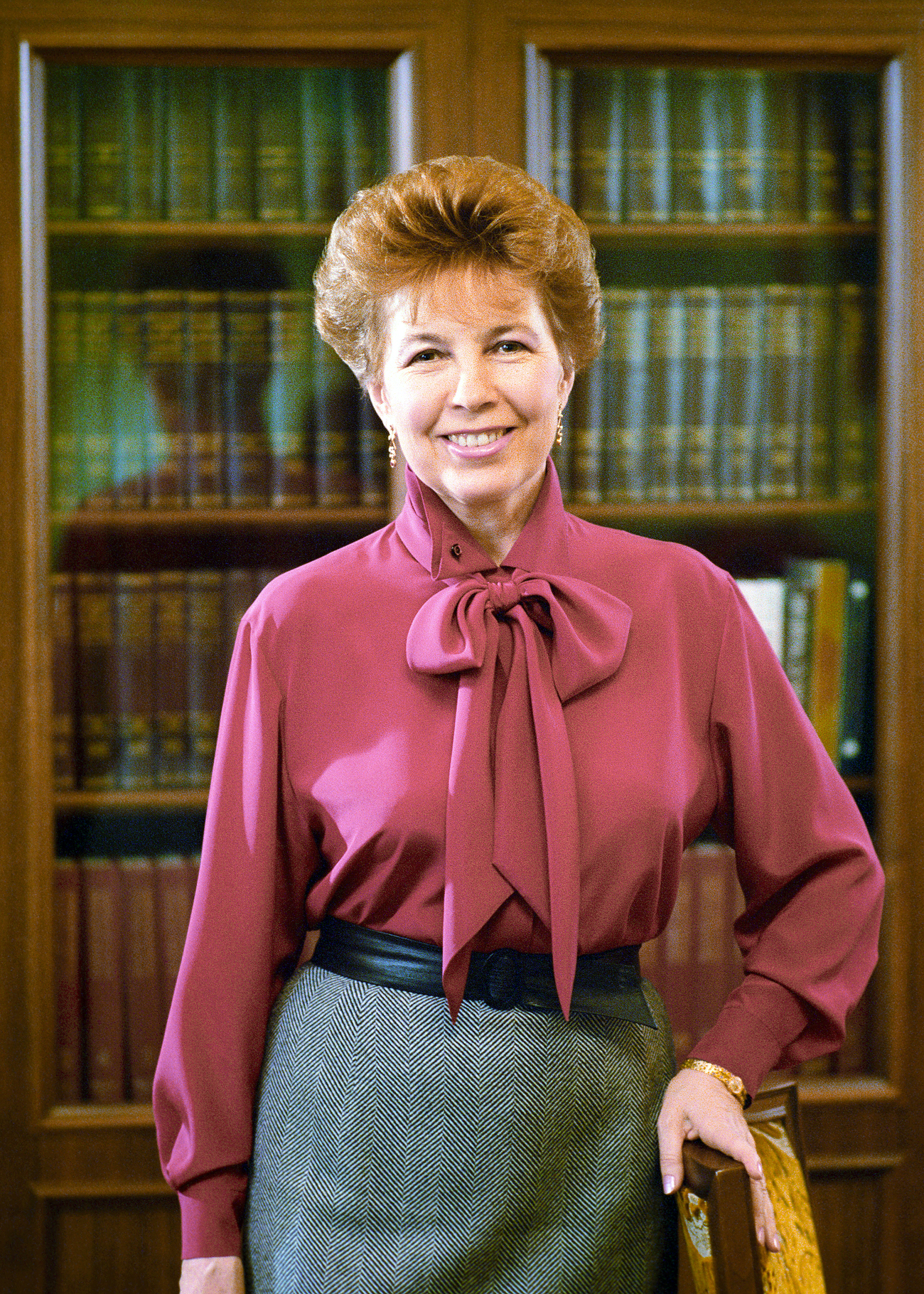 Raisa Gorbacheva,'the Communist lady with Parisian chic.' Source: Nikolai Malyshev / TASS
Raisa Gorbacheva, the wife of Mikhail Gorbachev, the architect of perestroika, was seen as a sort of Russian Jackie Kennedy. Her stylish, clean cut outfits, always appropriate for the occasion, even became the object of national envy. "The Communist lady with Parisian chic," as she was called in the West, was chastised in her home country: Many people believed that she had clothes from Yves Saint-Laurent and Pierre Cardin flown over from Paris at the state's expense.
In fact, although Gorbacheva did indeed have a great love for Parisian haute couture and attended fashion shows in the city, she had her clothes made by Russian couturiere Tamara Makeyeva, a member of the House of Models on Kuznetsky Most. Nonetheless, Gorbacheva played an active role in bringing well-known high-end brands to the Russian market, and sponsored the opening of a branch of Burda Moden in Moscow. Later on, the Russian couturier Valentin Yudashkin, who might be called the first fashion designer of the post-Soviet era, made a range of suits for the first lady.
Naina Yeltsina and Lyudmila Putina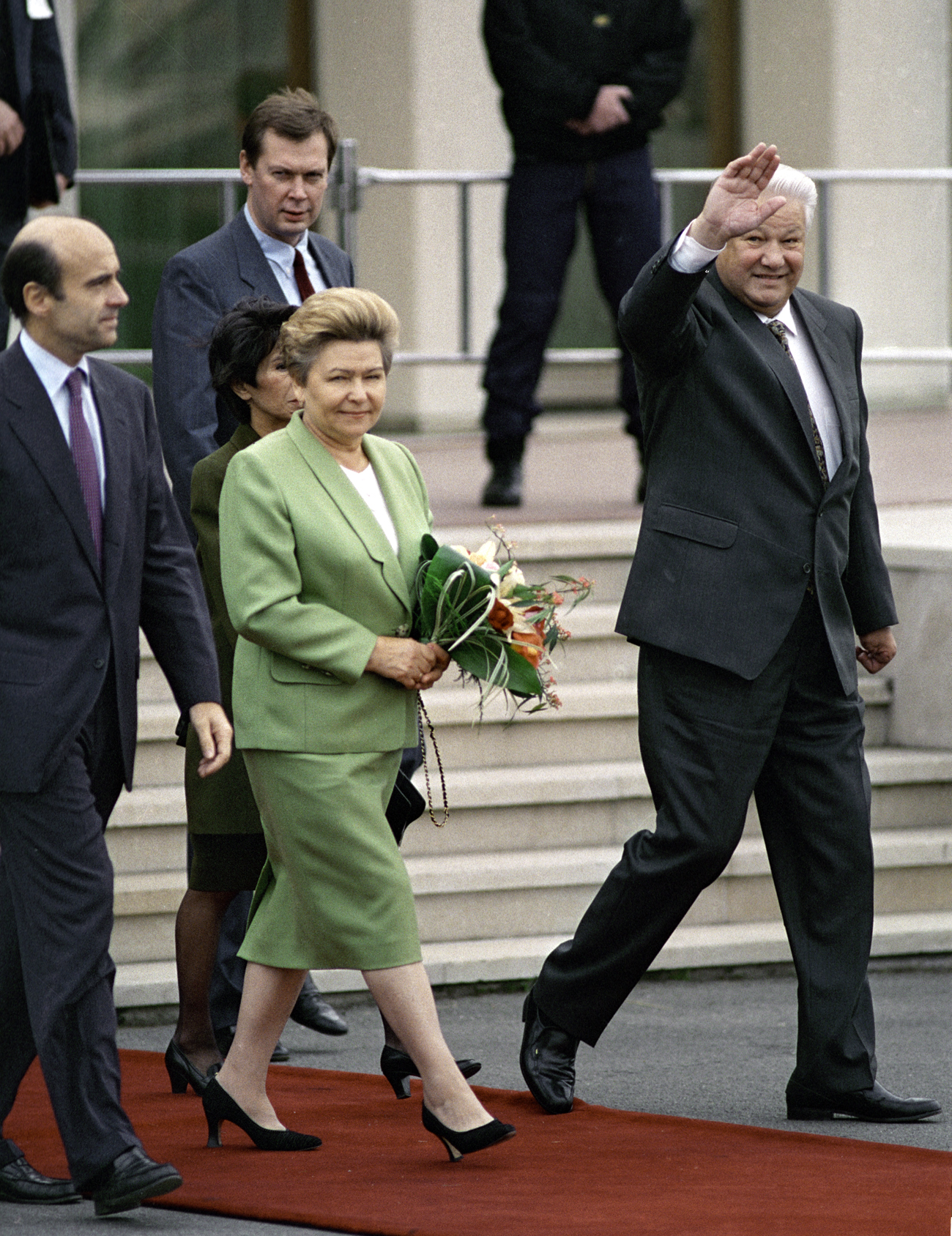 Russian President Boris Yeltsin and Naina Yeltsin at Orly Airport during their visit to France. Source: Vladimir Rodionov / RIA Novosti
All the Russian first ladies who followed Gorbacheva continued the Soviet tradition of remaining in the shadow of their husbands. Their wardrobes were dominated by clothes of a tasteful and classical look, in light beige tones and conservative designs.
Yeltsin's wife, Naina Yeltsina, changed her style as the country changed: from the flashness of the 80s with their burgundy suits and poodle perms to the calm classiness of classic Chanel suits.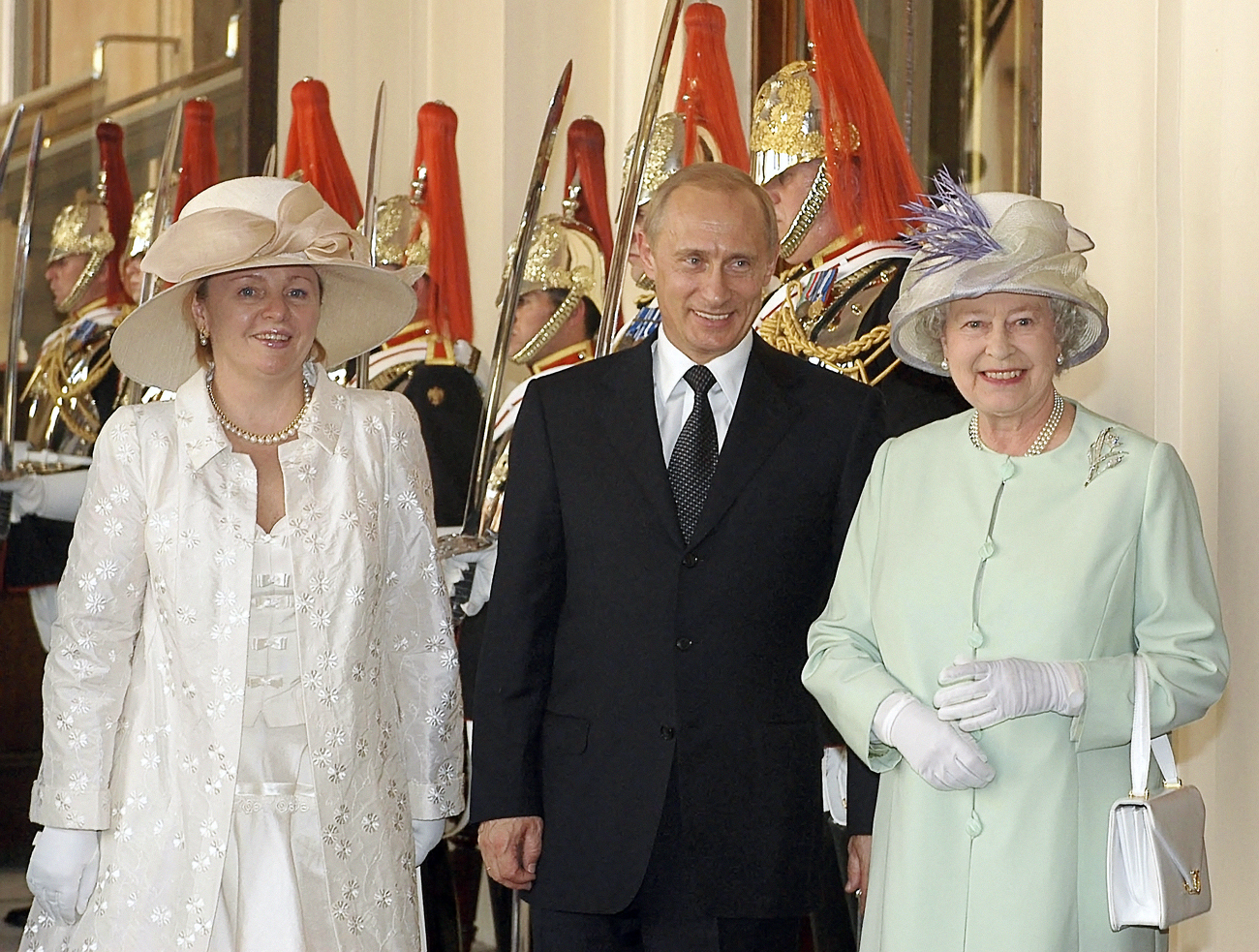 Queen of Britain Elizabeth II, President Putin, who arrived in Britain for a state visit, and his wife Lyudmila (L). Source: Alexey Panov / RIA Novosti
Lyudmila Putina, the current president's ex-wife, was known for her love of classic single-tone designs and jackets with embroidered patterns, a style taken up by many well-to-do women. She often heeded the advice of eminent Russian designers too, including Igor Chapurin, Viktoria Andreyanova and Slava Zaitsev.
It was Zaitsev that convinced Putina to wear the famous huge-brimmed hat that caused an uproar in 2003 when Putin and his wife were officially received by Queen Elizabeth in London: The hat was larger than the one the Queen was wearing. As Russian news outlets report, Putina also wears many high street brands and is a particular fan of the Burberry collections.
All rights reserved by Rossiyskaya Gazeta.