Behind the well-known names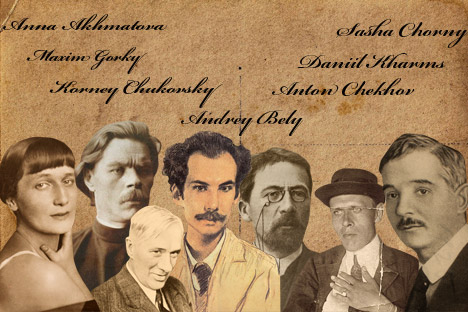 Pictured L-R: Anna Akhmatova, Maxim Gorky, Korney Chukovsky, Andrey Bely, Anton Chekhov, Daniil Kharms, Sasha Chorny
Slava Petrakina/RIR
Russian symbolist poet and writer Andrey Bely was born 135 years ago, on October 26. For the first two decades of his life, however, he had a far less resonant name. He was not alone among Russian authors in assuming a pseudonym. We look at some of the most famous literary pen names.
When 19-year-old Boris Bugayev decided to dedicate himself to literature, he examined his cumbersome birth name, derived from the Russian for "meathead", and decided it didn't quite fit with his symbolist poetry and romantic image. He turned to his friend Mikhail Solovyev, younger brother of the philosopher Vladimir Solovyev, for inspiration.
Solovyev gave him the first name Andrey, who, according to legend, was the first of the 12 apostles to visit Russia, and the surname Bely, which means "white;" a colour symbolizing purity and wisdom. And so was born the great writer known as Andrey Bely (1880 – 1934). He assumed a new name to reflect his entry into a new artistic and personal space.
Not so black and white
As it happens, there was a Russian writer whose pen name was the opposite of Bely. You could be forgiven for assuming that Alexander Glickberg (1880 – 1932) chose the name of Sasha Chorny ("black") as an ironic nod to his satirical style, but it actually dates from his childhood. He had a brother also called Alexander, which is commonly shortened to Sasha in Russian, who was blond. Sasha Chorny's own dark hair was a neat way of differentiating the two, and the nickname stuck.
Pseudonyms based on an abstract or moral quality a person possesses are called phrenonyms. The young writer Alexey Peshkov (1868 – 1936) didn't want to use his real name, which comes from the Russian word for "pawn", so he chose Maxim Gorky ("bitter") instead. This name was a fitting description of Gorky himself and the subjects he wrote about. Orphaned at a young age, he spent years in penury, living as a tramp and working menial jobs. His novels were often devoted to hardships faced by the poor. Gorky's father, Maxim Sr., was, interestingly, also known by the nickname "bitter", because of his acerbic attitude.
Daniil Yuvachev (1905 – 1942) eventually settled on the pen name Daniil Kharms after testing out dozens of others. Derived from the English word "charm", it was both catchy to the Russian ear and meaningful to Kharms, who believed that poems were magic spells; words in a particular order that evoke certain feelings in people. The image of a wizard is a recurring theme in his short stories, and he wrote that his use of a "magical" pseudonym was intentional.
Paternal influence
One reason why Kharms decided to use a pseudonym was because his father, Ivan Yuvachev was a respected old revolutionary turned theologian, and Kharms wanted to retain a measure of anonymity.
Anna Akhmatova (1889 – 1966) gave up her birth name of Anna Gorenko because of her father, who apparently told her not to disgrace his name when he discovered her poetry.
"I don't want your name either," she replied.
In a neat twist, Lidiya Chukovskaya, a writer and Akhmatova's friend, who wrote about this exchange in her memoirs, had her father's pen name as her actual surname. The illegitimate Nikolay Korneychukov (1882 – 1969) was originally given his mother's last name, which he modified to Korney Chukovsky, before going on to become the most famous Russian author of children's books. He acquired a passport in this name after the 1917 October Revolution, and passed the surname Chukovsky on to his children.
Master of pseudonyms
Anton Chekhov (1860 – 1904) is remembered for the name he was born with, although he did use numerous others during his life. Around 40 of Chekhov's pen names have been discovered, and it is possible that more stories under obscure names may still turn up. Chekhov chose witty and bizarre pseudonyms, such as My Brother's Brother, Doctor Without Patients, Nut #6, The Prosaic Poet, and Don Antonio Chekhonte.
Chekhov's most common pen name was 'Man Without a Spleen;' a reference to his medical training which he used for 119 short stories and five articles. Perhaps the reason that none of these fantastical pseudonyms stuck, however, was the fact that Alexey Suvorin, Chekhov's publisher, insisted that he only used them for satirical articles, while publishing any serious work under his own name.
All rights reserved by Rossiyskaya Gazeta.