Longlist for Read Russia Translation Prize announced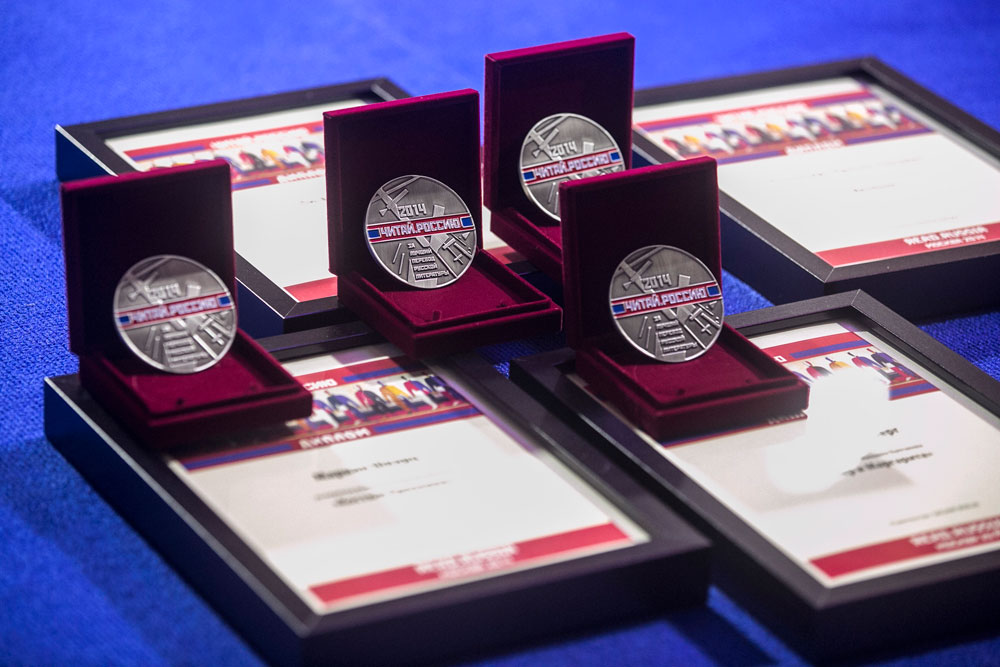 The winner in each category is presented with a special Read Russia medallion.
Anatoly Stepanenko
A total of 28 translators from 18 countries have been provisionally nominated, with the final shortlist to be announced mid-August.
The organizers of the Read Russia Prize, the biennial award aimed at popularizing Russian literature and encouraging foreign translators and publishers of Russian literature, have announced the longlist for the 2014-2016 season on July 25.
The prize is given to a translator or a group of translators for the best translation of a prose or poetic work from Russian into a foreign language and published within the last two years.
The main prize is 5,000 euros ($5,700) for the translator (or group of translators) and 3,000 euros ($3,400) for publishers to cover costs.
Nominations:
Classic literature of the 19th century
1. Alan Asaid and the Ruin Forlag AB publishing house for translation of Nikolai Gogol's Petersburg Tales (Sweden)
2. Rosamund Bartlett and Oxford University Press for Leo Tolstoy's Anna Karenina (UK)
3. Nina Guerra and Filipe Guerra and Relogio D'Agua Editores for Leo Tolstoy's short stories (Portugal)
4. Jorgji Doksani and Uegen for Fyodor Dostoevsky's The Brothers Karamazov (Albania)
5. Dina Markon and Gad Carmel Publishing House for Leo Tolstoy's philosophical works (Israel)
6. Feng Nanjiang and Renmin Wenxue Publishing House for Fyodor Dostoevsky's The Devils (China)
7. Michael Pursglove and Alma Classics for Ivan Turgenev's Smoke and Virgin Soil (UK)
8. Joaquín Fernández-Valdés Roig-Gironella and Alba for Ivan Turgenev's Fathers and Sons (Spain)
9. András Soproni and Syllabux for Fyodor Dostoevsky's Crime and Punishment (Hungary)
Literature of the 20th century (pre-1990):
1.Selma Ancira and Fondo de Cultura Económica for the translation of selected stories by 20th-century Russian writers: Marina Tsvetaeva, Boris Pasternak, Alexander Blok, Nikolai Gumilev, Osip Mandelstam, Ivan Bunin, Mikhail Bulgakov and Nina Berberova (Mexico).
2. Hülya Arslan and the Yapi Kredi Yayinlari publishing house for Boris Pasternak's Doctor Zhivago (Turkey)
3. Odile Belkeddar and Ecole des Loisirs for Kornei Chukovsky's story The Silver Crest (France)
4. Ornella Discacciati and Einaudi for Andrei Platonov's novel Chevengur (Italy)
5. Jacques Michaut Paterno and Syrtes for Vasily Rozanov's Fallen Leaves (France)
6. Rosemarie Tietze and Carl Hanser for Gaito Gazdanov's novel An Evening with Claire (Germany)
7. Haba Abdulla Hassan and Al-Mada for Mikhail Bulgakov's selected stories (Iraq)
8. Luba Jurgenson and Heros-Limite for Panteleimon Romanov's Camerade Kislyakov (France)
Contemporary literature (post-1990)
1. Emanuela Bonacorsi and the Fandango publishing house for her translation of Olga Slavnikova's novel Light Head (Italy)
2. Alicja Wołodźko-Butkiewicz and Akademickie SEDNO for Anatoly Gladilin's memoirs Street of Generals (Poland)
3. Anne Coldefy-Faucard and Le Motif for Viktor Astafyev's Joyful Soldier (France)
4. Melanie Moore and Glagoslav for Tatyana Shcherbina's Multiple Personalities (UK)
5. Fernando Otero and Nevsky Prospects for Anna Starobinets's short story collection The Icarus Gland (Spain)
6. Lisa Hayden and Oneworld Publications for Eugene Vodolazkin's Laurus (U.S.)
Poetry
1. Arie van der Ent and the Stichting Uigeverij Douane publishing house for Mikhail Lermontov's poem Demon (Netherlands);
2. Andrei Kalts and Kulturno Umetnisko Drustvo for Marina Tsvetaeva's selected poems (Slovenia)
3. Philip Metres and Dimitri Psurtsev and Cleveland State University Poetry Center for I Burned at the Feast: Selected Poems of Arseny Tarkovsky (U.S.)
4. Claudia Scandura and Gattomerlino for Sergei Gandlevsky's Rust and Yellow (Italy)
5. Wang Jianzhao, Shanghai Wenyi Publishing House for the poetry of Osip Mandelstam (China)

All rights reserved by Rossiyskaya Gazeta.