Arkady and Boris Strugatsky's Doomed City finally published in English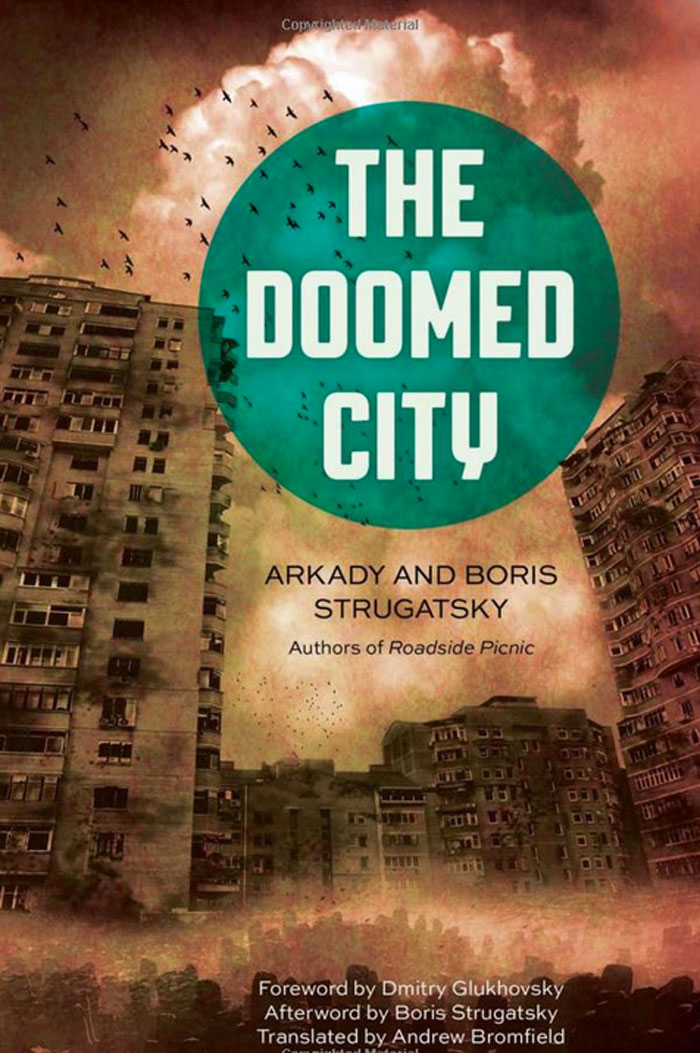 Doomed city. Translated by Andrew Bromfield. Foreword by Dmirty Glukhovsky. Chicago Review Press, 2016
Amazon
First ever English version of classic Sci Fi masterpiece released.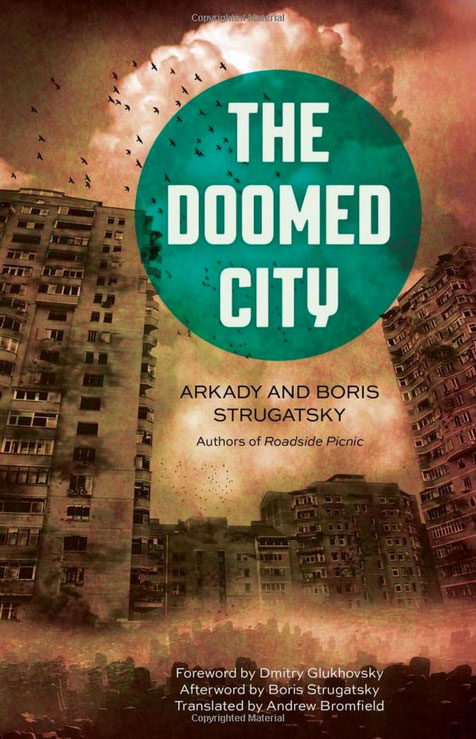 Doomed city. Translated by Andrew Bromfield. Foreword by Dmirty Glukhovsky. Chicago Review Press, 2016 / Amazon
The Strugatsky brothers, Boris and Arkady, were celebrated Soviet science fiction writers; their best-known book, Roadside Picnic inspired Andrei Tarkovsky's film Stalker. Many of their novels have been available in English for years, but The Doomed City, audaciously dystopian, finished secretly in 1972, and widely thought to be their greatest novel, is out for the first time in English, using Andrew Bromfield's skilful translation. The book was so controversial that the Russian version did not see the light of day until the more tolerant perestroika era of the late 1980s.
The Soviet experiment
Andrei Voronin, whose everyman viewpoint the novel follows, is a 1950s Soviet astronomer; he finds himself in a mysterious sociological "Experiment" with a selection of other people from different countries and decades. All these characters have been abducted and assembled in the eponymous city, as part of an endless, incomprehensible experiment with their lives: a metaphor for Soviet communism.
The characters live in a menacing Truman Show-style construct, an enclosed space, between a wall and a void, with a sun that can be switched on and off. The novel predominantly follows Voronin's evolution, as a communist true believer, from garbage collector to "top‐ranking bureaucrat … and arbiter of human destiny." This trajectory was what made the book so dangerous when it was first written. Voronin gradually becomes a man suspended "in an airless ideological void." This, Boris Strugatsky writes, in the novel's late 1980s afterword, was a trajectory the authors and many like them were familiar with: the path of an entire post-war generation.
In places the novel feels like a surreal dream; elsewhere it is a thinly veiled account of bureaucratic reality. An old man compares their city to scenes by Hieronymus Bosch and Dante; their discussions produce some of the novel's comic moments: "You're a Manichean!" the old man interrupts. "I'm a Komsomol member!" Voronin protests.
Global trends
Russia has a rich tradition of philosophical novelists, from Fyodor Dostoevsky to Viktor Pelevin, but The Doomed City also prefigures global trends in speculative fiction. The pioneering writers built up an agenda of moral, social, and ethical problems, which has influenced the genre since, from Star Trek's dilemma-based episodes to Ursula K. Le Guin's explorations. The subjects' helplessness and the chillingly allegorical quality of their situation is reminiscent of Kazuo Ishiguro's unfortunate clone-students in Never Let Me Go. At other times, with the violent streets full of inexplicable baboons or "shark wolves" and controlled by sinister overlords, the scenarios resemble Suzanne Collins' dystopian fantasy series, The Hunger Games.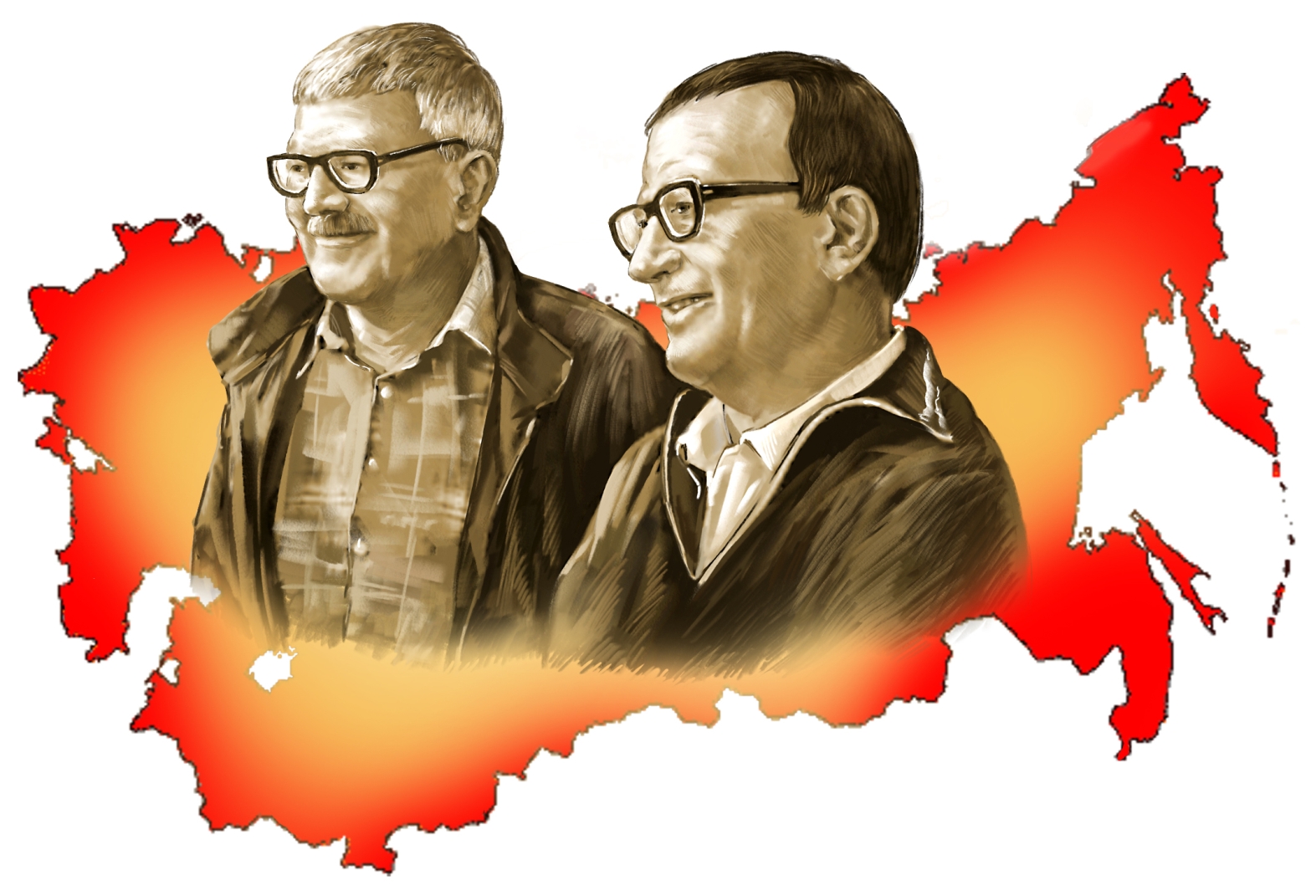 Arkady and Boris Strugatsky. Source: Drawing by Dmitry Divin
In his afterword, Boris describes how the brothers wrote The Doomed City. The idea first came to them in 1967 and they spent several years collecting the many characters' biographies, and turns of speech, and inventing the City, its laws, cosmography and history. "We never worked so long and so painstakingly on any of our other works," he writes.
The title, he explains, is taken from a painting by Nikolai Roerich, which impressed the brothers with its "somber beauty and sense of hopelessness." With this, the novel's defining spirit, the brothers set themselves at odds with official communist triumphalism. This is what makes the novel a great work and part of a distinctive anti-Soviet Russian literary tradition: "its atmosphere … permeated with doubts, disbelief, and a stubborn reluctance to glorify and acclaim anything." This refusal to subscribe to an all-encompassing ideology is what keeps The Doomed City so relevant. The characters are grappling with the same problem humans have always struggled with: an attempt to make sense of their own lives.
All rights reserved by Rossiyskaya Gazeta.