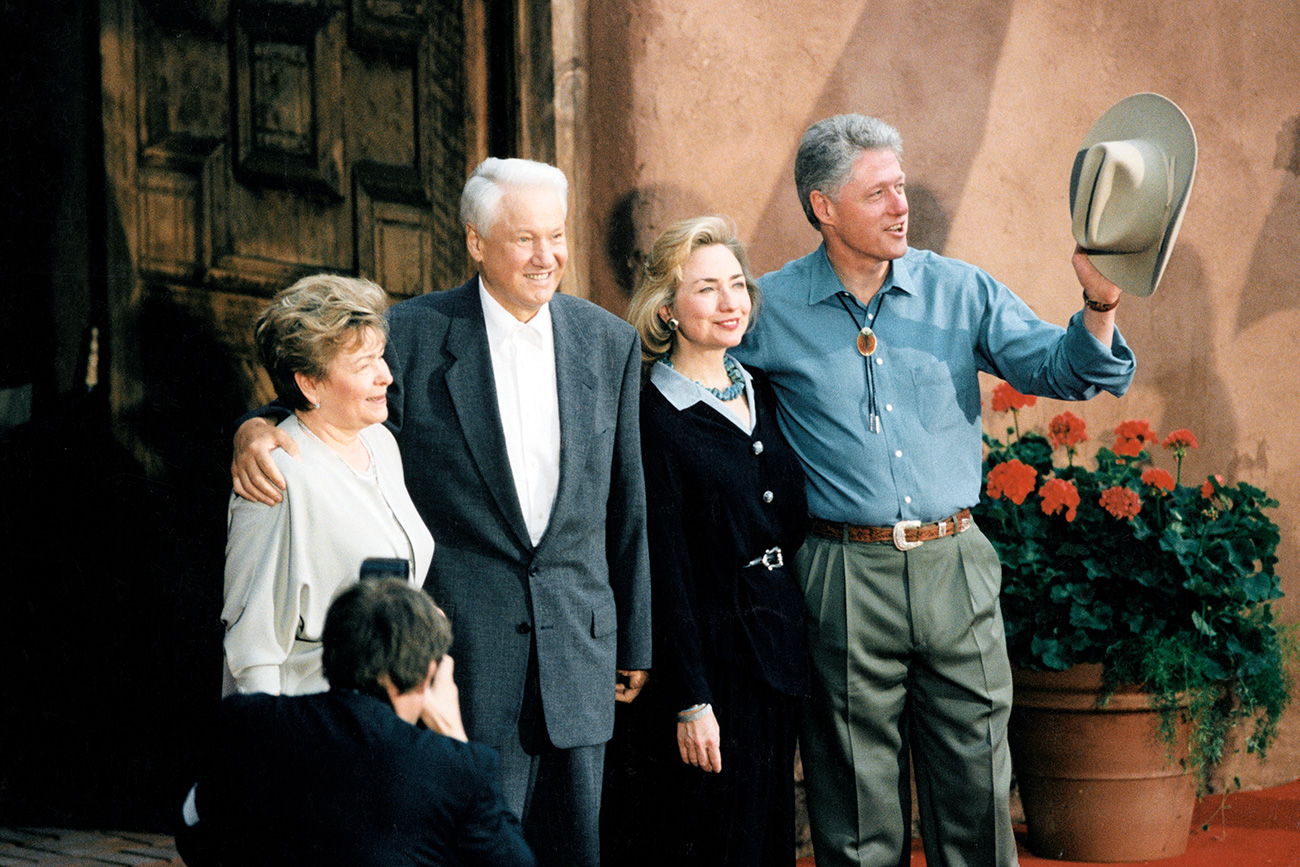 L-R: Naina and Boris Yeltsin, Hillary and Bill Clinton during the G-8 summit in Denver. Source: Getty Images
The Boris Yeltsin Presidential Center and Sinbad Publishing House have published "A Personal Life," the memoirs of the wife of Russia's first president, Boris Yeltsin. RBTH is the first online media to publish excerpts related to the presidential couple's official visits abroad.
Despite the difficult situation in the country, Boris, as Russia's president, had to meet foreign heads of state and travel abroad on official visits. This was not a formality. The situation inside the country depended on how relations between the new Russia and the world would be built. We really needed help - the country was on the brink of hunger.
Today, when I read that in the 1990s the Russian president traveled the world with an outstretched hand, I am very saddened. It's not true. Boris did everything so that Russia would be perceived as an equal partner. And he was successful in this. Wherever we went, we were met with much respect.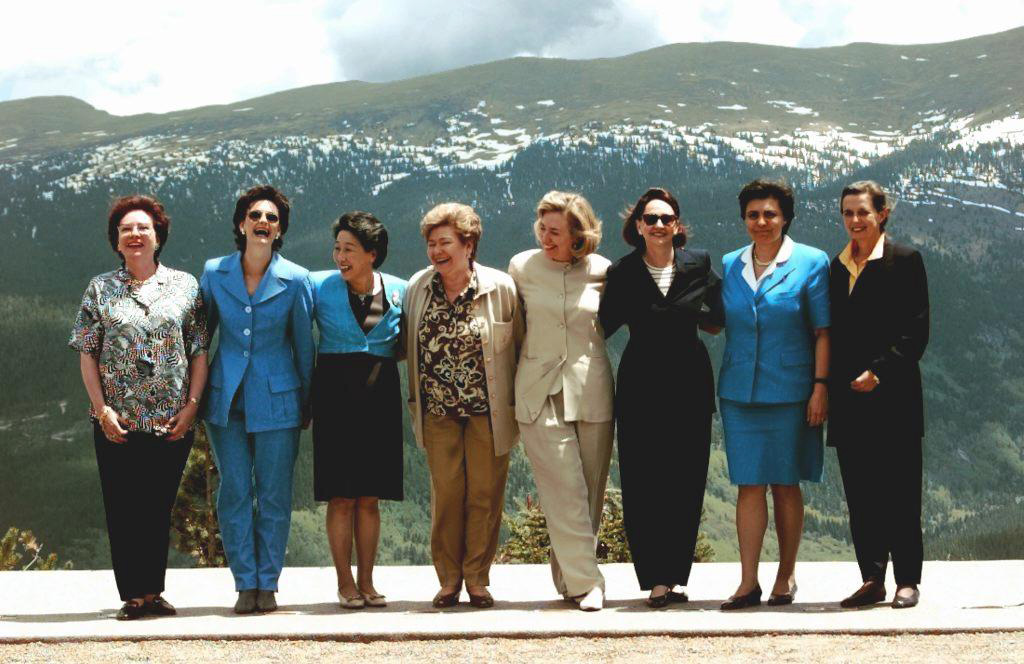 First ladies at G8 summit in Denver, 1997. Naina Yeltsina is 4th from left. Source: AFP
The leaders of European countries and the U.S. understood the difficult situation our country was in and tried helping the new Russia. Later Helmut Kohl told me how Germany sent us humanitarian aid, including entire shipments of female undergarments. I admitted that we were obviously grateful for their goodwill, although we did not feel that life had improved.
"Yes, I understand," said Kohl. "We, Western Germany, invested so many resources into Eastern Germany but still have not been able to solve all the problems."
"What should we do, Mr. Kohl, since we don't have a Western Russia, there is only one Russia?" I asked.
"I agree, it's much more difficult for you," replied the chancellor.
I think that in the 90s the leaders of various countries were united not only by formal mutual obligations. Relations among them were indeed trustful and respectful. There was a common desire to make relations between the countries warmer. Otherwise there wouldn't have been any "meetings without ties," which became a tradition back then.
Boris would prepare [for the meetings] very thoroughly. This was not easy, since he did not have much experience - only international contacts from the Central Committee. But his visit to America as chairman of the Supreme Council of Russia had been unofficial.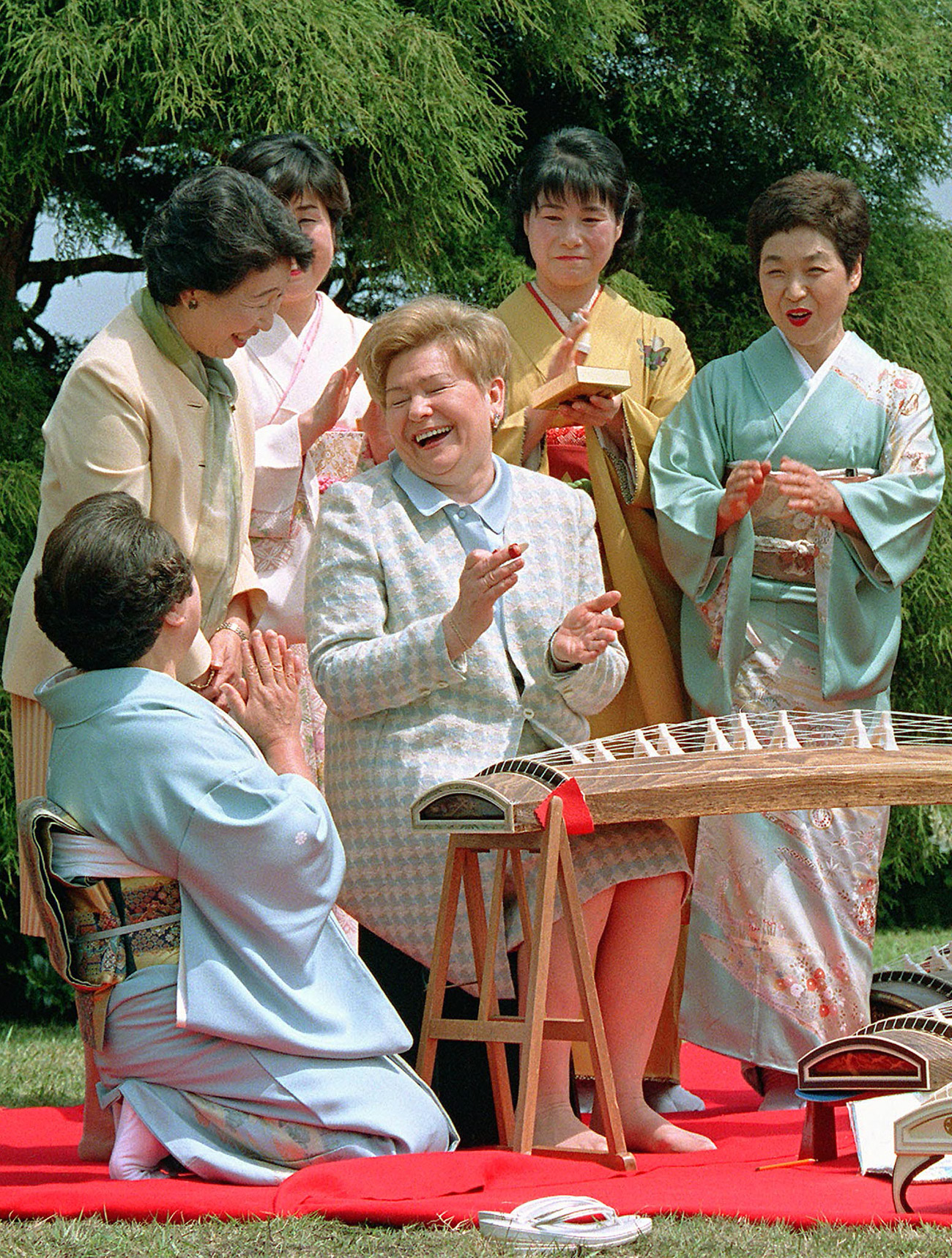 Naina Yeltsina (C), enjoys an outdoor tea ceremony with Japanese Prime Minister Ryutaro Hashimoto's wife Kumiko (L) in 1998. Source: Reuters
He had to master all the subtleties of protocol along the way. It was a good thing that in the beginning of 1992 Boris had an experienced and brilliantly educated person in this field, Vladimir Nikolaevich Shevchenko. Earlier, he had directed Gorbachev's protocol service. Boris respected everything Shevchenko did. He knew how to value professionals.
During travels the president's schedule was very rigid: official meetings, negotiations, signing documents. For some reason it's usually thought that heads of state just put their signatures on documents, which have already been prepared by diplomats and assistants. This is not so. His assistants told the president the position of the ministries and departments. They presented information, agreed on document projects. But the most important things would happen later, behind closed doors, when assistants and journalists would leave. It was not clear until the last minute whether the heads of state would come to an agreement or not.
In 1991-1993, we went to Italy, Germany, the U.S., the UK, France, Belgium, Poland, the Czech Republic, and the CIS countries.
In those years Russia began to participate in summits of world leaders. First it was the G7, in which Russia was invited. Later, Russia was also included in the informal club of great powers: the G7 became the G8.
According to protocol, I had to accompany my husband on his official travels. Being the first lady is obviously also a job. And it not only deals with formal responsibilities. I knew that I also represented my country - a country that was big, complex and with enormous problems, but one that I loved.
Boris and I wanted that people everywhere respected Russia and that they would treat Russian citizens with warmth, understanding the problems that had befallen them. Being sincere in my role as first lady was not difficult - probably because I do not know how to pretend and I believe that a person must remain himself in all situations.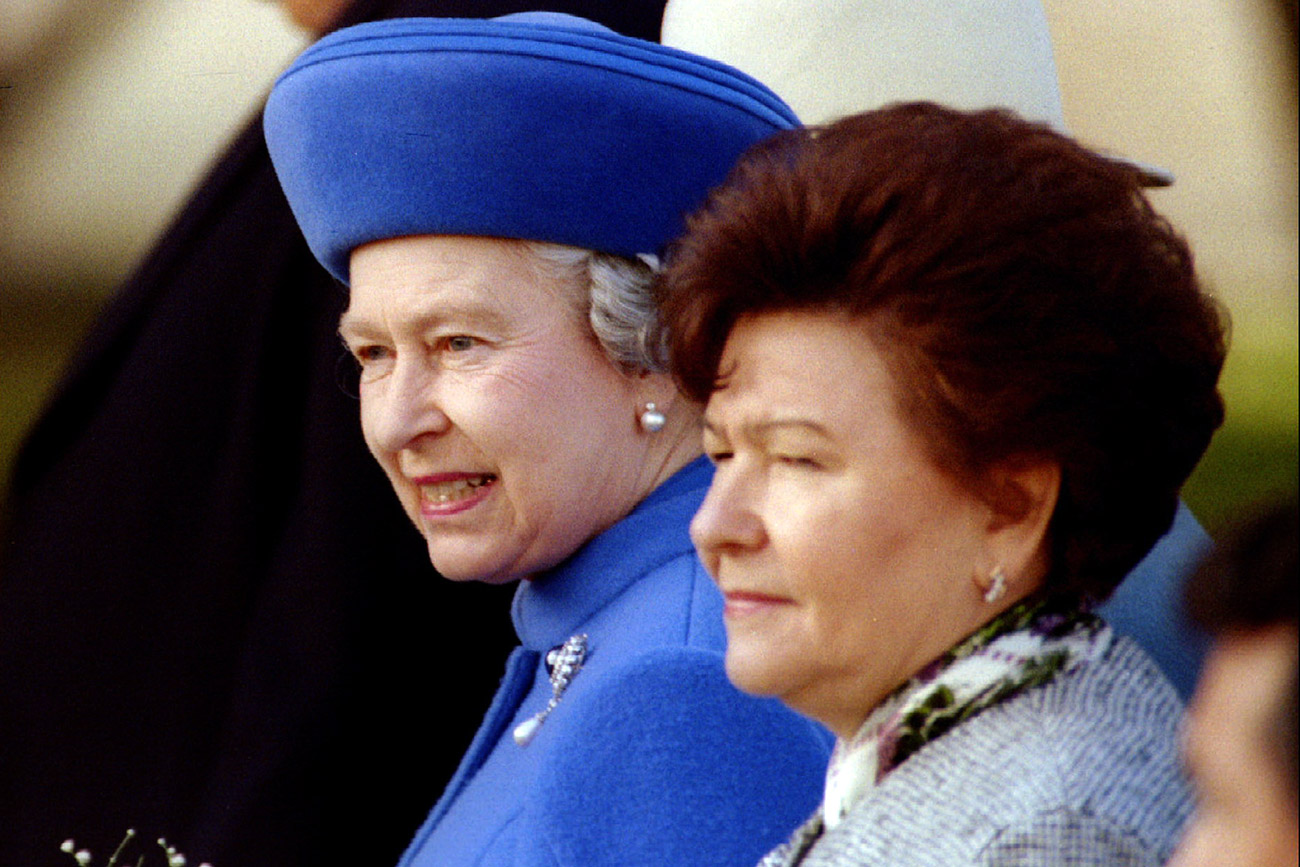 Britain's Queen Elizabeth II and Russian first lady Naina Yeltsina look around as they tour the Kremlin in Moscow in 1994. Source: Reuters
I always prepared for travels by reading the briefing materials that the protocol service gave me. I couldn't just come to a country without having an idea of its political structure, customs, and culture. I tried to be prepared when communicating with international leaders, their wives and ordinary citizens.
Back then, in the 1990s, none of us knew how the work of a first lady should be organized. Everything was done by intuition. I had neither a press secretary nor any assistants. Vladimir Shevchenko played the role of everyone. I am grateful to him. He still helps me. Obviously I had bodyguards - officers from the Federal Protective Service. That is the first lady's team.
Thanks to Vladimir, and perhaps to my habit of doing everything conscientiously, I managed with my new responsibilities. However, in other countries, I saw that large staffs worked with presidents' wives. Some wives had small teams, other large teams, but each first lady had a team. I remember Hillary Clinton's assistants working with particular precision. Perhaps this is not the most typical example. Hillary had her own political ambitions - it was already clear back then. Later when she ran twice for president, I wished her success with all my heart.
During the G7 summits, and the visits to various countries, the first ladies had their own programs. We had warm informal relations. With many first ladies, Madam Chirac for example, we became friends and maintained a close relationship for many years. We visited the Chiracs in the Élysée Palace even when Boris was no longer president. Bernadette gave me wonderful roses from their garden. Unfortunately, they did not survive in our climate.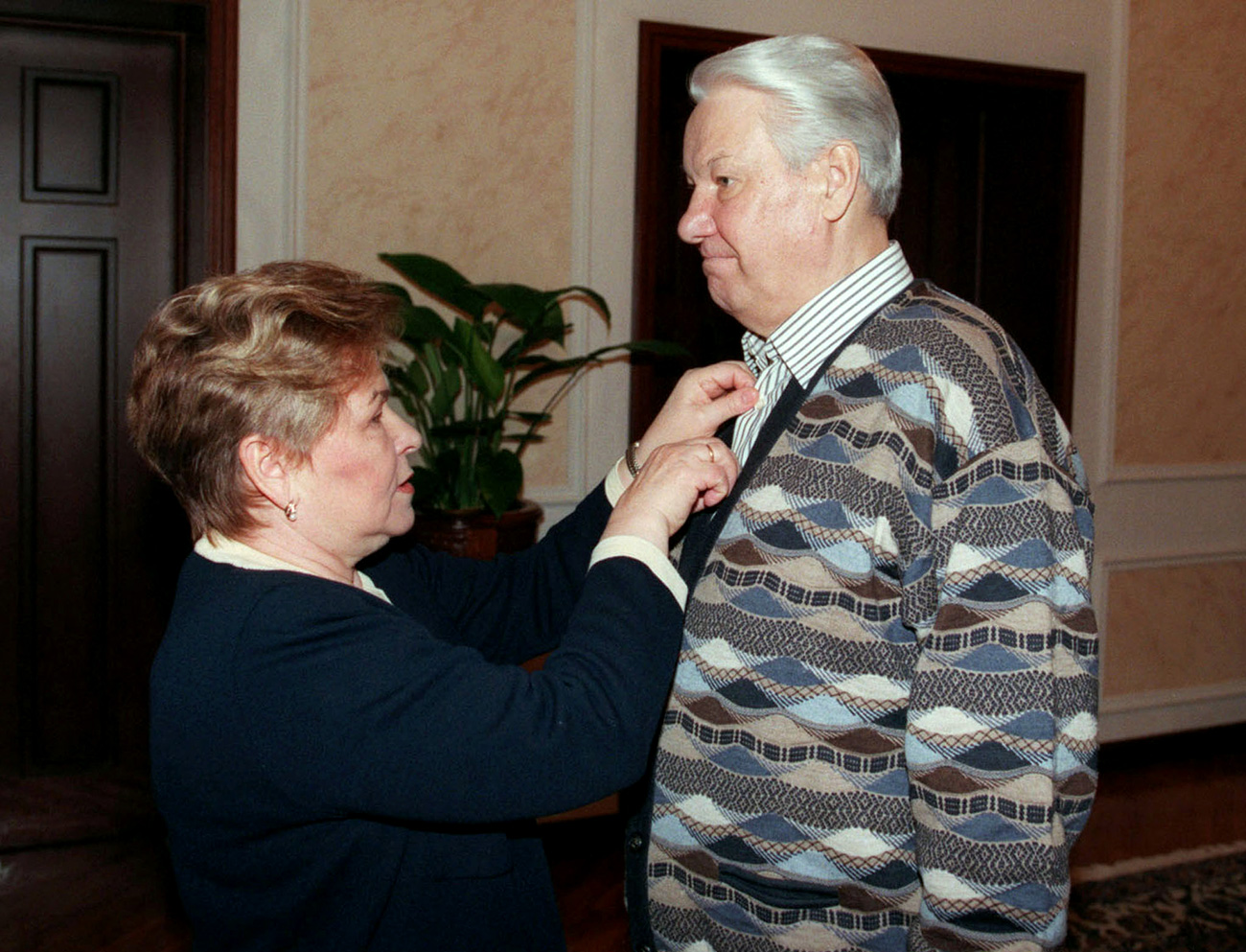 Naina Yeltsina adjusts a shirt of her husband (1998). Source: Reuters
The first lady's program, unlike that of the president, had its particularities. It included less official events, but more socializing with people. I came into closer contact with people's lives. This was very important for me. I visited hospitals, schools, and nursing homes. I was not ashamed to ask questions. I was sincerely interested in understanding all the details. It is impossible to know everything about everything. It is useless to make believe that nothing amazes you. I have always believed that one should not pretend. The most important thing is to be yourself.
(…)
All his foreign partners knew Boris's punctuality. And obviously I could not let him down. But life is life and sometimes there were unexpected situations.
Usually I would first help him gather his things. I selected his suit, tie, and sometimes I would groom him. Only afterwards I'd start taking care of myself. Once, before going out, I decided to wash my hands but I confused the faucets and water from the shower poured over my head. I had to immediately fix my hair, which took time.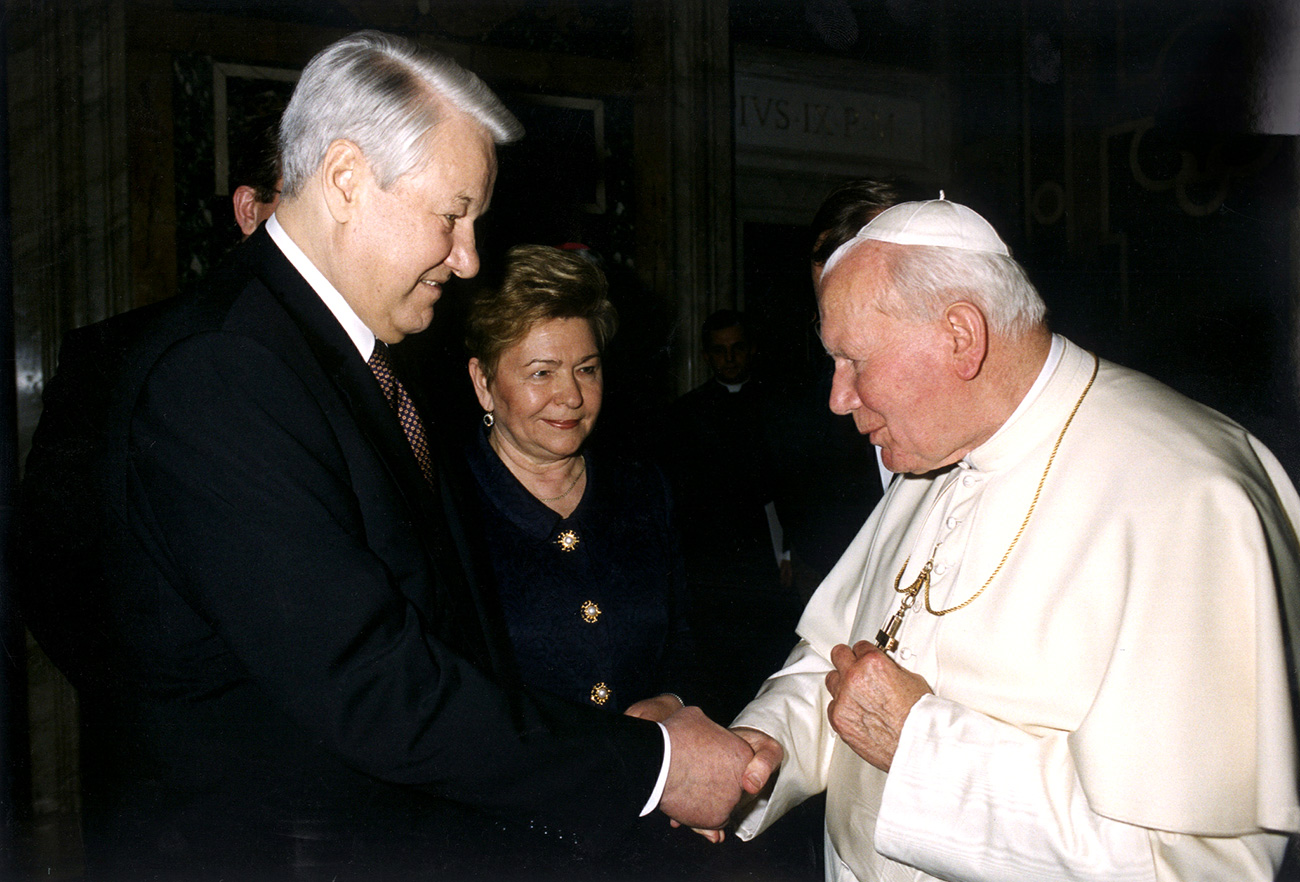 Pope John Paul II meets with Boris and Naina Yeltsin at the Vatican. Source: Reuters
Boris could not wait and went out to meet the public. Vladimir Nikolaevich then had to explain my delay to the journalists. He did not invent anything. He told them the truth. When we returned home my former classmates were calling me: "Naya, how could you confuse the faucets; our profession is water supply and canalization!"
I had to adapt to the presidential rhythm of life. Sometimes I would have to do a manicure by myself on the plane. Boris would grumble: "You're going to cut up all your fingers!" Once they finished doing my hair right in the car.
If using any of Russia Beyond's content, partly or in full, always provide an active hyperlink to the original material.