Music on the bone: UK artists find inspiration in Soviet 'X-ray audio'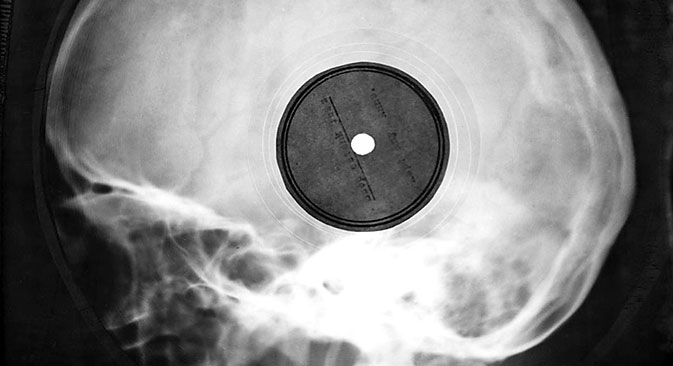 Recreating the methods of working with x-rays has not been an easy ride.
press photo
Three British artists have made a documentary film about the practice of recording onto X-ray film during the Soviet era as a way of distributing music banned by the state. The film will be screened in London in March.
A trio of British artists is preparing to release a documentary film inspired by the clandestine underground recordings of illegal music made during the Soviet era.
In the Cold War era, the Soviet recording industry was ruthlessly controlled by the State. But a secret and risky subculture of bootleg recordings called samizdat ("self-publishing") arose as Russians sought ways to listen to music that the state deemed ideologically unsuitable.
Incredibly, music-mad bootleggers found an extraordinary way to copy illegal gramophone records of Western jazz, rock 'n' roll and forbidden Russian music – they built homemade recording machines and used X-ray film as the base for their illegal recordings.
British musician Stephen Coates, photographer Paul Heartfield and musician and vintage recording specialist Aleks Kolkowski are just crazy about these methods of music recording.


Last year they issued a book and an album of "bone" music and held two exhibitions of X-ray audio at London's arts venue The Horse Hospital – one in January and another in November-December. Lydia Kavina, great-niece of Soviet inventor Lev Theremin and a theremin player herself, gave a special evening of X-ray audio performing as part of the exhibition. 


Stephen Coates is now preparing to present a documentary titled The Strange Story of Soviet Music on the Bone. At the release at London's Rough Trade East music emporium on March 9 he will tell the amazing secret history of these ghostly records and of the people who made, bought and sold them.
Then, in a demonstration of the Soviet bootlegging process, pop legend Marc Almond will perform songs (including music by the banned Soviet singer Vadim Kozin) that will be cut onto X-ray live by sound artist Aleks Kolkowski using a 1940s analogue recording lathe.



All rights reserved by Rossiyskaya Gazeta.