Tudegesheva dominates at Snowboard World Championships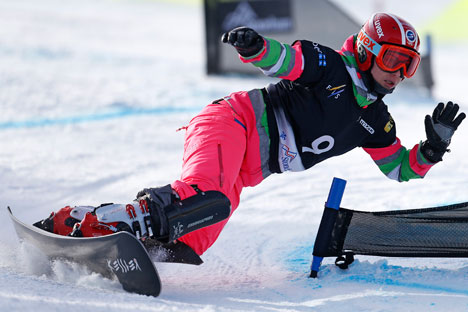 Russia's Ekaterina Tudegesheva competes during the women's parallel slalom quarter-finals at the FIS Snowboard World Championships in Stoneham, Quebec, January 27, 2013. Source: Reuters / Mathieu Belanger.
Ekaterina Tudegesheva has become a two-time world champion at the world snowboarding championships in Stoneham, Canada. The Russian athlete won the parallel slalom, making this the first time the Russian team has won two medals in the tournament.
The Russian team notched up its best result ever at the world snowboarding championships in Stoneham, Canada, which came to a close on Sunday, Jan. 27. For the first time in the country's history, the team walked away with two medals – a gold and a bronze – and took eighth place in the overall standings, behind Canada's first-place team. The Canadians also came up on top in the 10 Olympic disciplines, where the Russians also finished eighth.
U.S.-born, naturalized Russian citizen Vic Wild brought the Russian team its first medal on Saturday, Jan. 26. The husband of 2011 world champion Alena Zavarzina beat Slovenia's Zan Kosir to take third place in the parallel giant slalom.
On the last day of the tournament, Russia's snowboarding hopes were pinned on both Alena Zavarzina and Svetlana Boldykova in the parallel slalom, as well as on Tudegesheva. The latter, who hails from the city of Rostov-on-Don, is arguably the most experienced member of the team, having made her World Cup debut back in 2003. Since then, Tudegesheva has achieved nine victories in the Cup.
In 2007, she became world champion in the parallel giant slalom for the first time, bringing the Russian team its first title since it started competing in the discipline.
Two years later, in 2009, Tudegesheva won bronze in the parallel slalom; after another two years, she won the World Cup and the Junior World Championships in the parallel disciplines.
Now, she has finally won the parallel slalom, in which she was the only Russian woman to reach the semi-finals: Tudegesheva beat her compatriot Svetlana Boldykova in the first round of the final stage.
In the semi-final, she beat the qualification winner – Germany's Amelie Kober – with her total time over two runs. In the final, Ekaterina defeated Switzerland's Patrizia Kummer, who had earlier beaten Natalya Soboleva. Tudegesheva led by 0.4 seconds after her first attempt, stretching her advantage to 1.82 seconds after the second run.
Slovenia's Rok Marguc won the men's championship in the parallel slalom. The best Russian performance in the men's competition was by Andrei Sobolev (14th), who finished ahead of Stanislav Detkov, who finished fourth in the parallel giant slalom at the Vancouver Olympics three years ago.
First published in Russian in Gazeta.ru.
All rights reserved by Rossiyskaya Gazeta.