Denis Lebedev parts ways with his promoter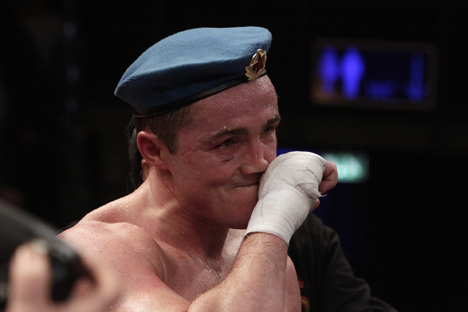 Denis Lebedev reacts after the WBO Cruiserweight championship fight against Marco Huck of Germany in Berlin. REUTERS
Denis Lebedev, one of Russia's top boxers, has officially announced that he is ending his professional relationship with his long-serving manager and promoter, Vladimir Hryunov. Another well-known figure in the boxing world, Kirill Pchelnikov, has already expressed his desire to work with the former world cruiserweight champion.
Boxer Denis Lebedev has decided to part ways with his promoter Vladimir Hryunov.
The papers have yet to be signed, but the boxer made the following statement in an interview with the R-Sport news agency: "I'm splitting with Hryunov for personal reasons. And, as for the rest, I'll be meeting with my coaching staff and making a decision." Lebedev's trainers are Konstantin Tszyu and Alexander Zimin.
At 33, Lebedev is not thinking about retirement, but about another run at the belt. There are at least already some opportunities for him to work with serious promoters.
Lebedev had several outstanding years under Hryunov. When he came back to the sport in 2008 after a long hiatus, Denis pulled off a series of wins that pushed him up the rankings and demonstrated his real potential.
In summer 2009, he knocked out former WBO title holder Enzo Maccarinelli in Manchester, saw off the once highly rated Ali Ismailov, and finally beat his compatriot Alexander Alexeev with a brutal second-round knockout.
This made him the mandatory challenger for the WBO belt, which belonged to Marco Huck at that time. The Bosniak-born German, incidentally, still holds this title.
Lebedev lost his fight against Huck in Berlin on a split decision – although the majority of experts agreed that he should have been given the nod. It was Lebedev's breakout fight, and now he is clearly the second most recognized active Russian boxer after Alexander Povetkin.
At some point, however, disagreements began to emerge between the promoter and his client, but neither side made any official comment on the matter before recently.
The culmination of the conflict came in Lebedev's fight against Panama's Guillermo Jones in Moscow, which ended with him losing his WBA champion's belt and almost losing sight in his eye.
Just before the fight, another well-known Russian promoter, Kirill Pchelnikov, confirmed that there were disagreements between Lebedev and Hryunov.
"I know the conflict between them has come to a head. That's what led Denis to this decision," R-Sport quoted Pchelnikov as saying.
He admits that he has not yet had any contact with the newly unrepresented boxer. "But if Lebedev gets in touch with me, it will be a pleasure for me to help him prolong his professional career," Pchelnikov said.
First published in Russian in Gazeta.ru.
All rights reserved by Rossiyskaya Gazeta.